Raybon's Best Ball Draft Strategy for 3- and 4-Team Leagues
Credit:
Cary Edmondson-USA TODAY Sports. Pictured: George Kittle
There are six different league sizes for best ball, which can be categorized as small (three/four), mid-sized (six/eight) and large (10/12).
Chris Raybon breaks down optimal strategy for three- and four-team leagues below, including how to attack each position -- the key difference between each league size.
There are six league sizes available on DRAFT, but small leagues are most different from traditional fantasy leagues. Depth is easier to come by at the FLEX positions, which has an equalizing effect between positions and increases the importance of studs at every position.
Below is a position-by-position strategy breakdown for three- and four-team best ball leagues, as well as how it pertains to 2019, but before we get into that here are a few general strategies I employ across all DRAFT best ball leagues.
Always follow a 2QB/6RB/7WR/2TE roster construction through 17 rounds, which leaves you with the option of taking the best player available regardless of position with your final pick. (I prefer to avoid QB and spend it on a pass catcher.)
Positional tiers are more important than exact rankings. My colleague Sean Koerner has you covered with tiers for quarterbacks, running backs, wide receivers and tight ends.
The later in the draft, the more acceptable it is to take risks.
The later in the draft, the more acceptable it is to let bye weeks be a tie-breaker.
Let's start with an overview of every position then run through each.
---
Strategies For More League Sizes: 10/12 | 6/8
---
Importance of Positions in 3- and 4-Team Best Ball Leagues
Quarterbacks
Quarterback is still the lowest priority in small leagues, but since the other positions will flatten out a bit within tiers after the studs, it's fine to be more aggressive in getting a Tier 1 quarterback because the objective is to have the top player at every position.
What It Means for 2019
Patrick Mahomes is the clear QB1, but assuming Tyreek Hill misses time, I have the drop-off from Mahomes to the QB4 at less than one point per game, while the drop-offs to the other positions are three to five times as high.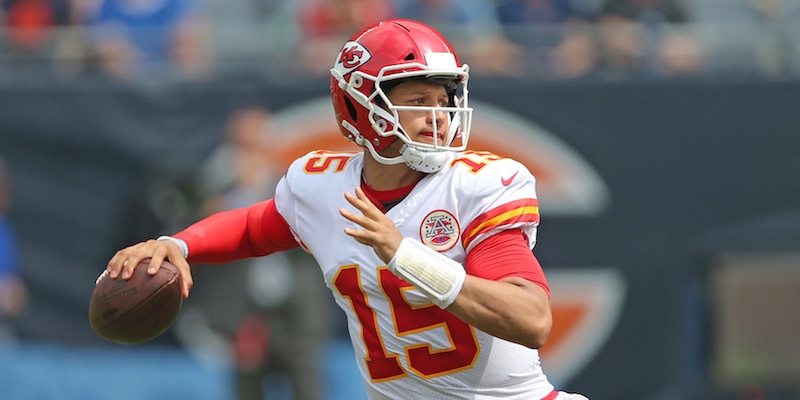 In an ideal draft, I snag one of Mahomes, Deshaun Watson, or Baker Mayfield as my QB1. It's easy to forget Watson's full-season pace in 2017 was nearly on par with Mahomes' 2018, and Watson could have a healthy Will Fuller and Keke Coutee. Mayfield, as I mentioned earlier this offseason in discussing why I like the over on the Browns' win total, was just one-tenth behind Mahomes in yards per attempt over the second half of last season and now will enjoy the services Odell Beckham.
Given the upside of those two, as well as Andrew Luck and perhaps Kyler Murray, it's far more likely that Mahomes finishes closer to the rest of the pack this season. If news comes out that Hill will play the full season, I would have Mahomes clearly in a tier of his own and draft him more aggressively.
---
Running Backs
The top running backs score a lot more points than the top players at the other FLEX positions, so it would be ideal to have a stud back in the FLEX as much as possible. This means running back is still the preferred position to attack early, but overall strategy depends on tier size, as well as how far in the drop-off from stud to solid and from solid to risky occurs. If there are 3-4 Tier 1 RBs, you can usually get away with attacking a position with a bigger drop-off from Tier 1 to Tier 2, such as TE.
What It Means for 2019
If you find yourself not in position to draft Travis Kelce (who ,as I explain in the TE section, has a case to go No. 1 overall in small leagues), it makes sense to gobble up as many RBs from the group of Saquon Barkley, Ezekiel Elliott, Christian McCaffrey, Alvin Kamara, David Johnson, and Le'Veon Bell. I have each of those backs outscoring the top two wide receivers, Davante Adams and DeAndre Hopkins.
I think you take what the draft gives you from that point on, prioritizing positional need depending on what you already have.
Things start to get iffy around RB18, though, which doesn't come into play as much in three-mans as it does in four-mans, in which it would be ideal to grab your sixth back by the time Devonta Freeman and Marlon Mack are off the board if possible. The position flattens out after the top tier, in my opinion, so I'm fine drafting the majority of my backs from the back of this tier; when the next few backs in the queue are Leonard Fournette, Aaron Jones, and Josh Jacobs, it's time to pounce (sometimes you'll even have Damien Williams, Dalvin Cook, Nick Chubb, or even Todd Gurley fall into your lap when employing this approach).
Because of the way tiers shake out in three-mans this season, I often find myself often employing something of a Zero RB approach after the top few studs are off the board, waiting until the very end to select my last 3-5 backs (I rarely draft more than six RBs because quantity is still more important at WR than RB) while racing to get at least two Tier 1 TEs and as many WRs as possible before Julian Edelman and Sammy Watkins come off the board. If I've accomplished those feats and Patrick Mahomes happens to be available, I will also grab him before  turning my attention back to RB.
Wide Receivers
The tiers at wide receiver tend to be larger and flatter, so I usually like to draft from the end of tiers at the position if players higher in a tier at another position are still available.
What It Means for 2019
Davante Adams, DeAndre Hopkins, Julio Jones and Michael Thomas are in a Tier 1a, but if I miss out on them, I'm not sweating it if I get Odell Beckham, Mike Evans, JuJu Smith-Schuster or Antonio Brown.
There's a more significant drop-off after Julian Edelman around WR15, so it would be ideal to have your top three by the time he's off the board. Things flatten out after that: I have 0.9 points per game separating WR16-20, then 1.0 points per game separating WR21 and WR31.
As I mentioned earlier, I tend to be a bit more aggressive at WR in three-mans than four-mans, because the way RB flattens out in three mans, even if you wait until your opponents have drafted six backs each, there are usually enough left over in the top 18-19 that it's possible to wait and instead draft all of your WRs ahead of Edelman and Watkins coming off the board, which is the point where target upside starts to drop off a bit. If I have to draft from the next tier, sometimes I will try to secure a stack of multiple WRs from the same team, and pair them with that team's QB (and sometimes, RB) if possible. This tactic has the potential to raise your team's weekly floor (by spreading production more evenly than could be achieved with uncorrelated players), ceiling (if you hit on an offense that collectively performs above expectation) or both, and it is a lot easier to execute successfully in small league sizes without reaching. 
For example, if I've already drafted Mike Evans, I can usually pair him with Chris Godwin and Jameis Winston late, as neither of them are in particularly high demand in small leagues; a stack of Brandin Cooks and Robert Woods (and perhaps even Cooper Kupp) with Jared Goff is another option.
---
Tight Ends
Unlike traditional 10- to 12-man leagues in which TE is the second-lowest priority, it's just as high of a priority in three- to four-man leagues. This brings the amount of TEs in the top tier into play. If there's any fewer than four, getting one becomes a top priority to the point that the TE1 might even be worth the first overall pick.
Depending on how tiers at the other positions shake out, you also might be able to gain a huge edge by drafting two Tier 1 tight ends.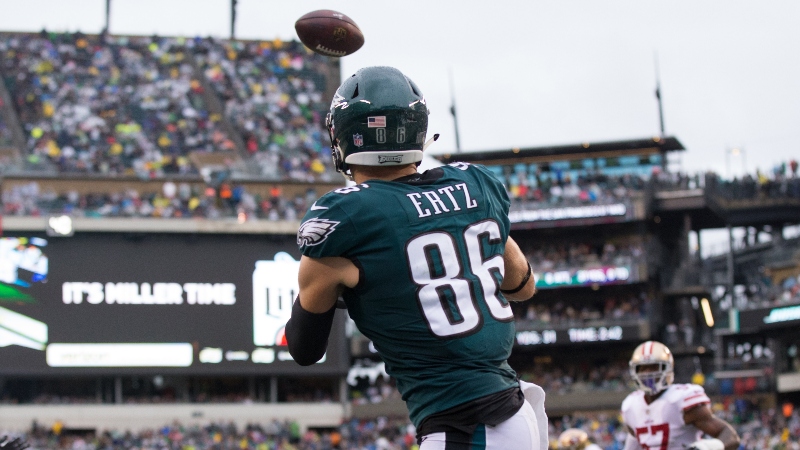 Because tight ends score fewer points than top players at the other FLEX positions, it's important to not overdraft at the position; if you get at least one stud, you don't need to draft three. (To ensure you will have the option to do this, make sure your TE2 doesn't have the same bye week as your TE1.)
What It Means for 2019
Because tight end is just as high-priority as running back and wide receiver in four-mans, selecting Travis Kelce with the No. 1 overall pick is a viable strategy in 2019. Among the top three of Kelce, George Kittle, and Zach Ertz, Kelce has the clearest path to even more targets in 2019 than in 2018 due to the likely absence of Hill.
Getting two of the three studs — or even all three of them — is ideal in small leagues because a monopoly of studs at the position makes it extremely difficult for your opponents to replicate the production, while it's a lot easier to make up ground at RB and WR even if you start TE-TE or TE-TE-TE. I'm more aggressive in grabbing all three studs in three-mans because it's easier to still get all the RBs and WRs I want before the key drop-off points around RB20 and WR20; in four-mans, I'm content with grabbing two studs and not addressing the position again (though the three-stud strategy can be pulled off effectively — check Peter Jennings' team in our four-man expert mock linked above).
No matter how you rank O.J. Howard, Evan Engram, Hunter Henry, David Njoku, Eric Ebron, Jared Cook and Vance McDonald, there's a drop-off after them — some would include Austin Hooper in this tier, but I don't — which comes into play in four-mans. I wouldn't draft a tight end lower than this, whether or not I had a stud, unless I needed a TE2.
Chris Raybon is a Senior Editor at the Action Network and a co-host of "I'll Take That Bet" on ESPN+. He has watched every snap of every NFL game since 2010 — even the kneel downs. Follow him on Twitter @ChrisRaybon and read about how he quit his accounting job and got paid to watch sports.
How would you rate this article?