Raybon's Best Ball Draft Strategy for 6- and 8-Team Leagues
Credit:
Credit: Philip G. Pavely-USA TODAY Sports. Pictured: James Conner
There are six different league sizes for best ball, which can be categorized as small (three/four), mid-sized (six/eight) and large (10/12).
Chris Raybon breaks down optimal strategy for six- and eight-team leagues below, including how to attack each position -- the key difference between each league size.
Strategy for mid-size best ball leagues (six to eight teams) can vary from one season to the next more than any other league sizes. This is because small variations among how many players are ranked within each positional tier in a given season can create drastic shifts in strategy.
Mid-sized leagues are similar to large leagues in that running back and quarterback tend to be the most and least important positions, respectively; they're similar to small leagues in that studs take on increased importance relative to traditionally-sized leagues.
Below is a position-by-position strategy breakdown for six- and eight-team best ball leagues, as well as how it pertains to 2019. But before we get into that, here are a few general strategies I employ across all DRAFT best ball leagues.
Always follow a 2QB/6RB/7WR/2TE roster construction through 17 rounds, which leaves you with the option of taking the best player available regardless of position with your final pick. (I prefer to avoid QB and spend it on a pass catcher.)
Positional tiers are more important than exact rankings. My colleague Sean Koerner has you covered with tiers for quarterbacks, running backs, wide receivers and tight ends.
The later in the draft, the more acceptable it is to take risks.
The later in the draft, the more acceptable it is to let bye weeks be a tie-breaker.
Let's start with an overview of every position then run through each.
---
Strategies For More League Sizes: 10/12 | 3/4
---
Importance of Positions in 6- and 8-Team Best Ball Leagues
Quarterbacks
Because quarterback tends to flatten out after the top few, mid-sized leagues aren't much different from large leagues in that waiting is the optimal strategy.
The last available players at the FLEX positions will all be selected after a major drop-off point, so it's better to try to secure extra players at those positions before those tiers end.
What It Means for 2019
I have roughly a 2.0 point per game gap between Patrick Mahomes and QBs 6-8, whereas the drop-off from the top FLEX positions to the baseline player is two to three times as steep, so I almost never go after QB early (though I will scoop up Baker Mayfield if he falls).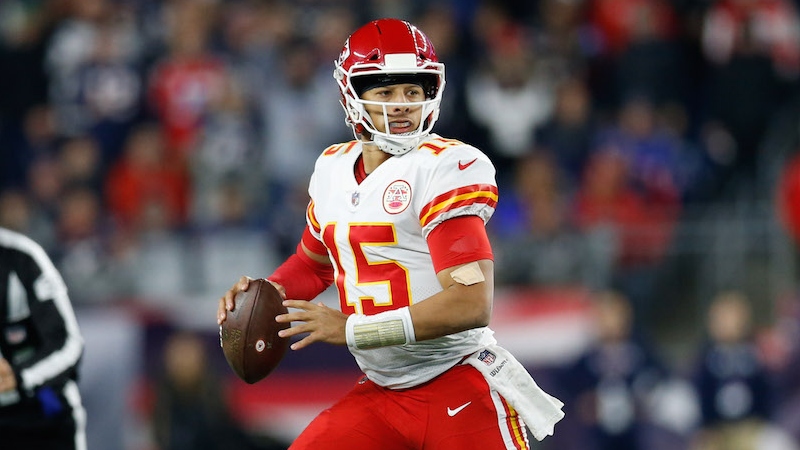 Kyler Murray is my preferred target when waiting at QB1, and as with larger leagues, I feel good so long as I get two QBs before the mobile tier ends (Dak Prescott and Mitchell Trubisky coming off the board usually signify that tier has come to an end).
---
Running Backs
Running backs made up two-thirds of the top-six VBDs in six-mans and half of the top-eight VBDs in eight-mans, which puts the emphasis on attacking the position early — just as you would in a larger league.
But because you don't need to go quite as deep as you would in 10- or 12-man leagues, you have to pay attention to the tiers: There's usually a major drop-off around RB25, after all of the feature backs and 1a's with defined roles are off the board, and another around RB40 after those that would be no worse than a 1b are gone.
Ideally you want to be drafting on the right side of these tiers, and if you still find yourself with a need at the position and those guys are gone, wait until the very end rather than reach.
What It Means for 2019
I'll generally prioritize getting one stud back early but pivot away to acquire studs at other positions in hopes of building a more balanced roster once the high-end RB1s (Saquon Barkley, Ezekiel Elliott, Christian McCaffrey, Alvin Kamara, David Johnson, Le'Veon Bell) are off the board, at which point value the position begins to flatten out.
Things start to get dicey around RB18-19, after Devonta Freeman and Marlon Mack are off the board, which means you would like to have at least three by this point in mid-sized leagues.
In eight-mans, that means prioritizing getting your RB3 earlier than most. You're not going to get a guaranteed starter-type past Lamar Miller around RB26-27, so it's ideal to have three to four backs by then in six-mans and four to five in eight-mans.
---
Wide Receivers
Roughly 45 wide receivers will come off the board in six-mans and roughly 60 in eight-mans. Because you start at least three and best ball optimizes starting weeks, quantity is important here.
There's usually a point around the WR40 range after which volume is less certain and start-able weeks will flatten out considerably, so once that tier is done, it makes sense to wait as long as you need if there's value at other positions.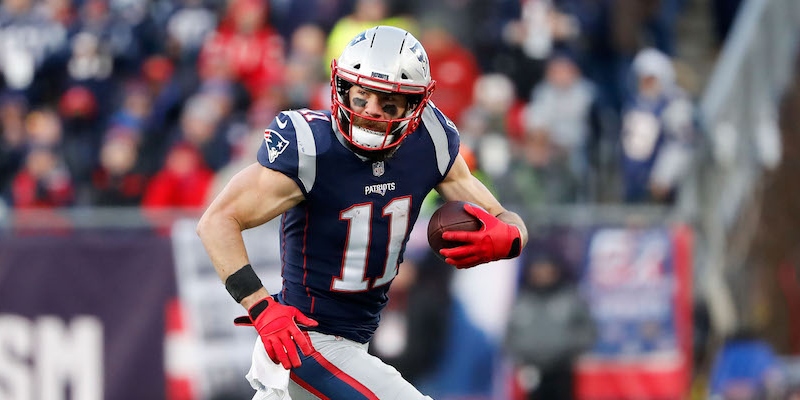 What It Means for 2019
There's a drop-off after Julian Edelman, who tends to go around WR15, so it would be ideal to have your top three by the time he's off the board in six-mans, and at least two by the time he's off the board in eight-mans.
There's another drop-off around WR40, meaning you ideally want to have your seventh WR by this point in six-mans, and your fifth WR by this point in eight-mans. I'm fine with drafting toward the back of this tier, because waiting usually still nets me an opportunity to get guys I like toward the end of the tier, such as Christian Kirk, Keke Coutee, and Curtis Samuel.
After that point in eight-mans, it becomes about shooting for upside regardless of risk — everyone in the league will be forced to draft from the WR40+ tier a few times (or be weaker at other positions).
Tight End
The importance of attacking tight end early will vary from year to year, depending on where the major drop-offs are. It won't be realistic for everyone to get a stud, but you don't want to miss out on getting at least one tight end with stud upside, which usually ends around TE8-10.
What It Means for 2019
Because there's a drop-off after Jared Cook and Vance McDonald, it would be ideal to get two before the top 10 are gone, regardless whether you drafted a stud in six-mans.
In eight-mans, it would still be ideal to have two, but if you have a stud it usually makes more sense to prioritize other positions, as nearly the entire league will still have to select at least one option from the TE11-plus tier (I usually take a shot on the glass that is Jordan Reed not cracking or Jimmy Graham touchdown regression in this spot, and Mark Andrews is intriguing, as well).
---
Chris Raybon is a Senior Editor at the Action Network and a co-host of "I'll Take That Bet" on ESPN+. He has watched every snap of every NFL game since 2010 — even the kneel downs. Follow him on Twitter @ChrisRaybon and read about how he quit his accounting job and got paid to watch sports.
How would you rate this article?