2019 Best Ball Draft Strategy: Our Experts' 4-Team NFL Mock
Credit:
USA Today Sports. Pictured: Saquon Barkley, DeAndre Hopkins
Peter Jennings, Sean Koerner, Chris Raybon and Matthew Freedman reveal their NFL fantasy best ball draft strategy with a four-team mock.
Drafts are the be-all and end-all of best ball.
For those of you who are unfamiliar: Best ball is a fantasy football format that requires no in-season work. That means no setting your lineup, no claiming guys off waivers, no trades, nothing. And there are no head-to-head matchups.
All you're trying to do is accumulate the most points between Weeks 1 and 16. And only your highest scoring players at the following positions will count toward that season total each week: 1QB, 2RB, 3WR, 1TE and 1FLEX (your next-highest scoring RB/WR/TE).
TL;DR: Nailing your draft is the only thing that matters.
With the growing popularity of the format and various contest sizes, we asked our fantasy football experts to conduct a four-team mock: Peter Jennings, Sean Koerner, Chris Raybon and Matthew Freedman. Each drafted 18-man teams with DRAFT's rules in mind, which includes half-point PPR scoring.
Our experts have also done a two-part podcast breaking down the mock draft. Here's Part 1; Part 2 will be released next week.
Now let's run through the full draft results, then break down each of our experts' rosters and strategies.
Jump to:
Experts' Rosters + Strategy
Best Ball Mock Draft
Round 1
1: Saquon Barkley, RB, Giants (Raybon)
2: Ezekiel Elliott, RB, Cowboys (Koerner)
3: Christian McCaffrey, RB, Panthers (Freedman)
4: Alvin Kamara, RB, Saints (Jennings)
Round 2
5: Travis Kelce, TE, Chiefs (J)
6: Melvin Gordon, RB, Chargers (F)
7: Davante Adams, WR, Packers (K)
8: David Johnson, RB, Cardinals (R)
Round 3
9: Le'Veon Bell, RB, Jets (R)
10: DeAndre Hopkins, WR, Texans (K)
11: Todd Gurley, RB, Rams (F)
12: Zach Ertz, TE, Eagles (J)
Round 4
13: George Kittle, TE, 49ers (J)
14: James Conner, RB, Steelers (F)
15: Patrick Mahomes, QB, Chiefs (K)
16: Michael Thomas, WR, Saints (R)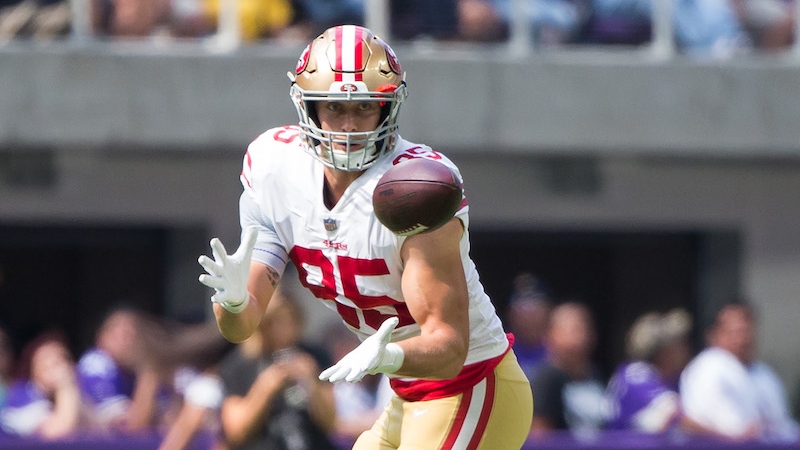 Round 5
17: Julio Jones, WR, Falcons (R)
18: Odell Beckham Jr., WR, Browns (K)
19: Joe Mixon, RB, Bengals (F)
20: JuJu Smith-Schuster, WR, Steelers (J)
Round 6
21: Antonio Brown, WR, Raiders (J)
22: O.J. Howard, TE, Buccaneers (F)
23: Dalvin Cook, RB, Vikings (K)
24: Adam Thielen, WR, Vikings (R)
Round 7
25: Stefon Diggs, WR, Vikings (R)
26: Nick Chubb, RB, Browns (K)
27: Evan Engram, TE, Giants (F)
28: Mike Evans, WR, Bucs (J)
Round 8
29: T.Y. Hilton, WR, Colts (J)
30: Hunter Henry, TE, Chargers (F)
31: Eric Ebron, TE, Colts (K)
32: Keenan Allen, WR, Chargers (R)
Round 9
33: David Njoku, TE, Browns (R)
34: Leonard Fournette, RB, Jaguars (K)
35: Damien Williams, RB, Chiefs (F)
36: Amari Cooper, WR, Cowboys (J)
Round 10
37: A.J. Green, WR, Bengals (J)
38: Brandin Cooks, WR, Rams (F)
39: Kenny Golladay, WR, Lions (K)
40: Aaron Jones, RB, Packers (R)
Round 11
41: Josh Jacobs, RB, Raiders (R)
42: Derrick Henry, RB, Titans (K)
43: Sammy Watkins, WR, Chiefs (F)
44: Marlon Mack, RB, Colts (J)
Round 12
45: Andrew Luck, QB, Colts (J)
46: Julian Edelman, WR, Patriots (F)
47: Sony Michel, RB, Patriots (K)
48: Jared Cook, TE, Saints (R)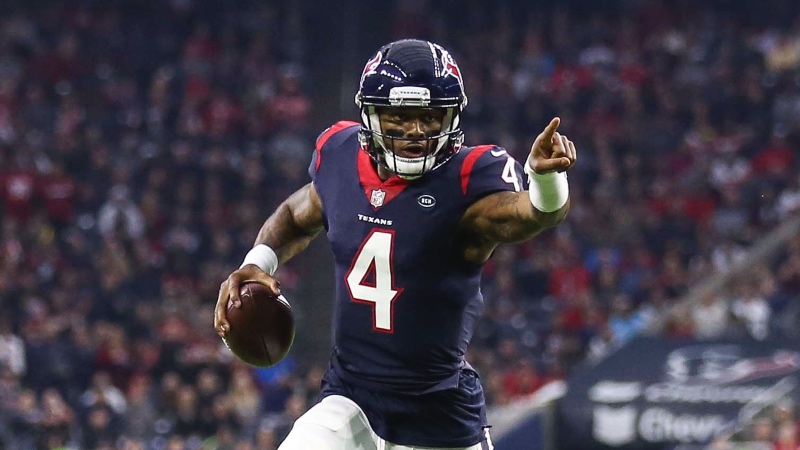 Round 13
49: Deshaun Watson, QB, Texans (R)
50: Robert Woods, WR, Rams (K)
51: D.J. Moore, WR, Panthers (F)
52: Chris Godwin, WR, Bucs (J)
Round 14
53: Devonta Freeman, RB, Falcons (J)
54: Calvin Ridley, WR, Falcons (F)
55: Vance McDonald, TE, Steelers (K)
56: Will Fuller, WR, Texans (R)
Round 15
57: Baker Mayfield, QB, Browns (R)
58: Cooper Kupp, WR, Rams (K)
59: Tyler Lockett, WR, Seahawks (F)
60: Mike Williams, WR, Chargers (J)
Round 16
61: Kerryon Johnson, RB, Lions (J)
62: Kyler Murray, QB, Cardinals (F)
63: Aaron Rodgers, QB, Packers (K)
64: Allen Robinson, WR, Bears (R)
Round 17
65: Mark Ingram, RB, Ravens (R)
66: Austin Hooper, TE, Falcons (K)
67: Russell Wilson, QB, Seahawks (F)
68: Phillip Lindsay, RB, Broncos (J)
Round 18
69: Jameis Winston, QB, Bucs (J)
70: Jarvis Landry, WR, Browns (F)
71: Chris Carson, RB, Seahawks (K)
72: Christian Kirk, WR, Cardinals (R)
---
Roster breakdown: 2QB, 6RB, 8WR, 2TE
Thirteen players averaged at least 20 half-point PPR points per game in 2018: Eight quarterbacks and five running backs. The top QB averaged 26.1, the top RB averaged 24.5, the top WR averaged 18.1 and the top TE averaged 15.2.
I wasn't going to turn down potentially the highest-scoring player in fantasy in Saquon Barkley, and with Travis Kelce gone by the time I picked at 2.04, I chose to lock in two more RBs: David Johnson and Le'Veon Bell, both of whom have a case for the overall RB1.
By the time I picked at 4.04, Patrick Mahomes and the last of the top TE tier were gone, so I shifted my focus to acquiring WRs since the position demands the most starters. I also didn't feel a need to hammer RB again because I felt there was more upside in pairing what could very well be three top-five RBs with two top-five WRs in Julio Jones and Michael Thomas.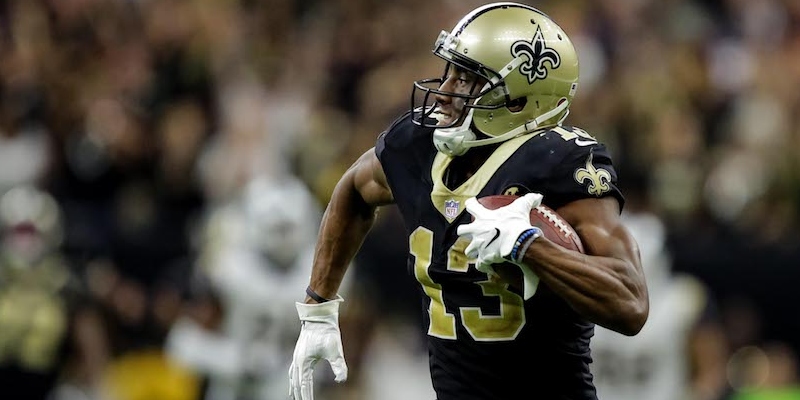 I'm ecstatic to still end up with five WRs who were among the top 11 in overall points at the position (Jones, Thomas, Adam Thielen, Stefon Diggs and Keenan Allen). I also feel good about complimenting my top three backs with Josh Jacobs and Aaron Jones, who could be among the league leaders in touches (and efficiency).
With Jennings hogging the top three TEs, I knew I still wanted at least two from Tiers 2-3 — any TE with Tier 1 upside between the Big 3 through Vance McDonald. But only six TEs posted double-digit scoring averages last season while 30-plus players each did so at RB and WR, so I felt that if I missed out on a third TE, I should cut my losses and aim to dominate the FLEX rather than waste a roster spot trying to make up ground at a position I probably can't win.
When that came to fruition, I took an extra shot at Christian Kirk, who I believe has massive breakout potential.
Since I didn't get Mahomes, I knew I wanted to be fairly aggressive in grabbing a couple QBs who could outproduce Mahomes. (I almost never go with three since it's a not a FLEX.) So I scooped up two of the top four QBs in my rankings.
Deshaun Watson and Baker Mayfield can both keep pace with Mahomes: Watson already was on pace for a Mahomes-like rookie season, while Mayfield averaged 0.1 fewer yards per attempt than Mahomes over the second half of last season and now has Odell Beckham Jr.
With RB and WR flattening out in the middle-to-late rounds, I aimed for touchdown upside late at both positions. I love Will Fuller's upside and the correlation of pairing him with Watson, and Mark Ingram has an outside shot of leading the league in rushing TDs in Baltimore's run-heavy offense.
---
Roster breakdown: 2QB, 7RB, 6WR, 3TE
My strategy with every draft is to ultimately let it come to me and take players before there's a steep drop-off at their position.
In a typical 12-team draft, these drop-offs even out a bit with 11 to 23 picks between selections. But the drop-offs between only one to two picks in four-team drafts can be severe, so it's important to identify where they exist and exploit them.
Because of this, the more traditional 12-team approach and average draft position can be misleading.
For example, my projections have a 25-point gap between Patrick Mahomes and the next group of QBs. Travis Kelce is nearly 40 points above the next TE. These types of players should be taken much earlier in a four-man draft as a result.
It's also important to realize that you only need to beat three other teams. And since all four teams are likely to be stacked, this shifts my focus to maximizing my floor as much as possible. The winning team will likely be the one with the best "injury luck" and bust avoidance. Elite QBs and WRs are much more stable positions when considering this.
My strategy ended up working out nicely as my roster breakdown was tailored to have a bit more depth in my "weaker" positions.
---
Roster breakdown: 2QB, 6RB, 7WR, 3TE
I entered the draft knowing that I wanted to wait till the final rounds to select a quarterback. That's a basic practice of mine for every draft, and with only 12 quarterbacks at the most likely to be selected in a four-person league, I felt that I would still be able to get options I liked at the end of the draft.
I also knew I wanted to be robust at running back.
One of the most popular articles I wrote in my early fantasy days at RotoViz was the one in which I made the case for taking five running backs in Rounds 1-5, and that's exactly what I did here. In retrospect, I probably could've waited to select my fourth and fifth backs.
But in a best ball — without the ability to use the waiver wire to pick up players — I wanted to be sure to grab as many high-volume backs as I reasonably could.
Finally, I knew wanted to leave the draft with at last seven wide receivers. Because wide receiver scoring is volatile, I just didn't feel as if I would have sufficient coverage at the position without seven players, given that each week I need three starters and maybe one in the flex.
---
Roster breakdown: 2QB, 5RB, 8WR, 3TE
The draft started out perfectly with Kelce and Alvin Kamara — my second- and fourth-ranked players — falling to me.
I'm drafting Kelce first in four-man drafts because of positional scarcity and the projection edge Kelce has over every other TE. Kamara is my third ranked RB ahead of Ezekiel Elliot — Zeke has more risk with his legal/contract situation — and is part of the "Big 4" RBs.
I was thrilled to see Ertz and Kittle fall to me in the third and fourth rounds. I was able to draft the entire top end tier of TE and gain a gargantuan edge at the position in this four man. Having Kelce, Ertz and Kittle is a bit overkill, but forces your opponents to take other TEs earlier in the draft than they should.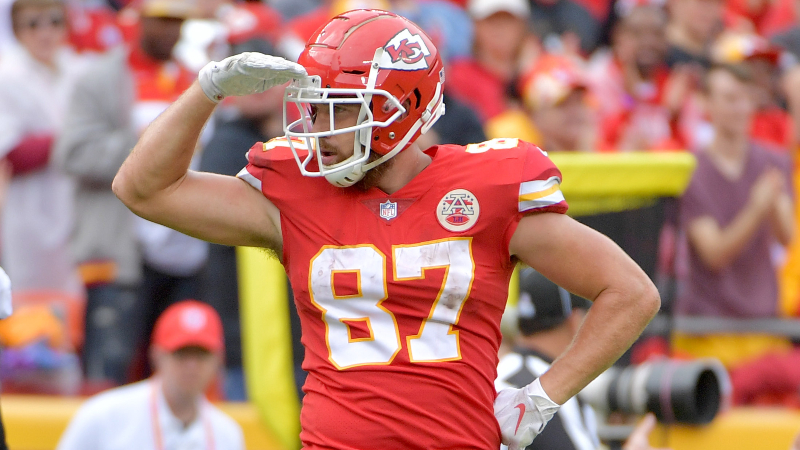 I then shifted my focus to drafting all the WRs. I prioritize getting one of the top six RBs in these four-mans, but after that, I wait to fill the position.
Drafting top WRs is very important because you must play at least three, and oftentimes one in the flex. I was able to draft JuJu Smith-Schuster, Antonio Brown, Mike Evans, T.Y. Hilton, Amari Cooper and A.J. Green with picks 5-10 — I love all six and was happy to give myself the best WRs in the draft.
Stacking is really important in winner-take-all drafts like this one.
I'm very bullish on this Colts offense and now have their biggest pieces, pairing Andrew Luck and Marlon Mack with Hilton. I was also thrilled to grab Chris Godwin considering I already had Evans and was positioned to grab Jameis Winston late.
The biggest mistake I made was taking Mike Williams, who I love, but with this roster construction I did not need eight WRs given that I was going to have a TE in the flex a decent amount.
I also really needed to take six RBs given how late I started drafting them after Kamara. I was surprised to see how over-drafted the position was, but it meant I was able to grab Devonta Freeman (a three-down back in a good offense) and Kerryon Johnson (who I love). I'm also a Broncos homer, and Phillip Lindsay has great distributions for a RB in best ball, so I added him.
Overall, I think I have a pretty significant edge in this draft — even with my weakness at RB. I would grade my performance in this four-man as an A-minus.
How would you rate this article?