Raybon's 2019 NFL Best Ball Draft Strategy: 10 Undervalued Players I'm Targeting
Credit:
USA Today Sports. Pictured: Christian Kirk, Kyler Murray
The 2019 fantasy football season is ramping up (especially in best ball leagues).
Chris Raybon highlights 10 players who are undervalued by ADP and where you should really be targeting them.
I'm constantly tinkering with my fantasy football rankings throughout the offseason, updating my individual player projections and model. Throughout the process, there have been a group of players who continue to stand out as values in my rankings relative to their average draft position (ADP).
If you heard me read the entire list of QB1s by ADP when asked who I was fading on the Action Network NFL Podcast, you might've guessed many of my top values are quarterbacks. But in the interest of maximal utility, I've limited the number of passers below to two: One who has the best shot of finishing in the top three, and one who represents the end of a tier. The rest are backs and receivers, most of whom I project to have larger roles than their ADP currently suggests.
So let's dig into the 10 undervalued players I'm targeting in best ball, featuring their ADPs at DRAFT and MyFantasyLeague as well as where they fall in my PPR and half-point PPR rankings (as of May 30).
Christian Kirk, WR, Arizona Cardinals
DRAFT ADP: 94 | My 0.5 PPR Rank: 53 (+41)
MFL ADP: 88 | My PPR Rank: 52 (+36)
When Kirk went down in Week 13, he ranked second among all rookie wide receivers in targets (68) and catches (43), as well as third in receiving yards (590).
Only six other rookie wideouts went on to finish with as many targets as Kirk in 2018, and none commanded a higher target market share while only one topped him in air yard market share and air yard conversion ratio (RACR) via airyards.com.
Christian Kirk: 19% target MS | 24% air yard MS | 0.90 RACR
D.J. Moore: 17% target MS | 19% air yard MS | 0.97 RACR
Calvin Ridley: 15% target MS | 17% air yard MS | 0.88 RACR
Courtland Sutton: 15% target MS | 27% air yard MS | 0.56 RACR
Antonio Callaway: 14% target MS | 20% air yard MS | 0.52 RACR
Marquez Valdes-Scantling: 11% target MS | 16% air yard MS | 0.65 RACR
Michael Gallup: 14% target MS | 24% air yard MS | 0.52 RACR
Wide receivers tend to break out in Year 2, and Kirk's target share seems destined to increase in a Kliff Kingsbury offense that will scheme the second-year receiver easy completions.
Kirk led the Cardinals in receiving by more than 100 yards when he was injured last season and was only two catches behind Larry Fitzgerald for the team lead. Given Kirk's superior athletic ability compared to Fitzgerald at this stage of their respective careers, there's a good chance Kirk leads the team in targets and catches this season.
Kirk's already impressive efficiency should also improve, because no matter what you think of Kingsbury and Kyler Murray, chances are that Arizona's quarterback situation will be markedly better than last season with Sam Bradford and Josh Rosen, who combined to post the fourth-worst team passer rating of the past half decade.
---
Kyler Murray, QB, Arizona Cardinals
DRAFT ADP: 106 | My 0.5 PPR Rank: 59 (+47)
MFL ADP: 139 | My PPR Rank: 67 (+72)
The QB3 and QB20 finished within four points per game of each other last season, so taking a shot on a potential difference-maker like Murray after more than a half-dozen passers and 100 players are off the board could end up being a league-winning move.
Murray rushed for 1,001 yards and 12 touchdowns last season at Oklahoma, and the likes of Deshaun Watson, Russell Wilson, Cam Newton, Robert Griffin III, Lamar Jackson and even Josh Allen, among others, have shown us that rookie quarterbacks with mobility can be fantasy difference-makers in Year 1.
There's a chance Murray is special and an outside shot that he puts up top-three numbers in Year 1. And despite the surplus at the position, Murray's ADP is still low enough that he's one of the best floor/ceiling picks on the board.
---
Keke Coutee, WR, Houston Texans
DRAFT ADP: 112 | My 0.5 PPR Rank: 70 (+32)
MFL ADP: 96 | My PPR Rank: 70 (+26)
The Texans targeted running backs at the third-lowest rate in the league (15%) and tight ends at a below-average rate (19%), so even with DeAndre Hopkins and Will Fuller in the fold, this offense should still be able to support three receivers — especially with Deshaun Watson at the helm.
After Coutee averaged 7.9 targets, 5.6 catches, 56.7 yards and 0.29 touchdowns over seven regular-season and playoff games, the biggest concern with him shouldn't be usage, but durability.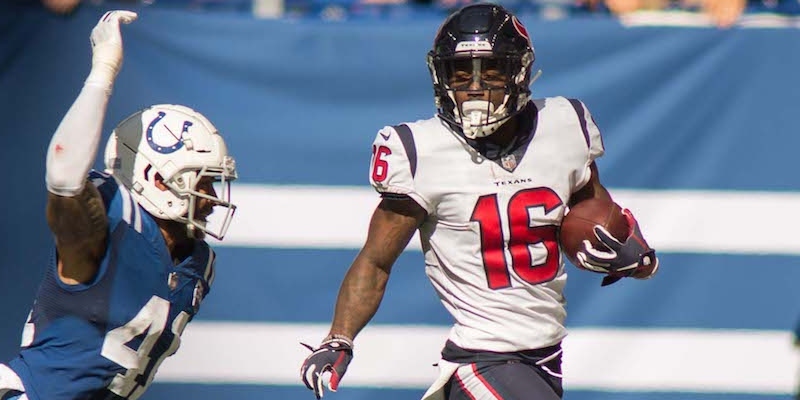 Provided he can stay on the field, though, he has some anti-fragility to him in the sense that he would be third on the priority list for opposing defenses if Hopkins and Fuller stay healthy; Coutee would likely to be a target hog if either of them went down.
---
Curtis Samuel, WR, Carolina Panthers
DRAFT ADP: 123 | My 0.5 PPR Rank: 73 (+50)
MFL ADP: 106 | My PPR Rank: 75 (+31)
Samuel is essentially D.J. Moore arbitrage. Samuel became a full-time player in Week 12 and from that point on posted similar production to Moore, who typically comes off the board more than 50 picks earlier.
D.J. Moore, Weeks 12-17: 7.3 targets | 67.3 rec yd | 0.14 TD | 0.7 carries | 7.1 rush yd | 12.9 PPR | 10.6 half-PPR
Curtis Samuel, Weeks 12-17: 7.0 targets | 52.9 rec yd | 0.43 TD | 0.6 carries | 5.9 rush yd | 12.3 PPR | 10.4 half-PPR
Samuel missed nearly half of his rookie season and the first three weeks of last season, so he might not be done breaking out. The 2016 second-round pick is entering Year 2 of a Norv Turner offense that found a way to get him 19 touches on only 96 snaps in 2018 prior to becoming a full-time player.
Mitchell Trubisky, QB, Chicago Bears
DRAFT ADP: 138 | My 0.5 PPR Rank: 109 (+29)
MFL ADP: 140 | My PPR Rank: 109 (+31)
Only two quarterbacks — Patrick Mahomes and Drew Brees — had more 30-point fantasy games than Trubisky in 2018, and being that Trubisky missed two starts, no signal caller produced them at a higher rate.
The third-year passer should benefit from another offseason in Matt Nagy's scheme after wasting Year 1 in John Fox hell. Trubisky should also benefit from an upgraded supporting cast: Jordan Howard has been swapped out for two better pass-catching backs in Mike Davis and David Montgomery, another explosive gadget player in Cordarrelle Patterson has been added to a stable that already included Tarik Cohen and Taylor Gabriel, Anthony Miller caught seven scores as a rookie and should take a step forward in Year 2, and rookie Riley Ridley should be an upgrade at fourth receiver from Day 1.
Trubisky finished fourth among quarterbacks last season with 421 rushing yards (30.1 per game) and tends to be the last of the viable mobile quarterbacks to be drafted, which essentially means he's all upside.
---
Kalen Ballage, RB, Miami Dolphins
DRAFT ADP: 147 | My 0.5 PPR Rank: 103 (+41)
MFL ADP: 174 | My PPR Rank: 98 (+76)
I tend to be skeptical of unestablished players vying for work amid a regime change, but first-year head coach Brian Flores has repeatedly declared Ballage in the running for the starting job.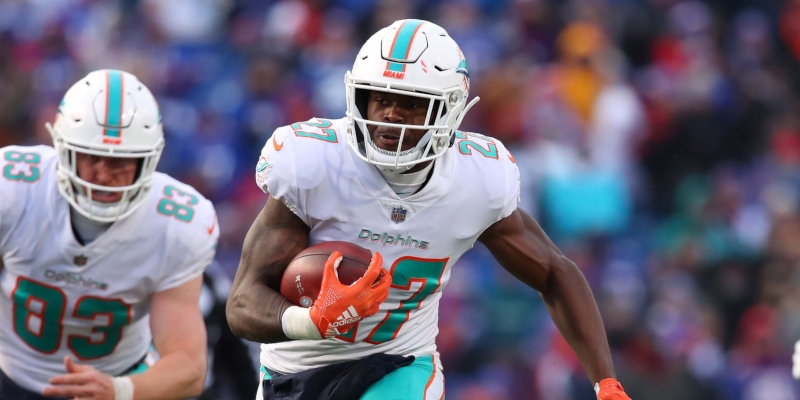 It would be silly for the Dolphins not to feature Kenyan Drake, but Flores spent his last 15 years with the Patriots and new offensive coordinator Chad O'Shea also spent the last decade with New England, so regardless of how the depth chart shakes out, Ballage could be in line to play a role akin to Sony Michel with Drake as James White.
Though Miami is the consensus favorite to be the league's worst team, Ballage is not without reason for optimism.
The Dolphins' offensive line ranked 14th in Football Outsiders' adjusted line yards (4.47) and helped its backs to the fifth-best yards per carry mark in the league (4.79), while Ballage is a 97th-percentile Speed Score athlete who is also capable of creating for himself. He showed his juice last season with a 75-yard touchdown run in his first start, and though his other 35 carries went for only 116 yards (3.3 YPC), that is exactly the type of volatility you're looking for at this point in the draft — particularly in best ball.
WR Andy Isabella, Cardinals
DRAFT ADP: 179 | My 0.5 PPR Rank: 138 (+41)
MFL ADP: 194 | My PPR Rank: 137 (+57)
If you're high on the Cardinals offense, scooping up Isabella late is a low-risk/high-reward way to get exposure.
At 5-foot-9 and 188 pounds, Isabella is a very similar player to the 5-foot-10, 187-pound Coutee — who Kingsbury coached at Texas Tech — and has a chance to post similar production as Coutee in Year 1.
Isabella's usage will likely fall into the medium-volume, low-air yard variety, making him even better suited for re-draft than best ball, but he's still undervalued in the latter. He accounted for 47% of UMass' receiving yards last season and has the potential for some extreme-volume games in a similar vein to Coutee. I expect Isabella's rookie-year stat line to fall somewhere between that of Kirk (3.6/49/0.3), Cooper Kupp (4.1/58/0.3) and Coutee (4.7/47./0.2).
Justice Hill, RB, Baltimore Ravens
DRAFT ADP: 181 | My 0.5 PPR Rank: 173 (+8)
MFL ADP: 163 | My PPR Rank: 156 (+7)
Fellow rookie running back Darrell Henderson is going nearly 100 picks higher than Hill, but the two could end up with nearly identical production. While Henderson is tied to a better offense, Hill is on one with more touches up for grabs.
And thanks to Lamar Jackson's ongoing struggles as a passer, the Ravens have a strong incentive to continue to run the ball at the highest rate in the league, as well as to manufacture easy touches for a speedy player like Hill — who runs the forty in 4.4 flat — in the passing game.
---
Robert Foster, WR, Buffalo Bills
DRAFT ADP: 196 | My 0.5 PPR Rank: 131 (+65)
MFL ADP: 139 | My PPR Rank: 137 (+2)
Foster is a much better value on DRAFT, which is interesting because he averages 20.0 yards per reception and thus stands to benefit more in leagues that award fewer points per reception. The board is littered with Foster types, such as Robby Anderson, James Washington, DeSean Jackson, Kenny Stills, and Marquise Goodwin, among others, but Foster is capable of outproducing each of them.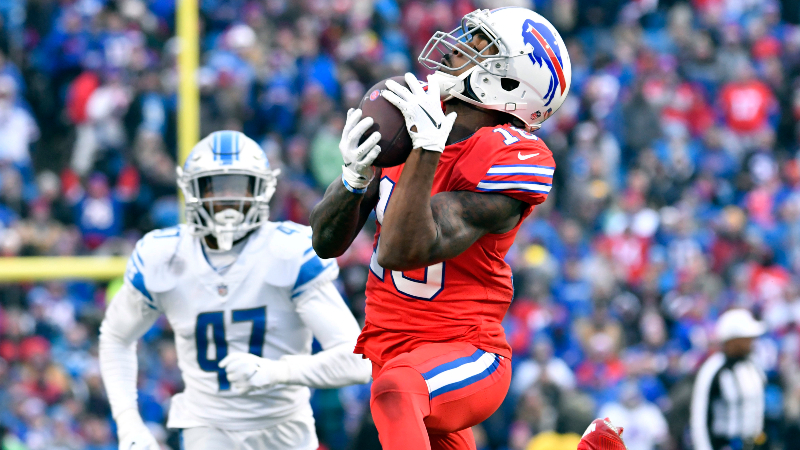 As an undrafted rookie in 2018, Foster caught 61.4% of his passes, which is absurd considering his average depth of target was 22.2 yards. For comparison, John Brown — the player most responsible for pessimism surrounding Foster — caught only 42-of-97 (43.3%) of his targets at an aDOT of 16.1; Brown was even worse the year before, catching a lower percentage of targets (21-of-55; 38.2%) at a lower aDOT (15.6).
And though Zay Jones (12.6 aDOT) saw higher-percentage targets than Foster, Josh Allen was much more efficient throwing to Foster than Jones — and everyone else.
Josh Allen to Robert Foster: 24-of-40 (60.0%) | 436 yd (10.9 YPT) | 3 TD
Josh Allen to Zay Jones: 32-of -67 (47.8%) | 424 yd (6.3 YPT) | 5 TD
Josh Allen to all others: 112-of-197 (56.8%) | 1,184 yd (6.01 YPT)  | 2 TD
Among wide receivers with at least 40 targets in 2018, Foster's receiving grade from Pro Football Focus ranked 38th — i.e. high-end No. 2 — while both players Foster is most directly competing with for snaps, Brown (61st) and Jones (67th), failed to crack the top-60.
Foster is far more talented than his undrafted pedigree suggests. While he could end up being nothing more than a situational deep threat in Year 2, he also has a decent shot of breaking out as Buffalo's No. 1 receiver.
Darwin Thompson, RB, Kansas City Chiefs
DRAFT ADP: 204 | My 0.5 PPR Rank: 172 (+32)
MFL ADP: 207 | My PPR Rank: 172 (+35)
Second-round wideout Mecole Hardman is grabbing most of the headlines among Chiefs rookie skill-position players, but should Tyreek Hill miss time, Thompson will factor in as part of the solution as well. In fact, he could factor in heavily regardless of what happens with Hill.
Though it ultimately didn't come to fruition, the Chiefs were actually looking to trade up for Thompson, who has a 91st-percentile Burst Score. And even at 5-foot-8 and 200 pounds, he's sturdy for his size and posted a 79th-percentile score in the bench press.
There's a decent chance Thompson earns the No. 2 role as early as Week 1: Carlos Hyde, who isn't even viewed a roster lock after failing to crack 4.0 yards per carry each of the past two seasons, offers next to nothing as a pass catcher.
Hyde is being drafted just inside the top 100 while Thompson goes 100 picks later, but the latter is arguably the better bet to return top-100 value.
Rankings and DRAFT ADP data as of May 30; MyFantasyLeague ADP data spans post-NFL Draft through May 30.
Chris Raybon is a Senior Editor at the Action Network and a co-host of "I'll Take That Bet" on ESPN+. He has watched every snap of every NFL game since 2010 — even the kneel downs. Follow him on Twitter @ChrisRaybon and read about how he quit his accounting job and got paid to watch sports.
How would you rate this article?