Koerner's Best Ball Fantasy Football Tiers: QBs
Credit:
Joe Nicholson-USA TODAY Sports. Pictured: Patrick Mahomes, Russell Wilson
Best ball draft strategy differs from re-draft leagues. So when should you draft your quarterbacks?
Sean Koerner ranks all potential starting QBs into tiers, with various strategy options.
Best ball drafts are a great way to get some fantasy football equity in well before the season starts. It's important to note that the strategy is a bit different than with re-draft leagues, so I'll highlight how to approach each position.
Let's start with quarterbacks. For this (and all) positions, we want to target players with high upside rather than high floor, like I typically advocate for in re-draft.
There are two primary reasons:
Best ball leagues are season-long points leagues, so the team with the most points between Weeks 1-16 wins it, making a high overall score essential. This tends to be overweighted in re-draft, in which you only need to beat your head-to-head opponent each week.
Best ball takes the highest score(s) from each position every week.
High upside typically comes with more "risk" for duds. A perfect example of this would be Josh Allen. He's as likely to put up top-five numbers at QB as he is bottom-five any given week. Luckily, in best ball, you don't have to predict which weeks he'll have top-five performances — you simply get them when they occur. So ideally, if you pair Allen with the right quarterback(s), they'll amplify your weekly output from the position.
The 2019 quarterback class is one of the deepest we've ever seen from a fantasy perspective, which means it's advantageous to hold off drafting your quarterbacks as long as possible to fill in the other skill positions.
Below I'll highlight current average draft positions (ADP) as a way of identifying which QBs we can get at a discount. I also highlight the percentage of games started (over the past two seasons) that each QB finished in the top five, 12 and 20 to illustrate their floor/ceiling trends. And as always, be extra cautious about bye weeks. If you draft two QBs, make sure that they don't have the same byes.
Finally, in addition to the tiers, I highlighted quarterbacks with the following types of week-to-week potential: High ceiling, high floor, low ceiling and low floor. Note that these aren't based on historical data, and not every QB fit one of the four.
Let's define each label and how to use them in pairing QBs before digging into the tiers:
High Ceiling (HC): The seven QBs who earned this label are the most likely to lead the league in percentage of top-five finishes — a trait worth reaching for in best ball. If a high-ceiling QB also has a high floor (HF), it makes them even more valuable. If a high-ceiling QB also has a low floor (LF), it makes them ideal pairings for high-floor QBs.
High Floor (HF): Quarterbacks with this trait aren't necessarily worth reaching for in best ball. It's a much more valuable trait to get as a value pick later in the draft, especially if you take a quarterback with a low ceiling (LC).
Low Ceiling (LC): This is the worst trait to have in best ball. You want to avoid these QBs at all cost unless they also carry a high ceiling. But if they also carry a low floor, they need to be on your "do not draft" list and your strategy needs to be around avoiding those very QBs.
Low Floor (LF): This isn't a deal breaker in best ball, especially if they also carry a high ceiling. In that case, you want to be sure to pair such a QB with a high-floor QB.
No label: All this means is that you can play these QBs straight up in best ball drafts. A higher ranked QB with no label indicates they're much closer to a HC/HF hybrid, while a lower ranked QB with no label indicates they're much closer to a LC/LF hybrid.
These tiers are specific to best ball, but keep an eye out for my re-draft tiers later this summer. Also be sure to check the breakdown of our recent best ball draft on The Action Network NFL Podcast, where we discuss various strategies.
Note: For scoring and ADP purposes, I will be referencing DRAFT.
---
More Best Ball Tiers: RB | WR | TE
---
Tier 1
Patrick Mahomes, Kansas City Chiefs (HC/HF)
Mahomes is coming off an MVP season in which he scored 52 touchdowns (50 passing, two rushing) and is likely to come back down to Earth in 2019. The real question is: How much?
I have Mahomes projected to throw for "only" 36.5 TDs, and he's still in his own tier atop my QB rankings. While Tyreek Hill's status remains uncertain, I do have him playing six games in this projection. I think people assume that the Chiefs will maintain their current depth chart if Hill is ultimately suspended or cut, but I'm expecting them to possibly trade for someone like Nelson Agholor to mitigate the loss of Hill.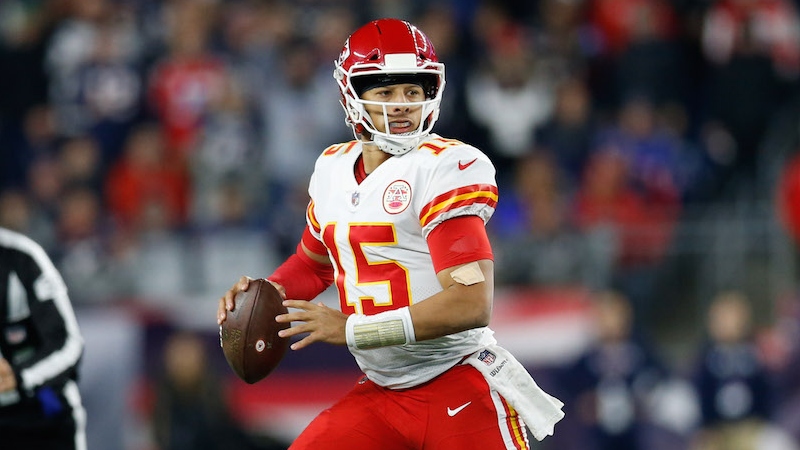 Mahomes is currently coming off the board 37th overall in 12-team drafts, which is very close to where I have him ranked (39th). He's unlikely to slip far enough for me to have a ton of exposure with my late-round QB approach.
In three- to four-team drafts, he's much higher in my rankings (15th) due to the approximate 20-point drop between Tier 1 and 2. My exposure to him is much higher in those league sizes as a result.
Mahomes has finished in the top-five at a 53% rate and has yet to finish outside of the top 20 in a given week. His elite floor/ceiling combo means you only need to draft two QBs (sometimes three are necessary), allowing you to add an additional RB/WR/TE.
Tier 2
Deshaun Watson, Houston Texans (HC)
Andrew Luck, Indianapolis Colts
Aaron Rodgers, Green Bay Packers (HF)
Editor's note: This story was first published before the news of Andrew Luck's retirement. See how Koerner has adjusted his QB rankings to account for Jacoby Brissett taking over as the starter here.
Once Mahomes is off the board, most drafts avoid taking another QB for 25 to 30 picks. But once one of these three QBs are selected, the other two are taken in quick succession.
Watson has the most value of this tier. He's typically the last one selected of the three, but has arguably the highest weekly upside.
Placing in the top-five at a 30% rate and in the top-12 at a 70% rate means he hits his ceiling frequently. And if he gets a healthy Keke Coutee and Will Fuller for most of the season, Watson might even improve on his numbers from 2018. Not to mention that his rushing stats suffered from Weeks 6-11, when he was banged up. Improved health could make him a serious QB1 threat.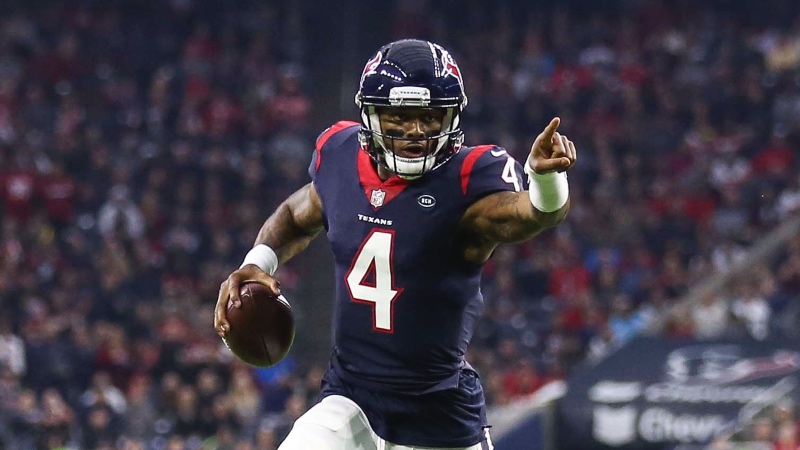 Luck proved his shoulder injury is behind him. He might even find a way to improve on last season's MVP-like numbers with more weapons. The Colts drafted speedster Parris Campbell, signed red-zone threat Devin Funchess, and welcome chain-moving Jack Doyle back from injury.
Rodgers played the entire 2018 season with an MCL injury he suffered in Week 1. He didn't look himself, throwing only 25 TDs. With Mike McCarthy gone and new head coach Matt LaFleur in town, expect Rodgers to bounce back in a big way. Unfortunately, the market is anticipating this as he's being selected as the third QB off the board, so there isn't much "value" to be had.
It would be real hard to wait on QB if any of these three slip outside the top 75.
Tier 3
Russell Wilson, Seattle Seahawks
Matt Ryan, Atlanta Falcons (HF)
Wilson is typically being drafted 97th overall, which makes him a potential steal in that range. It was a miracle that he was able to finish last season as the QB9 with only 427 pass attempts and zero rushing TDs. There's almost no way he can maintain that efficiency, but any regression he suffers there, he might be able to salvage with an increase in volume.
It'll be a bit of an uphill battle as Pete Carroll/Brian Schottenheimer clearly want to be a run-heavy team. If the defense takes a step back, it could force their hand and Wilson could end up somewhere between his 2017 and 2018 seasons, where he put up the second-highest percentage of top-five finishes at the position with 37.5%.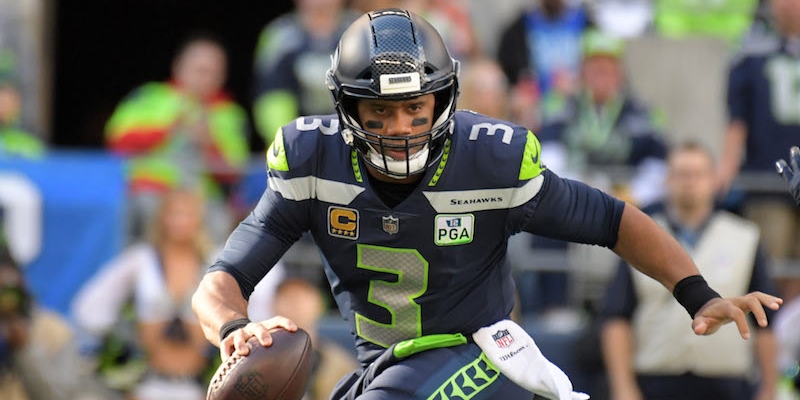 The market seems to be wisely cautious about his 2019 outlook, but might be overdoing it by letting him nearly fall outside the top 100.
Ryan is currently being drafted right about where he should be. I love his upside this season but view him as much more of an asset in re-draft leagues. One advantage of taking Ryan is it makes it easier to pair him up with a high-ceiling/low-floor QB2 you can take much later, like Josh Allen or Mitch Trubisky.
---
Tier 4
Baker Mayfield, Cleveland Browns (HF)
Carson Wentz, Philadelphia Eagles (HC)
Jared Goff, Los Angeles Rams
Kyler Murray, Arizona Cardinals (HC)
Drew Brees, New Orleans Saints (HC)
Jameis Winston, Tampa Bay Buccaneers (HC)
This tier is loaded with upside.
Mayfield, Murray and Winston do not come at a discount, though. The hype train for all three is in full force, and rightfully so.
Murray has top-three QB upside with his skill set and the type of offense he's going to be heading. If he's your first QB selected, you might need to add a third given his potential downside and injury risk at the NFL level.
As Todd Gurley's stock rapidly falls due to concerns about his knee injury limiting his workload and/or availability, Goff's stock should be getting a slight boost. The more the Rams have to lean on Goff, especially in the red zone, the higher his ceiling will be. Right now his ADP of 113th overall is right in line with where I have him.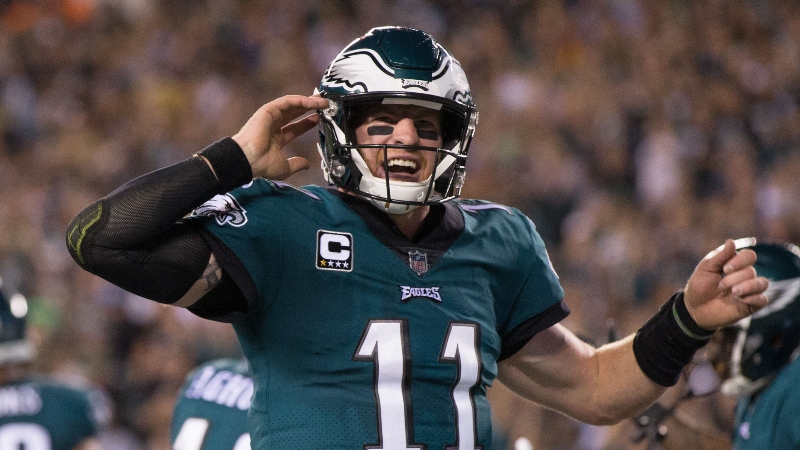 Wentz has a very high weekly ceiling as seen with his 33% top-five rate. The only question with him is if he can stay healthy. With Nick Foles gone, the Eagles can't afford to have Wentz miss any time, so I'm anticipating they'll be less cautious with Wentz and more willing to roll him out at less than 100%.
One of the benefits of waiting on QB is the order they are drafted in can vary quite a bit in specific drafts, and quite a few will fall too far. If a player like Wentz happens to slip outside the top 125, it'll be hard to pass him up.
---
Tier 5
Josh Allen, Buffalo Bills (HC/LF)
Dak Prescott, Dallas Cowboys
Cam Newton, Carolina Panthers (HC)
Ben Roethlisberger, Pittsburgh Steelers (HF)
Lamar Jackson, Baltimore Ravens (HF)
Kirk Cousins, Minnesota Vikings 
Mitchell Trubisky, Chicago Bears (LF)
Tom Brady, New England Patriots
Philip Rivers, Los Angeles Chargers (HF)
Newton needs to be treated cautiously. His right shoulder that he had surgery on after the 2017 season underwent a clean-up procedure this offseason. He's expected to be fine, but has a bit of risk associated with him.
While we shoot for players with high upside in best ball, that doesn't necessarily mean we're seeking "risky" picks. Players with potential downside are even riskier in best ball because we can't use in-season management to combat missed games, so I typically avoid these types of players unless they fall far enough to make the risk worth it. That's not  the case with Newton as of writing, but if we continue to get positive reports on him, he'll only go up in my rankings.
The rest of this tier offers a ton of value late in the draft. You could hold off at QB until the later rounds to snag two from this tier and be set. I would attempt to pair a high-ceiling QB with a high-floor QB in order to take advantage of spiked weeks, while avoiding dud weeks from your QB slot.
Here are some examples of that type of pairing, with their top-five, top-12 and outside top-20 percentage splits included:
Dak Prescott: 28/38/31
Ben Roethlisberger: 19/58/13
As you can see, Prescott is a borderline HC/LF player while Big Ben is a true high-floor option who will never single handedly win or lose a week for you. Loading up on RB/WR/TE early on knowing you can wait to pair up these two QBs is a solid best ball strategy.
Josh Allen: 25/50/50
Philip Rivers: 13/53/16
Another great QB pairing in which you can get both guys cheap and churn out solid weekly output from your QB slot. Allen is the ultimate boom/bust player on a weekly basis while Rivers will typically provide good, not great numbers. It allows you take advantage of Allen's spiked weeks and not getting killed when he busts.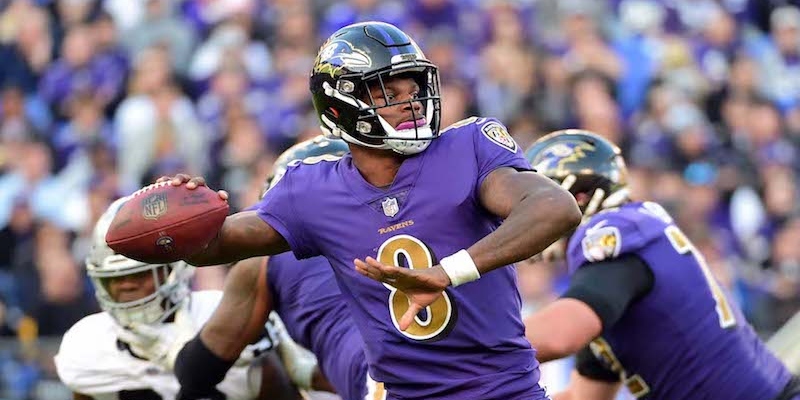 I'm much higher on Jackson in re-draft leagues.
Typically, rushing stats help boost a QB's ceiling, but since that's pretty much his entire game, it makes Jackson an extreme high-floor QB with a lower ceiling than people think. His ceiling games will occur when he throws for ~300 yards and multiple TDs. But that's not his game, and he's unlikely to hit his true ceiling often as evidenced by his one top-five finish in his seven starts last season.
Jackson's rushing ability makes him nearly "bust" proof, finishing inside the top 20 on all seven of his starts. The only other QB to finish in the top 20 in 100% of their starts last season was Mahomes.
Tier 6
Jimmy Garoppolo, San Francisco 49ers
Jimmy G being outside the top 20 in ADP at QB is one of the many indicators of just how deep the position is this season.
The hype train on him derailed after suffering a season-ending injury in Week 3 of 2018. Nick Mullens, who was an undrafted rookie, ended up with a clip of 62.5% top-12 finishes in his eight starts. I think that was more a result of Kyle Shanahan getting this offense in a position to succeed.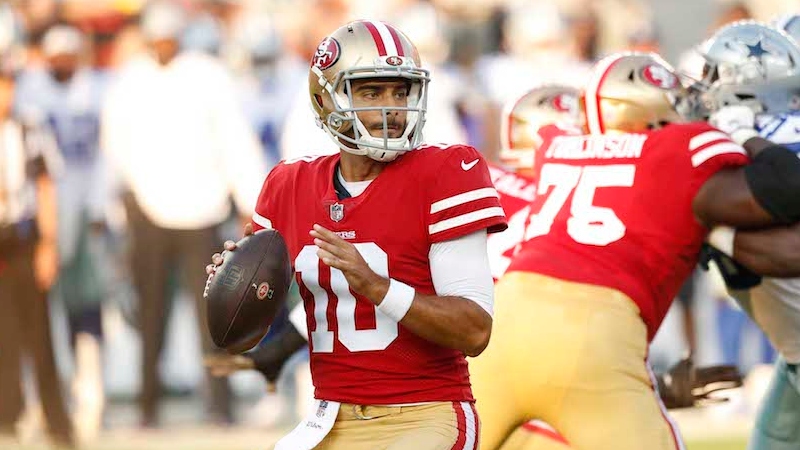 This will be Jimmy G's second year in the offense and he should have more weapons to work with. He's a great high-floor option who you can get extremely late and would be ideal to pair with a QB like Murray.
---
Tier 7
Matthew Stafford, Detroit Lions
Derek Carr, Oakland Raiders
Sam Darnold, New York Jets
Stafford and Carr are veteran QBs coming off poor seasons, making them dirt cheap. Both are currently being drafted outside the top 160.
I'll typically have my two QBs locked in by this point. But if for some reason I'm in a league where I still need a second QB, you could do worse than these two, who should bounce back with better supporting casts.
I'm much more likely to roll the dice on Darnold if he's still available. He's in a position to breakout in his second season and we saw things start to "click" for him at the end of last season as seen by his top-12 finishes over the final three weeks of 2018.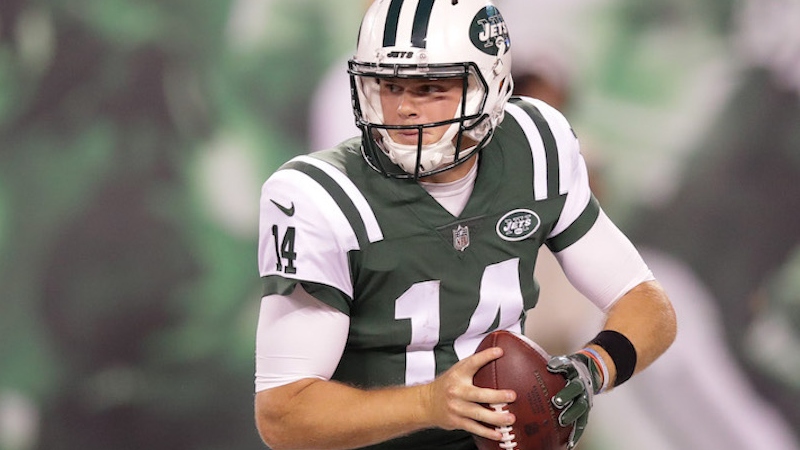 Most notable was his scrambling ability. After totaling 21 rushing yards over his first six games, Darnold had 20-plus rush yards in three of his final seven games. He has a chance to build on that as he gets more confident escaping the pocket and picking up easy yards with his legs. His supporting cast should be significantly better this season, so the needle for Darnold is pointing way up.
---
Tier 8
Marcus Mariota, Tennesse Titans (LC)
Andy Dalton, Cincinnati Bengals (LC)
Nick Foles, Jacksonville Jaguars (LF)
It's critical to avoid having to dip down into this tier if you can. All three are low-ceiling and low-floor QBs, which is a horrible combo for best ball or any format.
Mariota is a game manager on a run-heavy team and has shown the inability to stay healthy for a full 16-game season. Dalton has only one weekly top-five finish in the past two seasons. And Foles has yet to prove he can put up above-average numbers outside of Philadelphia. While he should improve the Jaguars' offense, I don't think it'll help him become a viable fantasy starter.
---
Tier 9
Eli Manning, New York Giants (LC/LF)
Joe Flacco, Denver Broncos (LC/LF)
These two have the low-ceiling and low-floor combo of Tier 8, but with the baked-in possibility of being benched in season for a rookie QB.
The Giants decided to draft Daniel Jones with their sixth overall pick, and the Broncos went with Drew Lock in Round 2. Expect both to get a bit antsy to see what they have in their rookie QBs at some point this season at the expense of Manning and Flacco. Best ball is not the format to take that gamble when they offer almost no upside.
---
Tier 10
Dwayne Haskins, Washington Redskins
Case Keenum, Washington Redskins (LF)
Josh Rosen, Miami Dolphins (LC/LF)
Ryan Fitzpatrick, Miami Dolphins
This is another tier to avoid at all costs given the fact that the Dolphins' and Redskins' QB situation is going to be the most volatile. It's very possible each of these QBs will only start for eight or fewer games — a major red flag in best ball, and none offer enough upside to even think about taking on that kind of risk.
How would you rate this article?