Koerner's Best Ball Fantasy Football Tiers: Running Backs
Credit:
USA Today Sports. Pictured: Alvin Kamara, Ezekiel Elliott
Sean Koerner ranks the top fantasy football running backs into tiers for best ball.
He explains various strategies at RB and when to target certain backs.
My strategy differs the most between re-draft and best ball at running back.
I like to draft a wide receiver early in re-draft if I can't get one of the top four running backs. I then load up on RBs in later rounds, and leave my bench spots almost exclusively for them (especially handcuff/backup types) throughout the season. The reason? Running back is the most volatile position due to weak job security and higher injury rates.
But in best ball, you have to rely on the RBs you draft — there are no in-season roster moves — so I put a much higher premium on drafting RBs early on.
Because of the chaos the position creates, I want to emphasize that looking at or using set projections/rankings when drafting can be a bit misleading. It assumes that what we think today will hold true all season. That's where people get into trouble.
Before we dig into my tiers, I'll show you how to view RB outlooks through a three-dimensional lens so that we can better identify which could be league winners (or busts). To do this, I came up with following designations, which we'll use to identify four types of backs throughout my tiers.
Let's define all four types, identify 2018 comps, then explain the draft strategy associated with each. Note that RBs who fit any of the four designations will be labeled with the corresponding number.
Type No. 1: Cheapest RB in a Committee
This describes one of two to three running backs who are expected to share the workload in a team's backfield. We're ultimately guessing what the pecking order will be in these instances, but there's enough uncertainty heading into the season that each of the backs has a chance to run away with a workhorse role.
2018 comps: Phillip Lindsay, Chris Carson
Draft strategy: Taking the cheapest back in a committee can pay serious dividends if you hit, just look at last season's examples. The problem is luck.
If you take a flier on the cheapest back in a running back by committee (RBBC) and the preseason expectations are accurate, you can be left with a back who doesn't see enough playing time for best ball purposes. These types of backs are much easier to manage during the season in a re-draft league.
Type No. 2: A Stud RB's Backup
This type of back would be able to handle close to the same every-down workload of the starter. They're clearly less talented than the starter, but can excel if given the opportunity. People tend to focus too much on the talent of the RB, but opportunity is just as (if not more) important than talent when it comes to fantasy football.
This is the ultimate type of risk/reward back, especially in best ball, since they're unlikely to see many touches as long as the starter is healthy.
2018 comp: James Conner
Draft strategy: If the RB ahead of them on the depth chart stays healthy, these backs will see little to no playing time. However, there's upside if the starter misses time and their backup instantly becomes a RB1/2. This type of RB can also act as an insurance policy if you draft the starter, but handcuffing is easier to manage in-season in re-draft leagues.
I wouldn't want to roll the dice on too many of these backs in best ball unless I'm pairing them with early-round RBs to raise my team's floor, but that doesn't fall under the "go big or go home" mindset you should employ in best ball.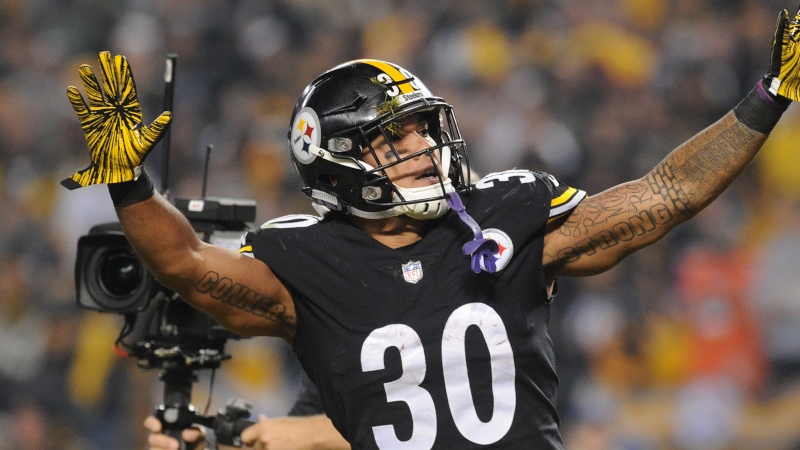 Type No. 3: RBs with Secure Committee Roles
This type of back is already a known fantasy commodity, but splits time. They provide useful week-to-week value in their current role, but have the potential for league-winning upside if their counterpart happens to miss time, or if they end up taking over the backfield completely.
2018 comps: Derrick Henry, Tevin Coleman
Draft strategy: These are the types of RBs I most covet in best ball drafts.
They typically don't come cheap since you can bank on them to produce solid weekly value in a timeshare. But the market tends to price them out in a way that assumes their counterpart will be healthy all season, and that the timeshare will make their week-to-week scores fairly inconsistent. The latter isn't really a concern in best ball, so I see these backs as low risk, high reward.
At worse, they end up doing exactly what we expected and simply return their draft value. At best, they take over the workhorse role in-season.
Type No. 4: RBs to Approach Carefully
These are backs who are ranked and/or being drafted right in line with my preseason projections, but are not in stable situations and could see their value fall to the basement at a moment's notice.
That's the pitfall of solely relying on two-dimensional projections at face value.
2018 comps: Rashaad Penny, Alex Collins, Kenyan Drake, Ronald Jones, Jamaal Williams
Draft strategy: It's almost impossible to avoid drafting at least one of these backs, but you should try. They're the more expensive option in a potential two- to three-back committee. They're also the most likely to lead it, but I've found the market tends to overprice them. They typically lurk in the RB2/3 range.
Now let's dig into my tiers. Remember that any backs who fit any of the aforementioned types will be labeled with the corresponding number.
Note: For scoring and ADP purposes, I will be referencing DRAFT.
---
More Best Ball Tiers: QB | WR | TE
---
Tier 1
Saquon Barkley, New York Giants
Christian McCaffrey, Carolina Panthers
Alvin Kamara, New Orleans Saints
Ezekiel Elliott, Dallas Cowboys
You can make a case that Barkley should get Tier 1 all to himself, but I decided to slot all top four RBs here as they should be the first four overall picks in most formats.
I'll typically take Barkley No. 1 overall since getting the first pick is luck of the draw. He'll be the first player off the board in most drafts, so it's easier to diversify how you handle draft Picks 2-4 to even out your exposure.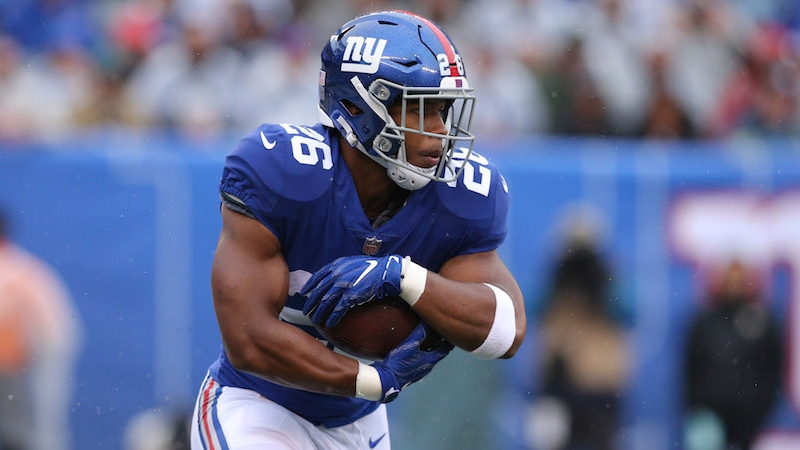 The truth is that if any one of these backs misses extended time, it would cripple that team's chances of winning the league. I'd rather spread out my exposure on such a fragile pick and try to win the league with value picks later in the draft that won't kill me if they get hurt.
Zeke's off-the-field issues have returned. I fully expect him to avoid a suspension for now, but with his history, I've decided to break the tie for Picks 2-4 and rank him last among the four due to the risk. McCaffrey is a safer bet for volume while Kamara is a safer bet for touchdowns, but since volume is a bit more predictive in value, I'm leaning CMC No. 2 overall.
Tier 2
Le'Veon Bell, New York Jets
David Johnson, Arizona Cardinals
James Conner, Pittsburgh Steelers
Melvin Gordon, Los Angeles Chargers
I'm a bit more cynical about this tier for re-draft, but I love it for best ball.
I'm trying to lock in some workhorse backs early considering I can't use my in-season strategy to hoard RBs. It's such a volatile, top-heavy position that it requires a different approach in best ball.
A lot of people labeled Johnson a bust last season, but he finished as the RB10. And he should thrive in the new and improved Arizona offense.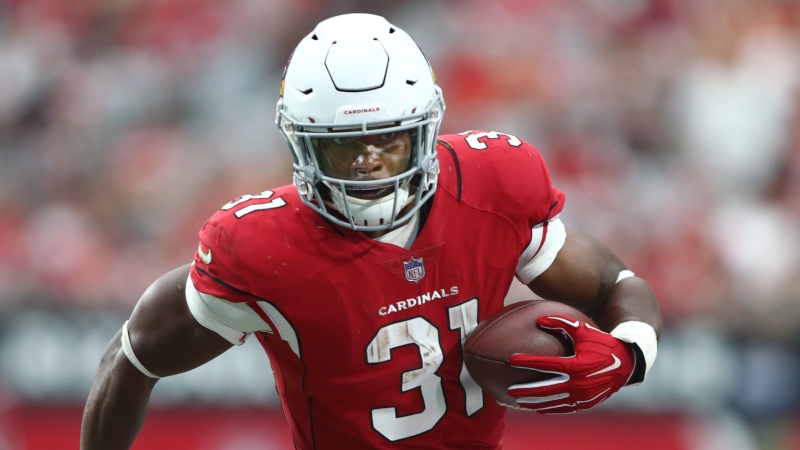 I'll be watching the Bell-Adam Gase relationship very closely this summer. My gut feeling is that Gase was trying to get out ahead of putting the blame on someone else (the general manager) by complaining about the contract Bell received, ultimately sent the GM packing. I have every reason to believe Gase will use Bell as the workhorse back, but if you draft him, it makes sense to add Elijah McGuire as a handcuff.
---
Tier 3
Nick Chubb, Cleveland Browns
Joe Mixon, Cincinnati Bengals
Dalvin Cook, Minnesota Vikings
Mixon is being drafted five slots ahead of the two other backs in this tier.
Mixon is one of the more talented backs in the league, but the Bengals will be the weakest team in the AFC North. So he might get the volume we expect, but could underwhelm in the touchdown department.
People are shying away from Chubb due to Kareem Hunt's looming return from an eight-game suspension. Hunt will certainly ding Chubb's value, but this is more of a concern for me in re-draft, where I weigh a player's prospects in Weeks 14-16 for fantasy playoffs. I'm less concerned about this in best ball since every week is treated equally, and Chubb will surely have big games even with Hunt in the mix.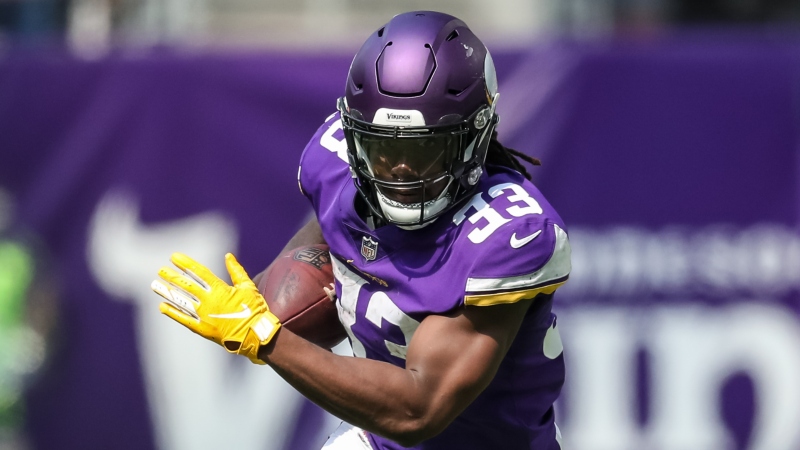 Cook hasn't been able to stay healthy, but instead of shying away from this, I'm viewing it as a way to get him cheap.
The Vikings fired offensive coordinator John DeFilippo after a disastrous Week 14, making it clear they would become a more balanced team. Sure enough, Cook finished as the RB7 over the final three games. Now Latavius Murray is gone and they brought in Gary Kubiak as an assistant head coach — two signs that Cook could become a workhorse back on a team that intends to have a more efficient rushing attack.
---
Tier 4
Damien Williams, Kansas City Chiefs (4)
Derrick Henry, Tennesse Titans
Sony Michel, New England Patriots
Aaron Jones, Green Bay Packers
Leonard Fournette, Jacksonville Jaguars
Marlon Mack, Indianapolis Colts
Devonta Freeman, Atlanta Falcons
I coined the term "frozen pond" on The Action Network NFL Podcast  last season to describe the hidden downside of most RB2s. A high percentage of RBs being drafted in this range did bust for various reasons. However, I'm not seeing the same issues this season.
The RB2 tier is quite strong. Every single one of these backs faces some degree of competition, but I do believe they're the team's best back and should maintain their lead back role for most of the season.
Williams is without a doubt the highest risk/reward of the tier.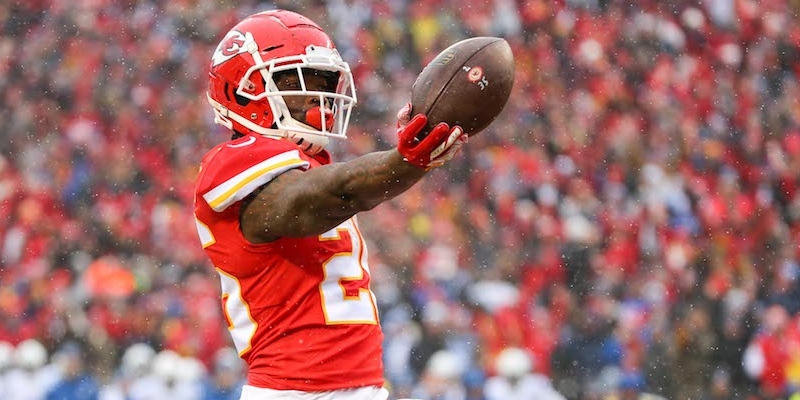 He's never cleared 50 rush attempts or 25 receptions in his five-year career, so we can't be so sure he can handle 200-250 touches. But when he started the final four games of 2018, he showed the sky-high upside he'll have if he can get close to 15 touches a week. He'll have to hold off Carlos Hyde and Darwin Thompson, but I'm not too worried.
Williams has shown he doesn't need many touches to put up RB1/2 numbers.
---
Tier 5
Todd Gurley, Los Angeles Rams
Gurley deserves his own tier considering he's one of the hardest RBs to peg right now.
The knee issue he dealt with at the end of last season appears to be a legitimate concern as it's a degenerative, arthritic issue. Even if he ends up recovering close to 100% before the season starts, it's pretty clear that the Rams don't intend on giving him the same workhorse role he's thrived in over the past two seasons after re-signing Malcom Brown then drafting Darrell Henderson in the third round.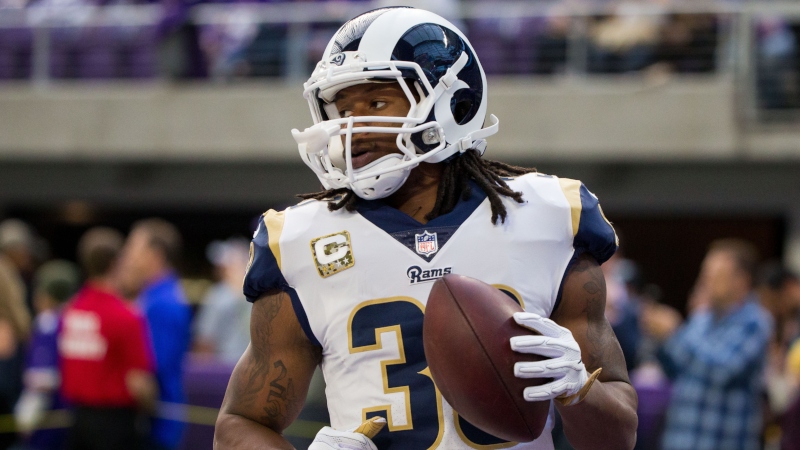 I mentioned in my QB Tiers that best ball strategy involves taking players with week-to-week upside, but that doesn't necessarily mean taking "risks" on players who could miss a handful of games. I'm shying away from Gurley unless he falls far enough to make the risk worth it. If all of Tier 4 is gone and he's still around, snag him.
His rank will be the most volatile one this season, so it's key to stay up-to-date on news with him.
---
Tier 6
Kerryon Johnson, Detroit Lions (3)
Chris Carson, Seattle Seahawks
Phillip Lindsay, Denver Broncos (4)
Mark Ingram, Baltimore Ravens
Josh Jacobs, Oakland Raiders
Kenyan Drake, Miami Dolphins
Johnson is the first No. 3 type back I'll seek out in best ball.
The market is correctly pricing him out toward the bottom of the RB2 tier as he sits atop a fairly crowded RBBC. Despite clearly being the best back on the Lions, he'll have to compete with pass-catching back Theo Riddick and short-yardage grinder C.J. Anderson. If the season plays out exactly how I expect, with those two stealing enough work from Johnson, this is about where Johnson's end-of-season rank will be.
However, there are a couple scenarios in which he becomes a RB1:
He breaks out and becomes a true workhorse back.
Riddick and/or Anderson miss time.
Johnson comes across as an ideal low risk, high reward back to target.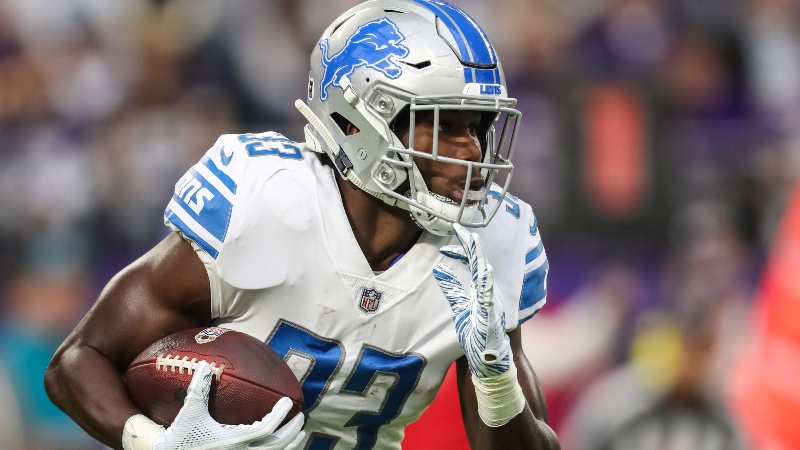 Lindsay, on the other hand, should be treated with caution.
Sure, he very well could repeat last season's numbers, and I wouldn't be surprised if he did, hence where I have him ranked. But there's a very real possibility that the tables turn and Royce Freeman — who everyone pegged as the Broncos' lead back heading into 2018 — could end up the lead back in 2019. New offensive coordinator Rich Scangarello is expected to implement a more wide-zone running scheme, which should suit Freeman better.
It feels like we're buying last season's stats when it comes to Lindsay, so treat him with caution.
---
Tier 7
Tarik Cohen, Chicago Bears
James White, New England Patriots
Lamar Miller, Houston Texans
I can't help but label this the "low risk, low reward" tier. There's absolutely nothing wrong with knowing exactly what you are going to get from a RB, and that's what we have here.
Cohen and White have their pass-catching roles solidified. (Cohen could have some competition there, but I'll address that later.) And Miller will likely put up solid, if unspectacular, RB2/flex numbers at a discount yet again.
White is the only one of the three I would go out of my way to get.
---
Tier 8
Derrius Guice, Washington Redskins (4)
Tevin Coleman, San Francisco 49ers (4)
LeSean McCoy, Buffalo Bills (4)
Latavius Murray, New Orleans Saints (3)
Jordan Howard, Philadelphia Eagles (4)
Peyton Barber, Tampa Bay Buccaneers (4)
We need to be cautious about Guice and Coleman, but they're likely worth the inherent risk. They both sit atop crowded backfields, yet have the talent to lower their chances of being leapfrogged.
Guice carries a red flag as his repaired ACL became infected and he had to undergo more procedures to clean it up. But he still has youth on his side, and the Redskins can be cautious with him as long as Peterson shows flashes of his old self.
Murray is the back I'm targeting the most in this tier. He earns the No. 3 label as he's in the perfect spot to either return his ADP or crush it. The Saints are likely to use him in the Mark Ingram role, which alone is quite valuable. Murray should see spiked weeks when he finds the end zone or sees 15-plus touches when game scripts warrant it. This is perfect for best ball because we don't have to "guess" when those weeks will come.
If Kamara were to miss any time, watch out — Murray could be a borderline RB1 value. Seems like this type of upside isn't completely factored into his current ADP.
McCoy, Howard and Barber have proven they can handle big workloads and put up solid numbers when given the chance. However, they are in fairly crowded backfields with RBs of the future sitting behind them. I would be very cautious with this trio, and only draft one if they fall way too far.
Tier 9
Austin Ekeler, Los Angeles Chargers
Dion Lewis, Tennessee Titans
Jerick McKinnon, San Francisco 49ers
Rashaad Penny, Seattle Seahawks (3)
I view Ekeler much more in the James White mold than anything. Ekeler will have a pretty stable part-time role all season no matter what Gordon is doing. If Gordon were to miss any time, I would expect Justin Jackson to have a much bigger role. Because of this, I can't quite give Ekeler a No. 3 designation, but he is very close.
Ekeler is an ideal back to target in best ball since he doesn't get the volume to be a consistent producer, but can see spiked weeks.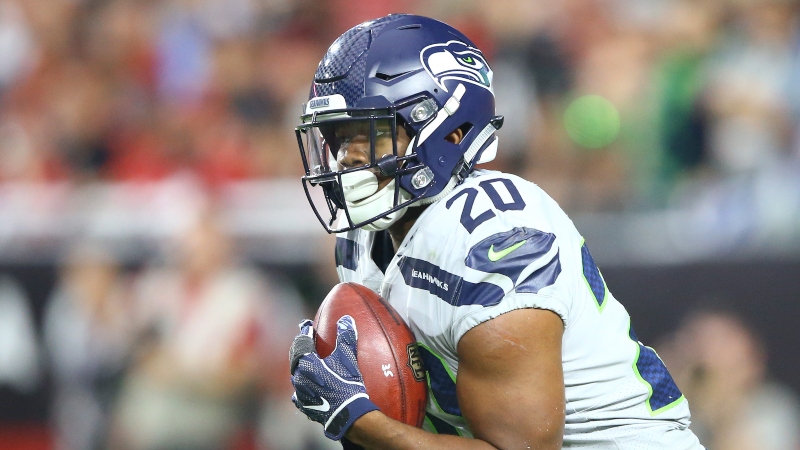 Penny was a bust in 2018 in large part due to Chris Carson's breakout season. However, Penny did show signs of promise starting in Week 10. The Seahawks figure to be one of the highest run volume teams again in 2019, which means Penny could see enough touches most weeks to put up RB2/3 type numbers. With Mike Davis out of the picture, it should make Penny's path to getting double-digit touches most weeks even easier.
If Carson were to miss any time, we would see Penny as a solid RB2 with RB1 upside. Again, these are the types of players I like to target at this point in the draft.
---
Tier 10
Royce Freeman, Denver Broncos (3)
Darrell Henderson, Los Angeles Rams (3)
Miles Sanders, Philadelphia Eagles (3)
David Montgomery, Chicago Bears (3)
Nyheim Hines, Indianapolis Colts
Mike Davis, Chicago Bears (1)
Ito Smith, Atlanta Falcons
Adrian Peterson, Washington Redskins
Ronald Jones, Tampa Bay Buccaneers (3)
This is a Tier full of Nos. 1 and 3 type backs. Unfortunately, the rookie No. 3 backs here require mid-round draft picks, so there isn't as much value being offered there as I would like.
Best ball drafts typically see much sharper fantasy football players compared to re-draft leagues. This makes it much tougher to capitalize on these three rookies I have designated as No. 3 type backs. The market has priced them out as near locks to lead their backfields this season and as hitting their potential. (In Henderson's case, it involves Gurley's knee becoming even more of an issue than we expect.)
As a result, it typically forces me to pass on these backs. It happened last season with Penny, Jones and Michel. It ended up working out (for the most part), and I'm willing to roll the dice again this season. Consider this an expert acknowledging these backs' immense upside — both talent and situation wise — but also understanding the deeper strategy of hunting down value in best ball drafts and going against the grain a bit.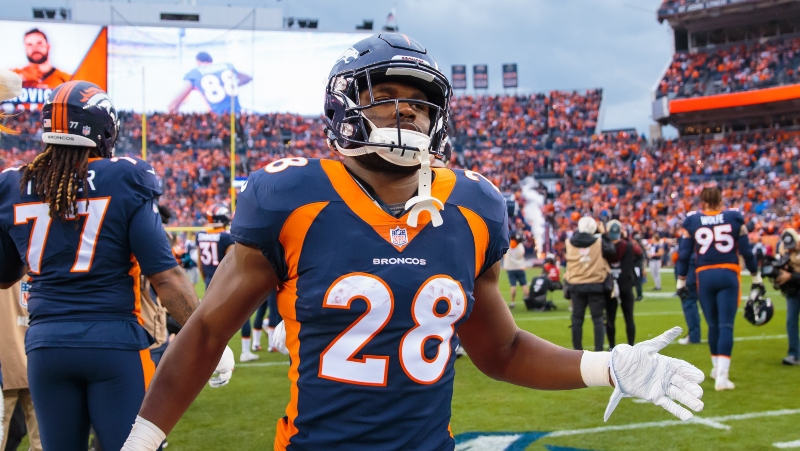 I mentioned earlier that Freeman could become the Broncos' main RB in 2019. Even if Lindsay is able to hang onto the lead role in the new scheme, Freeman should be able to carve out a role in which he provides spiked weeks when he finds the end zone.
Freedman's value will shoot up four to five tiers if Lindsay were to ever miss time, which could be likely given Lindsay's small frame. There are reports that Lindsay's wrist injury might not be fully healed until August. The window to get Freeman at his current ADP of 90 could evaporate soon.
Mike Davis is the first back to get the No. 1 designation as the cheapest back in a crowded backfield.
The hype for David Montgomery is real, as seen by his current ADP of 50th overall. I can certainly see a scenario in which Montgomery exceeds even that lofty price tag. However, I'm much more willing to snag other backs in that range and take a flier on Davis much later in the draft.
Let's not forget that Davis was able to hold off first-rounder Rashaad Penny in 2018, so it wouldn't be the first time we let a shiny object allow us to get Davis dirt cheap.
Jones is almost in the same position as Penny. He's coming off a disappointing rookie season in which he lost the starting role to Peyton Barber (of all backs), and even spent the first part of the season as a healthy scratch. Unlike Penny, Jones didn't even show signs of life last season and had only one total touch over the final four games.
I expect the new coaching staff to be a chance for Jones to hit reset and potentially break out in his second season. He should at least be able to carve out a role in which he can push Barber to make it more of a RBBC. If Barber were to miss any time, it would thrust Jones into more of a workhorse role.
Jones is another No. 3 type back to target at his ADP of 90 if Freeman is off the board.
Tier 11
Kareem Hunt, Kansas City Chiefs (3)
Jalen Richard, Oakland Raiders
Chris Thompson, Washington Redskins
Carlos Hyde, Kansas City Chiefs (1)
Jamaal Williams, Green Bay Packers
Giovani Bernard, Cincinnati Bengals
Duke Johnson Jr., Cleveland Browns
D'Onta Foreman, Houston Texans (1)
Kalen Ballage, Miami Dolphins
C.J. Anderson, Detroit Lions
Theo Riddick, Detroit Lions
Hunt has some sneaky value in best ball. Yes, he will miss the first eight games due to suspension. And yes, he's likely to become Chubb's backup. However, I expect Hunt to carve out a fantasy relevant role even with Chubb healthy.
Eighteen NFL teams have their byes between Weeks 9-12. If you have a few RBs in that group, it'll make it that much easier to be without Hunt for the first eight games. Savvy drafters will be able to set up a team that Hunt's production from Week 9 on will just be icing on the cake.
Notice that Williams doesn't earn either the Nos. 1 or 2 designation despite having characteristics of both.
He doesn't earn a No. 1 because there's no doubt that Aaron Jones is the more talented back and will be the Packers' starter as long as he's healthy. And despite having solid RB2 upside, if Jones were to miss any time, it doesn't mean Williams deserves a No. 2 label, either — only backups that come extremely cheap late in the draft are eligible for that designation.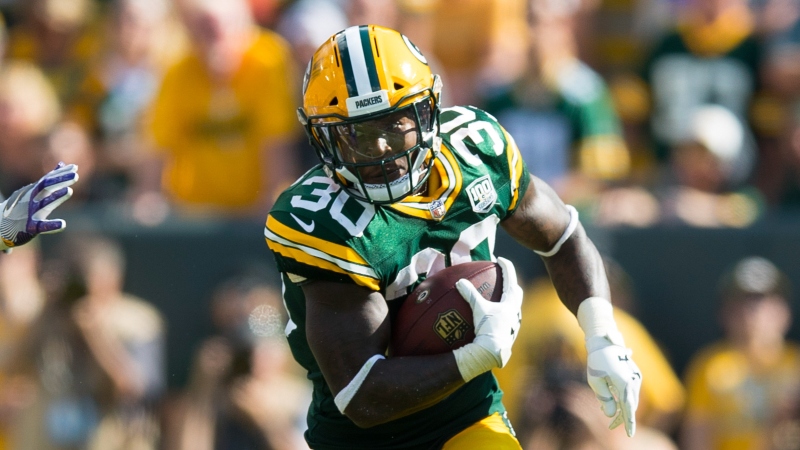 I do see Williams as more of a No. 3 type who you can get pretty cheap at 150 overall. He's the type of back who sticks out to me in this range.
Hyde has a chance of overtaking Damien Williams to become the lead back for the Chiefs. He would also have to hold off rookie Darwin Thompson in that scenario. I'm not saying it's likely, I'm not even betting on it. But this late in a draft, it's worth taking a flier on.
Foreman wasn't able to push Lamar Miller last season as he slowly came along from his torn Achilles. He has a chance to take over as lead back if he's close to 100%, especially with Alfred Blue no longer with the Texans.
---
Tier 12
Jaylen Samuels, Pittsburgh Steelers
Alfred Blue, Jacksonville Jaguars
Matt Breida, San Francisco 49ers (1)
Breida excelled when he took over as lead back. Unfortunately, he dealt with a nagging ankle injury that prevented him from truly hitting his ceiling. Heading into 2019 he'll have to deal with a healthy Jerick McKinnon and free-agent addition Coleman assuming lead back duties.
It would require quite a bit of luck for Breida to end up becoming the lead back again this season, but he's cheap enough to take a flier in some drafts.
Tier 13
Rex Burkhead, New England Patriots
Frank Gore, Buffalo Bills (1)
Alexander Mattison, Minnesota Vikings (2)
Chase Edmonds, Arizona Cardinals (2)
Doug Martin, Oakland Raiders
Devontae Booker, Denver Broncos
Corey Clement, Philadelphia Eagles
Gus Edwards, Baltimore Ravens (1)
We have our first No. 2 backs to consider. Mattison and Edmonds would require their team's starting back to miss time in order to see consistent value. Even if Dalvin Cook and David Johnson play all 16 games, Mattison and Edmonds could still see one or two best ball relevant weeks.
Gore and Martin are the type of picks that leave a bad taste in your mouth but can help raise your floor. That's not a winning strategy in best ball, as you should lean toward high-upside picks in this range.
There really isn't much to lose, so why go "safe" here?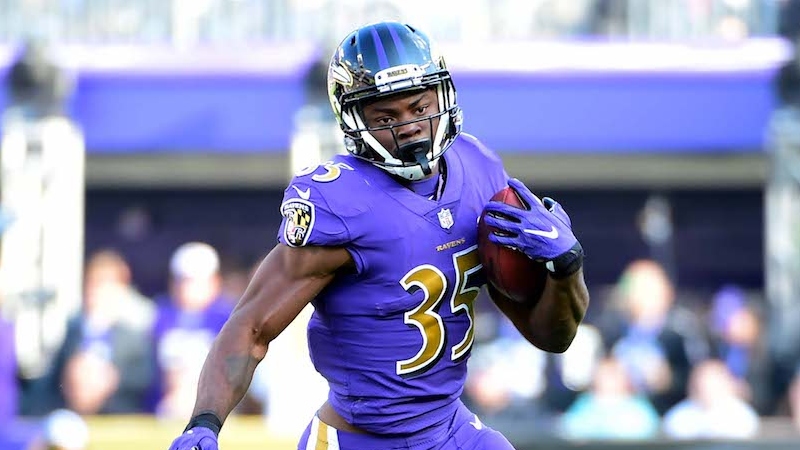 Edwards comes across as one of the biggest losers at RB from having the 2018 deck being reshuffled for 2019. He's likely behind Mark Ingram, and even Kenneth Dixon, to start the season with rookie Justice Hill also in the mix. But I wouldn't completely count Edwards out from possibly re-emerging as the lead back again at some point. Because of this, he makes a perfect "what the heck" flier this late in the draft.
---
Tier 14
Wayne Gallman, New York Giants (2)
Elijah McGuire, New York Jets (2)
Justin Jackson, Los Angeles Chargers (2)
Ryquell Armstead, Jacksonville Jaguars (2)
Benny Snell, Pittsburgh Steelers (2)
Here are some key No. 2 type backs I've identified. If the starting RB on their team ever misses time, they could all be RB2 caliber backs. They likely won't get you many points otherwise, which makes them the ultimate risk/reward pick to take late in best ball.
If you have the starting RB for these teams, you can take their backup as a handcuff to help raise your team's floor and avoid relying too much on injury luck to help you win. "Naked handcuffs," as I like to call them, are for the ultimate risk takers.
How would you rate this article?