Koerner's Best Ball Fantasy Football Tiers: Ranking Players at Every Position
Credit:
USA Today Sports. Pictured: Alvin Kamara, JuJu Smith-Schuster, George Kittle
Sean Koerner ranks quarterbacks, running backs, wide receivers and tight ends into tiers for best ball.
See his draft strategy at each position, including how it might differ between league sizes.
Best ball drafts are a great way to get some fantasy football equity in well before the season starts.
It's important to note that the strategy is a bit different than with re-draft leagues, so I'll highlight how to approach each position as we go. However, for all of them, we want to target players with high upside rather than high floor.
There are two primary reasons:
Best ball leagues are season-long points leagues, so the team with the most points between Weeks 1-16 wins it, making a high overall score essential. This tends to be overweighted in re-draft, in which you only need to beat your head-to-head opponent each week.
Best ball takes the highest score(s) from each position every week.
High upside typically comes with more "risk" for duds. A perfect example of this would be Josh Allen. He's as likely to put up top-five numbers at QB as he is bottom-five any given week. Luckily, in best ball, you don't have to predict which weeks he'll have top-five performances — you simply get them when they occur.
To help you find the best high-upside options throughout the draft, I've ranked quarterbacks, running backs, wide receivers and tight ends into tiers that are specific to best ball. We'll highlight the top tier of all four positions below, but you can get the full version of my rankings and strategies for each in my position-by-position stories. (We'll include the links as we go.)
Note: For scoring and average draft position (ADP) purposes, I'll be referencing DRAFT.
---
Full Best Ball Tiers: QB | RB | WR | TE
---
Tier 1
Patrick Mahomes, Kansas City Chiefs
Mahomes is coming off an MVP season in which he scored 52 touchdowns (50 passing, two rushing) and is likely to come back down to Earth in 2019. The real question is: How much?
I have Mahomes projected to throw for "only" 36.5 TDs, and he's still in his own tier atop my QB rankings. While Tyreek Hill's status remains uncertain, I do have him playing six games in this projection. I think people assume that the Chiefs will maintain their current depth chart if Hill is ultimately suspended or cut, but I'm expecting them to possibly trade for someone like Nelson Agholor to mitigate the loss of Hill.
Mahomes is currently coming off the board 37th overall in 12-team drafts, which is very close to where I have him ranked (39th). He's unlikely to slip far enough for me to have a ton of exposure with my late-round QB approach.
In three- to four-team drafts, he's much higher in my rankings (15th) due to the approximate 20-point drop between Tier 1 and 2. My exposure to him is much higher in those league sizes as a result.
Mahomes has finished in the top-five at a 53% rate and has yet to finish outside of the top 20 in a given week. His elite floor/ceiling combo means you only need to draft two QBs (sometimes three are necessary), allowing you to add an additional RB/WR/TE.
---
---
Tier 1
Saquon Barkley, New York Giants
Christian McCaffrey, Carolina Panthers
Alvin Kamara, New Orleans Saints
Ezekiel Elliott, Dallas Cowboys
You can make a case that Barkley should get Tier 1 all to himself, but I decided to slot all top four RBs here as they should be the first four overall picks in most formats.
I'll typically take Barkley No. 1 overall since getting the first pick is luck of the draw. He'll be the first player off the board in most drafts, so it's easier to diversify how you handle draft Picks 2-4 to even out your exposure.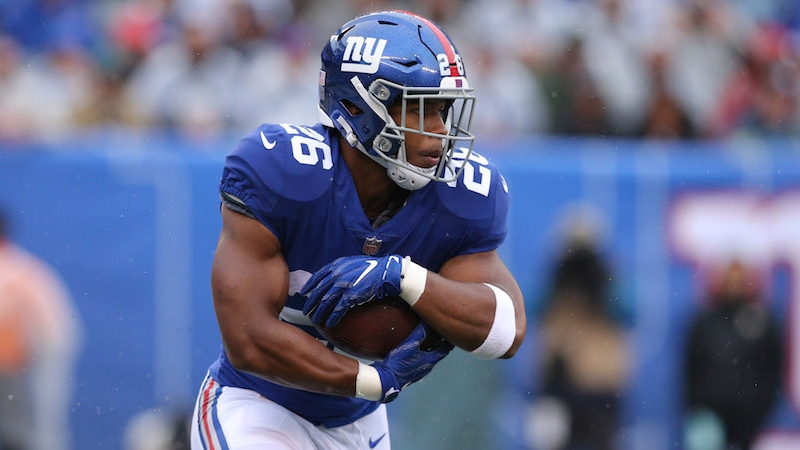 The truth is that if any one of these backs misses extended time, it would cripple that team's chances of winning the league. I'd rather spread out my exposure on such a fragile pick and try to win the league with value picks later in the draft that won't kill me if they get hurt.
Zeke's off-the-field issues have returned. I fully expect him to avoid a suspension for now, but with his history, I've decided to break the tie for Picks 2-4 and rank him last among the four due to the risk. McCaffrey is a safer bet for volume while Kamara is a safer bet for touchdowns, but since volume is a bit more predictive in value, I'm leaning CMC No. 2 overall.
---
---
Tier 1
Davante Adams, Green Bay Packers
DeAndre Hopkins, Houston Texans
You hardly see any debate as to who the top QB/RB/TE is heading into 2019. That's not the case for WR. Some days I wake up leaning Hopkins, other days I lean Adams. The fact is, you really can't go wrong with either.
Both are truly elite WRs who have proven to be QB-proof.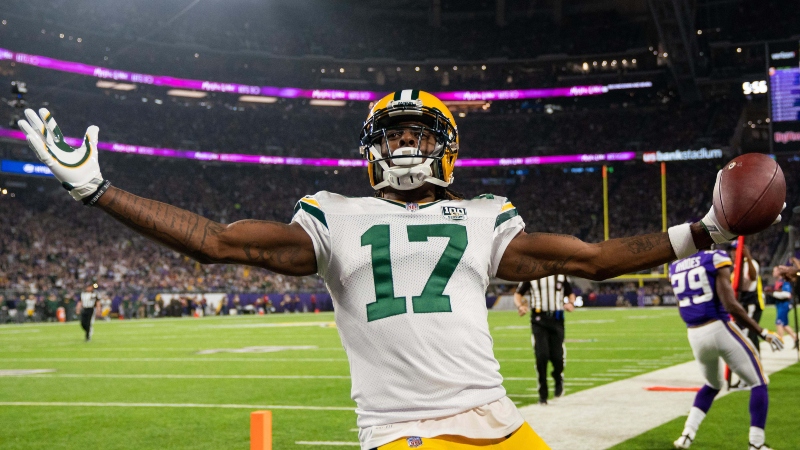 It's easy to forget, but Hopkins still put up elite WR1 numbers with Tom Savage and T.J. Yates throwing him the ball in 2017 — a feat that made Hopkins an instant fantasy football legend in my book. Adams did the same, catching passes from Brett Hundley that same season, an equally impressive feat.
But today I lean toward Adams as the top WR to draft.
Aaron Rodgers played hurt last season, throwing only 25 touchdown passes, and Adams still managed to tie Hopkins in fantasy points. You have to imagine that Rodgers' TD passes will only go up, meaning the rise in tide will lift all boats, giving Adams even more TD potential.
Hopkins will also have a healthy Keke Coutee and Will Fuller heading into 2019. If both stay healthy, it'll only mean Hopkins will see fewer targets.
---
---
Tier 1
Travis Kelce, Kansas City Chiefs
Kelce is in a tier all of his own.
When a single player being drafted ahead of you can dictate how you approach that entire position, it illustrates just how valuable that player is. And for Kelce, there's nearly a 40-point drop-off from him to Zach Ertz and George Kittle in Tier 2.
For a 12-team draft, I have Kelce ranked 10th overall. For a four-team draft, he shoots up to No. 2 overall for me — and I wouldn't blame you for selecting him first overall. It just goes to show how important point drops are in determining a player's value relative to league size.
---
---
I'll be updating my projections diligently for our upcoming Draft Kit, which will be available on July 1, to make sure you get my most up-to-date rankings as we get closer to the start of the 2019 season.
How would you rate this article?