Koerner's Best Ball Fantasy Football Tiers: Tight Ends
Credit:
Kyle Terada-USA TODAY Sports. Pictured: Travis Kelce
Sean Koerner ranks the top fantasy football tight ends into tiers for best ball.
He explains his strategy at TE and when to target certain pass catchers.
Tight end is the weakest position by far, but that doesn't mean we can ignore it. It's arguably the most critical position to use tiers for as they're absolutely necessary to plan your attack for the draft.
Let's jump right in.
Note: For scoring and ADP purposes, I will be referencing DRAFT.
---
More Best Ball Tiers: QB | RB | WR
---
Tier 1
Travis Kelce, Kansas City Chiefs
Kelce is in a tier all of his own.
When a single player being drafted ahead of you can dictate how you approach that entire position, it illustrates just how valuable that player is. And for Kelce, there's nearly a 40-point drop-off from him to Zach Ertz and George Kittle in Tier 2.
For a 12-team draft, I have Kelce ranked 10th overall. For a four-team draft, he shoots up to No. 2 overall for me — and I wouldn't blame you for selecting him first overall. It just goes to show how important point drops are in determining a player's value relative to league size.
Tier 2
Zach Ertz, Philadelphia Eagles
George Kittle, San Francisco 49ers
Ertz and Kittle are essentially tied for No. 2 TE for me.
One thing is for sure: When the first one of these two is selected, the guy remaining immediately becomes the most valuable player available. There's about a 35-point gap between them and the next tier.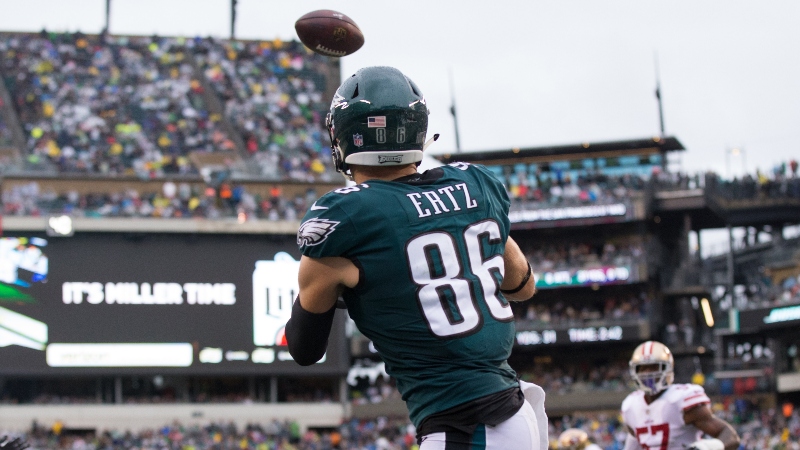 If you miss out one of the top three TEs, your draft plan has to shift and you have to wait to see which TEs from the remaining couple tiers slip to you. I always try to make sure to have a TE from the top-two tiers.
---
Tier 3
O.J. Howard, Tampa Bay Buccaneers
Evan Engram, New York Giants
Hunter Henry, Los Angeles Chargers
Eric Ebron, Indianapolis Colts
Howard clearly has the most upside of this tier, which is why he sits at the top. However, Henry and Ebron typically drop one to two rounds later than they should, making them good mid-TE1s to target.
Ebron is not likely going to repeat his 13 touchdowns from a season ago, but there's no denying his week-to-week upside for the best ball format. He could be a headache for re-draft owners, but we won't have to predict which weeks he puts up a "dud."
Engram seems like a high-floor TE who you not might think is a huge boost in best ball, but I think he is. By taking a player who relies on yardage more than TDs in this tier, Engram makes it easier for us to get away with only drafting two TEs — there's nothing worse than getting into a situation in which you need to burn an extra roster slot on a TE by drafting three.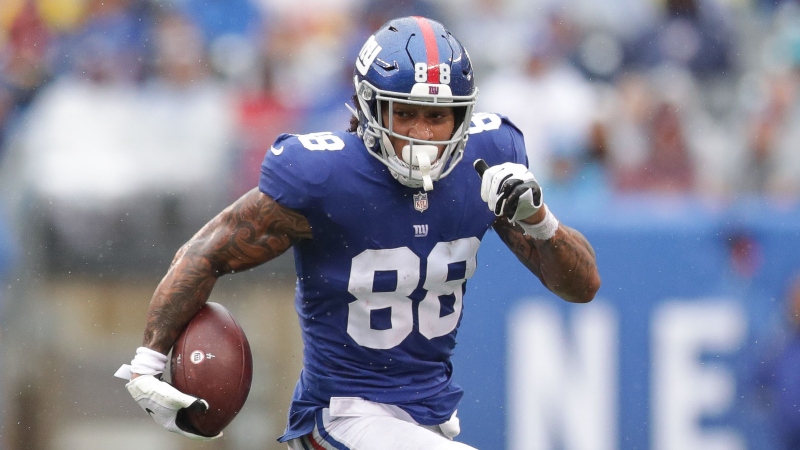 An extremely savage TE pairing would be a high-floor option like Engram and a high risk/reward pick like Goedert. If Ertz were to ever miss time, you'd have an instant top-five TE in Goedert while the owner with Ertz would be in a serious bind.
Feels like a good time to point out that I only talk about potential injuries as a very real form of strategy and a way you should think to gain an edge. I would never wish injury on anyone. The truth is that football is a violent sport and injuries are inevitable. It's easy to forget that in early summer, but it's a very real part of the game and in fantasy football.
We have to be prepared for all scenarios.
Tier 4
David Njoku, Cleveland Browns
Vance McDonald, Pittsburgh Steelers
Jared Cook, New Orleans Saints
Austin Hooper, Atlanta Falcons
Kyle Rudolph, Minnesota Vikings
Jimmy Graham, Green Bay Packers
There are still some solid TEs in this range. The ADP for this tier is all over the place, so it's key to target the players we can get later on.
Hooper is falling all the way to 100th overall, which acts as a nice safety net to ensure you get your second TE before the position really takes a nosedive. He's seen his production increase steadily over his first three seasons and should see that continue under new offensive coordinator Dirk Koetter, who has typically acted as a boon for his TEs. Koetter's last stint in Atlanta as OC was when Tony Gonzalez was putting up top-five numbers at TE well past his prime.
Hooper is currently being drafted closer to his floor.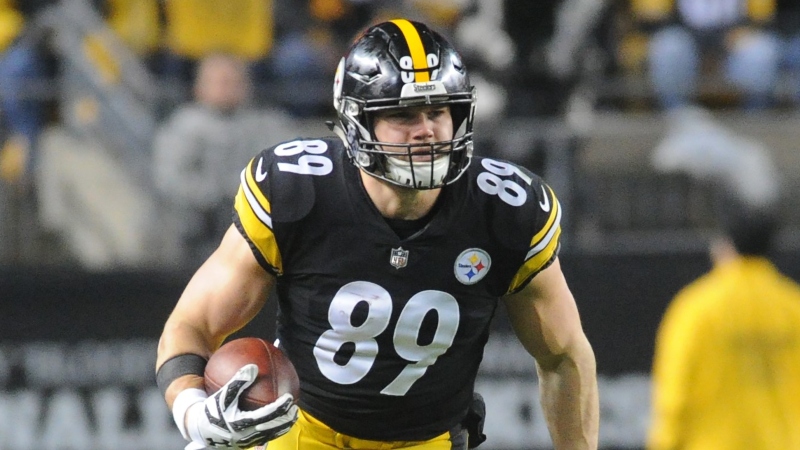 McDonald is another TE I'm targeting from this tier. While we try to figure out which WRs will pick up some of the targets Antonio Brown is leaving behind, we can't ignore just how many of those could end up going McDonald's way. He no longer has Jesse James to compete with at TE, either.
I've labeled McDonald as the potential 2019 version of 2018 Eric Ebron — he's this season's TE most likely to breakout in a big way.
---
Tier 5
Delanie Walker, Tennessee Titans
Trey Burton, Chicago Bears
Chris Herndon, New York Jets
Jack Doyle, Indianapolis Colts
Jordan Reed, Washington Redskins
This is a grab bag of TEs who are hard to get too excited about, but offer enough potential to be your second TE if you like a particular one.
Reed could be the one to target in this range as his ADP is in the basement, mostly due to his injury risk. He surprised many by playing in 13 games last season, yet it wasn't a surprise he put up top 10 numbers as a result. He'd pay dividends this late if he's able to repeat and play more than 12 games in 2019.
Tier 6
Dallas Goedert, Philadelphia Eagles
T.J. Hockenson, Detroit Lions
Jason Witten, Dallas Cowboys
Greg Olsen, Carolina Panthers
Mike Gesicki, Miami Dolphins
Mark Andrews, Baltimore Ravens
Gerald Everett, Los Angeles Rams
Will Dissly, Seattle Seahawks
Tyler Eifert, Cincinnati Bengals
Cameron Brate, Tampa Bay Buccaneers
Noah Fant, Denver Broncos
I consider this the final batch of draftable TEs.
Goedert has a ton of baked-in upside if Ertz were to ever miss time. Even if Ertz is at 100% for all 16 games, you should be able to count on four to five spiked weeks from Goedert. He's the type of anti-fragile player I like to target, where all he provides is upside at reduced cost.
Witten and Olsen are the veteran TEs to draft if your goal is to not finish last in your league. The goal of best ball is to take smart risks at certain points, and I don't think either meet that criteria.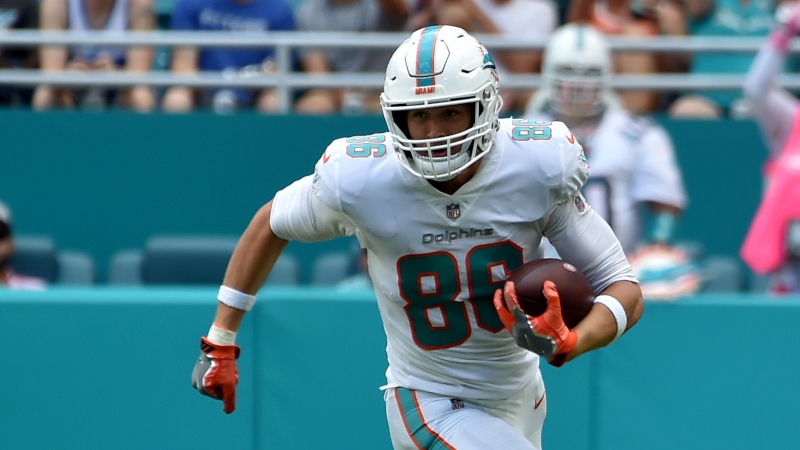 Instead, I would rather roll the dice on young TEs who could break out this season like Gesicki, Andrews and Everett. It typically takes TEs a few years to hit their stride, so it's important to not discard any prospects that get their career off to a slow start. All three have the potential to outperform their current ADP if things begin to click.
Rookie TEs are typically overvalued, so I've been passing on Hockenson early on this draft season. Matthew Stafford typically hasn't been a QB who targets his TEs too often. We saw Ebron break out in Indianapolis last season after being held back in the Lions' offense his first four seasons.
The rookie TE I'd rather take a flier on, who is coming at a much cheaper price, is Hockenson's former teammate. Fant is in a better situation because Joe Flacco has historically leaned on his TEs. Fant is also competing for targets with a plethora of young, inexperienced WRs who will all have to start building chemistry with the veteran QB. It's a situation that could yield a scenario in which Fant is the Broncos' receiving leader this season.
How would you rate this article?