Koerner's Best Ball Fantasy Football Tiers: Wide Receivers
Credit:
Credit: Trevor Ruszkowski-USA TODAY Sports. Pictured: DeAndre Hopkins, Will Fuller
Sean Koerner ranks the top fantasy football wide receivers into tiers for best ball.
He explains his strategy at WR and when to target certain pass catchers.
The wide receiver position is much more straightforward and easier to plan for than quarterback and running back.
The week-to-week production can be quite volatile, but ultimately, it's a very predictable position. That's why it's key to have seven or eight WRs. The extra depth is also good considering it's the only position that requires three slots each week. Not to mention that if you end up strong at WR, it'll be heavily used as your flex.
I typically snag WRs as they fall further down the draft than they should. Other positions see sharp drop-offs at certain points in my projections, but it's more of a steady decline at WR. That's why you'll see much bigger tiers and more disagreement among expert rankings. These factors make it much easier when you follow my advice of letting the draft come to you and to dictate which WRs fall to your team.
Let's dig in.
Note: For scoring and ADP purposes, I will be referencing DRAFT.
---
More Best Ball Tiers: QB | RB | TE
---
Tier 1
Davante Adams, Green Bay Packers
DeAndre Hopkins, Houston Texans
You hardly see any debate as to who the top QB/RB/TE is heading into 2019. That's not the case for WR. Some days I wake up leaning Hopkins, other days I lean Adams. The fact is, you really can't go wrong with either.
Both are truly elite WRs who have proven to be QB-proof.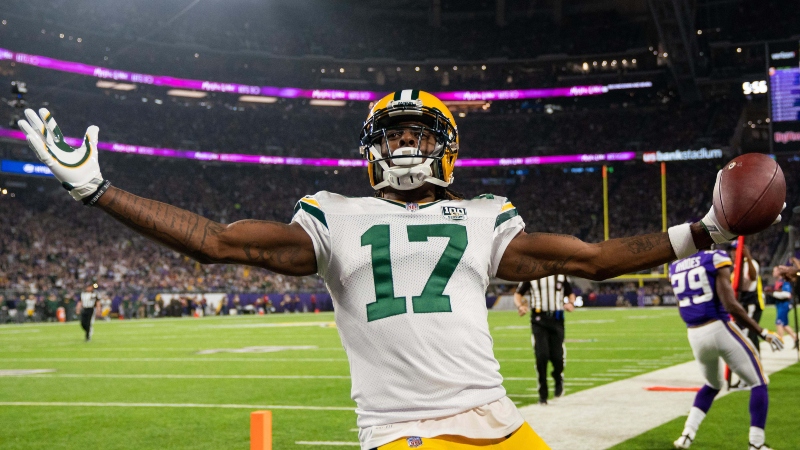 It's easy to forget, but Hopkins still put up elite WR1 numbers with Tom Savage and T.J. Yates throwing him the ball in 2017 — a feat that made Hopkins an instant fantasy football legend in my book. Adams did the same, catching passes from Brett Hundley that same season, an equally impressive feat.
But today I lean toward Adams as the top WR to draft.
Aaron Rodgers played hurt last season, throwing only 25 touchdown passes, and Adams still managed to tie Hopkins in fantasy points. You have to imagine that Rodgers' TD passes will only go up, meaning the rise in tide will lift all boats, giving Adams even more TD potential.
Hopkins will also have a healthy Keke Coutee and Will Fuller heading into 2019. If both stay healthy, it'll only mean Hopkins will see fewer targets.
Tier 2
Julio Jones, Atlanta Falcons
JuJu Smith-Schuster, Pittsburgh Steelers
Michael Thomas, New Orleans Saints
Odell Beckham Jr., Cleveland Browns
Any one of these WRs could be the first taken, and it wouldn't feel like a reach. I'm happy to take any of the four if they fall to me mid-Round 2.
---
Tier 3
Antonio Brown, Oakland Raiders
Mike Evans, Tampa Bay Buccaneers
Brown is a bit of a question mark heading into 2019.
Unlike Adams/Hopkins, who have been able to thrive even when their starting QB is out, Brown has not. In 2015, Brown had to go a four-game stretch without Big Ben under center and was the WR45 over that stretch.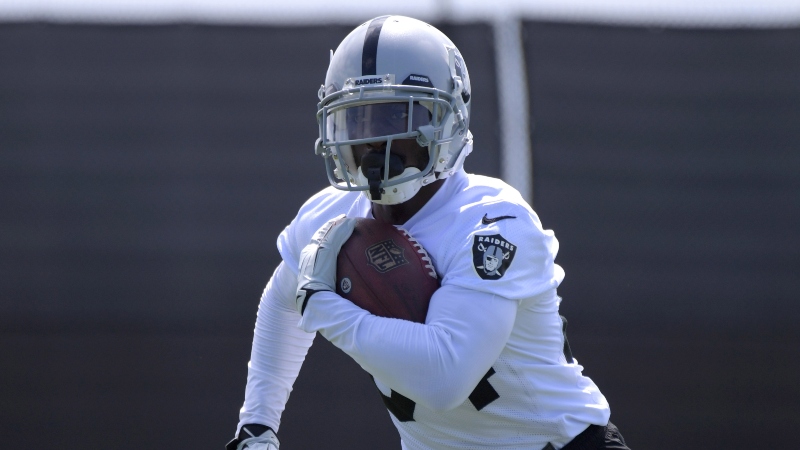 I've always felt Brown has benefited from the mind meld he has with Big Ben, so going to a new team and a new QB could hurt his production a bit. I still think Brown will see enough volume to mask the lack of chemistry between he and Derek Carr their first season together. But I'm also a bit concerned Brown's personality has the potential to create some problems with that.
There are too many red flags for me to load up much on AB this season.
---
Tier 4
Keenan Allen, Los Angeles Chargers
T.Y. Hilton, Indianapolis Colts
Adam Thielen, Minnesota Vikings
Stefon Diggs, Minnesota Vikings
Amari Cooper, Dallas Cowboys
Thielen had a blistering start to 2018 with eight straight 100-plus yard receiving games. He then went on to only clear 100-plus yards in one other game over the second half of the season.
Particularly concerning was his WR45 rank over the final three weeks. I never want to overweight small sample sizes, but those happened to be the three games after the Vikings fired offensive coordinator John DeFilippo as they wanted to become a more balanced team.
Cooper is the ideal best ball wide out.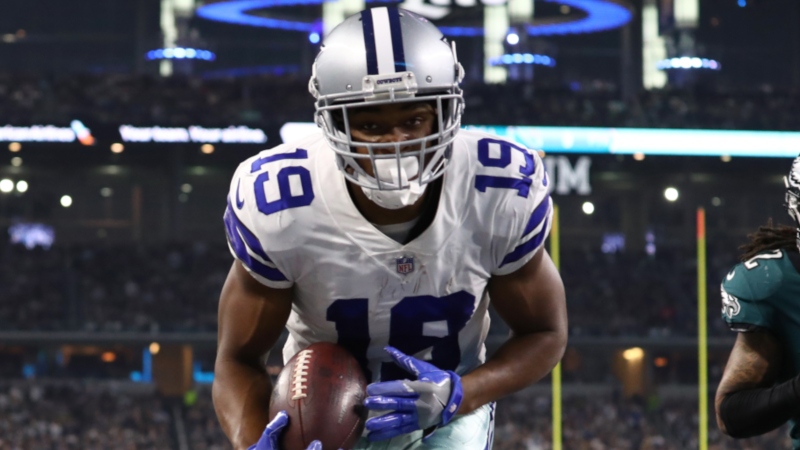 While he can frustrate season-long owners with his inconsistent week-to-week production, best ball owners welcome his massive spiked weeks. And anytime he puts up a "dud," it won't kill you.
It was impressive to see just how fast Dak Prescott and Cooper were able to form chemistry considering Cooper was brought over from Oakland in-season. Having an entire offseason to build on 2018 should help both of their 2019 outlooks.
---
Tier 5
A.J. Green, Cincinnati Bengals
Brandin Cooks, Los Angeles Rams
Kenny Golladay, Detroit Lions
Robert Woods, Los Angeles Rams
Julian Edelman, New England Patriots
This is the end of the WR2 Tier.
The position starts to see an even steeper decline after this group, so it's critical to try to have at least two WRs by the time these five are off the board.
I have Golladay pretty much in line with his average draft position (ADP) of 45th overall, but for some reason, he keeps ending up on most of my best ball teams. It could be random luck so far, or it could be people in my draft's simply shying away from his low touchdown total of five from 2018. He should see some positive TD regression as he had (by my estimates) four to five taken away via penalties, reviews, drops, falling down right at the goal line, etc.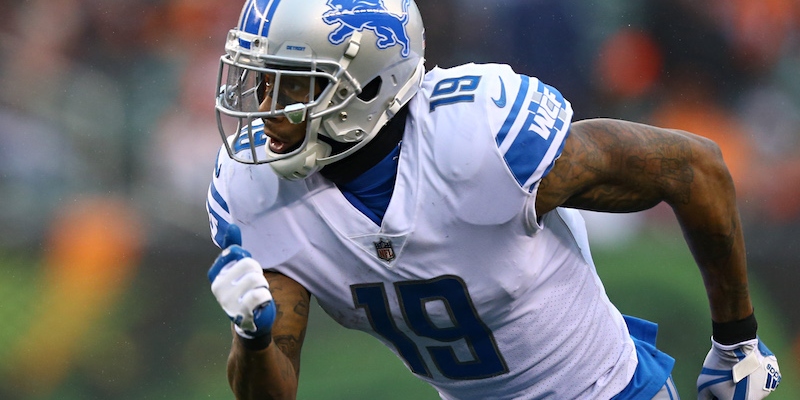 In short: With a little bit of luck last season, Golladay's ADP would be much higher heading into 2019. The time to buy low is now.
I've also ended up with one or two of the Rams WRs in almost every draft. May/June drafters have been correctly moving Darrell Henderson up their draft boards, as the news keeps getting more troubling for Todd Gurley's outlook. However, we should also be upgrading the Rams' passing attack. They'll likely lean on Jared Goff more this season, especially in the red zone.
---
Tier 6
Calvin Ridley, Atlanta Falcons
Cooper Kupp, Los Angeles Rams
Chris Godwin, Tampa Bay Buccaneers
Tyler Lockett, Seattle Seahawks
Alshon Jeffery, Philadelphia Eagles
Godwin is set up nicely for a Year 3 breakout.
The Bucs let both DeSean Jackson and Adam Humphries sign elsewhere, then didn't do much to recoup the leftover targets. They clearly expect Godwin to have an increased role, and he's set to thrive in Bruce Arians' offense, where he'll be frequently used in the slot — a spot future Hall of Famer Larry Fitzgerald thrived in during his prime with Arians.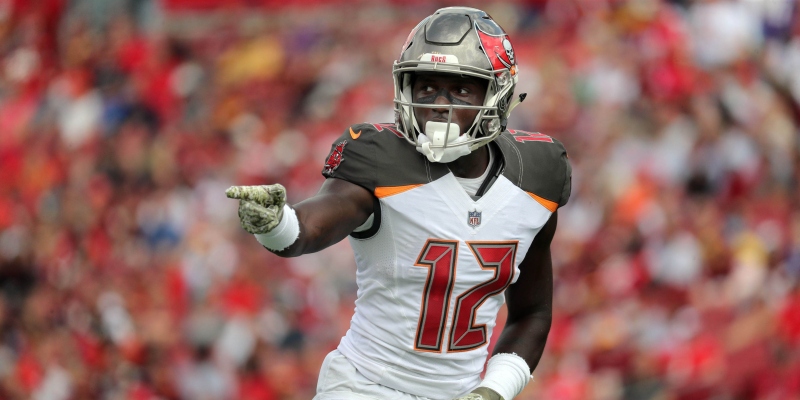 Lockett won't be able to maintain his ridiculous 17.5% TD catch rate in 2018, nor is he likely to maintain his 80% catch rate. However, the loss of Doug Baldwin should allow Lockett to see a spike in targets that can help offset the inevitable regression he'll see in terms of efficiency.
---
Tier 7
Sammy Watkins, Kansas City Chiefs
Jarvis Landry, Cleveland Browns
Mike Williams, Los Angeles Chargers
D.J. Moore, Carolina Panthers
Marvin Jones, Detroit Lions
Robby Anderson, New York Jets
Golden Tate, New York Giants
Dede Westbrook, Jacksonville Jaguars
Courtland Sutton, Denver Broncos
Corey Davis, Tennessee Titans
Will Fuller V, Houston Texans
Dante Pettis, San Francisco 49ers
Sterling Shepard, New York Giants
Allen Robinson, Chicago Bears
Tyreek Hill's situation in Kansas City is still uncertain, so Watkins' value could go up or down once we get clarification.
To give you an idea of how Watkins' value will change, I'm currently projecting Hill for 7.5 games played. If Hill is released or suspended for the season, Watkins would be set to become the Chiefs' new No. 1 WR and could push WR1 production if he can stay healthy. It's easy to forget that Watkins is still only 26 years old and entering his prime.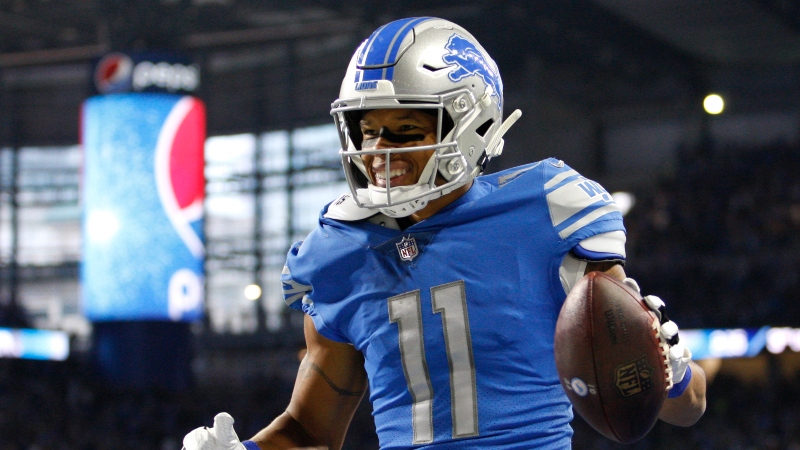 People aren't flocking to Jones this season. His ADP is one to two rounds later as a result, making him a nice mid-round value. He's especially good for best ball given his TD upside as well as his ability to put up big games. He's tied for 11th at WR for top-five weeks the past two seasons.
Tate can be had much later in the draft, so feel free to hold off until his 103th overall ADP to snag him if you want a higher-floor WR for depth. Considering DRAFT is only a half-point PPR format, I consider Tate just a late-round value as opposed to a potential "league winner."
Potential "league winners" in this tier would be Westbrook, Sutton and Fuller.  Westbook, if he and Nick Foles form instant chemistry. Sutton, if he and Flacco form instant chemistry. Fuller, if he can finally stay healthy.
Tier 8
Tyler Boyd, Cincinnati Bengals
Larry Fitzgerald, Arizona Cardinals
James Washington, Pittsburgh Steelers
Christian Kirk, Arizona Cardinals
All the hype around the Cardinals' young WRs — Kirk, Andy Isabella and Hakeem Butler — has let Fitzgerald slip under the radar heading into 2019. Father Time has a perfect record, and Fitzgerald is nearing his final days as he will be 36 this season.
I can see his targets taking a bit of a dip, but he could still have some value in the red zone. Kyler Murray's scrambling ability could extend plays and allow a savvy veteran wideout like Fitz to find the soft spot in the defense and get some easy targets/TDs. You could do worse if he slips a couple tiers down.
The reason to pass on Fitz for a player like Washington is to shoot for upside in best ball. Washington is falling one to two rounds later than Fitz right now.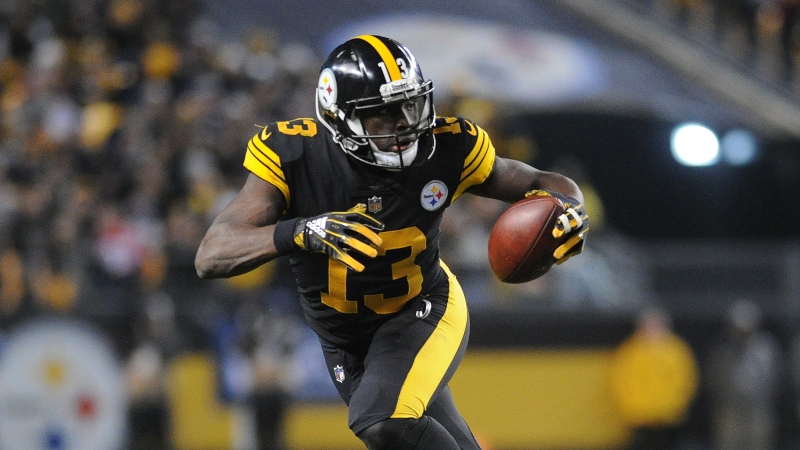 Brown's departure frees up 169 targets in Pittsburgh, and Washington is surely going to absorb a lot of them. He had a very disappointing rookie campaign but managed to show signs of life over the final three weeks. His deep-ball playing style is perfect for best ball and he's going in a range that's perfect to roll the dice on a Year 2 breakout.
---
Tier 9
Tyrell Williams, Oakland Raiders
Mohamed Sanu, Atlanta Falcons
Curtis Samuel, Carolina Panthers
Kenny Stills, Miami Dolphins
Jamison Crowder, New York Jets
Keke Coutee, Houston Texans
Sanu, Crowder and Stills are all fairly safe picks who you're guaranteed to get a couple of spikes weeks from, but that's it.
Samuel and Coutee are the upside plays in this tier to target. Both are exciting young wideouts who can turn a short pass into a monster gain. When you have similar WRs in the same offense — like Samuel and D.J. Moore in Carolina — I typically target the cheaper one if possible. Then there's Coutee, who has proven that when he's healthy, he can be a target monster.
Tier 10
Marqise Lee, Jacksonville Jaguars
Zay Jones, Buffalo Bills
Emmanuel Sanders, Denver Broncos
D.K. Metcalf, Seattle Seahawks
Devin Funchess, Indianapolis Colts
Michael Gallup, Dallas Cowboys
Josh Doctson, Washington Redskins
Quincy Enunwa, New York Jets
DeSean Jackson, Philadelphia Eagles
Anthony Miller, Chicago Bears
Paul Richardson, Washington Redskins
N'Keal Harry, New England Patriots
Tyreek Hill, Kansas City Chiefs
John Brown, Buffalo Bills
Albert Wilson, Miami Dolphins
Ted Ginn Jr., New Orleans Saints
The upside plays in this tier are Metcalf, Funchess, Harry, Brown and Hill.
Metcalf seems like the ultimate boom/bust player in this range. He's unlikely to be polished enough his rookie season or see enough volume on a consistent basis to contribute most weeks, but he should provide a few spiked weeks to make it worth taking a flier in this range.
Funchess is a way to invest in the Colts' offense. He could become the next Donte Moncrief in Indianapolis as Andrew Luck's main red-zone threat, which means 10-plus TDs are not out of the realm of possibility this season.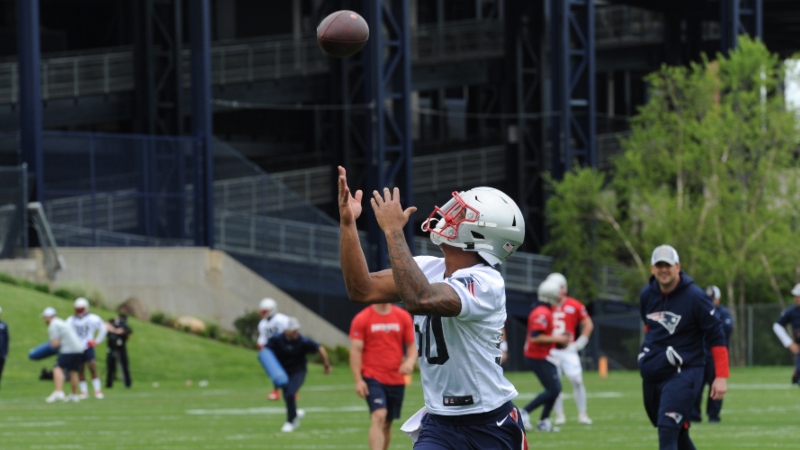 The Patriots' pass-catching depth chart was so thin heading that Bill Belichick went off script to select a WR in the first round. They seem so set on having Harry start Week 1 that they aren't playing the typical games of making the rookie "earn" the starting slot — it's apparently already a done deal.
The Bills led the league with the highest rate of pass attempts of 20-plus yards last season. Bringing in Brown is essentially the Bills telling Josh Allen: "Here, throw it deep to this guy now." It's the perfect situation for Brown. While he won't get the weekly volume to be trusted in re-draft leagues, he's the ideal late round best ball flier due to his playing style.
Hill is clearly an upside play given the uncertainty around him. It's easier to take a mid-round flier on a situation like this in re-draft, but in best ball, it's a tough pill to swallow having a player potentially miss an entire season. He'll easily be a league-winning selection if he's somehow able to avoid any punishment by the NFL, which seems unlikely.
Tier 11
Marquez Valdes-Scantling, Green Bay Packers
David Moore, Seattle Seahawks
DeVante Parker, Miami Dolphins
Taylor Gabriel, Chicago Bears
Cole Beasley, Buffalo Bills
Donte Moncrief, Pittsburgh Steelers
Tre'Quan Smith, New Orleans Saints
A.J. Brown, Tennessee Titans
DaeSean Hamilton, Denver Broncos
Geronimo Allison, Green Bay Packers
Mecole Hardman, Kansas City Chiefs
Danny Amendola, Detroit Lions
Nelson Agholor, Philadelphia Eagles
Marquise Brown, Baltimore Ravens
Deebo Samuel, San Francisco 49ers
Randall Cobb, Dallas Cowboys
Marquise Goodwin, San Francisco 49ers
DeMarcus Robinson, Kansas City Chiefs
The upside plays here are everyone … except for Beasley, Amendola and Cobb. No, really — this tier is loaded with potential late-round steals.
MVS or Allison could emerge as Rodgers' No. 2 wideout, which would alone make either a steal here.
Moncrief has some TD upside as the Steelers try to figure out where AB's 169 targets, 1297 yards and 15 TDs will go (not that Big Ben will necessarily repeat 2018 numbers).
Hardman can become Hill's replacement if he were to miss significant time. He's fairly raw and not nearly talented enough to ever match Hill, but the Chiefs will need to throw Hardman out there in that scenario. Robinson is another Chief who will see a huge boost if Hill misses time, and is worth a flier.
We'll need to monitor training camp battles and news to get a better idea as to which potential steals we should target late. I'll be updating my projections diligently in our Draft Kit, which will be available July 1, to make sure you get my most up-to-date rankings as we get closer to the start of the 2019 season.
How would you rate this article?