2019 Best Ball Strategy, Rankings, Guide: Your Guide to Successful Drafts
Credit:
Derick E. Hingle-USA TODAY Sports. Pictured: Alvin Kamara, Michael Thomas
Our staff equips you with all the fantasy football best ball strategy, rankings and analysis needed to draft successfully.
Below you'll find links to our full suite of content, featuring Sean Koerner's positional tiers and much more.
Drafts are the be-all and end-all of best ball.
It's a fantasy football format that requires no in-season work. That means no setting your lineup, no claiming guys off waivers, no trades, nothing. No head-to-head matchups, either. All you're trying to do is accumulate the most points between Weeks 1 and 16.
TL;DR: Nailing your draft is the only thing that matters in best ball.
Luckily, our experts have your draft prep covered. We've compiled all their analysis below — including rankings and strategy — to help you draft successfully. You'll see highlights for each story, followed by links to the full versions.
We want to target players with high upside rather than high floor in best ball for two primary reasons:
Best ball leagues are season-long points leagues, so the team with the most points between Weeks 1-16 wins it, making a high overall score essential. This tends to be overweighted in re-draft, in which you only need to beat your head-to-head opponent each week.
Best ball takes the highest score(s) from each position every week.
High upside typically comes with more "risk" for duds. A perfect example of this would be Josh Allen. He's as likely to put up top-five numbers at quarterback as he is bottom-five any given week.
Luckily, in best ball, you don't have to predict which weeks he'll have top-five performances — you simply get them when they occur.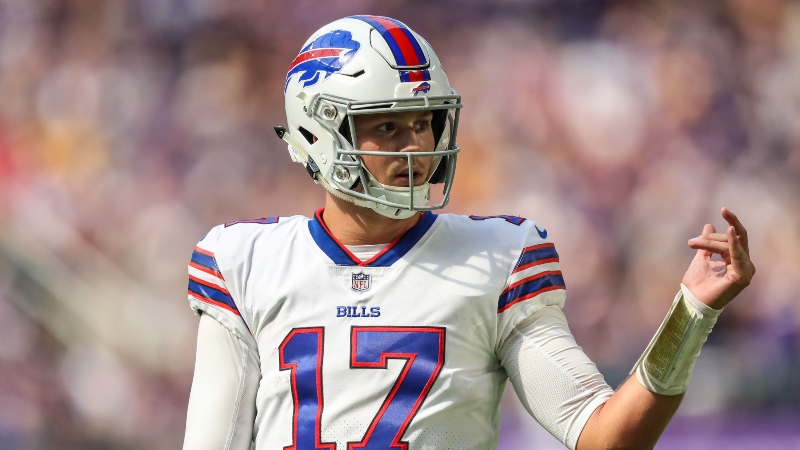 To help you find the best high-upside options throughout the draft, I've ranked quarterbacks, running backs, wide receivers and tight ends into tiers that are specific to best ball. — Sean Koerner
Full tiers and strategies for each position:
Raybon's Draft Strategy by League Size
There are various league sizes available in best ball, but strategy differs for each.
I've analyzed the optimal strategy by position for large, mid-size and small leagues, but before diving into those, here are a few general strategies I employ across all DRAFT best ball leagues.
Always follow a 2QB/6RB/7WR/2TE roster construction through 17 rounds, which leaves you with the option of taking the best player available regardless of position with your final pick. (I prefer to avoid QB and spend it on a pass catcher.)
Positional tiers are more important than exact rankings.
The later in the draft, the more acceptable it is to take risks.
The later in the draft, the more acceptable it is to let bye weeks be a tie-breaker.
Now let's get into each. — Chris Raybon
Strategies for each league size:
---
>> Get our experts' latest rankings with our Fantasy Football Draft Kit.
---
We asked our fantasy football experts Peter Jennings, Sean Koerner, Chris Raybon and Matthew Freedman to conduct a four-team mock. You can see the full mock and read about each of their strategies here.
You can also listen to their breakdown of the mock on a two-part special of The Action Network NFL Podcast. Here are the links to Parts 1 and 2.
Below is one of 10 undervalued players Raybon is targeting in best ball. Read the full version of the story here.
Christian Kirk, WR, Arizona Cardinals
DRAFT ADP: 94 | My 0.5 PPR Rank: 53 (+41)
MyFantasyLeague ADP: 88 | My PPR Rank: 52 (+36)
When Kirk went down in Week 13, he ranked second among all rookie wide receivers in targets (68) and catches (43), as well as third in receiving yards (590).
Only six other rookie wideouts went on to finish with as many targets as Kirk in 2018, and none commanded a higher target market share while only one topped him in air yard market share and air yard conversion ratio (RACR) via airyards.com.
Christian Kirk: 19% target MS | 24% air yard MS | 0.90 RACR
D.J. Moore: 17% target MS | 19% air yard MS | 0.97 RACR
Calvin Ridley: 15% target MS | 17% air yard MS | 0.88 RACR
Courtland Sutton: 15% target MS | 27% air yard MS | 0.56 RACR
Antonio Callaway: 14% target MS | 20% air yard MS | 0.52 RACR
Marquez Valdes-Scantling: 11% target MS | 16% air yard MS | 0.65 RACR
Michael Gallup: 14% target MS | 24% air yard MS | 0.52 RACR
Wide receivers tend to break out in Year 2, and Kirk's target share seems destined to increase in a Kliff Kingsbury offense that will scheme the second-year receiver easy completions.
Kirk led the Cardinals in receiving by more than 100 yards when he was injured last season and was only two catches behind Larry Fitzgerald for the team lead. Given Kirk's superior athletic ability compared to Fitzgerald at this stage of their respective careers, there's a good chance Kirk leads the team in targets and catches this season.
Kirk's already impressive efficiency should also improve, because no matter what you think of Kingsbury and Kyler Murray, chances are that Arizona's quarterback situation will be markedly better than last season with Sam Bradford and Josh Rosen, who combined to post the fourth-worst team passer rating of the past half decade. — Raybon
---
>> See all 10 players Raybon is targeting
---
Below is one of 10 overvalued players Raybon is fading in best ball. Read the full version of the story here.
Todd Gurley, RB, Los Angeles Rams (ADP 7.8)
At first glance, this seems like a steal — Gurley finished as the RB1 in points per game and RB2 overall — but the first round is not the time to be all stingy with your glances. Every player in Round 1 (and well into Round 2) has a similar ceiling, but Gurley sticks out as the player with the lowest floor due to an arthritic knee condition that's given some medical professionals reason to believe he's already peaked.
From Week 9 through the Super Bowl, Gurley averaged just 16.6 touches in nine games — fine for a back in the Frozen Pond Tier, maybe, but well below the 23.4 in his first 24 games under Sean McVay that put him back on the high-end RB1 map.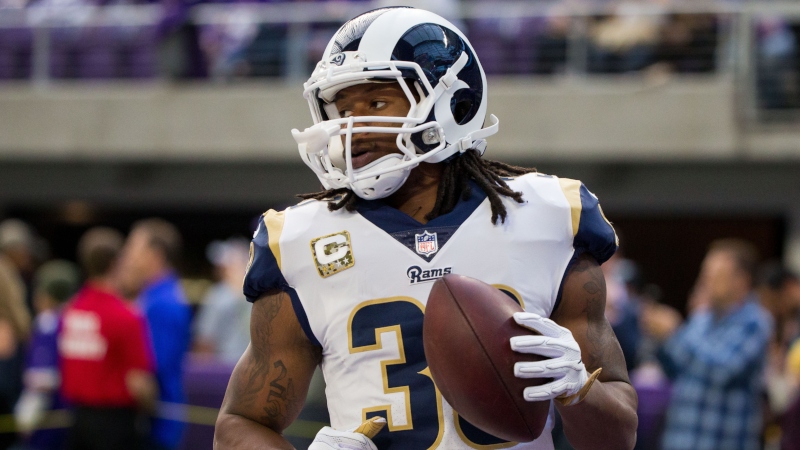 The Rams' pick of Memphis running back Darrell Henderson in the third round shouldn't be taken lightly, either: Over the past five years, backs picked in Round 3 averaged 137 touches their rookie seasons.
The Rams also matched Malcolm Brown's $3.25 million offer sheet, and C.J. Anderson showed that Sean McVay has no issues with plugging a back just signed off the street into a huge workload if necessary. — Raybon
---
>> See all 10 players Raybon is fading
---
How would you rate this article?