The Best NFL DFS Stacks for 2018
Credit:
Credit: Matthew Emmons-USA TODAY Sports. Pictured: Ezekiel Elliott, Dak Prescott
Ian Hartitz breaks down seven of the best daily fantasy stacks for the 2018 NFL season.
Dak Prescott and Ezekiel Elliott highlight the group, along with Tom Brady and Chris Hogan.
I broke down the daily fantasy tidbits on all 32 NFL teams in our 2018 previews.
Now here's a selection of the best DFS stacks throughout the league, from Jared Goff and Todd Gurley in Los Angeles to Eli Manning and Odell Beckham Jr. in New York.
Los Angeles Rams QB Jared Goff + RB Todd Gurley
Gurley's return to relevance in 2017 was fueled by head coach Sean McVay's decision to embrace his running back's receiving ability.
The fourth-year back is one of the league's best talents with the ball in his hands, but former head coach Jeff Fisher actually decided Benny Cunningham was better off playing on passing downs in Gurley's first couple of seasons.
Ultimately, Gurley had more games with at least four receptions in 2017 (8) than he did in 2015-16 (7).
This naturally made Gurley a great stacking partner with Goff: The quarterback and No. 1 RB posted a .38 positive correlation in 2017, well above the NFL average of .10, according to the FantasyLabs NFL Correlations dashboard.
---
Minnesota Vikings QB Kirk Cousins + TE Kyle Rudolph (in Divisional Games)
Expect Rudolph to continue to have a strong relationship with his quarterback: The correlation between quarterback and tight end has been above average for both the Vikings (0.45) and Cousins' Redskins (0.52) since 2014.
The eighth-year tight end has been especially potent against his biggest rivals. According to the FantasyLabs NFL Trends tool, Rudolph has averaged a +3.0 Plus/Minus and 27% Upside Rating against the NFC North since 2014.
New York Giants QB Eli Manning + WR Odell Beckham Jr.
You down with OBJ? Manning definitely is.
According to the FantasyLabs NFL Trends tool, the 37-year-old quarterback has averaged an additional five DraftKings points per game (and the offense has averaged an additional 5.8 points) with Beckham on the field since 2014.
In fact, Eli-Beckham is one of the best stacks in the league: According to the FantasyLabs Correlations Dashboard, the Giants' 0.62 positive correlation between quarterback and No. 1 wide receiver over the past four years far surpasses the league-average mark of 0.45.
---
Dallas Cowboys QB Dak Prescott + RB Ezekiel Elliott
Usually the quarterback is the engine that makes an NFL offense move, but the Cowboys aren't your usual team.
Overall, they've averaged an additional 8.5 points per game with Elliott in the lineup over the past two seasons. Per the FantasyLabs NFL Correlations dashboard, quarterbacks have carried only a .10 correlation with their running backs over that span, but Dak and Zeke have an impressive .38 mark.
Stack them!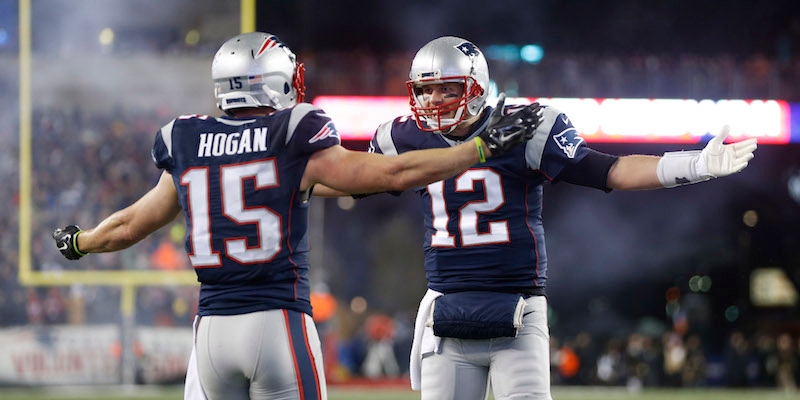 New England Patriots QB Tom Brady + WR Chris Hogan
Hogan put up top-10 numbers over the first half of last season. You should refrain from drafting him in your league only if you don't enjoy scoring fantasy points. But if you miss out, don't worry: You can still pair him with Brady in your daily fantasy lineups.
According to the FantasyLabs NFL Correlations Dashboard, Brady and his No. 1 wide receiver have a .43 correlation since 2014, which is strong, but standard, for QB-WR1 pairings. However, Brady has an even stronger .51 correlation with his No. 2 wide receiver, so when Julian Edelman returns to the field, Hogan and Brady could be an exploitable stack, especially since Hogan is likely to get more downfield opportunities with Brandin Cooks gone.
---
Carolina Panthers QB Cam Newton, RB Christian McCaffrey + TE Greg Olsen
The Panthers offer a unique offense that features Newton as its quarterback (and goal-line back), as well as two non-wide receivers, McCaffrey and Olsen, who are expected to see at least 100 targets this season.
While quarterback-wide receiver stacks are most popular, stacking Newton with his running back and tight end shouldn't be overlooked.
According to the FantasyLabs NFL Correlations tool, Newton posted a .65 correlation with Olsen and a .42 correlation with McCaffrey last season, which is well beyond the NFL averages of .40 and .29, respectively, since 2014.
Tampa Bay Buccaneers WR Mike Evans + Any QB
It's tough to understate how productive Evans has been through four seasons. He joins A.J. Green and Randy Moss as the only receivers over the past 25 years to gain at least 1,000 yards in each of their first four seasons.
This has produced a stronger-than-normal relationship between Evans and his quarterback: According to the FantasyLabs NFL Correlations Dashboard, Evans has enjoyed a .57 correlation with his quarterback's fantasy production since 2014, well above the league-average mark of .40.
---
How would you rate this article?