Best NFL Playoff Bets: Mariota Primed to Lead Titans to Postseason
Credit:
Benny Sieu-USA TODAY Sports. Pictured: Tennessee Titans quarterback Marcus Mariota
Odds for each NFL team to make or miss the playoffs are available.
According to our Action Network simulations, 14 of 32 teams have value to either make or miss the playoffs.
Using the same analysis, last season's best bets went 4-0.
There are 32 teams in the NFL and they share one goal … to win the Super Bowl. To get there, each must first reach the postseason.
According to oddsmakers, the most likely teams to make the NFL playoffs are the New England Patriots (-1250), Pittsburgh Steelers (-450) and Philadelphia Eagles (-350). Each won 13 games and their division a season ago. It is easy to pick these elite teams to play past Week 17, but considering their current odds, is there value placing a wager on them to make the playoffs? To find out, we compared our projections to available betting lines.
New England's odds of reaching the postseason are -1250. For us to feel comfortable wagering on the Patriots, they would need to make the playoffs 92.6% (which is 1250/(100 +1250)) of the time. According to our simulations, the Pats have a 98.9% chance of being postseason participants, meaning there is slight value in placing a bet at -1250 odds.
Based on the difference in implied probability and projected chance, 14 of the 32 teams have value to either make or miss the playoffs. The analysis below looks at the best bets to make and miss the playoffs. Last year, our top four plays went 4-0.
Make the Playoffs
Tennessee Titans
Current odds: +185, Implied Probability: 35.1%
Titans make the playoffs 55.8% of the time
Tennessee ended an eight-year playoff drought in 2017 despite a career-worst performance from quarterback Marcus Mariota. A season after throwing for 26 touchdowns and nine interceptions, the former Oregon star regressed, tossing more interceptions (15) than TD passes (13). Wagering on the Titans to make a second consecutive playoff appearance is betting on a Mariota bounceback, and there are reasons to believe it can happen.
It starts with coaching. Mike Mularkey and his run-heavy offense is out. New head coach Mike Vrabel hired Matt LaFleur to be the offensive coordinator. LaFleur spent the past two seasons as offensive coordinator with the Rams and quarterback coach with the Falcons, helping Jared Goff and Matt Ryan to career seasons. LaFleur's offense will use run-pass options (RPOs) to maximize Mariota's dual-threat capabilities.
In addition to being in a better offensive scheme, Mariota will benefit from playing behind a solid offensive line anchored by Pro Bowl tackle Taylor Lewan. The Titans also have a nice collection of skill position players. Newly acquired Dion Lewis was Pro Football Focus' No. 5-ranked running back last season, second-year receiver Corey Davis is expected to take a step forward and tight end Delanie Walker remains a steady pass-catching option.
Mariota is going to be given every opportunity to succeed in 2018. If he takes advantage of the situation, he will send the Titans back to the playoffs.
Kansas City Chiefs
Current odds: +130, Implied Probability: 43.5%
Chiefs make the playoffs 67.8% of the time
If you read our NFL season win totals piece, you know we are high on the Chiefs. Kansas City traded Pro Bowl quarterback Alex Smith in the offseason, which shows how much confidence the franchise has in second-year player Patrick Mahomes. Or maybe head coach Andy Reid is just confident in the talent on the roster.
Travis Kelce led the team in receptions (83) on his way to consecutive 1,000-yard seasons. Tyreek Hill emerged as a playmaker (75 receptions, 1,183 yards and seven touchdowns) and Kareem Hunt broke out in his rookie season, finishing with the third-most yards from scrimmage (1,782) in the league.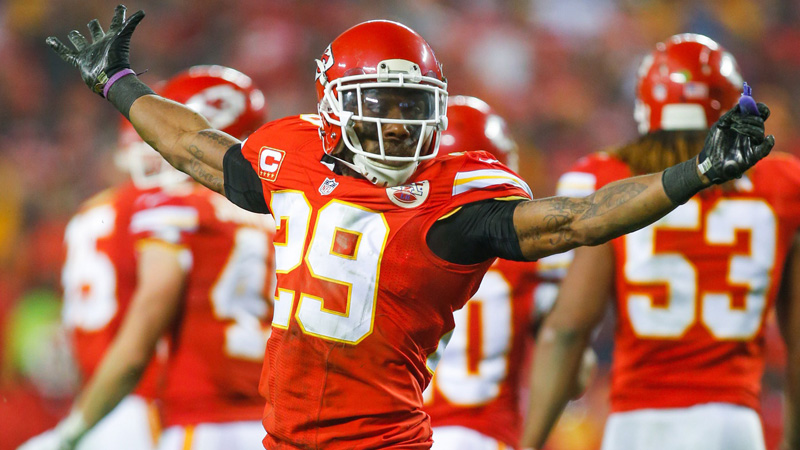 Credit: Jay Biggerstaff-USA TODAY Sports
The defense, which ranked 30th in DVOA a season ago, should return to form with a healthy Eric Berry (pictured above) back. The All-Pro safety missed most of 2017 with a torn Achilles. When Berry has been on the field, KC has had a top-10 defense. The Chiefs have also ranked in the top 5 in special teams DVOA in four of the past five seasons.
Getting a well-balanced team with Super Bowl upside at plus-money to reach the postseason seems too good to be true. This could be one of the easiest future bets you place all season.
Other teams with at least a 10% difference in implied probability and projected chance to make the playoffs: Texans -120, Chargers -145, 49ers +145, Eagles -350, Saints -125.
Miss the Playoffs
Dallas Cowboys
Current odds: -170, Implied Probability: 63.0%
Cowboys miss the playoffs 82.3% of the time
The Cowboys should get a full season from Ezekiel Elliott after the star running back missed six games due to suspension in 2017. The offensive line slipped last season but will be better with a healthy Tyron Smith. The run game is important, but this is a passing league, and the team has question marks at quarterback and receiver.
Dak Prescott took a step back in his second season, throwing for fewer yards and touchdowns while seeing his interceptions spike. Over the last 10 games of 2017, Prescott threw for fewer than 200 yards seven times. Dez Bryant and Jason Witten are gone, and the Cowboys did little to replace those losses (example: traded for Tavon Austin). If Dallas can't find success throwing the ball, it won't matter how good Zeke is because opposing defenses will be able to sell out to stop the run.
In addition to having concerns about the offense, the biggest reason to be down on Dallas is the schedule. The Cowboys have one of the 10 hardest schedules in the league. The 'Boys' division opponents all got better. The Super Bowl champion Eagles will get Carson Wentz back, the Giants added one of the best players in the draft in running back Saquon Barkley and the Redskins traded for Pro Bowl quarterback Alex Smith. Outside of the NFC East, the Cowboys face the tough NFC South and improving AFC South.
Dallas is projected to miss the playoffs for a sixth time in eight seasons under Jason Garrett.
Oakland Raiders
Current odds: -190, Implied Probability: 65.5%
Raiders miss the playoffs 91.8% of the time
Jon Gruden (pictured below) has the 44th-most regular-season wins by a coach in NFL history, that's pretty good. The only problem, he hasn't been on a sideline in nearly 10 years. History tells us that coaching retreads, especially ones who have been away from the sport as long as Gruden have rarely succeed.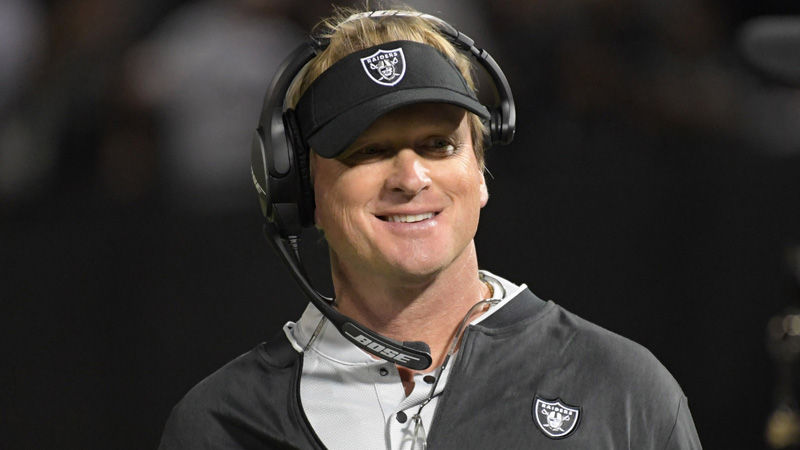 Credit: Kirby Lee-USA TODAY Sports
Gruden is going to try to prove the game has not passed him by, but he has already denounced the use of analytics and spent the offseason signing past-their-prime players (Jordy Nelson, Doug Martin).
It won't be all Gruden's fault if the team fails. Franchise quarterback Derek Carr has never ranked above 16th in QBR during his four pro seasons. There is evidence that his third-place finish in MVP voting in 2016 was an aberration, and not a sign of things to come. The defense ranked 29th in DVOA in 2017 and the Raiders had better-than-average injury luck — something that regresses season to season.
Oakland's win total is set at 8, but our simulations see the Raiders finishing 6-10 for a second consecutive season. Oakland is the least likely team to win the AFC West (2.9%) and is a longshot to make the playoffs (8.2%).
Other teams with at least a 10% difference in implied probability and projected chance to miss the playoffs: Ravens -170, Cardinals -700, Seahawks -280, Colts -365, Dolphins -700.
How would you rate this article?