Rovell: No Betting Talk on Super Bowl 53 Broadcast? This Year Will Be the Last
Credit:
Mark J. Rebilas-USA TODAY Sports. Pictured: Jim Nantz
CBS announced that its Super Bowl 53 broadcast would not feature any commentary on the betting odds, per a company policy
Don't expect that policy to last long, as the money will simply become too big for the networks to ignore betting.
CBS Sports chief Sean McManus was asked Wednesday if sports betting would be mentioned in the network's Super Bowl 53 broadcast.
"Our policy is we don't discuss gambling information," McManus said.
When asked if that was a CBS policy or something that came down from the NFL, McManus said it was solely a CBS policy that they would reevaluate in the offseason.
Let me tell you how that re-evaluation is going to go: Next September, when CBS begins broadcast NFL games again, they are going to pre-approve certain pieces of gambling data that will be displayed on screen during games that comes with a sponsorship.
The money is simply too big.
Caesars, which is the official gaming partner of the NFL, will pay a network like CBS $20-plus million for the season to be able to post how certain people are betting within the states that have legal gambling.
There will be talk of where the tickets or money is for the games, the spread and the totals — and again, the networks will be able to monetize this.
The NFL has told its ownership that it won't fully flip the switch on sports gambling until it's legalized in enough states. But by September, I'll say 15 states will be legal — and five of those states will house NFL teams.
It's also worth keeping an eye on the percentage of DraftKings' revenues that come from betting compared to daily fantasy. Right now, it's about 25 percent. By September, it will be about 40 percent.
Why is this significant?
Because the league has said that Patriots owner Robert Kraft and Cowboys owner Jerry Jones, the NFL's two most powerful owners, must sell their DraftKings stake when sports betting makes up the majority of the company's revenue.
Kraft and Jones won't willingly sell their investment, which has turned around nicely since DraftKings became the sports betting leader on mobile in a robust New Jersey market, so I'd expect the pressure from the two to loosen these rules.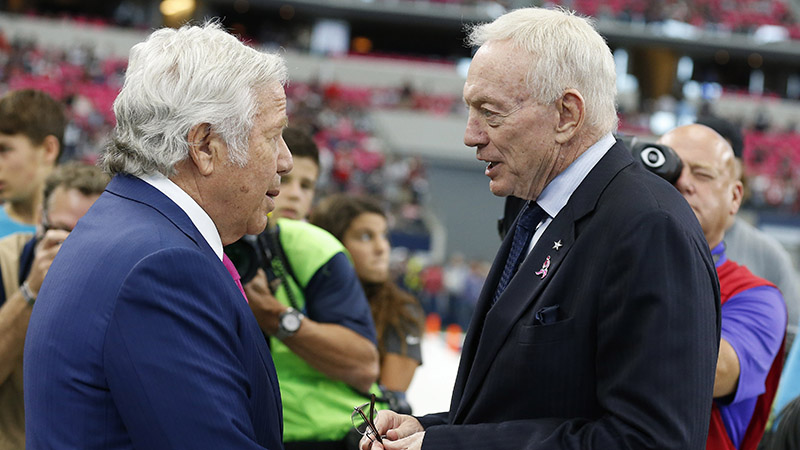 The NFL isn't against introducing gambling. Based on slides presented at the last owner's meeting, which The Action Network got to see, the NFL wants its flip to happen strategically.
That's why it inked big-money gaming sponsorship deal with Caesars, rather entering into an explicit sports gambling partnership, like the NBA, MLB and NHL.
Well, seven months will be an eternity in the betting world, and it's impossible to think the league will hold out on such partnerships for much longer.
The joke of this all is that the pressure will actually come from the networks themselves.
Forced to make up their rights fees, the gambling operators will give them the cash that they need — and they'll give a higher fee if that integration goes beyond commercials and becomes part of the broadcast itself.
We've already seen a taste of how it works out from "The Match" with Phil vs Tiger to NBC Sports Washington hosting an alternate streaming broadcast of a game that asks fans to predict what comes next.
Initially, broadcasters won't be able to mention gambling information at will; it will be fed to them and monitored and connected to on-screen the graphics.
But the holy grail is coming.
Odds are very good that, a year from now, Eric Shanks, president of Fox Sports, which broadcasts next year's Super Bowl, won't be making the same comments as McManus did this time around.
How would you rate this article?