Stuckey: The Two Chargers-Patriots Bets I Made Right Away
Credit:
USA Today Sports. Pictured: Joey Bosa, Melvin Ingram and Tom Brady
Betting Odds: Los Angeles Chargers vs. New England Patriots
Odds: Patriots -4.5
Over/Under: 47
Time: 1:05 p.m. ET on Sunday, Jan. 13
TV: CBS
As a die-hard Ravens fan, there is no time to sulk. Money first. Onto the next bet.
(I'll be honest: Having the Chargers still alive as my only Super Bowl future — 21-1!! — takes away some of the sting.)
Despite the Chargers' best efforts to collapse in Sunday's game by playing prevent defense and going down at every opportunity, they survived what was a horrible matchup for them on the road.
The good news?
It actually gets easier from here for LA — which is exactly why I bet this spread and over/under on the open.
Let me explain.
The Matchup
The Patriots are not the Ravens. The Chargers' excellent pass-rush and physically dominant secondary is built to stop an offense like New England's, which relies on the pass and struggles to run the ball consistently (4.3 yards per carry, 21st in the NFL). 
Whether you want to believe it or not, this Patriots pass offense has been off all season.
Rob Gronkowski is a shell of himself, and Brady has been far from his peak-accuracy days. The loss of Josh Gordon should not be underestimated. There was a reason the Patriots took a risk on him: Gordon made their offense much more dynamic, especially in the deep passing game.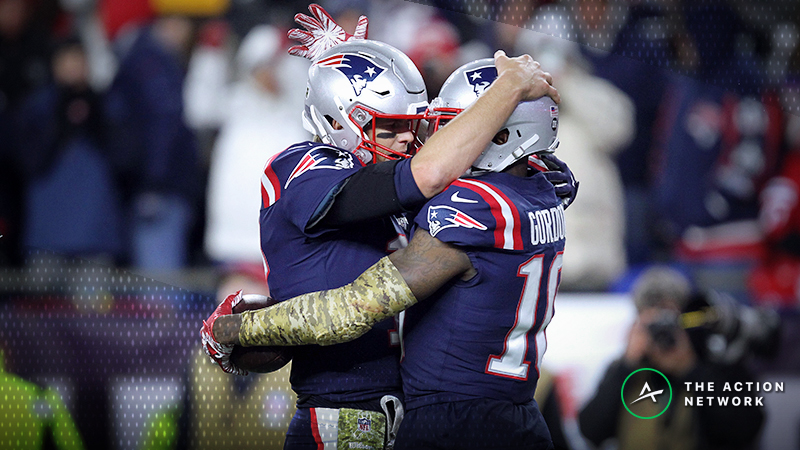 Gordon would've been perfect for this matchup, as the Chargers rank 31st in defending deep passes, per Football Outsiders.
New England will instead have to rely on its short-passing game, an area where LA thrives (third overall, according to DVOA) with the help of Iowa product Desmond King, who's been dominant as the team's slot corner.
This will be huge in neutralizing Julian Edelman & Co.
Now, let's not discount the Patriots too much: Brady and Bill Belichick are still brilliant tacticians. They know the Chargers' strengths in the secondary and will try build an advantageous game plan, which I expect to center more around the run than we're used to seeing.
The pats rank No. 1 in adjusted sack rate, so, in theory, they can hang with Melvin Ingram, Joey Bosa and the Chargers' elite pass-rush.
But so much of the Patriots' offense relies on timing, and they just don't have receivers who can create enough separation against this secondary.
That will have a trickle-down effect, forcing Brady to hold onto the ball longer than he'd like and giving the Chargers' pass-rush more time to get home.
New England's pass-rush has really struggled this season (ranked 30th overall), which will help a Chargers offensive line that has been absolutely dreadful in pass protection all season.
Philip Rivers should be able to move the ball some, but don't expect Kennan Allen to rattle off a ton of big plays with Stephon Gilmore, PFF's highest-rated corner this season, guarding him.
The Pace Factor
Pace will be an interesting factor in this matchup. The Patriots like to play fast, ranking No. 1 overall in situational-neutral pace. Usually that's bad news for under bettors, but if the Chargers' pass-rush is humming, I expect Brady to slow things down.
The Chargers, meanwhile, play at a slow, snail-like pace (30 seconds per play!), and I don't imagine they'll change that as they try to play keep-away from Brady.
There's a reason four of LA's past five games have gone under the total.
Should You Worry About LA on the Road?
In a word, no.
The Chargers are 8-0 outside of LA. Their only "road" loss was to the Rams … in LA. This run includes wins at Seattle, Baltimore, Kansas City and Pittsburgh — arguably four of the five hardest places to play in the NFL.
(Plus — not to be overlooked — they basically play on the road every week, given their lack of home-field advantage in LA.)
And no, you should not let the "West Coast team heading East" trend keep you from betting the Chargers, as we detailed last week.
What I'm Betting
Chargers +4.5 | Under 47
This is a great matchup on both sides of the ball for the Chargers, who I think have the better overall team and make a 1-point favorite on a neutral field.
The Chargers have value at anything over a field goal, and given the Chargers' slow pace and what I expect to be a more run-heavy game plan for the Patriots, I like the under at 45.5 or higher.
Yes the Pats have a huge coaching advantage, an extra week of rest and an overall special teams advantage, but that shouldn't make this line more than a field goal.
The Chargers are basically the old Ravens teams that used to give the Pats fits in Foxboro.
They can get pressure on Brady while manning up their receivers to counter the short passing game, which is basically the Patriots' worst nightmare.