Can Chris Carson, Rashaad Penny Be Valuable Fantasy Football RBs?
Credit:
USA Today Sports. Pictured: Chris Carson, Rashaad Penny
Could Chris Carson and Rashaad Penny both offer fantasy football value in 2019?
Ian Hartitz analyzes the viability of both running backs thriving this season.
We're in the thick of the NFL offseason and it's officially time to start fantasy football prep. I'll be answering the biggest questions heading into the 2019 season; this is part of that series.
---
The Russell Wilson era has been about as successful as anyone could have hoped for: Seven out of seven winning seasons, three NFC West titles and, of course, one Super Bowl.
Wilson certainly benefited from the presence of Marshawn Lynch and the Legion of Boom early in his career, but he's continued to lead an upper-tier scoring offense even as the franchise's definitive top dog.
2012: 25.8 PPG (No. 9)
2013: 26.1 (No. 8)
2014: 24.6 (No. 10)
2015: 26.4 (No. 4)
2016: 22.1 (No. 18)
2017: 22.9 (No. 11)
2018: 26.8 (No. 6)
However, the offense changed directions in 2018 and re-embraced a run-first identity with help from new offensive coordinator Brian Schottenheimer. The result was a league-low 427 pass attempts — the fourth-lowest mark by an offense since 2010.
This run-heavy scheme is far from ideal for Wilson's fantasy football upside, but it's good news for Chris Carson and Rashaad Penny. What follows is a breakdown of both running backs as well as what to make of their fantasy football values entering 2019.
Chris Carson Was a Workhorse in 2018
It would've made sense if Carson took a reduced role last season after the Seahawks drafted Penny in the first round of the 2018 draft. Instead, Carson started 14 games and was one of the most featured backs in the league, particularly on the ground — only Todd Gurley (18.3) and Ezekiel Elliott (20.3) averaged more carries per game than Carson (17.6) did last season.
It turns out that getting a big (6-foot, 218 pounds) and athletic (77th-percentile SPARQ-x score) back to the ground is easier said than done.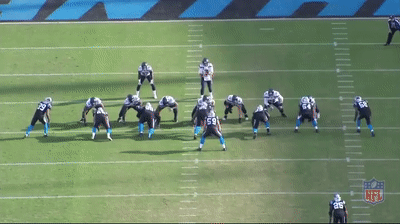 Carson has put up fairly ridiculous rushing numbers over his career thanks to this fantasy-friendly combination of pure talent and a monstrous workload.
Elliott (96 rush yards per game), Gurley (89), Joe Mixon (83), Saquon Barkley (82) and Carson (82) were the only players to average at least 80 rushing yards per game last season.
Carson  joined Barkley, James Conner, Adrian Peterson, Christian McCaffrey, Kareem Hunt and Melvin Gordon in the critically acclaimed 50 Broken Tackles Club in 2018 (per Pro Football Focus).
Only Elliott (48%), Barkley (44%) and Le'Veon Bell (37%) have gained at least 100 rushing yards in a higher percentage of their games than Carson (33%) since 2016.
Of course, the most important workload metric from Carson's 2018 campaign was the Seahawks' insistence on feeding him the ball near the goal line. Overall, only seven running backs had at least 70% of their team's rush attempts inside the five-yard line last season:
David Johnson (100%)
Carson (87%)
Barkley (80%)
Peyton Barber (75%)
Mixon (75%)
Gurley (72%)
Leonard Fournette (71%)
Getting Carson to the ground near the goal line borders on impossible.
The biggest potential issue for Carson's chances at again providing plenty of fantasy football value might not be Penny, but rather an undisclosed knee injury. Pete Carroll said during OTAs that Carson "had a little work done" on his knee over the offseason.
The good news for the Seahawks is that their backup running back seems good enough to pick up the slack if Carson is ultimately forced to miss some time.
---
Rashaad Penny's Rookie Season Was Better Than You Remember
Four hundred and ninety-four total yards from scrimmage and two touchdowns was hardly what the Seahawks hoped for from Penny after selecting him with the 27th overall pick of the 2018 draft. His 94 touches as a rookie were the fewest by a first-round running back over the past five seasons, with the next-lowest mark being 197 by McCaffrey.
Still, Penny entered last season out of shape and dealt with late-season ankle and knee injuries. The rookie hardly set himself up for success, but this didn't stop him from ultimately working as a more efficient player than Carson on a per-touch basis.
Average yards per rush: Penny (4.9); Carson (4.7)
Yards per catch: Penny (8.3); Carson (8.2)
Yards per touch: Penny (5.3); Carson (4.9)
Yards after contact per touch: Penny (3.4); Carson (3.36)
Carson (50% success rate) was superior to Penny (40%) when it came to consistently picking up positive yardage. Still, it was Penny who exhibited an enhanced ability to create big plays.
Only Tyreek Hill (20%) and Cordarrelle Patterson (11%) have gained 15-plus yards on a higher percentage of their rush attempts than Penny (11%) over the past three seasons (among 149 players with at least 50 carries).
Penny benefited from facing only eight-plus defenders in the box on 10.6% of his snaps, which was the fifth-lowest mark in the league (per Next-Gen Stats). It remains to be seen if this was a result of the Seahawks' predictable offense, or of Penny's ability to work as a more natural receiver than Carson.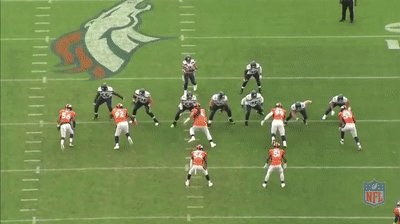 Penny is apparently "down" to 230 pounds after entering last training camp above 240. His ability to function as a better version of his 2018 self will go a long ways toward earning more work in 2019.
Also helping matters for Penny in 2019 is…
---
The Seahawks Run the Ball More Than Any Team
Carson is too good to consistently sit on the bench in favor of Penny without an injury or off-field issue also arising.
However, there might just be enough volume in the backfield for both backs to somewhat consistently serve as valuable fantasy football options. This assumes that Penny takes most of Mike Davis' previous work.
Available Opportunity in the Seahawks' Backfield
Snaps: 477 (No. 8 most-available among all 2019 projected backfields)
Carries: 115 (Tied for No. 12)
Targets: 45 (Tied for No. 5)
There's a world where each of Carson and Penny total at least 200 touches, while each would be one injury away from having a large enough workload to function as a consistent RB1. Recent history doesn't paint the best picture for their chances at both thriving in 2018, but this task is far from impossible:
Productive two-back committees have been even more common if we consider pairs of top-24 PPR backs, as 18 different teams have produced multiple RB2s during the same season over the past 10 seasons.
Both Carson (RB26) and Penny (RB33) remain affordable at their current PPR average draft positions. Carson is the better bet for zero-RB drafters, but don't count out Penny's chances of also rebounding in 2019.
How would you rate this article?