Raybon: How I Quit My Accounting Job and Got Paid to Watch Sports
In less than five years, Chris Raybon went from being an accountant to a major player in the fantasy sports industry.
Along the way he almost quit, was forced to take big risks and repeatedly bet on himself.
His journey taught him a lot, and he shares tips on how to break into the industry and be a better writer, analyst and liver of life.
Five years ago, I was an accountant. I hated that shit.
Today, I'm a Senior Editor at The Action Network and a co-host of the ESPN+ show "I'll Take That Bet."
This is the story of how it all happened and what I learned along the way.
I started watching football as a toddler
As you may have gathered from the image above, I've been watching football since I was a youngin. The pic was taken in my grandparents' apartment in the Bronx, New York, on Christmas 1989. I was two and obviously have no recollection whatsoever of watching that game, but I know that my grandpa was the reason it was on. He was a retired World War II vet who came to the BX after the war. He loved to sit around all day in his Hanes V-neck undershirt watching football, so I guess that's where I get it from (though I tend to go crewneck over V-neck).
The first game I do remember watching with him was a snowy one between the Cowboys and Dolphins on Thanksgiving in 1993 — the one where Leon Lett Shaqted-a-fool before it was a thing, unnecessarily trying to recover a blocked field goal and giving the Dolphins a second chance at a game-winning kick, which they hit:
From that point on, I vividly remember watching a lot of horrible mid-'90s Jets football, which is probably why I'm now a Giants fan.
I became obsessed with stats
What really got me into the NFL was when my mom got me my first ever season preview magazine: Athlon Sports' 1995 edition.
Once I started reading about football and had access to all the rosters, I was hooked — especially to the stats.
I never knew it would play such a large role later in my life, but I had a weird obsession with projecting NFL stats once I got that magazine. It started with league standings and progressed to me just making up whole games in my head and recording the play-by-play to compile a box score.
And any time I would get a new football video game (Madden, GameDay and Quarterback Club were poppin' back then), I'd spend hours updating the rosters. I was way too excited the first time I figured out what the simulation feature meant.
I was also big into an NFL simulation board game called Strat-O-Matic. The first time I played it was 1995, but because I'd gotten it from a small toy store in a suburb just north of the BX called Bronxville, the card set was from the 1989 season, so I'm randomly a huge Christian Okoye fan. Strat used dice rolls and player cards to determine outcomes, and the resulting stats were dead on, unlike video-game simulations at the time.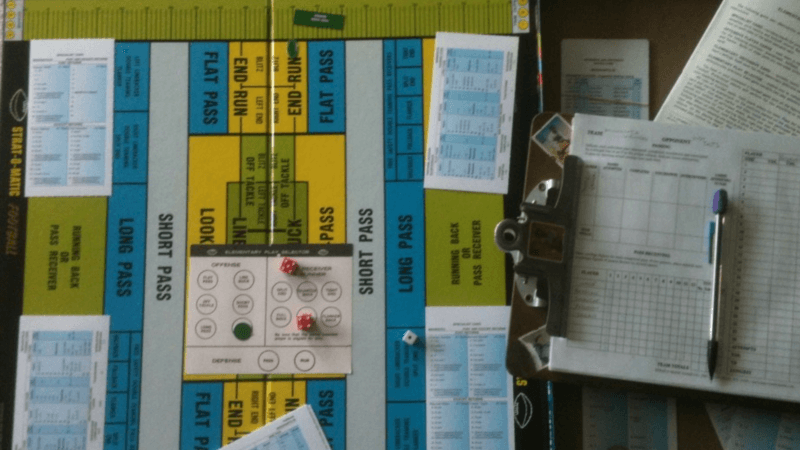 I also got an electric football game that I thought would be one of my favorite gifts ever …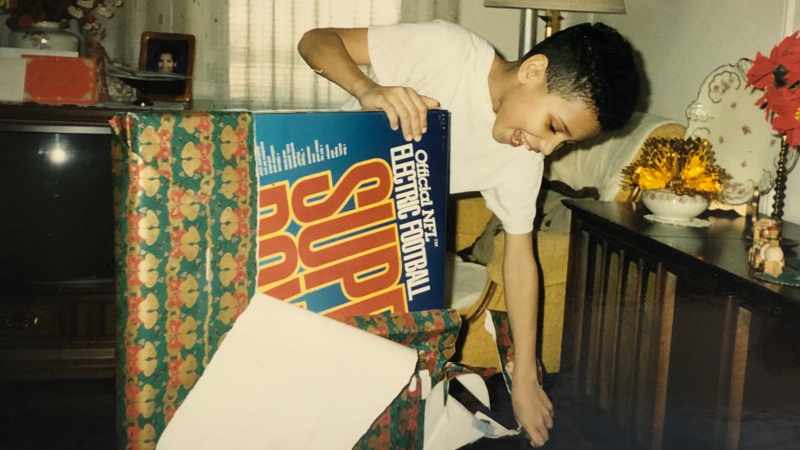 … right up until I went home to play it and realized it worked about as well as that old-school TV in the background would today. (My grandmother still lives in that apartment, and the TV has been upgraded, but not by much, so watching football there means watching the quarterback drop back until he's out of the frame and then waiting for the ball to reappear in midair. That's still easier than going through the hell she would raise if I tried to get her a new TV.)
I discovered fantasy
Magazines were also responsible for my first exposure to fantasy. I accidentally picked up a copy of a fantasy preview mag instead of a season preview mag and asked my mom to buy it. The individual player analysis and emphasis on forecasting was more interesting to me than the more general team overviews, and the rest was history.
I read about fantasy for a few years before I actually played it for the first time. I even ordered a fantasy newsletter (on actual paper! delivered by an actual post office worker!) before I ever played. It was Grogan's preseason newsletter, which was the only way I knew how to get updated depth charts during the preseason in a pre-internet era (the internet existed, but it may as well not have in the BX because nobody had it. I guess it wasn't as easy to bootleg as cable).
My first league was just a two-man league: me and my pops. We tracked scoring with a pencil and graph paper using newspaper box scores (sometimes Monday Night Football ran so late that you wouldn't have the box score 'til the Wednesday paper). I don't think we even played out the entire season. My main memory about that team was my quarterback, Vinny Testaverde, pounding his fist into the Meadowlands turf after suffering a season-ending injury in Week 1. Stupid Jets.
I momentarily realized there was more to life than football
Throughout high school, I continued to watch pretty much every football game I could on Sundays and played a lot of Madden and NFL 2K, but fantasy was mostly an afterthought. Teenage me had more important things to do, like maintain my extensive jersey and fitted collection (matching Air Jordans not pictured). (I wonder how fitted-and-jersey high-school me would have felt about Fedora-and-floral-shirt Belmont me?)
For some reason, my two most vivid high-school memories about football both involve girls prying me away from football video games. I remember pushing back nightly phone calls from my girlfriend in ninth grade to get in a few more minutes of NFL 2K. And I remember my next girlfriend asking me to come spend the night because she had a free crib just as I popped Madden 2004 in for the first time. As I was coming home the next day to finally play, the blackout of 2003 hit, and I couldn't play until the power went back on 18 hours later. Unbelievable.
If all the sports data we take for granted now was available when I was a kid, I might have lost my virginity at 24 instead of 14.

— Chris Raybon (@ChrisRaybon) March 29, 2018
I started watching every game
I didn't really get serious about fantasy until 2010, a year after I graduated from Syracuse University. One of the first purchases I made after getting my first full-time accounting job with a tech company called TowerData was NFL Game Pass (I think it was called Game Rewind at the time). I've watched every NFL snap — even the kneel downs — ever since.
I got lucky
I came to Cuse as a psychology major but switched to accounting because I thought it would be more recession-proof.
The thing about accounting, though, is that it's boring.
I wanted to do something more interesting, I just had no idea what. But thanks to reading "The Four-Hour Workweek" by Tim Ferriss, one thing I did know was that I wanted multiple streams of income. My No. 1 plan at the time was to be a life coach (seriously). I also dabbled in rapping, but Drake hadn't created the lane for light-skinned dudes who hadn't shot anybody yet.
Since I was watching so many games and getting back into fantasy, I thought writing about it might be an option. I read some wise words from Matthew Berry's book, "Fantasy Life," about always being prepared, and so I decided to put a few of my thoughts down on paper.
I had no idea they would come in handy during a happenstance encounter with the author of another book I was reading at the time, "The Late Round Quarterback" byJ.J. Zachariason.
It all started when I stumbled upon a story on numberFire that I thought was a pretty trash take — something along the lines of Andrew Luck not being a good fantasy pick that year because his starting running back was Ahmad Bradshaw, who, according to the article, was not good at football. I wrote an email to numberFire support to tell 'em why I was mad: Luck finished as the overall QB8 as a rookie with Vick Ballard and Donald Brown as his team's primary ballcarriers, and since when was a team's running back the deciding factor in whether or not to pick a quarterback, anyway?
I'd kind of forgotten about it, when I saw that J.J. — who I had no idea was the Editor-in-Chief at numberFire  — had replied:
"I saw what you responded with … Love it. Have you done any writing in the past? I'm looking for some more contributors for the site. While we don't pay, it can bring a lot of exposure."
I can't be grateful enough to J.J. for this. And honestly, I don't think it had anything to do with me "earning" a reply from him by what I wrote — J.J. just cares, and I'm pretty sure he responds to everyone. (No lie: At an FSTA conference one year, I asked him why he even responds even to assholes on Twitter, and his response was that "you should always care.") When you cross paths with good people, good things tend to happen, and J.J. is one of the best. Also: Easily debunkable takes on the internet that you can later leverage into a life-changing career move for the win.
Never mind that I wasn't getting paid — this would be my first official time writing about football for a public audience (not counting the time I trolled former NFL wide receiver Donte Stallworth on a since-deleted Twitter account and he angrily entered my DMs demanding an answer to the question, "why you mad, lil' homie?").
I wrote for free
When I first started writing my free weekly article for numberFire (it was called "NEP Studs and Duds" if you're curious and want to look it up), I didn't even have Twitter anymore. I deleted my old account, not to give Stallworth a break, but because I'd decided to eliminate what I considered distractions at the time — Twitter, Facebook, Instagram and cable — until I figured out how to get the hell out of accounting.
I wasn't even sure if axing those things would help, but looking back, I think it did because I probably wouldn't have been as proactive with my time if I was busy sliding in DMs all day.
Once I got back on Twitter, I was fortunate to see my audience grow fairly quickly thanks to the wide reach J.J. and numberFire had. (Translation: Evan Silva, who's now my good friend, retweeted me a bunch of times. And shoutout to fantasy kicker enthusiast Denny Carter, who was another one of my earliest supporters in the industry.)
I started to get paid to write
After the 2014 season, FantasyLabs co-founder Jonathan Bales hit me up to write an article for a new project he'd just launched at the time, RotoAcademy. Because I was writing for free at numberFire, this was the first time I had to think about what I was worth in the industry — and I had absolutely no idea.
After asking around a bit, I settled on $75. When I took that number to Bales, he said he wasn't giving anyone even half that. I had no leverage — Bales was Bales, and I was just some dude from the Bronx with fewer than 1,000 Twitter followers — so we agreed to his number.
After filing my piece (it was on the importance of goal-line work to running backs), I noticed that Bales had paid me double what we agreed to, with a note saying he'd done so because it exceeded his expectations in terms of both quality and length. Total dick move by Bales there, paying it forward so I'd one day agree to work for his company and write about what a good dude he is. Seriously, though, Bales is one of my greatest influences. I'll never forget the time I ordered what I thought was gonna be just some janky eBook called "Fantasy Football For Smart People: How to Dominate Your Draft," saw the author photo of a young Bales cheesing in what may or may not have been his college graduation photo, and thought, "I can do this."
In the summer of 2014, which was a few months after doing the RotoAcademy article for Bales, I got paying offers from a handful of sites to do weekly in-season NFL content. They weren't offering anywhere near enough for me to quit my day job, but my second stream of income would be officially flowing.
This is where I should mention that I'd recently been put on to a newer, funner, more addictive way to play fantasy and simultaneously fund some of the sleaziest commercials of all-time: DFS. I'd published articles on only regular fantasy up until this point, but I'd been Tweeting a lot about DFS, and it was DFS that every company that made an offer wanted me to write about.
I decided to accept an offer from 4for4 because of all the sites that made offers, it was the one I was using most at the time (I liked that similar to Action Network recent hire Sean Koerner, 4for4's John Paulsen was always among the top finishers in forecast accuracy). Also, it would allow me to take over some of the content formerly written by none other than Bales himself.
I almost quit
Life was good during my first year at 4for4. While I still had a day job I wanted out of, I'd recently negotiated a nice raise for myself there. Plus my NFL following — and thus, my per-article fee — was increasing, and I was also making a few extra grand here and there playing DFS.
So why did I feel like I wanted to get out of the whole fantasy/DFS industry?
It was a weird mix of confidence and doubt. My success in fantasy/DFS gave me confidence I could make something out of nothing, but that confidence ironically shifted my focus away from the industry because now more than ever, I felt like there were infinite possibilities. I doubted that writing about football — a seasonal sport that limits the amount of full-time opportunities  — or playing DFS — a game with questionable legal standing where I'd continuously have to risk a chunk of my income to make more — were optimal life choices. Ambition can be a blessing and a curse sometimes.
I was also asking myself at the time, "Is this work important enough in the grand scheme of things? Should I be contributing to a larger cause?" My existential conscience peaked in my mid-20s. More on that later.
Either way, success is in the eye of the beholder, and the bottom line was I'd given two years to the industry but was still stuck in accounting.
I got a full-time offer … but it was risky
But every time I felt "That was that", it called me right back
It called me right back
Man, it called me right back (OH NO!) – Jay Z, "Allure"
Sometime in early 2015, 4for4 owner Josh Moore emailed me saying he wanted to create a DFS subscription package and asked if I'd be interested in coming and running point — full-time.
The thing was, I'd have to take a slight pay cut in base salary but would be in position to earn more than I was making at TowerData through incentives. Accounting was a career I'd chosen for its stability, and now I'd be forced to choose between that stability and a much riskier option.
I bet on myself
Aside from death, life's ultimate downside is unhappiness. So provided you're not causing harm to others, you have to be willing to take whatever risks are necessary to make yourself happy. It's actually a lot riskier not to take those risks. So I bet on myself and took the job.
Of course, I wasn't the only one betting on myself. My official title — Senior DFS Editor — would require me to do something I'd never done before in my life: edit. Josh was betting on me as an editor based solely on my writing, and among the many things I'm grateful to him for, this is near the top of the list. It essentially helped me unlock an entirely new skill set that I didn't even know I had. But again, when you cross paths with good people, good things tend to happen.
Josh was also betting on me to do a whole bunch of other stuff I'd never done, like create a content plan and create, host and produce a podcast. And we were both essentially betting on the long-term viability of DFS.
The podcast was an adventure. It started out well enough: I came up with a fly name (DFS MVP), chose a great co-host (TJ Hernandez, who's also now a good friend of mine), and even came up with a go-to catch phrase ("let's get this shmoney!"). But our first episode had no outline and we were a rambling, filler-word happy mess. And the sound quality was about as good as you'd expect for someone who hadn't done any mixing in GarageBand in five years.
Overall, those first few months were probably the most mentally taxing of all my time in the industry. We were up against the clock to launch the DFS sub by Week 1, and we literally launched it hours before the Thursday night game. I slept for minutes — not hours — a day. My crib looked like it got hit by a Red Bull hurricane. And since we hadn't sold a single DFS sub yet and me making up for the pay cut I took was tied to hitting revenue-based incentives, I literally had no idea if the sleepless nights would pay off.
I almost lost DFS … and my cool
Fast-forward a few months to November and things were looking up — until DFS got banned in New York. It was bad enough that I couldn't enter paid contests, but losing such a big state for any length of time wasn't good for the industry.
One Friday in mid-November, there was a protest of the ban in lower Manhattan, so I decided to roll through. After it was over, some tall, wiry Indian dude approached me for an interview. He was initially polite, but once the cameras were rolling, he started trying to troll me with satire. But his jokes were so awkward and unfunny that I had no idea he was even a comedian. I'm a big believer in giving off positive energy to the world at all times, so I'm not exactly proud of this, but after he rudely cut me off for about the third time, I became enraged and went full BX on him: "Drop your mic right now so I can fuck you up!"
Thankfully, he quickly retreated. Someone tried to get me to sign a release form; I declined. A few of my friends from FanDuel were behind me hysterically cracking up. So that's how I found out I almost fought Hasan Minhaj.
After months of legal battles, DFS was eventually restored in New York. I like to think I saved DFS by not kicking Hasan Minhaj's ass that day.
I bet on betting
Chad Millman approached me about leaving 4for4 for The Action Network in early 2018. At first, I was hesitant. The company was still brand new, had no plans to cover season-long fantasy (which has since changed), and most importantly, there was still no decision on the legalization of sports betting.
But as I've done all my life, I made the upside bet.
I'd say it worked out well so far. I've been here only four months, but I've already been given a TV spot, got to cover a Triple Crown while hanging out behind the scenes with Paul Lo Duca and BlackJack Fletcher, and even branched out to writing about hip-hop.
What I learned about breaking into this industry
Don't hesitate
A lot of people who want to get into this industry create unnecessary prerequisites that hold them back:
"First I have to go back to school." The internet > school. Everything I learned about this industry, I learned from either the internet, or from people I met on the internet.
"First I have to find someone who'll pay me." Giving away value for free is one of the biggest assets you have when you're just starting out in any industry. Writing for free at numberFire got me the exposure I needed to leverage into where I am today.
"I need an audience/following first." I was lucky to write for free on a popular site, but if you aren't so fortunate, you can still create a blog, post on Twitter and build your following through hashtagging, SEO and engaging in related conversations.
Be versatile
The more things you can do well, the more of an asset you are.
For example, being able to not only write, but edit, makes me a lot more valuable. Instead of being able to add value only through my own articles, I can potentially add value to any article on the site.
Back when I was at 4for4, I took it upon myself to hit up our marketing guy, Luis Escalante aka El Rey (The King), to learn as much as I could about SEO. The Action Network's Ian Hartitz got his start by doing research for Bales and then finding typos in drafts of his books, and The Action Network's Joe Holka puts in work for the Labs support desk, news desk and social accounts. If you can produce audio or video, you'll also make yourself more valuable. Almost no one in this industry does just one thing anymore.
What I Learned About Being a Good Writer
Identify and appeal to the needs of individual groups that make up your broader audience
One of my favorite questions Ferriss asks guests on his podcast is what common piece of advice do you think is wrong?
For me, a big one is "know your audience" — it should be "know your audiences."
The singular phrasing of 'audience' implies your audience is all the same, and much of the advice accompanying "know your audience" tends to focus on reducing your audience to an archetype.
In reality, your audience will almost always be made up of different groups who value different things, or who value the same things to different degrees. The more you can appeal to those groups simultaneously, the more upside you give your writing.
For example, when I'm writing a fantasy article, I know my audience is made up of casual players, experienced players and other industry members, so I try to include elements in my article that each will value.
Casual readers might be completely new to fantasy or play in only 1-2 leagues. They want to know who to draft, but don't necessarily care about why. That means they'll value clear, actionable takeaways that are easy to locate. That's not to say more advanced players don't value actionable takeaways as well — it's just they're more likely to read through the entire article to find it, whereas casual players might only skim.
Experienced players have a greater understanding of fantasy and want to learn more, but they probably don't have as much access to information or time to research as I do. They value more detailed analysis with supporting evidence. They don't necessarily want my picks as much as they want information and insight that helps them decide who to pick.
Other industry members have both access to information and time to research, so for them, I have to offer unique insights. My work is useless to them unless it helps them become a better analyst
Use short paragraphs
Most of my paragraphs are no more than 2-3 sentences. It's easier for readers to consume. It also allows me to organize my thoughts more coherently.
Use headers
Almost everyone is skimming these days. If your work isn't easy to skim, some people may not read it at all.
Personality does matter, and being authentic is a start
Like many writers, conveying personality through my writing is still a work in progress. But learning to be authentic has helped. By authentic, I mean (1) I don't write in ways I wouldn't speak, and (2) I'm not afraid to write in ways I would actually speak. For example, this piece is ~4,000 words, but do a 'find' on words like "furthermore," "additionally," "conversely," "ostensibly," or even "however." I don't use 'em, so I don't write 'em.
Another tactic I've used to try to convey some of my personality — and many writers do this way more than I do, but I'm trying to be better about it — is to simply mention things I'm interested in that come up as I write, whether it be songs, movies, TV shows, restaurants, whatever.
Read your writing aloud
If it doesn't sound good aloud, odds are it's not going to be the most fun to read, either.
What I learned about being a good analyst
Think in terms of range of outcomes
Many analysts shy away from discussing all potential outcomes because they think it will discredit their work or make it seem like they lack conviction.
But there's so much upside to doing so.
For one, discussing range of outcomes allows you to acknowledge and address the opposing viewpoint, which will strengthen your argument.
And even if someone disagrees with your take, you still may have provided value to them just by informing them of alternative viewpoints.
If you're an NFL analyst, watch as many games as you can
Sometimes, spending a few minutes watching game footage will reveal something that would have taken hours of statistical research to find.
Other times, spending a few minutes doing statistical research will reveal something that would have taken hours of game footage to find.
And yet other times still, watching game footage will reveal something statistical research never would have and vice-versa.
The more you do of both, the better you'll get at knowing when to go to the numbers and when to go to the tape.
The reason I place more emphasis on watching games is because it's a bigger differentiator since fewer analysts devote as much time to it, and the upside goes beyond just providing better analysis. It goes back to knowing your audiences. A sports audience is generally comprised of fans of individual teams. These fans may not know much about the other teams in the league, but you best believe they've seen most or all of their own team's games. If they don't respect your knowledge about their team, they may not bother with your analysis for any other team.
Being able to relate to and engage with each team's fan base can go a long way toward establishing credibility and broadening your reach. For example, many of my most viral tweets have been about a specific team that spread among die-hard fans, and sometimes even beat writers and players. This will sometimes even lead to someone affiliated with the team inviting you on their podcast or TV show.
What I learned about life
Seek out opportunities with high upside and minimal downside
This will seem obvious to some but can go overlooked.
I was lucky that one of the biggest names in the industry read my email and offered me an opportunity. But sending that email had no downside outside of the few minutes it took to write.
Eliminate Distractions
When I wanted to change jobs, that meant getting off Facebook, cutting cable, etc. More recently, it simply means disabling notifications whenever I need to get things done. (True story: In one of my group chats, I'm called "Young Airplane Mode.") And you may be surprised to learn that despite having a pretty substantial Twitter following (sup, y'all!), I rarely check Twitter, which is why most of my tweets come in spurts.
In his book "Flow," Mihaly Csikszentmihalyi explains that we need around 15 minutes to build up to peak focus, and every time we're interrupted, we have to start from scratch. If you lack high-quality focus, you'll be unable to do high-quality work.
"Hard work always beats talent if talent don't work hard"
One of my favorite rappers of all time, Jadakiss, said this on a song called "Deeper Than Rap," and it's always stuck with me.
Regardless of your talent level (if you even believe "talent" is something other than a product of hard work, which is a topic for another day), it's pretty much impossible to achieve any type of sustained success without putting in a lot of hard work. It's also incredibly difficult to work your hardest if you're doing something you don't like to do, which is the main reason I wrote this story: to (hopefully) inspire and encourage you to find a way to work in a career that makes you happy, even if success seems extremely risky or unlikely at Step 1. It's cliche as hell, but believe me when I tell you: I often work long hours, but it doesn't feel like work because I enjoy what I'm doing.
Be Grateful and Unselfish
Earlier I mentioned how there was a point when I felt that I should be contributing to a larger cause than "just" fantasy football. I'm definitely not ruling that out for the future, but looking back, I think I felt that way because I was being just a tiny bit ungrateful and selfish. Ungrateful in the sense that I was already taking for granted that I had my foot in the door of an industry that I truly did enjoy. And selfish in the sense that when I first started, I was still thinking mostly in terms of "how is being good at this going to benefit me?" rather than "how is being good at this going to benefit my audience?" Once I began focusing on giving back to others through my work, my work became a lot more satisfying.
Bet On Yourself
Never settle. I wouldn't be sitting here writing this if I didn't bet on myself. If you're the type who's risk-averse, just think of it this way: In the long term, it's a lot riskier to not bet on yourself.
Now let's get this shmoney!
How would you rate this article?