Should Christian McCaffrey Be the No. 1 Fantasy Football Pick in 2019?
Credit:
Bob Donnan-USA TODAY Sports. Pictured: Christian McCaffrey
Should we expect Christian McCaffrey's fantasy football excellence to continue in 2019?
Ian Hartitz assesses whether the Panthers RB should be the top overall pick in fantasy drafts.
We're in the thick of the NFL offseason and it's officially time to start fantasy football prep. I'll be answering the biggest questions heading into the 2019 season; this is part of that series.
---
There's a short list of running backs who are worthy of discussion as the No. 1 overall pick in fantasy drafts with PPR scoring.
Our choices essentially boil down to:
Saquon Barkley
Ezekiel Elliott
Christian McCaffrey
We'll focus on McCaffrey here in an effort to see just what makes the Panthers' franchise talent so successful, and whether he's worthy of the highest honor that any fantasy football owner is capable of giving out.
Defenses Have Struggled to Stop Christian McCaffrey
There was a concern that McCaffrey could struggle to run inside the tackles at the professional level coming out of Stanford considering he stands 5-foot-11 and weighs just 202 pounds.
His 3.7 yards per carry as a rookie didn't help those whispers, but he quickly proved to be more than willing to embarrass defenses from any and all areas of the field in 2018.
RBs with 50+ broken tackles in 2018 (PFF):

Saquon Barkley (71)
James Conner (60)
Adrian Peterson (56)
Christian McCaffrey (53) 👀
Kareem Hunt (53)
Melvin Gordon (52)
Chris Carson (50) pic.twitter.com/aeH5adTNO6

— Ian Hartitz (@Ihartitz) May 3, 2019
Overall, McCaffrey averaged a sterling 6.0 yards per touch last season — the seventh-highest mark among all running backs. This efficiency was thanks in large part to his receiving-heavy workload, but 'Run CMC' also deserves plenty of credit for averaging 5.01 yards per carry, the ninth-highest mark among 47 backs with at least 100 carries in 2018.
It's rare for a running back to work as one of the league's most efficient backs AND have a massive workload. Fortunately, for past and future McCaffrey fantasy owners, this dream role was made into a reality in 2018.
McCaffrey's Workload Was Historically Elite in 2018
The Panthers drafted McCaffrey with the No. 8 overall pick in the 2017 NFL Draft. They eased him into the offense as a rookie, as he ultimately finished with a middling 197 combined carries and targets (28th among all backs).
Things changed in a big way last season, as McCaffrey totaled 219 carries and 107 receptions. This type of workload placed him in elite company with the league's few remaining workhorse backs.
RBs with 300+ touches by season:

2000: 19
2001: 13
2002: 16
2003: 15
2004: 12
2005: 14
2006: 14
2007: 11
…
2008: 9
2009: 9
2010: 11
2011: 8
2012: 10
2013: 9
…
2014: 5
2015: 4
2016: 7
2017: 6
2018: 5 (Zeke, Saquon, CMC, Gurley, DJ)

— Ian Hartitz (@Ihartitz) May 1, 2019
Overall, McCaffrey played on an absurd 91% of the Panthers' offensive snaps last season. Elliott (83%), Barkley (83%) and David Johnson (80%) were the only other running backs who even managed to clear 80%.
Further helping matters for McCaffrey's ginormous workload is that he boasts an incredibly fantasy-friendly skill set as a receiver.
Only six running backs in the NFL managed to lead their team in receptions last season:
Christian McCaffrey: 107 receptions
Saquon Barkley: 91
James White: 87
Ezekiel Elliott: 77
Tarik Cohen: 71
Jalen Richard: 68 (tied with Jared Cook)
McCaffrey joins Michael Thomas, Jarvis Landry and Odell Beckham Jr. as the only players in NFL history with at least 170 catches during the first two seasons of their career.
'Run CMC' is a walking, talking mismatch in a league full of world-class athletes.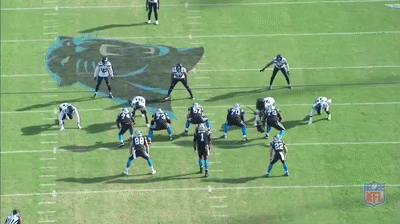 There simply isn't a precedent for a running back dominating their team's pass-game work to this extent. It's been a delightful turn of events for anyone who has made a fantasy investment in McCaffrey.
McCaffrey Might have the Highest Floor in Fantasy Football
McCaffrey finished 2018 as the overall PPR RB2, narrowly losing out to Barkley by just 0.3 fantasy points. Still, McCaffrey managed to set the NFL record for fantasy points in a single season by a running back when it comes to strictly receiving production.
Most fantasy points from a RB in a single season strictly from receiving production:

1. 2018 Christian McCaffrey
2. 1985 Roger Craig
3. 1985 Lionel James
4. 1999 Marshall Faulk
5. 1996 Larry Centers

— Ian Hartitz (@Ihartitz) May 3, 2019
The Panthers have essentially created a role for McCaffrey that consists of a workload worthy of both an elite running back and receiver.
This has unsurprisingly been fruitful for daily fantasy investors, as McCaffrey (77%) joined Chris Carson (77%), Todd Gurley (78%), Barkley (81%) and Kareem Hunt (88%) as the only backs with a Consistency Rating higher than 75% in 2018 (minimum eight games, per our FantasyLabs NFL Trends Tool).
Of course, it's not a certainty that McCaffrey will once again have one of the league's largest workloads. Head coach Ron Rivera said they'll take some of the workload off McCaffrey, but this isn't consistent with the team's decision to not add a running back in free agency or address the position until the fifth round of the draft.
It's fair to question whether McCaffrey has the same ceiling as Barkley or Elliott considering the latter two backs are expected to clear 250 carries with ease. Still, McCaffrey is this season's safest top-tier running back thanks to his historically absurd receiving role and status as his team's clear-cut three-down back.
McCaffrey is more than worthy of a 1.01 selection in any PPR fantasy draft.
How would you rate this article?