Is Dak Prescott Fantasy Football's Most Undervalued QB?
Credit:
Credit: Tim Heitman-USA TODAY Sports. Pictured: Dak Prescott
Dak Prescott is one of only three quarterbacks to work as a top-10 fantasy football QB each of the past three seasons.
What should you expect in 2019? Ian Hartitz analyzes Prescott's outlook and whether he's being properly valued.
Our experts are constantly refining their rankings and projections in the run-up to the 2019 season. Build custom cheat sheets featuring their latest updates with our Draft Kit.
---
The Dallas Cowboys have been the NFL's highest-rated roller coaster ride since they last captured Super Bowl glory in 1995. It's certainly too early to say whether the current edition of their roster is poised for repeated trips to January and beyond, but they've at least seem to have found their quarterback of the future.
It wouldn't be surprising to see Dak Prescott land a long-term deal before the beginning of the 2019 season. He's helped the Cowboys work as anyone's idea of an above-average team since entering the league in 2016 while not missing a single start.
Wins: 32 (fourth)
Points per game: 23.2 (12th)
Net yards per pass attempt: 6.37 (12th)
Yards per rush: 4.6 (third)
Yards per play: 5.54 (ninth)
Let's breakdown what to expect from Year 4 and what to make of Prescott's fantasy value in 2019.
Dak Prescott Is at His His Best Throwing to Amari Cooper
The worst that we've seen Prescott play was down the stretch in 2017 when  Ezekiel Elliott (suspension) and perennial All-Pro left tackle Tyron Smith (back) were sidelined.
Defenses had already come to the realization that Dez Bryant wasn't worth the attention of more than one defensive back, so the absence of Zeke left the Cowboys with zero real playmakers for Prescott to target.
This lack of offensive firepower continued to be an issue in 2018, even once Elliott and Smith returned to action. The Cowboys easily boasted the league's most unproven group of wide receiver and tight ends entering last season, so it made sense why they gave up their 2019 first-round pick to acquire the services of Amari Cooper before Week 9.
There's little debate that Prescott has been a better quarterback with Cooper than without:
The only receiver who has maintained more efficiency with Prescott than Cooper has been Brice Butler (minimum 20 targets):
Butler (10.46 adjusted yards per attempt)
Cooper (9.92)
Allen Hurns (9.31)
Geoff Swaim (8.49)
Rod Smith (8.17)
Terrance Williams (7.93)
Cole Beasley (7.7)
Blake Jarwin (7.69)
Jason Witten (7.28)
Ezekiel Elliott (7.25)
Dez Bryant (7.05)
Michael Gallup (6.72)
Deonte Thompson (3.95)
Prescott's average of 9.92 adjusted yards per attempt trails only Russell Wilson-Tyler Lockett (10.95), Patrick Mahomes-Tyreek Hill (10.58) along with Jared Goff-Brandin Cooks (10.47) among all starting quarterbacks and their No. 1 wide receiver (minimum 50 targets).
Cooper's massive target share, pristine route-running and big-play ability have him primed for fantasy stardom.
Prescott is also once again looking like a good bet for fantasy football production thanks to his unique ability on the ground.
Rushing Ability Has Never Been a Question for Prescott
Dual-threat quarterbacks seem to be chided for their inability to consistently beat defenses from the pocket, but we usually don't dish out the same level of criticism for slow-footed signal callers who are often unable to make free rushers miss to avoid sacks.
Prescott has bailed out the Cowboys' vaunted offensive line on more than a few occasions thanks to little else than instincts and pure athleticism. It's not easy to get a 6-foot-2, 226-pound athlete with plenty of strength to the ground.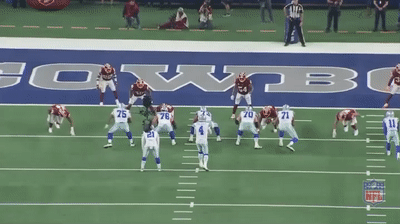 This part of the game is nothing new for Prescott, who rushed for 2,521 yards and 41 touchdowns in four seasons at Mississippi State. Still, few quarterbacks in NFL history have managed to find the end zone as often as the Cowboys' franchise quarterback to start their career: Only Cam Newton (28 rushing touchdowns) found the end zone more times as a rusher than Prescott (18) during the first three seasons of a quarterbacks career in NFL history.
The Cowboys have proven to be willing to deploy Prescott on zone-reads, quarterback sweeps and draws throughout his career. He's maintained a pass-first mentality from the pocket, but has been particularly willing to take off and run inside the 10-yard line.
Most rush attempts inside the 10-yard line among all QBs over the past three seasons:

Cam Newton (33)
Dak Prescott (30)
…
Tyrod Taylor (22)
Marcus Mariota (18)
Drew Brees (15)
Deshaun Watson (15)
Lamar Jackson (15)

— Ian Hartitz (@Ihartitz) May 27, 2019
The good news for Prescott and the Cowboys are that both his efficiency and number of scoring opportunities per game should be on the up-and-up this season.
The Cowboys Have Their Most-Complete Team in Years
Stephen Jones and the front office should feel good about Prescott's chances at taking another step forward in 2019 thanks to the return of two of his favorite teammates.
Jason Witten: It's unclear how much old-man Witten still has left in the tank, but he was never exactly winning with speed anyway. He'll help as a blocker, particularly inside the 20-yard line. Three of Prescott's seven career pass attempts to Witten inside the 10-yard line went for touchdowns in 2016 and 2017. This 43% touchdown rate trailed only the departed Cole Beasley (56%) among nine Cowboys with at least three targets inside the 10-yard line since 2018.
Travis Frederick: The Cowboys' All-Pro center missed the entire 2018 season due to Guillain-Barre syndrome, but Frederick said in early May that his strength "feels like I'm back, close to if not full strength." Pro Football Focus graded Frederick as their No. 6, 1, 2, 4 and 3 highest-graded center since entering the league in 2013.
The loss of Cole Beasley doesn't help, but Randall Cobb is a good bet to step in and provide some level of consistency from the slot for as long as he can stay healthy.
It's not like Prescott hasn't already demonstrated the ability to function as a high-end fantasy asset despite working in a run-first offense with mostly below-average receivers.
Only three players have been a top-10 fantasy quarterback in each of the past three seasons:

Russell Wilson
Drew Brees
Dak Prescott 👀 pic.twitter.com/Fwod4QAqeH

— Ian Hartitz (@Ihartitz) May 27, 2019
The biggest issue for the 2018 Cowboys was their putrid ability to convert red-zone trips into touchdowns. Their 51.8% touchdown rate (26th) inside the 20-yard line was well below their marks of 65.6% (fifth) and 59.6% (seventh) in 2016 and 2017, respectively.
The offseason is full of rumors and coach speak, but there certainly appears to be some potential for enhanced creativity in the 2019 Cowboys offense under new offensive coordinator Kellen Moore.
.@danorlovsky7 on what the 2019 Cowboys offense could look like with Kellen Moore calling plays:

"I think it's going to be an offense that is like Sean Payton married with Matt Nagy married with Mike Leach. Like they all had a baby and that's what this offense is going to be."

— Ian Hartitz (@Ihartitz) May 30, 2019
Prescott is once again undervalued in the fantasy football realm as the QB15 in average draft position. His ability to consistently find the end zone as a rusher, combined with improved efficiency as a passer, makes him one of 2019's premier late-round quarterback options.
How would you rate this article?