Is Derrick Henry Poised for Season-Long Fantasy Football Excellence in 2019?
Credit:
Christopher Hanewinckel-USA TODAY Sports. Pictured: Tennessee Titans running back Derrick Henry (22).
Titans running back Derrick Henry had an unbelievable run to end the 2018 season.
Is he ready to be an every-down running back this season and thrive for fantasy football investors?
Ian Hartitz analyzes Henry's outlook and when he should be taken in drafts.
We're in the thick of the NFL offseason and it's officially time to start fantasy football prep. I'll be answering the biggest questions heading into the 2019 season; this is part of that series.
---
The Titans drafted Derrick Henry with the No. 45 overall pick of the 2016 NFL draft. The former Heisman Trophy winner has made his presence felt in a big way on more than a few occasions during the past three seasons.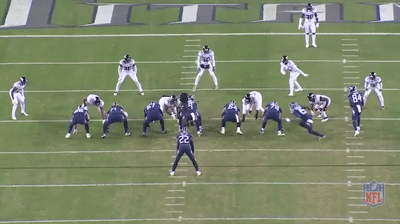 But he's ultimately averaged just 180 touches per season. What follows is an analysis on just how good Henry is as a three-down running back along with an assessment of his 2019 fantasy football value.
Henry is the definition of a freak athlete
There isn't much separating Henry from any of the league's other top athletes, regardless of position. 6-foot-3 and 247-pound athletes who are capable of running a 4.54-second 40-yard dash simply don't fall off of trees.
The closest comparison we have to Henry doesn't even play running back, as his testing numbers at the NFL combine most-closely resemble perennial All-Pro edge rusher Von Miller.
Height: Henry (6-foot-2) vs. Miller (6-foot-2)
Weight: Henry (247 pounds) vs. Miller (246 pounds)
40-yard dash: Henry (4.54 seconds) vs. Miller (4.53 seconds)
Bench press: Henry (22 reps) vs. Miller (21 reps)
Vertical: Henry (37 inches) vs. Miller (37 inches)
Broad jump: Henry (10'10") vs. Miller (10'6″)
Unsurprisingly, getting Henry to the ground has been a difficult task for pretty much any defender. His 49 broken tackles were tied for eighth among all running backs in 2018, while his average of 4.21 yards after contact per rush trailed only Nick Chubb (4.47) among running backs with at least 100 carries.
Henry isn't the best at consistently churning out positive gains, but this aspect of his game is perhaps underrated considering his reputation as a home-run hitter. Overall, he's ranked No. 6, No. 15 and No. 16 in success rate from 2016-2018, respectively.
Of course, Henry's ability to create big plays at will when there's seemingly nothing available is what separates him from the league's other big-bodied grinders.
We haven't seen Henry extrapolate an elite level of performance over the course of an entire season to this point, but there's reason to believe that it could happen in 2019 if Henry receives a career-high workload.
Henry proved to have overall RB1 upside in 2018
Henry has caught 39-of-50 targets for 372 yards and a touchdown over his career. He won't ever be confused with the likes of Alvin Kamara or Le'Veon Bell as a pure receiver, but he's at least proven capable of functioning in the screen game as well as in pass protection.
The good news for the Titans is that Dion Lewis is more than capable of carrying out any pass-game task that they don't feel Henry can accomplish.
This reality will probably prohibit Henry from ever receiving a full three-down workload in Tennessee. Still, he proved this wasn't necessary in order to be an elite fantasy football back during the stretch run of 2018.
Henry Weeks 1-13: 10.7 rushes, 1.3 targets, 46 total yards, 0.42 total touchdowns, 7.96 PPR per game
Henry Weeks 14-17: 21.8 rushes, 0.8 targets, 151.5 total yards, 1.75 total touchdowns, 26.45 PPR per game
The Titans also churned up Henry's workload during the late stages of the 2017 season. He accordingly helped them upset the Chiefs at Arrowhead stadium with 191 total yards and a score on just 25 touches.
And why shouldn't the Titans feed Henry the rock? Only Alvin Kamara (5.13 yards per carry), Mark Ingram (4.91), Kareem Hunt (4.75), Bilal Powell (4.72), Ezekiel Elliott (4.66) and Devonta Freeman (4.6) have been more efficient on the ground than Henry (4.58) among 36 backs with at least 300 carries since 2016.
Henry's PPR RB1 stretch-run in 2018 demonstrated his league-winning upside, but it remains to be seen if he'll be able to replicate that feat on what looks to be a middling Titans offense.
Henry is poised to take over the Titans backfield in 2019
Lewis ultimately played 61% of the Titans snaps in 2018 compared to just 41% for Henry. Offensive coordinator Matt LaFleur is now the head coach of the Packers, so tight ends assistant Arthur Smith has been elevated to head play-caller.
Offseason coach speak should be taken with a grain of salt, but Smith certainly appears ready to feed the team's beast.
"Derrick will be a big part of the offense. He has a rare skill set. Derrick's a home-run hitter. We are taking another step hopefully with him."
Henry played 40%, 70%, 62% and 53% snaps in Weeks 14-17, respectively. He doesn't necessarily need to be on the field for a large majority of the game to rack up fantasy points, but enhanced snap share would go a long way towards increasing his consistency.
Per our NFL Trends tool, Henry has managed to increase his daily fantasy value and consistency during each of the past three seasons.
Henry faced at least eight defenders in the box on 32% of his snaps in 2018 — the eighth-highest mark in the league. His ability to overcome this with big-play and tackle-breaking ability shouldn't be glossed over inside of the Titans' mediocre offense.
The Titans have ranked 27th, 19th and 14th over the past three seasons in scoring offense. They pass-game corps have upgraded with the presence of ace slot maven Adam Humphries, second-round pick A.J. Brown and the return of veteran tight end Delanie Walker, so 2019 is a make-or-break year as far as Marcus Mariota's progression is concerned.
Henry is currently the PPR RB20 in average draft position. The likes of Nick Chubb, Devonta Freeman, Marlon Mack, Aaron Jones and Kerryon Johnson are each going earlier in drafts despite also working in quasi-committee backfields.
Henry might not have the same level of consistency as those other backs due to his limited pass-game role, but the Titans' workhorse has sky-high upside that makes him a priority best-ball target and more than worthy of a third-to-fourth round pick.
How would you rate this article?