Deshaun Watson & Matthew Stafford Trade Odds: 4 Bets To Be Their Next Teams
Credit:
Steven King/Icon Sportswire via Getty Images. Pictured: Deshaun Watson, Matthew Stafford
Deshaun Watson and Matthew Stafford have reportedly requested trades, kickstarting this offseason's quarterback carousel. With reports and rumors fueling speculation about where either QB will open the 2021 season, our staff is here to evaluate the futures market for both.
Find their best value bets below based on the odds at FanDuel as of Friday.
Deshaun Watson Trade Odds
| Team | Odds |
| --- | --- |
| Jets | +195 |
| Panthers | +260 |
| Texans | +500 |
| Dolphins | +600 |
| 49ers | +1000 |
| Patriots | +1200 |
| Broncos | +1400 |
| Bears | +1500 |
| WFT | +1700 |
| Colts | +2200 |
| Eagles | +2500 |
| Falcons | +4000 |
| Lions | +4000 |
| Jaguars | +4000 |
| Steelers | +4000 |
| Cowboys | +5000 |
| Vikings | +5000 |
| Saints | +5000 |
| Giants | +5000 |
Deshaun Watson Next Team Bets
Jets +195
Brandon Anderson: I'll be genuinely shocked if Watson is in Houston to start next NFL season.
This situation is far from resolved. It's also much bigger than Watson just wanting a better team or being upset that his star receiver was traded last season. This is about ownership and team culture, and Watson's time in Houston looks to be over.
So where will Watson land?
It's hard to talk myself into the Dolphins. While Miami makes a ton of sense for Watson on the surface — the Dolphins have plenty of assets, elite coaches, a terrific defense and plenty of juice to acquire him — what about Tua Tagovailoa? I don't think Miami has its answer on him yet, and a Watson trade would likely have to involve Tagovailoa going to Houston or another third party, in which case we would be betting on multiple moving parts in a trade.
That leaves us with the Jets.
Even as the favorites at +195, there's some value here. Watson just makes too much sense for them. They blew their chance at Trevor Lawrence, so Watson would be their opportunity to make it right. He would get to play on a huge national stage and they would get their star quarterback.
Like Miami, New York has a ton of draft capital, and this team has always looked to make a splash. The Jets are not quite as ready to win — I'm not even sure it's a better situation for Watson than Houston — but that won't stop New York from pulling the trigger on a big deal.
I liked the Jets more earlier this week when I bet them at +350, but odds have fallen quickly.
Patriots +1200
Chris Raybon: Given that new Texans general manager Nick Caserio spent the past two decades with the Patriots, you have to look at teams with ties to New England when trying to figure out which would be most likely to negotiate a deal with Houston for Deshaun Watson.
This obviously starts with the Patriots, who have the fourth-most cap space ($57.3 million) according to Over The Cap. And thanks to Bill Belichick, the Pats also have a lot of draft pick ammo. Even though they don't have a top pick, they may have enough capital to put together a deal, and may be willing to part with it after experiencing life without an elite passer this season — a key factor in failing to make the playoffs.
The Dolphins and 49ers also have connections (which I detailed here) and do offer some value, but I like the Patriots the most at +1200.
---
Matthew Stafford Trade Odds
| Team | Odds |
| --- | --- |
| 49ers | +125 |
| Colts | +210 |
| Dolphins | +430 |
| Patriots | +430 |
| Lions | +650 |
| WFT | +750 |
| Broncos | +1000 |
| Panthers | +1300 |
| Jets | +1500 |
| Saints | +3400 |
| Jaguars | +5000 |
Matthew Stafford Next Team Bets
Colts +210
Chris Raybon: The team that makes the most sense to me is the Colts. Now 32, the 12-year veteran requested a trade from the Lions because he does not want to go through a rebuild, and the Colts were an 11-5 team last season and have a healthy .583 winning percentage since Frank Reich took over in 2018.
In terms of organizational philosophy when it comes to a move like this, the Colts already showed their hand by acquiring 38-year-old Philip Rivers last offseason.
The Colts already have an offensive line that allowed the second-fewest sacks (21), a running game headed by 2020 second-round star Jonathan Taylor, and the league's seventh-best defense according to Football Outsiders' DVOA. After Reich coaxed a 62.5 mark in ESPN's Total QBR out of Rivers last season — a 12-point jump from his final season with the Chargers — the Colts have to be salivating at the chance to land a quarterback seven years younger who posted a 68.5 QBR last year and a 71.5 mark the year before.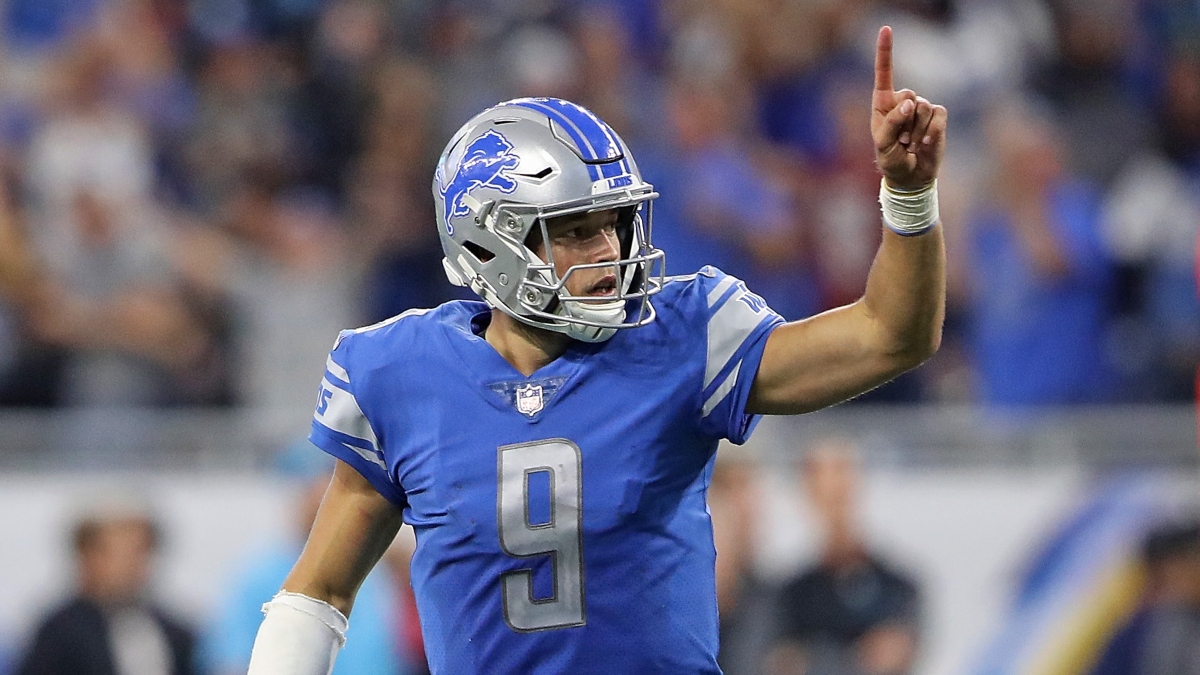 The Lions' version of Stafford would already be an upgrade over any quarterback the Colts have started in the post-Andrew Luck era, but they'll likely believe he can be even better given that they can support Stafford with a better combination of offensive line, running game and defense than he's had at any point in his career.
The Colts would also afford Stafford to continue playing home games indoors, where his career passer rating (91.3) is four points higher than outdoors (87.4).
With the league's second-most cap space ($64.9 million per Over the Cap), the Colts have enough ammo to pull off the deal. And after trading away the 13th overall pick in the 2020 draft to the 49ers for DeForest Bucker, the Colts have shown a willingness to part with quality draft capital in exchange for a potentially franchise-altering player.
The 49ers have been a trendy pick in this race, but the speculation is being fueled mostly by those close to the team who feel uneasy after Jimmy Garoppolo's uneven 2019 postseason and injury-riddled 2020 season. However, Garoppolo is three years younger than Stafford and has gone 24-9 with the team (including postseason) while Stafford has a 74-93-1 career mark. The 49ers were 3-3 with Garoppolo last season and 3-7 with everyone else, and Garoppolo is a well respected locker room leader, so I'm not sure San Francisco would view swapping Garoppolo for Stafford as a slam dunk.
Ultimately, I view the Colts as alone in Tier 1 and the 49ers lumped in with everyone else in a Tier 2 crapshoot when it comes to probability of acquiring Stafford. At this time, I don't see value in betting on any other team besides Indy; there are better edges to be found in the market (hello Super Bowl props!).
49ers +350
Brandon Anderson: I've been dying to see Kyle Shanahan with a real NFL quarterback for years, and this just makes too much sense for me.
Garoppolo has never felt like the right quarterback in San Francisco. It all seemed so promising, but Garoppolo can't stay healthy and I'm not sure Shanahan trusts his guy after what we saw in last year's playoff run.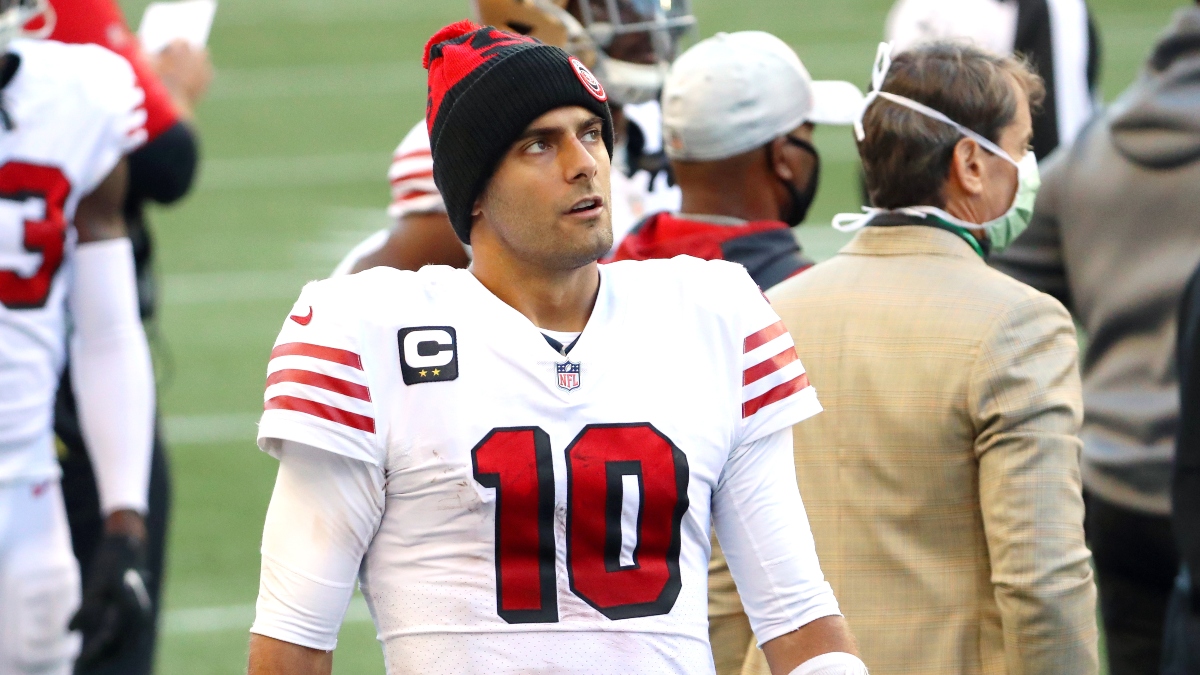 This was a nightmare season for the 49ers with an endless litany of injuries. They hung in there all year but never had much of a chance to defend their NFC crown. They'll be eager to get back in the mix next year, and Stafford could be their ticket.
First, Stafford has top 10 quarterback potential. I don't think he's ever going to be a superstar, but he's in that tier with guys like Matt Ryan and Philip Rivers who can hit that next level if they're in the right system, surrounded with the right talent. Shanahan is that right system, and Stafford has never had as much talent as he would in San Francisco.
Stafford has become super accurate over the second half of his career, and he has huge arm strength. He was quietly playing at an MVP level a year ago before the first major injury of his career. He has the arm to make every throw for Shanahan, accurate on short throws to get the ball to the speedy 49ers receivers in space and with a big arm to hit George Kittle on those big ones down the middle.
Stafford would make 49ers receivers look good. They would make him look good, too.
In short, Stafford is what Garoppolo was supposed to be, except good. The 49ers can easily move on from Jimmy G, and they need to get a quarterback who Shanahan trusts in there before the window closes on this defense. I think it's a perfect match.
How would you rate this article?