The Colts Are the Best Fantasy Football Fit for Devin Funchess
Credit:
Bob Donnan-USA TODAY Sports. Pictured: Devin Funchess
Ian Hartitz breaks down what the Devin Funchess signing means for the wide receiver, the Colts and Panthers from a fantasy football perspective.
Football never sleeps, even in the middle of March. Draft analysis will have to wait, because free agency is finally here!
We have you covered with fantasy analysis on all of the week's key signings here, but we'll dig deeper into the impact of bigger moves, including Devin Funchess' decision to reportedly sign with the Indianapolis Colts.
What follows is a breakdown of the fantasy football impact of Funchess in Indianapolis, as well as how the Panthers will move forward without their former No. 1 wide receiver.
What It Means for Indianapolis
Funchess hasn't enjoyed the most consistent career. He seemed to be on the verge of breaking out after posting a 63 receptions-840 yards-8 touchdown line in 2017, but the former Michigan Wolverine finished 2018 with a rather pedestrian season-long 44-594-4 line.
With that said, at 6-foot-4 and 232 pounds, Funchess essentially provides Andrew Luck with a more athletic tight end to target in the red zone.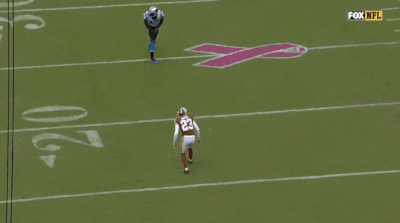 Funchess showed signs of functioning as a true No. 1 receiver with Greg Olsen sidelined. The receiver posted an average 3.9-48.5-0.5 line on 6.7 targets per game in 15 career games without Cam Newton's long-time featured tight end.
Still, there's a limited ceiling here in terms of blow-up week potential.
Funchess has cleared 100 yards in just 2-of-65 career games (3%) and has had more than 75 yards in just six games (9%). Forty-seven players have at least 20 targets inside the 10-yard line since 2015, and Funchess ranks 34th with a 35% conversion rate (7-of-20).
It would be surprising if Funchess doesn't start in 2-WR sets alongside T.Y. Hilton after reportedly getting a one-year $13 million deal. Funchess' presence is bad news for Eric Ebron in particular, who was one of just 13 players in 2018 with at least 20 targets inside the 20-yard line.
Funchess also doesn't help the breakout potential of second-year receiver Deon Cain, but the Colts offense as a whole should be better off with their new-found depth at receiver.
What It Means for Carolina
The Panthers are fully embracing an offense built around short-and-speedy playmakers. And it's tough to blame them.
Christian McCaffrey remains locked in as the Panthers' No. 1 pass-game option, but D.J. Moore and Curtis Samuel should see significant target boosts thanks to Funchess' departure.
It remains to be seen whether Olsen will return for the regular season, although his fantasy outlook is certainly trending in the right direction without Funchess stealing red-zone work.
The biggest question mark for the Panthers' pass offense is the status of Newton's right shoulder. No amount of talented receivers will be able to save the offense if Newton is unable to regain enough strength in his shoulder to consistently test defenses downfield.
How would you rate this article?