Can Drew Brees Continue His Fantasy Football Greatness?
Credit:
Credit: Derick E. Hingle-USA TODAY Sports. Pictured: Drew Brees
Drew Brees keeps defying Father Time and is coming off arguably the best season of his career.
But where does he stack up with the best fantasy football QBs of all time?
Ian Hartitz breaks down Brees' 2019 outlook and what you can expect at age 40.
Our experts are constantly refining their rankings and projections in the run-up to the 2019 season. Build custom cheat sheets featuring their latest updates with our Draft Kit.
---
The New Orleans Saints have been one of the NFL's most efficient and productive offenses for the better part of the past decade behind the efforts of future Hall of Fame quarterback Drew Brees and head coach Sean Payton.
Overall, they haven't ranked outside of the league's top-12 scoring offenses or top-eight units in terms of total yardage since Payton took the job prior to the 2006 regular season.
Naturally, Brees' and Payton's prolific relationship has made New Orleans a home for many of the league's highest-scoring fantasy football superstars. Payton himself is a fan of our national pastime:
Still, Brees is the straw that stirs any fantasy-relevant drink on Bourbon Street. Let's breakdown just how great Brees' career has been compared to other elite signal callers and try to get a grasp on his fantasy value entering 2019.
---
Drew Brees Is Up There with All-Time Fantasy Greats
The Saints long-time franchise quarterback hasn't finished lower than ninth in fantasy points at the position during a single season since heading to New Orleans in 2006.
The list of quarterbacks with double-digit seasons of top-10 fantasy production is unsurprisingly thin:
Only 7 QBs in the Super Bowl era have notched double-digit seasons as a top-10 fantasy performer:

Peyton Manning (16-such seasons)
Drew Brees (15)
Brett Favre (14)
Fran Tarkenton (12)
Dan Marino (11)
John Elway (11)
Tom Brady (11)

Rodgers, Montana, Bradshaw and Moon each have 9

— Ian Hartitz (@Ihartitz) May 9, 2019
Brees finds himself in even more select company when it comes to top-five seasons at the position. Peyton Manning (11 seasons) is again in first, followed by Fran Tarkenton (9), Dan Marino (8), Joe Montana (8), Roger Staubach (8) and Brees (8). And yet, the statistic that best supports Brees as the best fantasy quarterback of all time might be the simplest of them all: Total fantasy points.
Overall, Brees (4,812 career fantasy points), Tom Brady (4,764), Manning (4,727) and Favre (4,371) are the only players in NFL history in the 4,000 fantasy points club.
Passing statistics are a bit inflated in today's NFL, as each of the game's top-20 quarterbacks in all-time fantasy points per game (minimum 16 starts) were all drafted no later than 1999. Still, Brees deserves all the credit in the world for standing out in a league full of stand-out quarterbacks.
And there's little reason to expect things to get significantly worse in 2019.
New Orleans Remains a Fantasy-Friendly Environment
The Saints continue to employ plenty of weapons all across the field in an effort to make Brees' life as easy as possible.
Alvin Kamara might be the league's best running back when it comes to pure receiving ability. Overall, he ranked first and fourth in yards per route run in 2017 and 2018, respectively, among backs with at least 20 targets.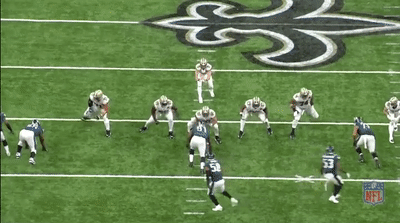 Michael Thomas has racked up the most receptions (321) over the first three seasons of a career in NFL history. Brees and Thomas have a solid claim as the league's most efficient duo — their 77% career catch rate is the highest among any tandem since Pro Football Reference began tracking targets in 1992.
Ted Ginn Jr. continues to offer field-stretching ability at 34 years old.
Cam Meredith averaged 2.07 yards per route run during his last healthy season in 2016. This was tied for the 11th-highest mark among all wide receivers. Meredith has certainly flashed big-play ability in the past.
Tre'Quan Smith scored five touchdowns on just 28 receptions during his up-and-down rookie campaign. Fellow rookie Keith Kirkwood managed to find the end zone twice on his 13 receptions.
Jared Cook is the latest athletic tight end who will attempt to replicate Jimmy Graham's fantasy goodness in New Orleans. Hopefully Cook's time with Brees will go a bit better than Coby Fleener's tenure.
The Saints were historically good at run blocking in 2018 and are expected to return each of their starting guards and tackles. The only potential change could come at center, where No. 48 overall pick Erik McCoy is expected to start in place of longtime starter Max Unger, who retired in March.
It would be shocking if the 2019 Saints became the first team of the Payton and Brees era to not rank among the league's top-12 scoring offenses. Still, there's a chance Brees' streak of elite fantasy success could be nearing its end.
Brees Was Historically Efficient in 2018
Brees completed an NFL-record 74.4% of his passes while averaging a career-high 9.0 adjusted yards per attempt in 2018. It was, by all accounts, the most efficient season of a career that has pushed the limits on what we considered to be possible for a quarterback.
Brees' consistently-quick release and mental clock have continuously helped the Saints offense dice up any defense in its path, but we have seen the unit trend toward favoring the run game over the past two seasons.
Pass attempts per game:
2018: 32.6
2017: 33.5
2016: 42.1
2015: 41.8
2014: 41.2
2013: 40.6
2012: 41.9
2011: 41.1
2010: 41.1
2009: 34.3
2008: 39.7
2007: 40.8
2006: 34.6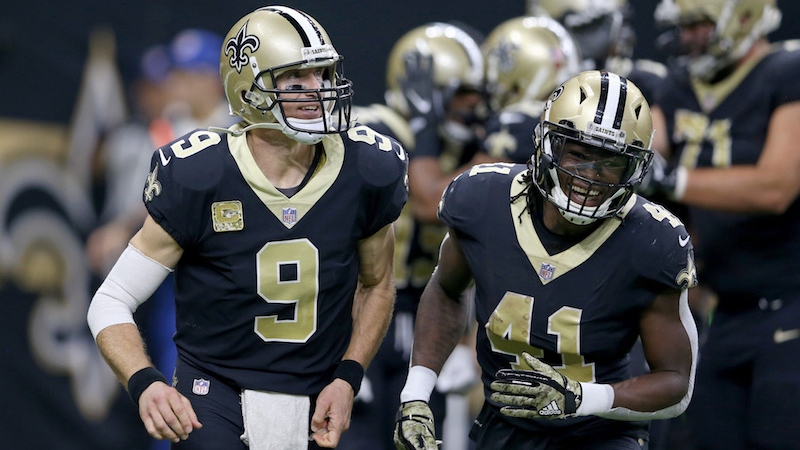 Part of this is simply a result of the Saints having a better defense and overall team in recent years, but we've also seen Brees post his two lowest average target depths of the past decade in consecutive seasons. This hasn't been an issue thanks to the elite performance of Kamara and Thomas, although it's fair to wonder how the New Orleans offense would respond to losing either key player at this stage in Brees' career.
The Saints' offense is designed to protect their crown jewel under center at all costs. They've consistently done a great job doing this, and Brees has accordingly managed to dice up pretty much any and every opposing defense over the past 13 years.
Father Time is undefeated, but I have my money on Brees performing at his usual level for at least another season or two before we see anything resembling a non-elite quarterback.
With that said, Brees is the QB8 in average draft position in a season that features 20-plus fantasy-relevant signal callers. Don't expect the Saints' offense to fall off much in 2019, but I'll be looking to draft my fantasy quarterback in the later rounds thanks to the position's overall depth.
How would you rate this article?