Drew Lock Fantasy Football Outlook with Broncos
Credit:
Christopher Hanewinckel-USA TODAY Sports. Pictured: Drew Lock
See Matthew Freedman's analysis for quarterback Drew Lock, who was drafted No. 42 overall by the Denver Broncos.
Drew Lock Pick Analysis
Height: 6'4″ | Weight: 228 pounds
40-yard dash: 4.69 seconds
School: Missouri | Class: Senior
2019 age: 23 | NFL daft position: No. 42 overall
Day 1 ended the way it started: With Lock sitting in the green room.
Despite being one of four quarterbacks invited to attend the draft, Lock was skipped over in Round 1 and forced to suffer the ultimate indignity: Watching an NFL team say to the world, "We think Daniel Jones is better than this other guy."
In retrospect, it shouldn't be a shock that the NFL didn't like Lock as much as we thought it would.
As a junior, he was interested in declaring early, but the NFL Draft Advisory Board gave him a "return to school" grade. Then as a senior, he played worse than he did as a junior.
If the NFL told him it didn't want him in Round 1 after his junior year, I don't know why it would want him in Round 1 after his senior season.
Even just a couple of weeks ago, Lock was getting serious hype as a potential top-10 pick, and I thought that was ridiculous. But as a Round 2 quarterback, Lock is perfectly palatable.
A four-year starter, Lock never seemed to put it all together in college. As a junior, he had a respectable 10.2 adjusted yards per attempt, but he completed only 57.8% of his passes. As a senior, he completed more of his passes (62.9%), but he still wasn't especially accurate, and he was far less efficient with just 8.5 adjusted yards per attempt.
Throughout his career, Lock was plagued by inconsistency, but as a high school recruit he was an Elite 11 participant, as a junior he led the nation with 44 touchdowns passing and at the combine he flashed a good arm and faster-than-expected speed. He's clearly not without talent.
But Lock has two primary flaws.
Like Dwayne Haskins, Lock isn't much of a runner. When he actually does run, he's effective, but he hardly ever leaves the pocket. In reality, it's probably good for Lock to stay in the pocket and look to throw. For fantasy, though, it would be nice if he were more willing to produce with his legs.
Additionally, Lock notably lacks anticipation and struggles to move through his progressions. He completed just 56.9% of his passes for his career. While his completion rate would suggest that Lock struggles with accuracy — and that might be the case — it's probably more accurate to say that he doesn't process the game as quickly as he needs to.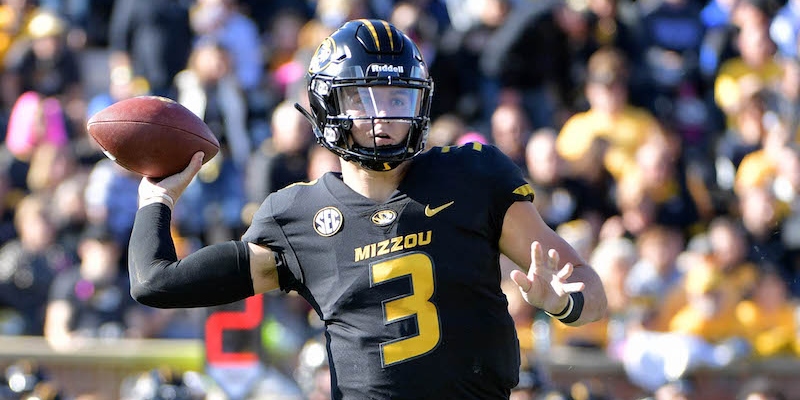 Mechanically, he can throw the ball wherever he wants to put it. But during games he just doesn't process information as quickly as he needs to in order to know where to throw it. And I'm not sure his issues with anticipation and processing can be fixed.
But with the Broncos, Lock should be able to sit on the bench for a while behind starter Joe Flacco — maybe even a couple of seasons — and by the time he's ready to start, they could have a strong stable of pass-catching weapons in wide receivers Courtland Sutton and DaeSean Hamilton, tight end Noah Fant and running back Phillip Lindsay.
But if Lock is forced into action as a rookie, he's someone I will probably avoid, even in good matchups.
If he doesn't run and can't complete passes, what use is he? In rookie drafts, if I'm desperate for a young quarterback, I might think about drafting him near the bottom of the third round. But even then he's someone I'll probably avoid, knowing that it could be a year before he starts producing fantasy points.
NFL Comp: Jay Cutler with less arm strength and anticipation
Matthew Freedman is the Editor-in-Chief of FantasyLabs. He has a dog and sometimes a British accent. In Cedar Rapids, Iowa, he's known only as The Labyrinthian.
How would you rate this article?