Dyami Brown Dynasty Outlook, NFL Draft Profile & Prop Bets
Credit:
Andy Mead/ISI Photos/Getty Images. Pictured: Dyami Brown
"Dyami Brown might become a reliable NFL contributor but ... he seems unlikely ever to be a difference maker in reality or fantasy."
Fantasy football analyst Matthew Freedman explains why he's not investing in the former UNC wide receiver in dynasty.
Find Freedman's full profile of Brown ahead of the 2021 NFL Draft below, complete with which props to bet.
Dyami Brown Draft Profile
| | |
| --- | --- |
| Position | WR |
| School | UNC |
| Height | 6'1″ |
| Weight | 189 |
| 40-Yard Dash | 4.46 |
| 2021 Age | 22 |
| Class | JR |
| Recruit. Stars | 4 |
| Projected Round | 2-3 |
Dyami Brown Draft Props
While I rely on my own research, I also take a "wisdom of the crowds" approach by surveying an index of mock drafts. I find that these drafts — created by experts with established records of success — collectively give me a good sense of the realistic range of outcomes for what we might see with any given player or pick.
In not one of the surveyed mocks has Brown gone in Round 1. In fact, he's on the borderline of Rounds 2-3 (per Grinding the Mocks).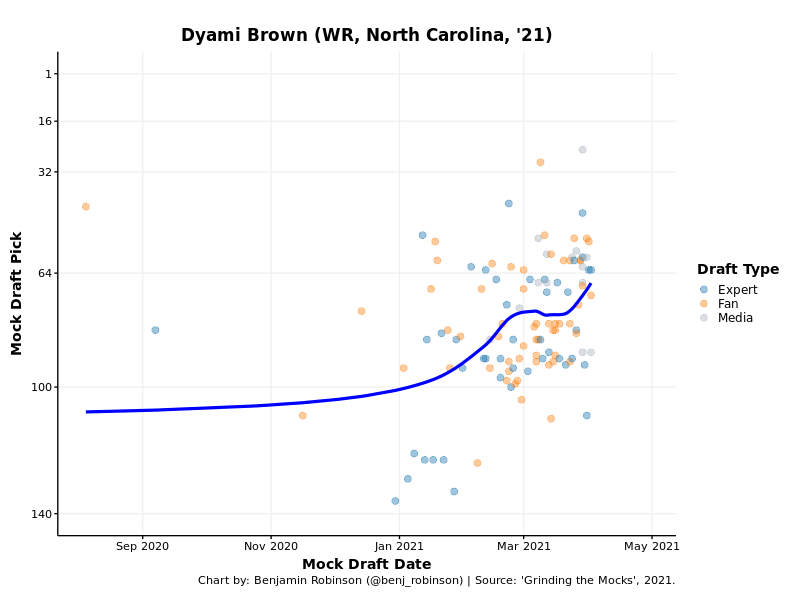 He's not even on the board as a betting option to be the No. 1 receiver drafted in the class. In the prop market, he's a nonentity.
---
Dynasty Fantasy Analysis
I look at Brown … and I just wish there were a little more.
At his size, I wish he were a little faster. With his speed, I wish he were a little bigger. His pro day performance wasn't bad, but in his jumps and agility drills, I wish Brown were a little more explosive and a little quicker.
Given that Brown played at a non-elite football school, I wish he had been a little more productive. He broke out as a 20-year-old true sophomore — and I wish he had broken out at a younger age and as a freshman. Brown was a good receiver in college, but I wish that he had been more versatile — that he had done at least something as a rusher and return man — but, no, nothing.
He enters the NFL after just three years in college, and it's great that he's an early declarant, but I wish he would turn 21 years old as a rookie — not 22.
If Brown had just a little bit more to his profile, he would be an especially intriguing prospect. But as everything stands now, he's not.
He's not a bad prospect by any means, but he's not special.
That doesn't mean he won't have NFL success. It simply means the odds are stacked against him.
The receiver prospects to whom he's physically comparable have accomplished almost nothing in the NFL (per RotoViz Workout Explorer).

The one guy in the cohort who did luck his way into one 1,000-yard NFL season (Steve Breaston) was a fifth-round pick who had the benefit of playing with Hall-of-Fame quarterback Kurt Warner while facing inordinately soft coverage as the No. 3 receiver next to playmakers Larry Fitzgerald and Anquan Boldin.
Can we reasonably expect such advantageous circumstances for Brown? No, we can't.
On top of that, many of the prospects to whom Brown is most comparable as an athlete and receiver (when taking draft position into account) are not true comps for him because they vastly outproduced him as runners and returners (per RV Box Score Scout).
For instance, here are his four closest comps on the basis of athleticism, receiving production and expected draft position.
Dyami Brown (3 years): 1-2-0 rushing | no returning
Randall Cobb (3 years): 228-1,313-22 rushing | 2 return touchdowns
Carlos Henderson (3 years): 32-259-2 rushing | 3 return touchdowns
Brandon Tate (4 years): 26-294-2 rushing | 6 return touchdowns
Damian Williams (3 years): 7-64-0 rushing | 2 return touchdowns
Most of Brown's ostensible comps aren't all that enticing anyway — and he's not even that comparable to them because he lacks a versatile skill set.
What Brown has going for him is his playing style: He is a smooth and precise route runner who is quick off the line of scrimmage thanks to his feisty hands and nuanced footwork, and he tracks the ball deep with the eye of a Golden Glove centerfielder.
And you see that in his receiving numbers: Even though he played just 11 games this past year (vs. 13 for DeVonta Smith), Brown was No. 2 in the nation with 543 deep yards on passes 20-plus yards downfield, trailing only the Heisman-winning Smith (589, per Pro Football Focus).
When targeted, Brown proved himself to be more of a playmaking deep threat in 2020 than even Smith (per SIS, 2021 Sports Info Solutions Football Rookie Handbook).
Average Depth of Target
Brown: 17.6 yards
Smith: 9.9 yards
Yards per Target
Of course, Brown in 2020 didn't see nearly the target volume that Smith did (per SIS).
Brown: 7.6 targets per game | 24% target share
Smith: 11.4 targets per game | 36% target share
And that makes sense: Compared to Smith, Brown is a rather limited receiver. This past year, he ran only 5% of his routes out of the slot. It's good that he doesn't need to be in the slot to produce, but if the NFL sees him as a perimeter-only receiver that will cap his ceiling.
Additionally, he's a limited route runner. He is skilled at the ones he runs, but he ran only four routes (curls, verticals, slants and outs) almost 80% of the time (per SIS). And Brown can struggle against physical corners, who can disrupt him in his routes with their superior size and strength.
Brown has the trappings of a player who should be able to contribute in the NFL. A four-star recruit, he received an offer to play at Alabama — and lots of other schools — but he chose to suit up for his hometown Tar Heels, and after a forgettable freshman campaign with 17-173-1 receiving in 10 games, he broke out as a sophomore and then proved it wasn't a fluke as a junior.
2019 (12 games): 51-1,034-12 receiving
2020 (11 games): 55-1,099-12 receiving
For two consecutive years, Brown has had 1,000-plus yards receiving and 20.0 yards per reception, and many playmaking college receivers to hit those benchmarks have gone in Round 1 — most recently CeeDee Lamb, Will Fuller, Breshad Perriman, Mike Evans and Demaryius Thomas.
But Brown won't go in Round 1 — and the explosively productive receivers to go in Rounds 2-3 form an inconsistent cohort.
Rds 2-3 WRs w/ 1,000 ReYds & 20.0 yd/rec in a college season since 2000:

– James Washington
– T.Y. Hilton
– Jason Hill
– Chris Henry
– Snoop Minnis

What does this mean for Dyami Brown?

— Matthew Freedman (@MattFtheOracle) April 11, 2021
Hilton is the class of this group, but he was 69-498-7 rushing in college with six return touchdowns. Brown is not truly comparable to him.
Henry flashed real potential in the NFL, but his physical profile was markedly better than Brown's is.
Brown (Pro Day): 6'1″ | 189 pounds | 4.46-second 40
Henry (Pro Day): 6'4″ | 197 pounds | 4.45-second 40
Washington has underwhelmed through three NFL seasons, and Hill and Minnis have long since been forgotten.
Brown might become a reliable NFL contributor, but even with his college production and downfield ability, he seems unlikely ever to be a difference maker in reality or fantasy.
NFL Prospect Comp: Justin Hunter with less draft capital and much less height
---
Matthew Freedman is 1,018-828-37 (55.1%) overall betting on the NFL. You can follow him in our free app.
How would you rate this article?
This site contains commercial content. We may be compensated for the links provided on this page. The content on this page is for informational purposes only. Action Network makes no representation or warranty as to the accuracy of the information given or the outcome of any game or event.