Elijah Moore 2021 NFL Draft Profile: Dynasty Fantasy Football Analysis & Props To Bet for Ole Miss WR
Credit:
Wesley Hitt/Getty Images. Pictured: Elijah Moore
Ole Miss WR Elijah Moore had an incredibly productive college career with 153 catches over his final two seasons. Can he translate it to NFL and fantasy football success?
Find Freedman's full analysis below, complete with draft props and Moore's dynasty fantasy football outlook.
Elijah Moore NFL Draft Profile
| | |
| --- | --- |
| Position | WR |
| School | Mississippi |
| Height | 5'10" |
| Weight | 178 |
| 40-Yard Dash | 4.35 |
| 2021 Age | 21 |
| Class | JR |
| Recruit. Stars | 4 |
| Projected Round | 1-2 |
---
Elijah Moore Draft Props
I like Moore, whose draft stock has skyrocketed, especially since his elite pro day performance (per Grinding the Mocks).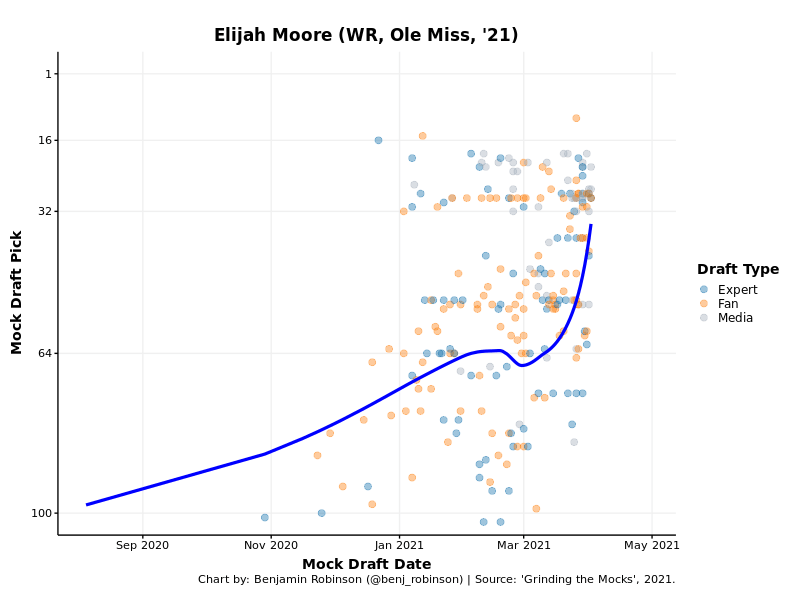 While I rely on my own research, I also take a "wisdom of the crowds" approach by surveying an index of mock drafts. I find that these drafts — those created by experts with established records of success — collectively give me a good sense of the realistic range of outcomes for what we might see with any given player or pick.
Moore is slated in Round 1 in 25% of these indexed mocks, which isn't a high percentage but it's high enough to make him a real Day 1 candidate. It almost guarantees that he will go no later than Day 2.
But even with his recent surge up the mock draft boards, Moore has effectively no chance to be selected as the No. 1 receiver in the class. In not one of the surveyed mocks has Moore gone ahead of Ja'Marr Chase, Devonta Smith or Jaylen Waddle. For him to jump ahead of all of them is implausible.
At DraftKings, he's +15000 to be the first wide receiver drafted. At FanDuel and PointsBet, he's not even on the board.
People love betting longshots, but putting money on Moore to be the No. 1 receiver feels like burning cash just because you like fire.
As noted in my DeVonta Smith prospect profile, I have bet under 5.5 wide receivers at FOX Bet — but that is now unavailable. The line across the industry is now 4.5.
If you line shop, you'll find a good arbitrage opportunity in the market.
Aside from that, I don't see much value. I lean slightly toward the over — more than 4.5 receivers go in Round 1 in 65% of the indexed mocks — so I'll arbitrage the prop in such a way to free roll that side of the bet, because I think there's a good chance this number lands exactly on five.
NFL Draft Prop Arbitrage …

Round 1 WRs Over/Under 4.5
– Over: -133 at FOX Bet
– Under: +190 at BetMGM

I prefer the over, so I'm betting 1.9 units at FB & 1.0 units at MGM to lock in a risk-free bet on that side.

If under hits, break even. If over hits, win +0.43 units.

— Matthew Freedman (@MattFtheOracle) April 10, 2021
If Moore finds his way into Round 1, the over will probably hit.
Pick: Over 4.5 wide receivers in Round 1 (-133); 1.9 units
Bet Now: Fox Bet
Pick: Under 4.5 wide receivers in Round 1 (+190); 1.0 unit
Bet Now: BetMGM
Dynasty Fantasy Analysis
You probably know who Moore is. He's the guy who lifted his leg.
It wasn't his best moment … but it was still a great moment. I bumped him up a couple of spots in my way-too-early dynasty rookie rankings on the leg hike alone.
As noted earlier, Moore absolutely crushed his pro day.
Official pro-day results for @OleMissFB WR Elijah Moore. 🎤drop after first 40 run. One scout just texted, "he's putting on a show".🔥

HT: 5094
WT: 178
Hand: 9 3/8
Arm: 30 1/8
Wing: 71 3/4
40-yd: 4.35 (NFL scout ⏱️) 👀
VJ: 36.0
BJ: 10-0👀
SS: 4.00
3C: 6.66
BP: 17x

— Jim Nagy (@JimNagy_SB) March 25, 2021
Moore was a four-star recruit with a strong athletic reputation, it was generally assumed that he would do well, but he didn't just meet expectations: He easily exceeded them.
In both his 40-yard dash and his agility drills, Moore exhibited elite athleticism.
Moore is small: There's no getting around that. But with his athleticism, his size is not a problem. Moore's physical profile is sufficient for NFL success.
And he has the production. As a true freshman, he was the No. 4 option behind future NFL receivers A.J. Brown, D.K. Metcalf and DaMarkus Lodge with a modest 36-398-2 receiving, but as a sophomore he was far and away the No. 1 pass catcher with 67-850-6 receiving. No one else on the team managed even 200 yards or two touchdowns.
And then in new head coach Lane Kiffin's explosive offense last year, Moore looked like one of the best players in the country with 86-1,193-8 receiving in just eight games. (He opted out of the final two contests.)
With his junior production, Moore easily stands out on the various leaderboards in the 2021 Sports Info Solutions Football Rookie Handbook (SIS).
Receiving Total Points Per Game
Elijah Moore: 5.4
DeVonta Smith: 4.4
Receiving Total Points Per Game – Slot
Elijah Moore: 4.5
Marlon Williams: 3.5
Catchable Catch Percentage
Elijah Moore: 98%
Tutu Atwell: 98%
A consensus All-American with the surest hands in college football, Moore dominated in his final season.
If one wanted to do so, one could nitpick Moore's production profile. For instance, he didn't break out as a freshman, and historically first-year breakouts do better in the NFL than prospects who break out later.
I'm not worried about Moore's lack of freshman production. He still broke out at 19 years old, which is still very young, and he had multiple future NFL receivers playing ahead of him as upperclassmen.
If Devonta Smith had difficult obstacles to achieving an early breakout in Ruggs and Jeudy.

than

Terrace Marshall had even harder ones with Chase and Jefferson

and well

Elijah Moore's were simply impossible with AJ Brown and DK Metcalf

— Chris M-Bite Size Fantasy Football Stats (@force_fantasy) April 6, 2021
With smaller prospects, it's also nice to see multi-faceted production. If a guy is small but he contributes as a runner and returner as well as receiver, that speaks to his overall skill set and playmaking ability.
Moore's overall profile as a runner and receiver markedly underwhelms.
Rushing: 21-71-0
Punt Returning: 27-133-0
Kick Returning: 12-222-0
A common comp for Moore is Tyler Lockett. Literally everyone is pairing them together.
Wherever you look, Moore is comped to Lockett.
In many ways, they are comparable. But in a very underappreciated way, they could not be more dissimilar.
Every analyst is comparing Elijah Moore to Tyler Lockett.

I like Moore, but …

Lockett:
– Rush: 22-192-0
– Kck Rtn: 77-2,196-4
– Pnt Rtn: 32-488-2

Moore:
– Rush: 21-71-0
– Kck Rtn: 12-222-0
– Pnt Rtn: 27-133-0

… Moore is not even close to Lockett in ancillary production.

— Matthew Freedman (@MattFtheOracle) April 10, 2021
It's a knock against Moore that he doesn't have supplemental production, especially as a returner. The smaller receivers who turn into fantasy-relevant NFL players …
Tyreek Hill (4 years): 8 return touchdowns
Stefon Diggs (3 years): 2 return touchdowns
Diontae Johnson (3 years): 2 return touchdowns
Tyler Lockett (4 years): 6 return touchdowns
Tyler Boyd (3 years): 1 return touchdown
Antonio Brown (3 years): 5 return touchdowns
… they tend to flash as return men in college.
And Moore is a rather slot-bound receiver, having spent the supermajority of his snaps there in each of his three collegiate campaigns.
2018: 94% slot rate
2019: 94% slot rate
2020: 78% slot rate
In college, Moore struggled with handsy cornerbacks and could be pushed off his routes against press coverage, so he might be unable to play on the outside in the NFL, even with his speed and agility.
Despite his young sophomore breakout and dominant junior production, Moore comes with some concerns.
In the big picture, though, these concerns seem small. Last year, Moore outperformed the Heisman-winning Smith against both man and zone coverage with a higher average depth of target despite playing a much higher percentage of his snaps in the slot (per SIS).
Positive Play Rate vs. Man Coverage
Elijah Moore: 78%
DeVonta Smith:73%
Positive Play Rate vs. Zone Coverage
Elijah Moore: 75%
DeVonta Smith: 74%
Average Depth of Target
Elijah Moore: 10.1 yards
DeVonta Smith: 9.9 yards
If Smith can have success in the NFL, Moore probably can as well.
If Moore goes in Round 1 then he will clearly be a desirable asset to acquire in dynasty, but he should still entice as a Day 2 selection.
All NFL History: Rds. 2-3 WRs – 21yo early declarants w/ 100 yds/g in a college season:

– Curtis Samuel
– JuJu Smith-Schuster
– Allen Robinson
– Keenan Allen
– Robert Woods
– Sidney Rice
– Antonio Bryant

Even if Elijah Moore isn't drafted in Round 1, he'll be OK.

— Matthew Freedman (@MattFtheOracle) April 10, 2021
My top comp for him isn't as sexy as Lockett, but I nevertheless project multiple 1,000-yard NFL seasons for Moore.
NFL Prospect Comp: K.J. Hamler with more draft capital and much more receiving production but less ancillary production.
---
Matthew Freedman is 1,018-828-37 (55.1%) overall betting on the NFL. You can follow him in our free app.
How would you rate this article?