Should Ezekiel Elliott Be the Top Fantasy Football Pick in 2019?
Credit:
Kyle Terada-USA TODAY Sports. Pictured: Ezekiel Elliott
Is Ezekiel Elliot worthy of the top fantasy football pick in your drafts?
Editor's note: Ezekiel Elliott started his holdout after this piece was first published. See how our experts are currently ranking him in our Draft Kit.
---
There's a short list of running backs who are worthy of discussion as the No. 1 overall pick in fantasy drafts with PPR scoring.
Our choices essentially boil down to:
Ezekiel Elliott
Saquon Barkley
Christian McCaffrey
We'll focus on Elliott here in an effort to see just what makes the Cowboys' franchise talent so consistent on the field, and to evaluate whether he's worthy of the highest honor that any fantasy football owner is capable of giving out.
Ezekiel Elliott Does Everything at a High Level
Three-down running backs should have the ability to run the ball effectively, contribute as a receiver and be able to hold up in pass protection.
Elliott has certainly established himself as one of the game's best pure runners after leading the league in rushing in 2016 (1,631 yards) and 2018 (1,434). His 98.3 rushing yards per game in 2017 also led the league, but he played in just 10 games while serving a six-game suspension.
Elliott's average of 4.7 yards per carry during his 40 career games since entering the league ranks 10th among 61 backs with at least 200 carries from 2016 to 2018. Zeke has also demonstrated considerable tackle-breaking and big-play ability, ranking fifth among all running backs in total broken tackles and first in runs of 15-plus yards since 2016 (per Pro Football Focus).
Still, it was Elliott's improvement as a receiver that was his most impressive contribution last season: He totaled 58 receptions for 632 yards and three touchdowns in 2016 and 2017 compared to 77 catches for 567 yards and three scores in 2018 alone.
Zeke has always been dangerous after the catch on screens and dump offs, but his ability to hurt defenses as a true wide receiver was a new wrinkle.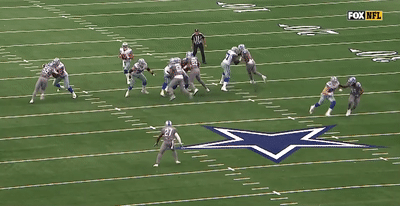 Blocking has never been an issue or question mark with Elliott dating back to his time at Ohio State. Former head coach Urban Meyer called Elliott "the best player I've ever coached without the ball in his hand."
He's allowed just one sack in 193 snaps as a pass-blocker since entering the league while continuing to provide plenty of help as the lead blocker on quarterback sweeps.
Zack Martin on this Ezekiel Elliott block: "When you have an All-Pro running back, leading the league in rushing, willing to be a lead-blocker, it's pretty special." pic.twitter.com/Kw3X3bKY5c

— Jon Machota (@jonmachota) January 9, 2019
Elliott is the football version of a five-tool player. He consistently does anything his offense needs him to do at an elite level despite never having played with a great passing offense.
The good news for future Zeke fantasy owners is that he should continue to have plenty of opportunities to flash his talent on a game-by-game basis.
Touches Couldn't Be Less of a Problem for Elliott
There are a number of workload-related accomplishments that Zeke can boast after a long 2018 campaign:
Elliott (77 receptions) joined McCaffrey (107), Barkley (91), James White (87), Tarik Cohen (71) and Jalen Richard (68) as the only running backs who led their team in catches last season.
Only Zeke, Barkley, McCaffrey, David Johnson, Todd Gurley, James Conner and Joe Mixon had at least 200 carries and 50 targets in 2018.
Elliott (nine) and Le'Veon Bell (12) are the only running backs with more than five games with at least 30 touches since 2016 (including playoffs).
Only Zeke, Barkley, McCaffrey, Gurley and Johnson had at least 300 touches in 2018.
Elliott (83% snaps) joined McCaffrey (91%), Barkley (83%) and Johnson (80%) as the only backs that played at least four-fifths of their offense's snaps last season.
The only potential concern is the status of Zeke's target share.
The return of Jason Witten isn't ideal considering Zeke's increase in his pass-game production in 2018. Another threat to his target share is fourth-round pick Tony Pollard, who caught nearly as many passes (104) as he had rush attempts (139) during his final three seasons at Memphis.
The good news for Elliott's fantasy football prognosis is that the Cowboys appear to be positioned to utilize their bread-and-butter brand of run-first football in 2019 better than we've seen in years.
Cowboys Should Be Able to Play Their Preferred Style of Football in 2019
The Cowboys offense took a huge step forward after acquiring Amari Cooper halfway through last season. Dak Prescott seemed to regain some of the ability that helped him earn 2016 Rookie of the Year honors.
Cooper was even a good thing for Elliott as a receiver considering the running back averaged more targets (6.9 vs. 5.1), receptions (5.8 vs. 3.6) and receiving yards (44.3 vs. 25) after the Cowboys traded for the team's new No. 1 receiver last season.
This 2019 Cowboys team could again benefit from the new presence of a first-round talent. All-Pro center Travis Frederick missed the entire 2018 season due to Guillain-Barre syndrome, but Frederick said in early May that his strength "feels like I'm back, close to if not full strength."
Reasonable progression from 2018 second-round pick Connor Williams and added depth from 2019 third-round pick Connor Mcgovern gives the Cowboys a great chance at boasting a significantly better interior offensive line this season.
Then there's the defense, which finished last season ranked sixth in points allowed per game and 11th in yards allowed per play. The unit could take another step forward in 2019 with continued progression from game-changing linebackers Jaylon Smith and Leighton Vander Esch along with more excellence from stud defensive end Demarcus Lawrence.
Most combined pressures in the NFL over the past two seasons (PFF):

1. Aaron Donald (197)
…
T2. Khalil Mack (147)
T2. Von Miller (147)
4. Fletcher Cox (146)
5. Demarcus Lawrence (142) 👀 pic.twitter.com/3Nf3O0sDaw

— Ian Hartitz (@Ihartitz) April 5, 2019
Only Le'Veon Bell (24.4 PPR per game) and Alvin Kamara (21.8) have been more productive fantasy assets than Elliott (21.4) since 2016. The Cowboys have the potential to team their bell-cow back up with potentially the best offensive line and defense of his career in 2019.
As long as Zeke can stay out of his own way, his natural talent and secure three-down workload makes him more than deserving of a 1.01 selection in fantasy drafts, particularly those that are not PPR. Still, I'd probably still pull the trigger on Christian McCaffrey to ensure a sky-high floor.
How would you rate this article?