Experts Debate Fantasy Draft Strategy: Should You Go RB or WR in Round 1?
Credit:
USA Today Sports. Pictured: Saquon Barkley, DeAndre Hopkins
Our experts debate fantasy draft strategy and whether you should take a running back or wide receiver in the first round.
Should you be targeting a running back or a wide receiver in the first round of 2019 drafts?
We asked five of our experts for their opinions, and it turns out, there's no one-size-fits-all answer — but there are different strategies.
Let's run through each of their answers and how they're attacking the first rounds of drafts below.
Sean Koerner: If I Have a Top 5 Pick, I'm Going RB
It's worth noting that I'll certainly be monitoring Ezekiel Elliot's holdout closely, and at some point, he could move outside of my top five.
But for now, I'm either going wide receiver or tight end (Travis Kelce) from Pick 6 on.
It's critical to get one to two WRs early because it's typically the only time we'll be able to lock in a WR1 for the entire season. It's very rare we see a receiver become an alpha WR1 out of nowhere, whereas time and time again it's possible to draft a RB1/2 in the later rounds or even pick them up on the waiver wire in-season.
I still treat the RB position as the most important in fantasy football, but you can usually get away with not using a ton of high draft capital to attack it. Check out my RB Tiers to see exactly how I'm approaching the position heading into 2019.
My strategy for the first round will depend on how the draft unfolds.
If you're drafting in the back end of the first round, odds are you're going to miss out on one of the elite running backs. If that's the case, I'm fine drafting any of the top-six receivers among Sean Koerner's, Matthew Freedman's and Chris Raybon's rankings.
I'd prefer Davante Adams or DeAndre Hopkins, but their current average draft positions have them going in the middle of the first round in 12-team PPR leagues.
If I'm drafting in the top-four, I'll be selecting one of the top-four backs among our rankings. Anything beyond that, I'll be selecting a receiver.
---
>> Get our experts' latest fantasy football rankings with our Draft Kit.
---
Justin hit the nail on the head; if you're in the top four, you should be drafting one of those top backs.
From the No. 4 slot in our recent expert mock draft, I was able to select Christian McCaffrey, Joe Mixon and Leonard Fournette. It's a spot from which I like going heavy on running back this year, especially if you're in a league with others prioritizing receivers.
I prefer the opposite approach if you have a late pick, loading up on two top-tier pass-catchers with your first two selections and potentially going with a Zero-RB strategy should things fall that way with your late-third-round pick.
Of course, all this is dependent on your league format, and I'm much less willing to fade running back in leagues that aren't full PPR or don't have a FLEX position.
Ian Hartitz: Neither, Go Get Yourself Travis Kelce
Let me preface this idea with two disclaimers:
You shouldn't draft Kelce before any of the top-five running backs — Zeke, CMC, Saquon Barkley, Alvin Kamara, David Johnson — in season-long formats.
The later you can impose this strategy, the better.
There's a drop-off from the top-three tight ends — Kelce, Zack Ertz and George Kittle — to the consensus No. 4 option (O.J. Howard), but there's also an underrated gap between Kelce and his peers: Ertz figures to surrender some target share to DeSean Jackson and Dallas Goedert, while Kittle could suffer from some run-after-the-catch regression and will have to prove he can remain dominant with Jimmy Garoppolo under center in a more crowded offense.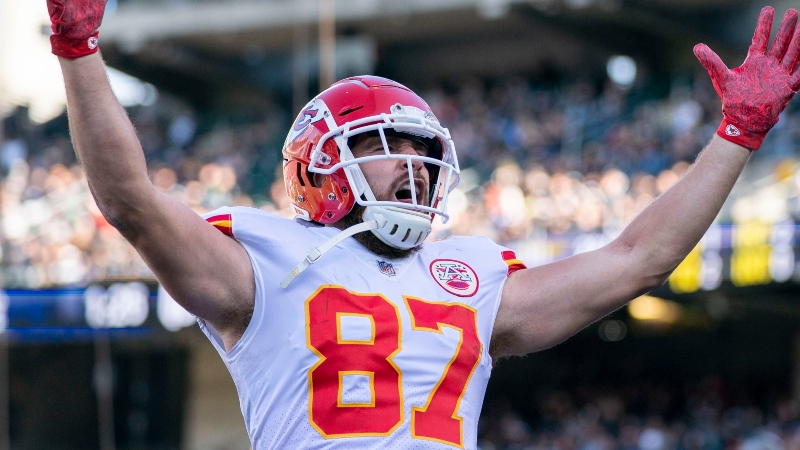 The biggest concern for Kelce this offseason was the potential for defenses to lock in on him without Tyreek Hill in the fold, but that problem no longer exists, so grabbing the most targeted pass catcher on the league's most explosive offense sooner than later makes sense.
Kelce is a "tight end" even though he spent 52% of his snaps in the slot or out wide. His 150 targets last season were the eighth most in the NFL regardless of position and tied for the fourth-highest total among all tight ends in league history.
Kelce is as good of a fantasy football receiver prospect as any other player heading into this season, and he just so happens to play a diluted tight end position.
Go get the most valuable fantasy football asset on the market when it comes to ceiling and positional value.
---
Chris Raybon: Again, It Depends on Your Draft Order
From a strategic standpoint, Round 1 can be very different depending on your pick slot.
Picks 1-3? A top-tier running back, without a doubt — Barkley, McCaffrey and Kamara, in that order.
The obvious elephant in the room is that Elliott is also part of that tier … if he plays. Despite Elliott's holdout, I'm still comfortable taking him at No. 4 overall because the going rate for insurance on him costs basically $0.
The Cowboys recently re-signed veteran Alfred Morris, whom they felt comfortable feeding 17.5 touches per game during Zeke's six-week absence in 2017. Morris is still going undrafted, and if Morris isn't up to carrying the load, that job will fall to a committee likely headed by Darius Jackson, another free pick.
The Cowboys open the season against what could end up being the three worst teams in the NFL (vs. Giants, at Washington, vs. Dolphins), which is more than enough incentive to ride out the Cowboys backup RB wave to start the season if need be.
Pick 5 is when I'd first seriously consider pivoting from RB to WR with Adams and Hopkins, though I still think Johnson's Tier 1 upside is enough to warrant the fifth overall selection over Adams and Hopkins, unless the format is something like a 2RB/3WR/FLEX full PPR that maximizes the need for WRs.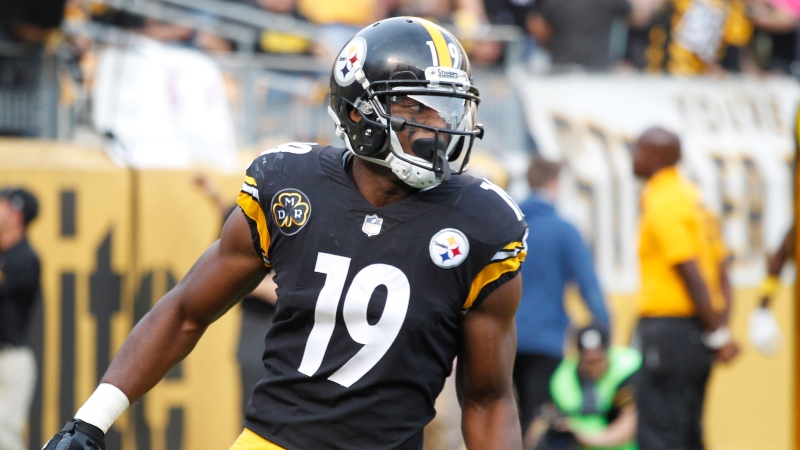 Once the top five RBs are off the board, I like WRs (or Kelce) for the rest of the round. Adams, Hopkins, Julio Jones, Odell Beckham, Hill, JuJu Smith-Schuster and Michael Thomas all have legit overall WR1 potential, and you're not going to be able to find that kind of pass-catching production later in the draft or in free agency the way you can at the RB position.
The only two RBs you can make a case for at the end of Round 1 are Le'Veon Bell and James Conner (and Nick Chubb in standard scoring only), but the floors are lower than the WRs in each case:
Bell enters an Adam Gase offense that finished last in total plays run in two of his three seasons in Miami.
Conner got nicked up and saw a decreased workload down the stretch (16.2 touches per game in his last five compared to 23.6 in his first eight).
Chubb might not need to catch as many passes as you would like for a RB you're spending first-round capital on — his 2.25 per game average in eight games once Freddy Kitchens took over last season is solid, but not great — plus, Kareem Hunt's looming midseason return from suspension creates a degree of uncertainty about Chubb's role late in the season.
How would you rate this article?