2018 Fantasy Football Awards: Patrick Mahomes' MVP Season, Best Performances, More
Credit:
USA Today Sports. Pictured: Saquon Barkley, Patrick Mahomes, Amari Cooper
With most championships in the books, it's time to dish out our 2018 fantasy football awards.
Patrick Mahomes took the NFL and fantasy leagues by storm, making him a no-brainer pick for MVP.
Amari Cooper reestablished his relevance while Saquon Barkley proved to be more than just the best rookie RB.
The fantasy football season is finally over (for most).
We'll have to wait until next September to once again grind for championship glory, which means now is as good a time as any to hand out some awards for Weeks 1-16.
2018 Fantasy Football MVP
Patrick Mahomes, QB, Kansas City Chiefs
Mahomes is just 12.4 fantasy points away from surpassing 2013 Peyton Manning for the most productive single-season performance in league history. Mahomes has thrown for 4,816 yards and a league-high 48 touchdowns through 15 games, chipping in another 271 yards and two scores on the ground.
Even more impressive than Mahomes' raw accumulation of stats has been his efficiency. We've never seen anything quite like the 23-year-old signal caller.
Mahomes is dead set on proving that he's literally capable of making any throw on the field. Fantasy investors have been treated to no-look, sidearm and left-handed passes over the course of this record-breaking season.
Drafting quarterbacks in the first round is typically frowned upon, but there might not be such a thing as over-paying for the Chiefs' franchise QB if he breaks every record that he encounters.
Honorable mention: James Conner, RB, Pittsburgh Steelers
Fantasy investors either wound up with Conner thanks to a savvy late-round pick or a well-timed waiver claim. His consistent RB1 services were particularly important for anyone who drafted our next award winner.
2018 Fantasy Football LVP
Le'Veon Bell
Only Saquon Barkley (24.1 PPR per game) has been more productive on a per-game basis than Bell (21.9) in league history. With that said, it's safe to say 2018 was not Bell's best season.
Anyone who wasted a top-five pick on Bell was not only treated to a grand total of zero fantasy points, but also likely saved a bench spot for Bell for longer than half of the season.
It's tough to blame any player for not putting their body at risk if they don't feel they're being fairly compensated. Still, Bell's season-long absence undoubtedly helped his fantasy investors "win" some last-place consequences.
Honorable mention: David Johnson, RB, Arizona Cardinals
It was only August of 2017 when I wrote about the value of Johnson and Bell. They have each missed an entire season since, while DJ underwhelmed without Carson Palmer and Bruce Arians in 2018.
It's a testament to the power of pure volume that Johnson still finished as the overall PPR RB9 this season despite his disappointing campaign.
Best Single-Game Fantasy Performances
QB: Mitchell Trubisky vs. the Bucs in Week 4
It took Trubisky only 26 throws to find the end zone six times in the Bears' blowout victory over the Buccaneers. The 2017 second overall draft pick threw just nine touchdowns in his first 434 pass attempts prior to Week 4.
Trubisky became just the 13th quarterback to throw at least six touchdowns in a game over the past 25 years and just the 31st to do it in league history. He added 53 yards on the ground on only three attempts, finishing the day with an astronomical 46.5 points with minuscule 1.5% ownership in the DraftKings Millionaire Maker.
RB: Derrick Henry vs. the Jaguars in Week 14
Anyone who has watched Henry since college knows that he's capable of some breath-taking moments, but nothing could have prepared the world for his Thursday night performance against the Jaguars.
The Titans' 6-foot-3, 247-pound back rumbled, stumbled and stiff-armed-the-hell out of any and every Jacksonville defender who got in his way that night.
Henry converted 128 carries into 474 yards and five touchdowns in Weeks 1-13. His record-breaking performance against the Jaguars consisted of 17 rushes for 238 yards and four trips to the end zone, including an electrifying 99-yard touchdown.
Faithful fantasy investors were treated to an encore performance in Week 15 (33-170-2) as well as a solid showing in the fantasy championship (21-84-1).
Maybe Titans head coach Mike Vrabel was simply saving Henry for the fantasy championship all along — Henry ended up with more games with 15-plus carries in Weeks 14-16 (3) than he had in Weeks 1-13 (2).
WR: Amari Cooper vs. the Eagles in Week 14
The Cowboys were widely mocked for giving up a first-round pick for Cooper not long after the Patriots secured Josh Gordon for a fifth-round pick.
Dallas has since rallied and clinched the NFC East, thanks in large part to the electric wide receiver, who took over the Cowboys' most important game of the season by catching 10-of-13 targets for 217 yards and three (!!!) touchdowns against the Eagles.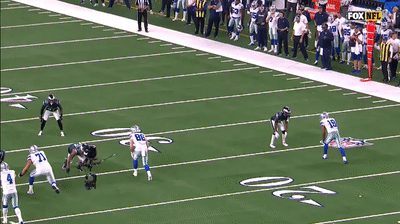 If you were to extrapolate Cooper's production in eight games with the Cowboys over an entire season, it would give him a smooth 96-1,388-12 line.
The Cowboys' No. 1 receiver of the future was available on some waiver wires toward the end of his time in Oakland and managed to return WR1 value in the second-half of the season.
TE: Zach Ertz vs. the Cowboys in Week 10
Travis Kelce is having one of the best seasons ever by a tight end … and Ertz was even better at times.
Ertz's season-best performance came in Week 10 against the Cowboys, when he caught 14-of-16 targets for 145 yards and a pair of touchdowns on Sunday Night Football.
Ertz didn't slow down all season, and he's now the proud owner of the NFL record for tight end with the most single-season receptions (113). He certainly benefits from his offensive system and extra-terrestrial volume, but he's been one of the best players on the field for the better part of the past two seasons.
Honorable mentions:
QB: Aaron Rodgers vs. the Jets in Week 16 — 42.9 fantasy points, 442 pass yards, 2 pass TDs, 32 rush yards, 2 rush TDs
RB: Christian McCaffrey vs. the Seahawks in Week 12 — 46.7 PPR, 17-125-1 rushing, 11-112-1 receiving
WR: Antonio Brown vs. the Saints in Week 16 — 44.5 PPR, 14-185-2 receiving
TE: Travis Kelce vs. the Raiders in Week 13 — 38.8 PPR, 12-168-2 receiving
Fantasy Game of the Year
Kansas City Chiefs at Los Angeles Rams in Week 11
This matchup seemed to mark the end of defense all together, as the Rams' 54-51 victory over the Chiefs was just the sixth game in league history in which two teams combined to score at least 100 points.
Any fantasy owner who had even a little bit of exposure to this shootout undoubtedly enjoyed their Monday night.
Mahomes and the Chiefs moved the ball at will with the exception of a few ill-timed turnovers:
Mahomes: 35.9 fantasy points, QB1 in Week 11
Kareem Hunt: 20.1, RB8
Tyreek Hill: 43.5, WR1
Chris Conley: 26.4, WR7
Travis Kelce: 28.7, TE1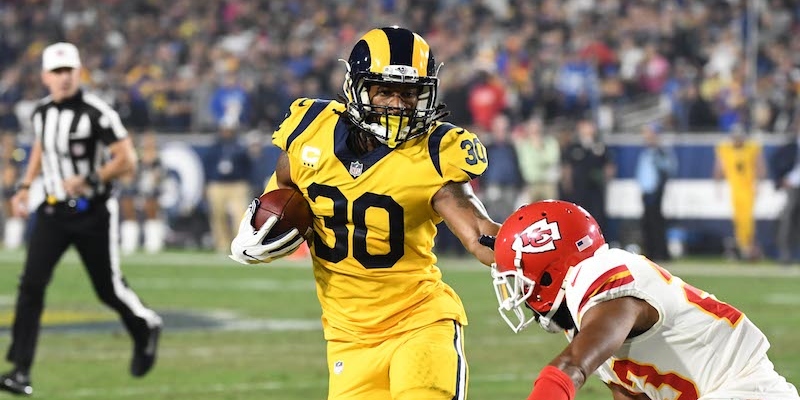 And somehow, the Rams were even better:
Jared Goff: 35.1, QB2
Todd Gurley: 12.4, RB20
Josh Reynolds: 20, WR13
Brandin Cooks: 18.7, WR15
Robert Woods: 17.2, WR19
Gerald Everett: 19.9, TE3
At least 20 points were scored in each quarter in what many considered to be the best game of the season. Here's to hoping we get a rematch in February.
Honorable mention: Tampa Bay Buccaneers at New Orleans Saints in Week 1
The Bucs managed to convince the entire league that the Saints defense was terrible in their season-opening victory over New Orleans.
Ryan Fitzpatrick needed only 28 pass attempts to throw for 418 yards and four touchdowns as Mike Evans (7-147-1) and DeSean Jackson (5-146-2) caught all of their targets.
Drew Brees was also fantastic with 439 yards and three scores through the air while Alvin Kamara (8-29-2 rushing, 9-112-1 receiving) and Michael Thomas (16-180-1) set the tone for the rest of their dominant seasons.
Fantasy Rookie of the Year
Saquon Barkley, RB, New York Giants
Barkley wasn't just the best rookie running back in 2018: The Giants' superstar is the most productive back the league has ever seen (as of writing).
Barkley (24.1) joins Bell (21.9), Kamara (21.8), Ezekiel Elliott (21.4), Jim Brown (20.8), LaDainian Tomlinson (20.3) and Todd Gurley (20) as the only NFL running backs in history to average at least 20 PPR points per game during their career.
Barkley's big-play ability and monstrous workload make him matchup-proof. The dude is simply ridiculous.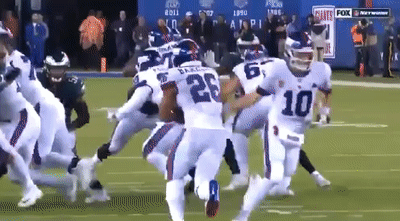 Barkley has posted 244-1,198-10 rushing and 87-688-4 receiving lines through 16 weeks. Just imagine how scary he could be with a decent quarterback and offensive line.
Honorable mention: Phillip Lindsay, RB, Denver Broncos
Your favorite player's favorite player broke all kinds of records for an undrafted rookie free-agent.
Lindsay racked up 1,221 total yards and 10 touchdowns as the Broncos' featured back in Weeks 1-15. He threatened the league's all-time mark for yards per carry in a single season until cooling off over the past few weeks.
Fantasy Comeback Player of the Year
Andrew Luck, QB, Indianapolis Colts
The Colts' franchise quarterback was left for dead by some following surgery to repair a torn shoulder labrum which resulted in Luck missing the entire 2017 season. The team's ensuing early-season decision to let Jacoby Brissett throw the team's Hail Mary attempt didn't help matters during their underwhelming start.
Fast forward three months, and Luck is once again operating as one of the NFL's best quarterbacks.
Luck put together one of the league's best stretches from Weeks 4-12 when he joined Tom Brady and Peyton Manning as the only quarterbacks in NFL history with at least eight consecutive games with three-plus touchdown passes.
Honorable mention: Christian McCaffrey
Run CMC averaged a pedestrian 3.7 yards per carry in 2017, and at times seemed like a better slot receiver than full-time running back. McCaffrey was still the PPR RB10 last season based on mostly volume, but he's emerged as one of the league's best backs on his way to finishing as the RB1 in 2018.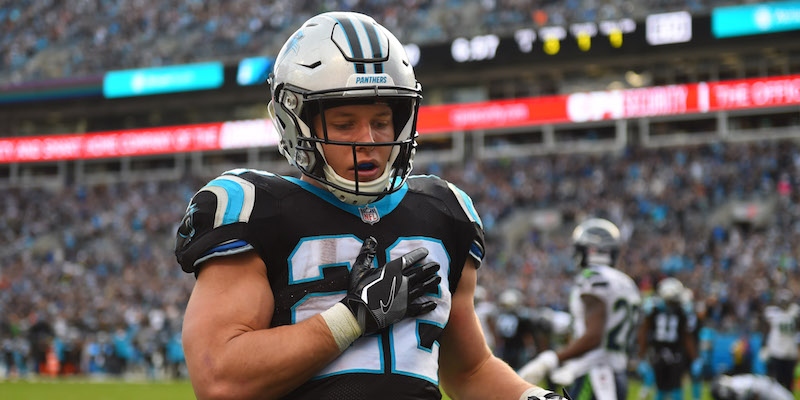 CMC needs 155 receiving yards against the Saints in Week 17 to join Marshall Faulk and Roger Craig as the only players in NFL history with at least 1,000 rushing and receiving yards in the same season.
---
>> Sign up for The Action Network's daily newsletter to get the smartest NFL conversation delivered into your inbox each morning.
---
Best of the Rest
Most Fantasy Points with Five or Fewer Touches
DeSean Jackson caught all five of his targets for 146 yards and a pair of touchdowns in Week 1 against Saints, good for 31.6 PPR points.
Most-Obvious Approach to Rack up Fantasy Points: 
This actually hasn't occurred just yet, but Kyle Shanahan and George Kittle will undoubtedly win this award in Week 17 against the Rams.
Most Games with At Least 20 PPR Points
Mahomes (13), Barkley (11), Gurley (11), McCaffrey (11) and Luck (10) were the only players with double-digit games with at least 20 PPR points.
Best Fantasy Rookie Quarterback
Baker Mayfield, especially once Hue Jackson was fired …
Weeks 3-8: 58% cmp; 6.6 Y/A; 8 TDs; 6 INTs; 245 yards per game
Weeks 9-16: 71% cmp; 8.5 Y/A; 16 TDs; 5 INTs; 268.3 yards per game
Best Fantasy Defense/Special Teams Unit
Chicago Bears.
Hottest DFS Take
Defenses don't matter, by Josh Hermsmeyer. (Check our Airyards.com, it's great.)
Most Unguardable QB/WR Combo 
Brees and Michael Thomas finished as the QB6 and WR3 this season, but even more impressive was their consistency.
Overall, Thomas caught 120-of-140 targets in Weeks 1-16, good for the best catch percentage (85.7%) among all wide receivers (min. 50 targets) since Pro Football Reference began tracking targets in 1993.
Most Devastating Late-Game Moment
Tie between Gurley not suiting up in Week 16 and Gurley stopping short of the end zone in Week 8.
Weeks 1-8 MVP Award
Adam Thielen, who set an NFL record with eight straight games with at least 100 receiving yards to start a season.
Best Short-Lived Fantasy Explosion (and Press Conference)
Fitzpatrick, who averaged the fifth-most fantasy points per game (20.7) this season during his seven starts.
Best Rushing QB
It's a tie!
Both Lamar Jackson (127-605-3) and Josh Allen (80-536-6) partially overcame their struggles as passers with consistently excellent rushing ability. They join Robert Griffin (815), Cam Newton (706), Vince Young (552) and Billy Kilmer (509) as the only rookie quarterbacks with at least 500 rushing yards in NFL history.
Best No. 1 WRs Who Probably Deserve More Credit
Davante Adams (WR1, 111-1,386-13) and Julio Jones (WR7, 104-1,539-7) are each matchup-proof ballers.
Fantasy Players Who Truly Cared About You
It's always great when NFL players choose to embrace fantasy football rather than mock it.
Kittle certainly qualifies…
…as does Melvin Gordon, who was unable to suit up for the Chargers' Week 15 matchup against the Chiefs.
But one man has stood head-and-shoulders above the rest of his peers when it comes to "getting" what fantasy football and NFL twitter is all about.
Take a bow, JuJu Smith-Schuster, you the real MVP.
Hope everyone had a fun season, and have a happy holidays!
How would you rate this article?