NFL Week 6 Fantasy TE Breakdown: Can You Trust C.J. Uzomah in a Smash Spot?
Credit:
Credit: Aaron Doster-USA TODAY Sports. Pictured: Cincinnati Bengals tight end C.J. Uzomah (87) against the Miami Dolphins at Paul Brown Stadium.
Colts tight end Eric Ebron headlines a crop of high-priced tight ends on Sunday's main slate.
Buccaneers tight end Cameron Brate should benefit from the return of QB Jamies Winston.
See the full version of this piece at FantasyLabs.
The 2018 NFL season rolls on, and we're still on pace for a record-breaking campaign with an average of 24.0 points per game per team. We could be in for another week of high scores with a 12-game main slate that kicks off on Sunday, Oct. 14, at 1 p.m. ET.
With two teams on bye and six in prime-time games, we are without many top-tier tight ends.
Thursday Night Football: Eagles (Zach Ertz, Dallas Goedert) at Giants (Evan Engram)
Sunday Night Football: Chiefs (Travis Kelce) at Patriots (Rob Gronkowski)
Monday Night Football: 49ers (George Kittle) at Packers (Jimmy Graham)
Byes: Lions (Luke Willson), Saints (Benjamin Watson)
Even so, this slate features some great games. It's always a good time to play some daily fantasy football.
For analysis on the smaller slates, consult Chris Raybon's premium strategy guides (released throughout the week).
In writing this piece, I've relied primarily on the FantasyLabs Models. This breakdown is less of a comprehensive analysis of each tight end and more of an introduction to this week's players via our large suite of analytic DFS Tools.
We'll start with the three tight ends at the top of the salary scale, follow with five guys at the top of our individual Pro Models and finish with the rest of the slate's fantasy-relevant pass-catchers.
For updates on Vegas spreads and over/unders, check out The Action Network Live Odds page.
Highest-Priced Tight Ends
On the Wednesday edition of The Action Network NFL Podcast, this slate was referred to as the "Tight End Drain." In a full slate, if there's a clear tier of three tight ends at the top of the positional salary scale, they're normally Gronk, Kelce and Ertz.
We have no such luck this week. Let's get through this as quickly as possible.
This week, Eric Ebron as the most expensive tight end on DraftKings and FanDuel.
Eric Ebron: Indianapolis Colts (+2) at New York Jets, 45.5 O/U
Eric Ebron: $5,400 DraftKings; $6,500 FanDuel
UPDATE (10/14): Ebron (shin, quad, ankle, knee) is questionable. He practiced fully on Friday and is tentatively expected to play but is a game-time decision.
Ebron (shin, quad, ankle, knee) exited last game early with a smorgasbord of knee ailments, but he's fully expected to play through his questionable tag. Fellow tight end Jack Doyle (hip) is once again out, as is No. 1 wide receiver T.Y. Hilton, which means that Ebron should continue to be a target monster.
In his three games without Doyle, Ebron has hit his salary-based expectations in each game, averaging a robust 19.3 DraftKings points per game. Of course, Ebron has been owned at an outrageous 23.9% rate, but he's provided immense value as a cash-game option: Ebron's +11.48 Plus/Minus as the No. 1 Colts tight end is über-elite.
What's most encouraging about Ebron is that — in addition to getting 10+ targets in each of the past three weeks and averaging 12 targets per game in that span — he's being used in high-value ways.
For the season, he's tied for first among all players (not just tight ends) with four red-zone touchdowns, and he's tied for third with 12 red-zone targets. No one has more than his three receiving touchdowns inside the 10-yard line.
On top of that he's being used as a downfield weapon. He leads the slate with 420 air yards, and his 9.3-yard average depth of target (aDOT) suggests that he's more of a big-bodied slot receiver and less of a tight end — and the numbers back that up.
Of all starting tight ends, Ebron has run a league-high 66.5% of his routes from the slot. He's also lined up out wide on 12.1% of his snaps. He's anything but a conventional inline tight end.
Ebron, in theory, has a poor matchup against the Jets, who have held tight ends to a league-low 7.5 DraftKings points per game, thanks to the play of second-year safeties Jamal Adams and Marcus Maye, who lead their defense with 80.2 and 81.6 Pro Football Focus (PFF) grades.
In fact, the Jets have held tight ends to an NFL-worst 33.4 yards per game. But I'm not worried about the matchup: The Jets have played the Lions, Dolphins, Browns, Jaguars and Broncos, only one of which actually gives regular targets to the tight end position.
As long as he gets his targets — and quarterback Andrew Luck has to throw to someone — Ebron is likely to produce.
Model Tight Ends
Besides Jordan Reed, there are five tight ends atop the individual Pro Models that Jonathan Bales, Peter Jennings (CSURAM88), Adam Levitan, Sean Koerner, Chris Raybon, Kevin McClelland (SportsGeek) and I have constructed.
The one almost everyone will give consideration to is Cameron Brate.
Cameron Brate: Tampa Bay Buccaneers (+3) at Atlanta Falcons, 57 O/U
Cameron Brate: $3,700 DraftKings; $4,500 FanDuel
UPDATE (10/14): Tight end O.J. Howard (knee) is questionable but expected to play on Sunday.
Brate had no receptions on two targets in the first two weeks of the season. As the Bucs used more three-wide sets, Brate played fewer snaps, getting only 38 reps and running just 24 routes. Within the offense, he was an afterthought.
Since then, though, he's been much more active in the offense, running an outstanding 54 routes on 68 snaps. In Weeks 3-4, he averaged four targets for three receptions, 31.5 yards and one touchdown for 12.2 DraftKings points per game.
Coming out of the Week 5 bye, Brate should benefit from the return of starting quarterback Jameis Winston, with whom he's exhibited a special synergy in the past.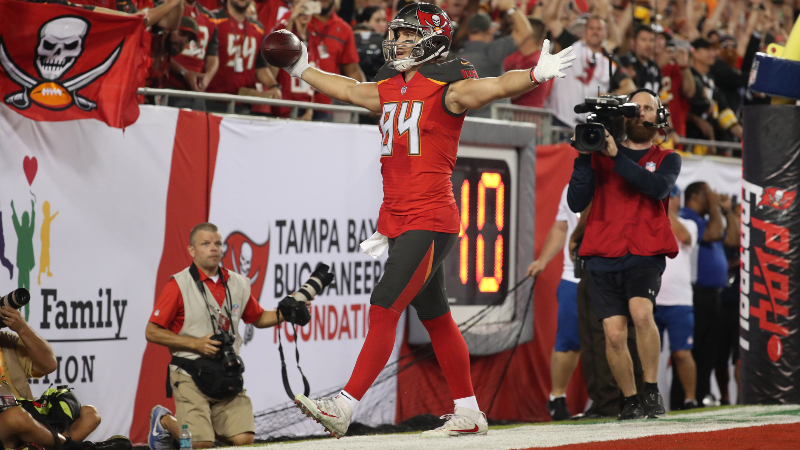 Brate has been targeted on 16-of-19 receiving touchdowns by Winston for his career, and since 2016 he has had some extreme quarterback-based splits.
With Winston (29 games): 11.0 PPR points, 5.3 targets, 3.6 receptions, 43.2 yards receiving, 0.52 touchdowns
Without Winston (five games): 3.6 PPR points, 2.8 targets, 1.2 receptions, 12.4 yards receiving, 0.2 touchdowns
And Brate has a good matchup. The Falcons run a Cover 3 defense that intentionally funnels targets to the middle of the field. As long as they are able to limit the yardage earned on these plays, their defense can bend without breaking.
The problem, though, is that the Falcons are without key coverage defenders in middle linebacker Deion Jones (foot, IR), free safety Keanu Neal (knee, IR) and strong safety Ricardo Allen (Achilles, IR).
Given the return of Winston, the high over/under, the matchup and the lack of options on the slate, we're projecting Brate to be popular. He has a position-high 68% Bargain Rating on FanDuel, where he's the No. 1 tight end in the Koerner, Raybon and SportsGeek Models.
Also on the Bucs:
O.J. Howard: $3,500 DraftKings; $5,500 FanDuel
Howard (knee) exited Week 4 early with an injury, but he was able to rest over the Week 5 bye and practice in a limited fashion every day this week. He's questionable but tentatively expected to play.
He will, however, likely be limited if active: The team can afford to ease him back in given the presence of Brate and the extent to which the Bucs want to use packages with 11 personnel (one running back, one tight end). If Howard is unable to play, Brate will be all the more popular.
Positional Breakdowns & News
Be sure to read the other Week 6 positional breakdowns.
• Quarterbacks
• Running Backs
• Wide Receivers
For more in-depth NFL analysis information, check out The Action Network.
After this piece is published, FantasyLabs is likely to provide news updates on a number of players. Be sure to stay ahead of your competition with our industry-leading DFS-focused news blurbs.
---
---
Matthew Freedman is the Editor-in-Chief of FantasyLabs. He has a dog and sometimes a British accent. In Cedar Rapids, Iowa, he's known only as The Labyrinthian.