5 Guidelines for Successful Fantasy Football Mock Drafting
Credit:
Noah K. Murray-USA TODAY Sports. Pictured: New York Giants running back Saquon Barkley
Mock drafting is a great way to prepare for fantasy football drafts.
Here are five guidelines all fantasy football players should follow while participating in mock drafts.
It's Saturday night and after the week I've had, there is no way I'm getting off this couch. Did you know a 3-year-old can cry more than five times in 30 seconds? I learned that on Monday.
Its been a long week.
The kids are in bed and I've got Live PD, Oreos and fantasy football mock drafting, so all of you people with no children who like to go out and socialize and can stay up past 8:45 p.m. can eff right off.
I bet all of you get to use the bathroom alone too …
It still amazes me every day that I managed to convince some poor bastard to marry me. So here I am, two sleeves deep into a Family Size Oreo pack and it dawned on me how terrible it can be to mock draft with a bunch of strangers who have nothing better to do on a Saturday night but mock draft.
Sigh
There are some serious tools out there and I'm fairly certain they all come together for football season just to piss me off. There should be some basic guidelines (COMMON SENSE) given to everyone who registers for a fantasy football mock draft.
If you can't follow those guidelines? Well, you don't get to come back. Or play fantasy football at all.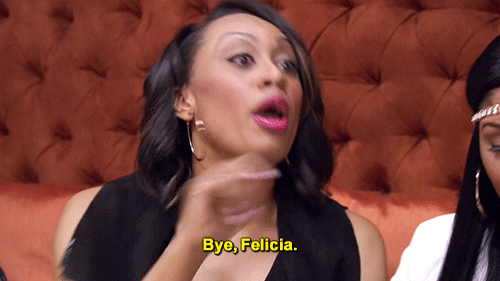 And what are those basic guidelines you ask? Well, I'm here to tell you — think of this as a sort of "Mock Drafting for Dummies" so that everyone can have a good time and not screw up their fantasy team too much.
With fantasy football season looming and mock drafting in full swing, I thought (assumed?) everyone needed a reminder to have fun, but also to not be a mock drafting schmuck. There, I said it.
This is literally the same exact rule that I apply to my children: Don't be a pain in the ass. No kid, you can't throw your breakfast at the cat and then get mad when the baby wants to eat it off the shag rug.
Don't be an idiot and this wouldn't be a problem. Obviously, everyone has their own opinion as to what constitutes an idiot, but here are my top five guidelines for mock drafting in a respectable manner.
Fantasy Football Mock Draft Guidelines
1. Stay and play
There is absolutely nothing worse than getting into a draft and having someone make their first pick, then leave the room. Do you seriously need help with only your first pick? Out of ALL the picks that you have, your FIRST pick is your problem?
Oh, you missed one of the top five RBs? Oh no, how are you ever going to be able to decide between the best QB or the best WR? If this is your problem spot, you probably shouldn't be playing fantasy football.
2. Plan ahead
Obviously, mock drafting is a great way to figure out how you want to draft in the future, but for the love of God, just draft someone. It should not take anyone the full amount of time every single round to pick who they want. What the hell are you doing between your picks? Don't worry, Tinder will still be there after your mock.
3. Take it down a notch
Look, I don't know you from Adam and while you MAY be funny in real life, it certainly doesn't translate to a comments board in a mock draft. Don't get me wrong, I am all for a little banter but I don't need ELIFORLIFE telling me Dak is a terrible pick and questioning whether or not I have size D cups. Get it? Because I'm a girl and omg girls don't know sports. Ha. Ha.
4. Show up on time
If you're mock drafting on a Wednesday night at 8 p.m. there is a HIIIIGH likelihood that you don't have a significant other, a friend or a pet you refer to as your "child" when talking to real parents.
Get your shit together and show up to your damn mock draft on time. There is literally a clock counter with SECONDS on it to show you when you need to start. Your computer makes a lovely little ding when it's your turn.
For the love of all football, just take your pick. I'm totally cool with you completely panicking, maybe crying a little and then picking a TE with the second pick because that's real life. Just get your shit together and show up.
5. Don't screw with me
Guys, let's be realistic here. There is no way in hell that you're drafting Kirk Cousins in the first round (unless you're PJ Walsh at The Action Network … rolls eyes).
So why screw with the 9, 11,13 or 16 other players who are actively trying to mock. Do you REALLY think Captain Kirk is that good? Well then prove it with your next picks. Make smart decisions so when it's really game time, you don't accidentally pick the wrong Adrian Peterson in the third round (which actually happened years ago in one of my leagues).
Side note to all of you actually planning on drafting Captain Kirk: Can I play in your league?
So, what all of this anger-fueled bitching really comes down to is this: I want to mock because I want to win. And to win I need to be prepared. So don't be that loser who ruins all the fun.
Fin.
How would you rate this article?