What to Expect from the Top Fantasy Football RBs in 2019
Credit:
Jeremy Brevard-USA TODAY Sports. Pictured: Christian McCaffrey
Our fantasy football experts break down the outlooks for the top running backs heading into 2019.
Should Saquon Barkley, Christian McCaffrey or Ezekiel Elliott be the top pick in fantasy football drafts? What can you expect from Le'Veon Bell with the Jets? How concerned should you be about Todd Gurley?
Our analysts forecast what to expect from the top 50 fantasy football running backs as ranked by our experts Sean Koerner, Chris Raybon and Matthew Freedman for PPR formats (as of July 10). Our experts' rankings and projections are constantly changing, so get the latest with our Fantasy Football Draft Kit, complete with customizable cheat sheets for your leagues.
We can debate whether the New York Giants should've used the No. 2 overall pick of the 2018 draft on a quarterback. One thing we can't debate is whether Barkley is one of the best running backs in the league.
On the short list of RBs worthy of the No. 1 overall pick in PPR drafts, Barkley stands apart from Ezekiel Elliott and Christian McCaffrey. Barkley's projected status as the Giants' No. 1 receiver theoretically gives him a higher floor than Elliott, while his rushing workload will likely continue to surpass that of McCaffrey.
Barkley's best-case scenario, as we saw last season, is an overall RB1 finish. He's more than worthy of a 1.01 selection in any PPR draft. — Ian Hartitz
---
Get our experts' latest rankings and projections for running backs with our Fantasy Football Draft Kit.
---
It's rare for a running back to work as one of the NFL's most efficient backs AND have a massive workload. Fortunately, for past and future McCaffrey fantasy owners, this dream role was made into a reality in 2018.
Of course, it's fair to question whether McCaffrey has the same ceiling as Saquon Barkley or Ezekiel Elliott considering they're both expected to clear 250 carries with ease. Still, McCaffrey is this season's safest top-tier running back thanks to his historically absurd receiving role and status as his team's clear-cut three-down back.
He's more than worthy of a 1.01 selection in PPR drafts. — Ian Hartitz
Elliott has certainly established himself as one of the game's best pure runners after leading the league in rushing yards in 2016 and 2018.
Only Le'Veon Bell (24.4 PPR points per game) and Alvin Kamara (21.8) have been more productive fantasy assets than Elliott (21.4) since 2016. And the Cowboys are positioned to team their bell-cow back up with potentially the best offensive line and defense of his career in 2019.
As long as Zeke can stay out of his own way off the field, his natural talent and secure three-down workload makes him more than deserving of a 1.01 selection in fantasy drafts, particularly those that are not PPR. — Ian Hartitz
Kamara is one of very few running backs capable of producing as a RB1/WR2 hybrid talent.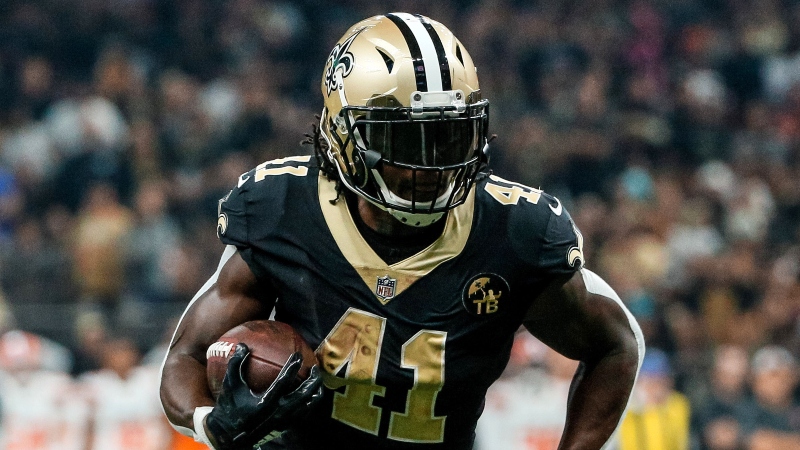 There might not be another RB in the NFL who is smoother than Kamara. Defenders seem to just slide off the Saints' 5-foot-10, 214-pound talent: His average of 5.1 yards per carry is the highest mark among 26 running backs with at least 300 carries over the past two seasons. And the two-time Pro Bowler is even tougher to corral as a receiver.
Kamara is undoubtedly one of the league's most talented backs. And while there's a good chance fans won't see him on the field as much as they did over Mark Ingram's four-game suspension in 2018, it would be shocking if Kamara plays fewer than 60% of offensive snaps in 2019. — Ian Hartitz
Johnson is coming off an unremarkable season that left a sour taste in the mouths of his fantasy football investors. But it was a tale of two halves:
Johnson in Weeks 1-8: 14.5 PPR points per game, overall RB11
Johnson in Weeks 10-17: 16.3 PPR points per game, overall RB7
There's reason to believe his rushing efficiency will increase while his ceiling as a receiver could help him re-emerge as one of fantasy's most consistent stars.
It remains to be seen if DJ will ever return to his 2016 heights, but even a mild improvement from his teammates and coaches should at least enable him to return value as a top-five fantasy investment. — Ian Hartitz
I'll be watching the Bell-Adam Gase relationship very closely this summer.
My gut feeling is that Gase was trying to get out ahead of putting the blame on someone else (the general manager) by complaining about the contract Bell received, which means I have every reason to believe Gase will use Bell as the workhorse back. But if you draft him, it makes sense to add Elijah McGuire as a handcuff. — Sean Koerner
Conner is again positioned to thrive thanks to his large workload and status as one of the NFL's best young backs.
His average of 4.5 yards per carry and 9.0 yards per reception in 2018 topped Le'Veon Bell's career-average marks of 4.3 yards per rush and 8.5 yards per catch. And only Ezekiel Elliott (25.4 touches per game), Todd Gurley (22.5) and Saquon Barkley (22) received the ball on a more consistent basis than Conner did last season.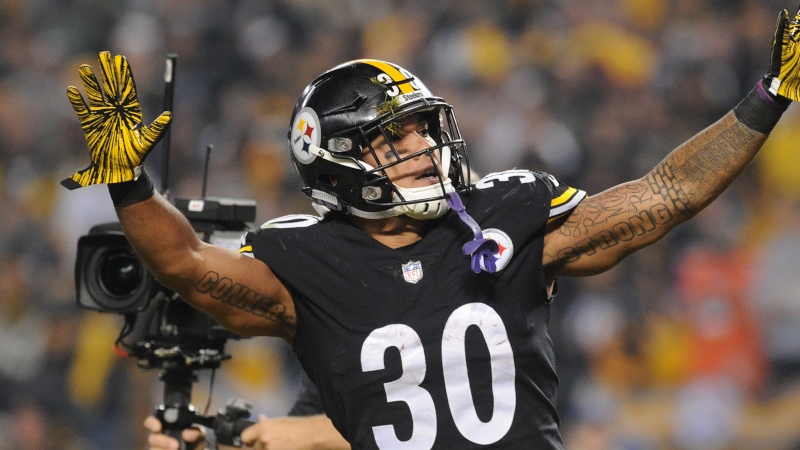 Conner does face some uncertainty in an offense that lost one of the game's better talents at wide receiver, but it's been awhile since we've seen the Steelers operate as anything other than elite. — Ian Hartitz
Another workhorse role appears to be on the horizon for Gordon, which is good news for fantasy football investors, because all the guy does is rack up points (as long as he's healthy enough to suit up).
Gordon joins Le'Veon Bell, Ezekiel Elliott, Todd Gurley, Saquon Barkley and Leonard Fournette as the only running backs who have averaged at least 20 touches per game since 2017. And he stands out among the second-tier fantasy RBs: Lead backs with three-down ability on above-average offenses. — Ian Hartitz
Gurley is one of the hardest running backs to peg right now.
The knee issue he dealt with at the end of last season appears to be a legitimate concern as it's a degenerative, arthritic issue. Even if he ends up recovering close to 100% before the season starts, it's pretty clear that the Rams don't intend on giving him the same workhorse role he's thrived in over the past two seasons after re-signing Malcom Brown then drafting Darrell Henderson in the third round.
His ranking will be the most volatile one this season, so it's key to stay up-to-date on news with him. — Sean Koerner
Joe Mixon, Cincinnati Bengals
The three-down workhorse back is a dying breed in today's NFL.
Only seven running backs managed to total at least 200 carries and 50 targets in 2018, and Mixon was one of them. He was highly productive last season and is positioned for success again thanks to Cincinnati's sneaky-good supporting cast.
His potential status as a featured three-down back in an underrated Bengals offense makes him one of Joe Mixon's best values. — Ian Hartitz
Chubb's ability to grind out yards after contact and threaten defenses as a receiver makes him one of the league's most productive backs … as long as he's given the opportunity.
The good news is that he's fully expected to have a significant workload as Cleveland's starter until Kareem Hunt returns from his eight-game suspension. Even then, Chubb's worse case scenario appears to be a featured first-half role followed by at least an average of double-digit touches per game during the second half of the season in what figures to be one of the NFL's better offenses. — Ian Hartitz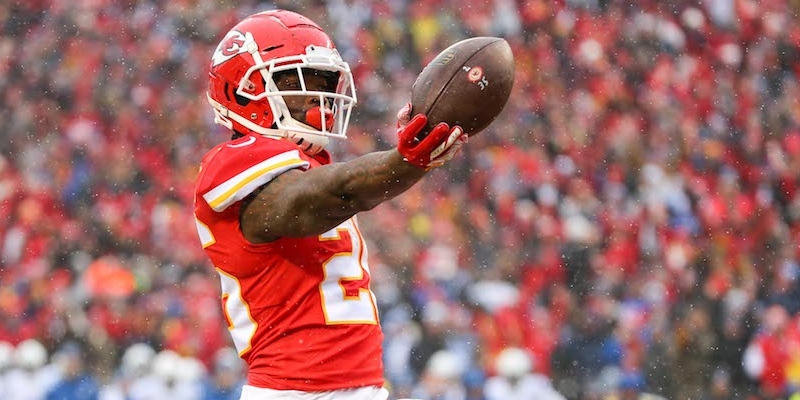 The Chiefs released Kareem Hunt in Week 13, then lost Spencer Ware to injury in quick succession, paving way for the Damien Williams show.
Williams quicky found himself atop most of the position's leaderboards after taking over as the lead back between Weeks 13 to 17:
Touches: 67 (T-22nd)
Rush attempts: 47 (25th)
Targets: 21 (T-13th)
Total yards: 255 (20th)
Total touchdowns: 6 (second)
PPR: 93.7 (fifth)
Even if Carlos Hyde and/or Darwin Thompson manage to seize a portion of snaps in the Chiefs' backfield, it would be a surprise if either is able to unseat Williams as the offense's lead pass-game back. — Ian Hartitz
It's possible that Fournette played in just about the worst possible offense to accentuate his talents over the past 24 months, yet he still managed RB7 and RB12 finishes in PPR points per game in 2017 and 2018, respectively.
The good news is that the Jaguars have remained faithful about feeding their workhorse back, and might just have a better environment for him to thrive in this season. A new quarterback, new offensive coordinator, improved offensive line and little competition in the backfield all adds up to a positive outlook for Fournette. — Ian Hartitz
Cook hasn't been able to stay healthy, but instead of shying away from this, I'm viewing it as a way to get him cheap.
The Vikings fired offensive coordinator John DeFilippo after a disastrous Week 14, making it clear they would become a more balanced team. And sure enough, Cook finished as the RB7 over the final three games. Now Latavius Murray is gone and they brought in Gary Kubiak as an assistant head coach — two signs that Cook could become a workhorse back on a team that intends to have a more efficient rushing attack. — Sean Koerner
As a first-rounder, Jacobs is likely to see a significant workload because so much was invested into him: In a self-fulfilling mechanism, the Raiders will give him every opportunity to prove himself so that they might be proven correct in drafting him with a premium pick.
It helps that Jacobs is built like a lead back. He should be able to withstand the grind of getting 20 touches every week.
Given how important age, draft position and size are to the running back position, it's not unreasonable for fantasy players to expect a lot out of Jacobs as early as this year. — Matthew Freedman
There's little doubt that Drake is one of the NFL's best running backs on a per-touch basis.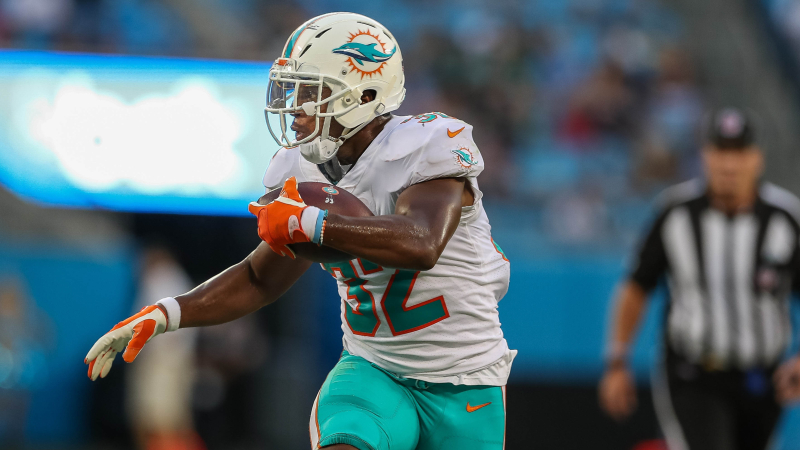 The numbers reflect it …
His 4.29 yards after contact per touch in 2017 is the second-highest single-season mark among all running backs since 2010 (min. 100 carries) per Pro Football Focus.
He's one of only 13 running backs to average at least 5.5 yards per touch among 55 backs with at least 300 carries over the past three seasons.
His average of 4.75 yards per rush since 2016 trails only Mark Ingram (4.91), Matt Breida (4.96), Saquon Barkley (5.01) and Alvin Kamara (5.13) among 49 backs with at least 250 carries.
The only thing that's held Drake back from reaching true fantasy greatness has been the Dolphins' reluctance to hand him a consistent three-down role. One can dream about him getting 250-plus touches in a season, it probably won't happen in 2019. — Ian Hartitz
In New England's committee backfield, White is the favorite for snaps and targets.
He led the Patriots with 123 targets and 87 receptions last season, and we could perhaps see his role as a slot receiver expand with Rob Gronkowski and Chris Hogan out of the picture. White was out-targeted by Julian Edelman 93-to-108 once Tom Brady's long-time No. 1 receiver returned to action in Week 5, but the sixth-year back should see plenty of targets thanks to continued chemistry with Brady and the reality that most linebackers can't hang with him in space. — Ian Hartitz
Freeman is positioned to work as the lead early-down and goal-line back in what could be one of the league's better offenses.
The true game changer could be an enhanced receiving role with Tevin Coleman now in San Francisco. It still seems likely that Freeman will share at least some of the workload with Ito Smith, but the potential for an improved Falcons offense and enhanced workload could create some draft value. — Ian Hartitz
Johnson is positioned to work as the Lions' lead running back again in 2019, but it's tough to see him gaining a three-down workload.
The Lions love committee backfields.
Still, the good news for everyone involved in this offense is that we should probably expect a step forward, especially from the rushing attack. And even a moderate improvement from the change at offensive coordinator or from quarterback Matthew Stafford could go a long way for Detroit's lead back. — Ian Hartitz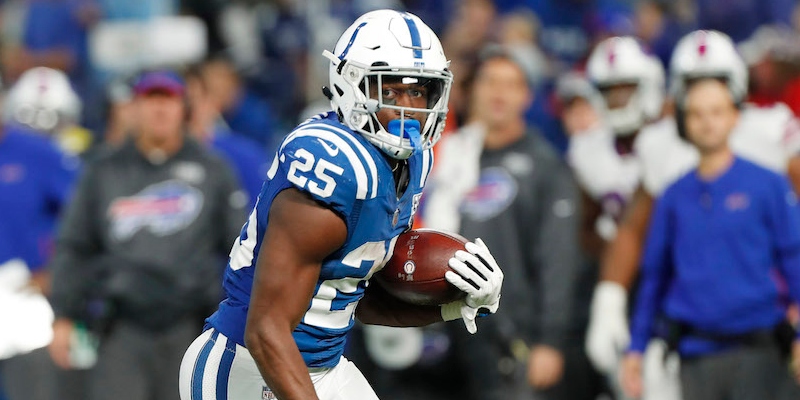 Frank Reich has never made a habit of feeding one particular back over his coaching career, so don't expect to see Mack get more than 60% of the backfield's snaps often. But he's still plenty capable of working as a high-end fantasy running back with that type of workload: Mack was the RB9 in PPR from Weeks 7-17 last season when he played at least 50% of the offense's snaps in nine-of-10 games.
An RB1 finish is firmly in his range of possibilities inside the Colts' fantasy-friendly offense. — Ian Hartitz
Reading the offseason tea leaves is always dangerous, but there have been signs that the Packers plan to make Jones their undisputed lead back.
Among them was new head coach Matt LaFleur saying he intends to "marry the run with the pass." And early returns from the team's outside-zone heavy rushing scheme indicate Jones is the better fit than teammate Jamaal Williams.
The one cause for concern is LaFleur's history of utilizing committee backfields. He said that Jones and Williams would each be involved in the offense back in February. But Jones could still be among the league's most-fed backs with an average snap rate around 70%. — Ian Hartitz
Henry will probably never receive a full three-down workload in Tennessee, but he proved that wasn't necessary to be an elite fantasy football back over the final stretch of 2018.
Henry in Weeks 1-13: 10.7 rushes, 1.3 targets, 46 total yards, 0.42 total touchdowns, 7.96 PPR points per game
Henry in Weeks 14-17: 21.8 rushes, 0.8 targets, 151.5 total yards, 1.75 total touchdowns, 26.45 PPR points per game
That PPR RB1 stretch-run demonstrated his league-winning upside, but it's still unclear whether he'll be able to replicate that feat on what looks to be a middling Titans offense. — Ian Hartitz
Lindsay is suddenly one of the hottest commodities in the NFL.
His breakout rookie season helped provide some excitement during an otherwise putrid campaign for the 2018 Broncos. There's hope that the best is still to come for the young back, though there isn't much reason to believe he'll receive an enhanced workload this season. Complicating matters is the potential that the Broncos aren't as good offensively as they were last season (and they were the 24th-ranked scoring offense then).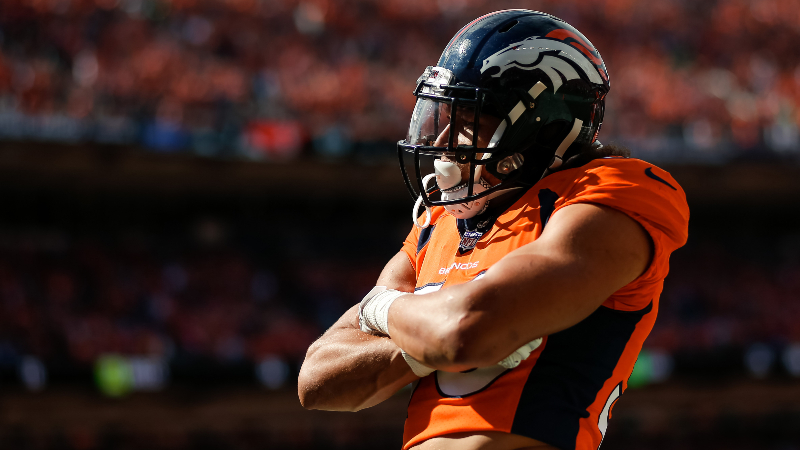 Lindsay should be regarded as risky. — Ian Hartitz
It would be a shock if Ingram doesn't open the season as Baltimore's starting running back.
He's established himself as one of the NFL's most efficient backs over the past half decade. His average of 4.85 yards per rush trails only former teammate Alvin Kamara (5.13) among 47 backs with at least 300 rush attempts between 2015 and 2018. Yes, Ingram is 29 years old, but he's never had more than 230 carries in a season. This makes him somewhat young in running back years.
Now Ingram has the chance to be a season-long RB1 thanks to his potential for a massive workload combined with the proven fantasy-friendly reality of working as the Ravens' featured RB. — Ian Hartitz
Since Day 1 of his rookie season, Cohen has been a consistent, explosive, indispensable component of the Bears offense. He boasts two consecutive seasons as a top-24 fantasy performer, and he accomplished that feat despite splitting time with Jordan Howard.
Now Howard's heavy rushing volume is gone, but the Bears have brought in new competition in Mike Davis and rookie David Montgomery. Unlike Howard before them, both have a legit three-down skill set. Still, no matter how that backfield committee shakes out, Cohen will not be left out of the mix. — Ryan Collinsworth
With Alfred Blue no longer on the roster, that leaves Miller and D'Onta Foreman to challenge each other for work. Foreman claims to be as healthy as ever, which could put a cap on Miller's already limited ceiling.
Miller is more of a floor play than a ceiling play as he hasn't rushed for more than 1,000 yards or scored more than five touchdowns since 2016. I think he's properly valued as the current RB32 in average draft position, but I wouldn't pay much higher than that with Foreman looming in the background. — Justin Bailey
Carson is one of the NFL's most difficult players to tackle: He joined Melvin Gordon, Kareem Hunt, Christian McCaffrey, Adrian Peterson, James Conner and Saquon Barkley as the only running backs who broke at least 50 tackles in 2018 (Pro Football Focus).
This naturally led to plenty of production on the ground. Only Ezekiel Elliott (96 rushing yards per game), Todd Gurley (89), Joe Mixon (84), Barkley (82) and Carson (82) averaged more than 80 rushing yards per game.
The only thing standing in Carson's way of working as an RB1 in fantasy football is his likely committee with 2018 first-round pick Rashad Penny. This goal might be tough, but Carson and Penny could both offer value in the league's most run-heavy offense. — Ian Hartitz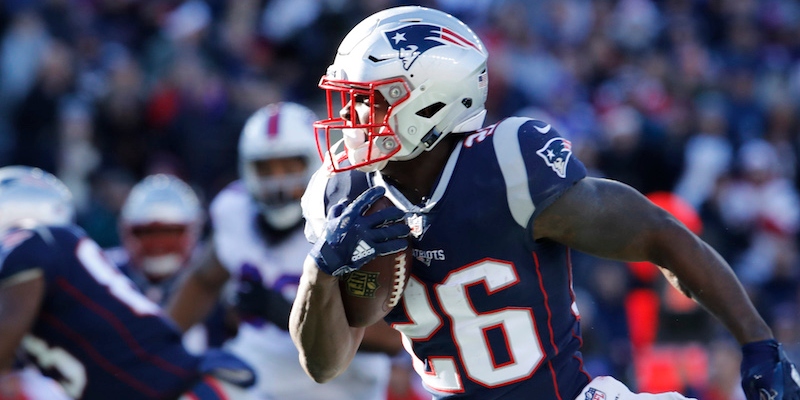 As the Patriots' 2018 first-round pick, Michel accordingly led the New England's committee with 209 rush attempts in just 13 games. His limited usage as a receiver (11 targets all season) isn't ideal, but his average of 115 yards and two touchdowns per game in the playoffs proved that Patriots backs can still be fantasy-friendly assets without a major receiving role.
He's the favorite to lead the backfield in carries again, assuming his history of knee problems doesn't present additional issues (big assumption). — Ian Hartitz
Montgomery boasts an athletic skill set that could help him achieve an early-down role sooner than later.
Tarik Cohen remains the favorite to lead the backfield in touches, and Montgomery will also have to compete with Mike Davis and Cordarrelle Patterson for snaps. But don't underestimate the rookie's chances of securing a featured role before long.
As noted by Pro Football Focus' Scott Barrett, the Bears invested a 2019 third-round pick, 2020 fourth-round pick and dropped 43 spots on Day 3 in order to select Montgomery. This comes after former starting running back Jordan Howard — who received at least 250 carries in 2016, 2017 and 2018 — was shipped to the Eagles for a 2020 sixth-round pick that can escalate to a fifth-round pick. — Ian Hartitz
Ekeler was outstanding last season, boasting a 39.3% breakaway rate and 67.5 elusive rating, which respectively ranked 10th and sixth among running backs, per Pro Football Focus. He was also one of the most efficient running backs when given the ball, averaging 1.17 fantasy points per touch.
Ekeler has carved out a stable part-time role, but he likely won't receive more than eight to 12 touches per game, which makes him more of a RB3 or bye-week fill-in. — Justin Bailey
The Saints are likely to use Murray in the Mark Ingram role, which is quite valuable.
Murray should see spiked weeks when he finds the end zone or sees 15-plus touches when game scripts warrant it. And if Alvin Kamara were to miss any time, watch out — Murray could be a borderline RB1 value. It seems like this type of upside isn't being completely factored into his current average draft position as the RB39. — Sean Koerner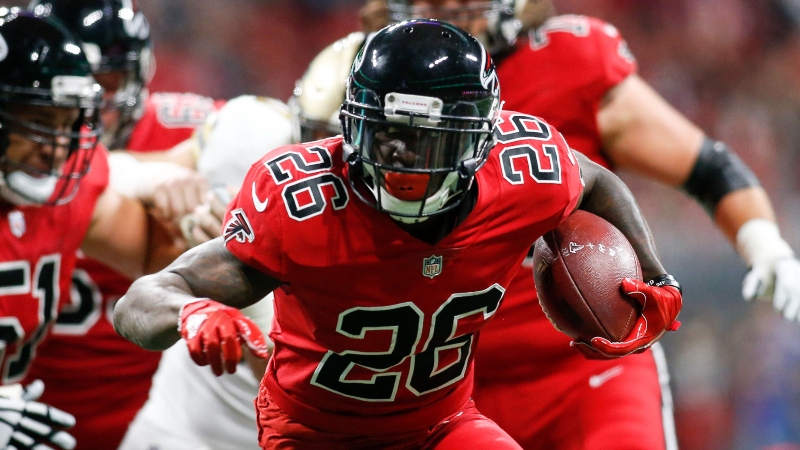 Coleman is no stranger to Kyle Shanahan's offense, as the pair spent two seasons together in Atlanta. While Coleman received only 89 total touches as a rookie in 2015, he managed to finish 2016 as the RB19 in PPR thanks to his heightened workload and elite efficiency.
He's demonstrated the ability to function as a potent No. 1 back for extended stretches while filling in for Devonta Freeman. And even more impressive has been Coleman's ability to function as a true wide receiver — an aspect of his game that has been criminally underused throughout his career.
Still, like every running back, Coleman would hold significantly more fantasy football value if he was expected to inherit a three-down workload. — Ian Hartitz
More than half of the battle in fantasy football is simply figuring out who is going to get the ball the most.
The good news: The Eagles certainly seem to love their new running back.
Sanders has an explosive three-down skill-set and brings more to the table than probably any other running back the Eagles have had in years. He's a potential workhorse on what figures to be one of the league's better offenses. — Ian Hartitz
Lewis ultimately played more snaps (61%) than Derrick Henry (41%) last season. But while offseason coach speak should be taken with a grain of salt, Tennessee's new offensive coordinator Arthur Smith certainly appears ready to feed Henry instead.
"Derrick will be a big part of the offense," Smith said. "We are taking another step hopefully with him."
Henry played 40%, 70%, 62% and 53% snaps in Weeks 14-17, respectively. Lewis was a viable fantasy option over the first half of last season, but he'll continue to struggle to command a large weekly workload as long as D-Train remains healthy. Of course, that makes Lewis a prime handcuff option, especially considering his enhanced pass-catching ability. — Ian Hartitz
McCoy has been one of the most prolific fantasy running backs of the past decade, boasting five top-10 fantasy performances over his illustrious 10-year career. But he'll be 31 this season, and it's difficult to trust an aging running back with so much mileage on his tires.
Shady also finds himself in a suddenly-crowded backfield after the Bills acquired T.J. Yeldon and Frank Gore via free agency, then drafted Devin Singletary in the third round. His volume and efficiency were already in decline last season. Now competition for touches could wholly undercut his traditional volume. — Ryan Collinsworth
The main issue with Hines is that he won't do much on the ground with Marlon Mack locked into the workhorse role.
Hines will continue to work as a third-down back, and while he was effective as a receiver last season, the Colts drafted slot receiver Parris Cambell this year, which could impact Hines' role out of the slot, where he saw 18% of his targets last season. — Justin Bailey
Penny was a bust in 2018 in large part due to Chris Carson's breakout season. However, Penny did show signs of promise starting in Week 10.
The Seahawks figure to be one of the highest run volume teams again in 2019, which means he could see enough touches most weeks to put up RB2/3 type numbers. With Mike Davis out of the picture, it should make Penny's path to getting double-digit touches most weeks even easier.
If Carson were to miss any time, we would see Penny as a solid RB2 with RB1 upside. — Sean Koerner
Barber has proven he can handle big workloads and put up solid numbers when given the chance. But he's in fairly crowded backfield with second-round pick Ronald Jones sitting behind him.
I would be very cautious with Barber, and only draft him if he falls way too far down the board. — Sean Koerner
Guice could end up being a dominant back from the moment he steps on the field, but it's not a guarantee he'll be 100% healthy.
It's also not a guarantee that the coaching staff will feel good enough about his health to give him a big workload. And if he doesn't play well enough to knock Adrian Peterson out of the committee, Guice would be in a three-way committee with AP and Chris Thompson, who caps Guice's pass-catching upside. — Chris Raybon
Phillip Lindsay very well could repeat last season's numbers. But there's a very real possibility that the tables turn and Freeman — who everyone pegged as the Broncos' lead back heading into 2018 — could end up the lead back in 2019.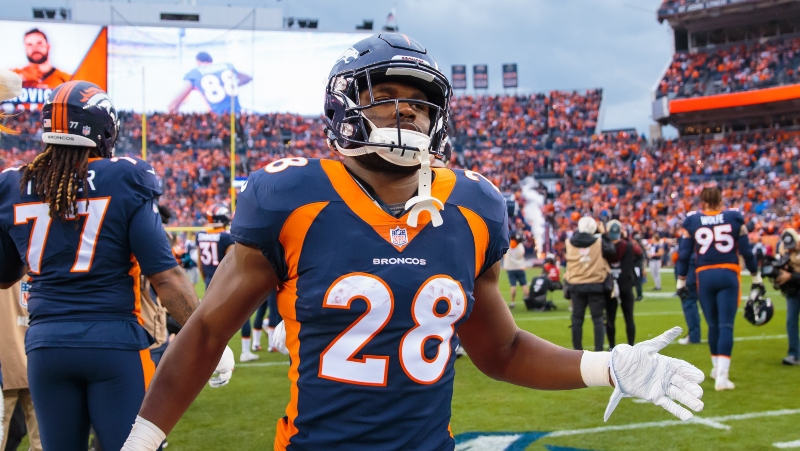 Even if Lindsay is able to hang onto the lead role in the Broncos' new scheme, Freeman should be able to carve out a role in which he provides spiked weeks when he finds the end zone. His value will shoot up if Lindsay were to ever miss time, which could be likely given Lindsay's small frame. There are even reports that Lindsay's wrist injury might not be fully healed until August.
The window to get Freeman at his current average draft position of 90th overall could evaporate soon. — Sean Koerner
Second-round pick Miles Sanders has received most of the offseason hype, but we shouldn't underestimate the possibility that Howard enters Week 1 as the Eagles' lead early-down and goal-line back.
The only problem is that this role likely wouldn't lead to a consistent dose of 15-plus touches per game. Head coach Doug Pederson has consistently utilized a committee backfield during his three seasons with the Eagles when he's had a multiple one-dimensional backs.
Sanders might have enough three-down ability to overcome this historical trend, but Howard's best-case scenario looks like a capable early-season option who will continue to be more game-script dependent than his fantasy investors would prefer. — Ian Hartitz
I'm not the biggest Kalen Ballage truther, but he does offer some fantasy appeal.
He has the size (6-foot-2 and 228 pounds) of a three-down back and enough speed (4.46-second 40-yard dash) to run away from most defenders.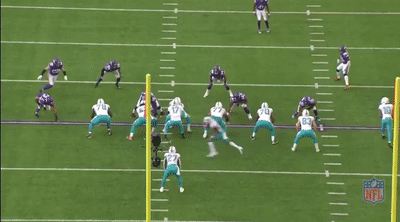 The most important thing is that he has theoretical three-down ability; he caught 82 passes during his career at Arizona State and 9-of-11 targets as a rookie. There's certainly a scenario in which he winds up working as the Dolphins' lead early-down and goal-line back in 2019. — Ian Hartitz
The million dollar question is knowing how involved Smith will be on a week-to-week basis. The most likely scenario would be him working as the offense's 1b option, as he did behind Tevin Coleman during Devonta Freeman's absence in 2018. This role produced an average of 9.4 combined rush attempts and targets per game for Smith in Weeks 2-17.
The only other running backs on the current roster are journeyman Kenjon Barney, 2017 fifth-round pick Brian Hill and 2019 fifth-round pick Qadree Ollison, none of whom appear to be any threat to Freeman's workload. Their best-case scenario would be to unseat Smith (four yards per touch in 2018). — Ian Hartitz
The SPARQ-plug back is yet to take a snap in a San Francisco uniform after suffering a season-ending torn ACL on Sept. 1, 2018. McKinnon is reportedly a PUP possibility and doesn't have a firm timetable for return. If healthy, McKinnon provides some dynamic slashing ability as both a rusher and receiver.
The 49ers thought highly enough of him prior to the 2018 season to hand the ex-Vikings back an absurd four-year contract worth $30 million. — Ian Hartitz
As long as Joe Mixon remains healthy, Bernard won't have much fantasy appeal. Over the past two years with Mixon active, Gio has averaged just 3.46 targets and 4.54 rushing attempts per game. — Justin Bailey
Richard will mostly just see passing-down work in a crowded backfield that also features first-rounder Josh Jacobs. Overall, Richard doesn't have much of a floor to stand on considering he played only 39% of snaps and saw a meager 7.7 touches per game last season. — Justin Bailey
Jones is coming off a disappointing rookie season in which he lost the starting role to Peyton Barber (of all backs), and even spent the first part of the season as a healthy scratch.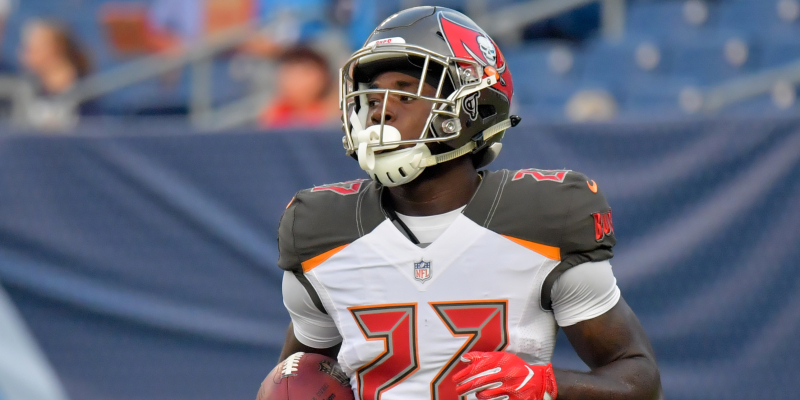 I expect the new coaching staff to be a chance for Jones to hit reset and potentially break out in his second season. He should at least be able to carve out a role in which he can push Barber to make it more of a committee. And if Barber were to miss any time, it would thrust Jones into more of a workhorse role. — Sean Koerner
When healthy, Thompson is an explosive piece of Washington's offense, but he dealt with rib injuries all last season and there are some concerns over his ankle.
At this point, it'll be difficult to rely on him to churn out reliable fantasy value, especially since he's behind Adrian Peterson and Derrius Guice on the depth chart, provided Guice is healthy at the start of the season. — Justin Bailey
Jamaal Williams, Green Bay Packers
One cause for concern for both Williams and Aaron Jones is new head coach Matt LaFleur's history of favoring committee backfields. He said that Williams and Jones would each be involved in the offense in February, but it remains to be seen how much the Packers will split the work up between the two. — Ian Hartitz
Henderson's stock is on the rise with the uncertainty around Todd Gurley's knee. Henderson should probably be on your re-draft teams if you decide to roster Gurley, and even if you don't.
The explosive rookie finished second in FBS with 2,204 yards from scrimmage while piling up 25 touchdowns during his 2018 campaign at Memphis. Henderson is also capable of handling passing-down work after reeling in 63 catches for 758 yards and eight touchdowns over his three years with the Tigers.
Henderson has the potential to be a league-winner if Gurley can't stay on the field. — Justin Bailey
How would you rate this article?