NFL Revenge Games in Week 5: Phillip Dorsett Seeks Vengeance vs. Colts on Thursday Night
Credit:
Jasen Vinlove-USA TODAY Sports. Pictured: Phillip Dorsett
The 2018 NFL season has already gifted us with notable revenge games, but there are 10 more to look forward to in Week 5.
Matchups include Philip Dorsett vs. the team who traded him, and Adrian Peterson against the team that never really gave him a chance.
There's nothing that gets the NFL juices flowing quite like a good old-fashioned revenge game. Most people can probably relate to that hopeful feeling of eventually sticking it to your former employer.
Week 4 produced several vintage #RevengeGame moments:
Titans running back Dion Lewis caught 9-of-9 targets for 66 yards and helped pull off the week's biggest upset against the Eagles.
Against the Bengals, Falcons wide receiver Mohamed Sanu gained more than 100 yards for the first time since Oct. 12, 2014 … when he was on the Bengals.
Let's take a look at Week 5's top 10 revenge games for players and coaches.
---
Patriots WR Phillip Dorsett vs. Colts
The Colts traded Dorsett to New England for backup quarterback Jacoby Brissett before Week 1 of the 2017 season. The former first-round pick's 4.33-second 40-yard dash at the 2015 combine is probably more memorable than anything he managed to accomplish in his first three NFL seasons.
Still, Dorsett has found a role as the Patriots' poor man's version of Brandin Cooks this season. Dorsett already has more games with at least five catches (2) than he did from 2015-17 (1), and the Patriots are tentatively expected to roll with Julian Edelman, Josh Gordon and Dorsett in their starting three wide receiver sets.
Dorsett boasts a team-high 15.6-yard average target depth and will look to create a big play or two against his former employer on Thursday night.
Revenge meter: 7.5/10
---
Redskins RB Adrian Peterson vs. Saints
Peterson tells reporters with an entirely straight face that he believes he's still the best running back in the NFL. His average of 4.2 yards per carry this season is certainly a step in the right direction, and we could see the most-ferocious version of 33-year-old AP against the team that traded him for a freaking sixth-round pick just about a year ago.
To say that Peterson's brief time in New Orleans didn't go well would be a massive understatement:
Week 1, 2017: 6 carries, 18 rush yards
Week 2: 8 carries, 26 rush yards
Week 3: 9 carries, 33 rush yards, 2 receptions, 4 receiving yards
Week 4: 4 carries, 4 rush yards
It's safe to say that a minuscule workload and four scoreless games didn't sit well with the future Hall-of-Fame running back. In fact, we know it didn't.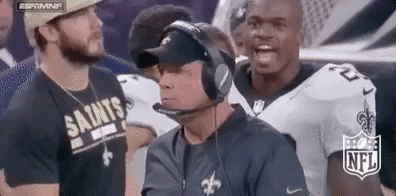 God bless any Saints linebacker who gets in AP's way on Monday night.
Revenge meter: 8/10
---
Colts K Adam Vinatieri vs. Patriots
Fun fact: Vinatieri (groin, questionable) is the reason I had to obtain play-by-play data dating all the way back to 1996 for this series.
The legendary and uncontroversial kicker shouldn't have many enemies at Foxborough on Thursday — Bill Belichick called Vinatieri "the greatest kicker in the game" and made note of the veteran's Snow Bowl performance during Tuesday's press conference: "It was by far the greatest kick I have ever seen."
Of course, this feeling could change in a few years when Vinatieri is inducted into the Hall of Fame. Patriots fans will be forced to confront the difficult reality that Vinatieri has had a longer and more productive career in Indianapolis than he did in New England. (At least in the regular season.)
With the Patriots (160 games): 1,158 points; 81.9% FG%; 3 Super Bowls
With the Colts (181 games): 1,361 points; 86.6 FG %; 1 Super Bowl
Revenge meter: 3/10
Giants Offensive Coordinator Mike Shula vs. Panthers
Shula was Cam Newton's coordinator from 2013-17, memorably spearheading the team's top-ranked scoring offense in 2015 that came within 15 points of winning the Super Bowl.
Unfortunately, Netwon and Shula's old pal and now-Giants running back Jonathan Stewart (foot) is on Injured Reserve.
Expect Shula to do whatever it takes to prove that his Giants offense can be just as dynamic as the Panthers' attack. Ensuring Saquon Barkley finishes with more receptions than Christian McCaffrey, for example, would be a gloriously pity move that revenge-game legends are made of.
Revenge meter: 7/10
---
Cardinals K Phil Dawson vs. 49ers
The 45-year-old Vinatieri is the oldest man to play a game this season. Dawson is the second oldest.
The 43-year-old spent four seasons with the 49ers, notably kicking a game-winning field goal against the Packers in a thrilling 2014 wild-card victory at Lambeau Field.
It certainly looked like a pretty good time for everyone involved: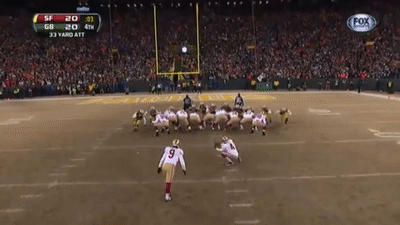 The 49ers named Dawson their 2015 MVP, so perhaps the home-crowd fans still harbor hard feelings about their former "hero" leaving for greener pastures.
Revenge meter: 4.5/10
---
Ravens QB Robert Griffin III vs. Browns and QB Tyrod Taylor vs. Ravens
There's a chance that neither RG3 nor the artist formerly known as TyGod will be active on Sunday. The two combined to win fewer games with the Browns (1) than Johnny Manziel (2).
Revenge meter: 3.5/10
---
Seahawks Offensive Coordinator Brian Schottenheimer vs. Rams
Jeff Fisher lasted longer with the Rams than Schottenheimer, who failed to lead a top-20 scoring offense in his three seasons as offensive coordinator from 2012-14.
The Seahawks offense hasn't exactly gotten off to a blistering start this season, but it's safe to say that the Rams probably made the right decision by eventually handing the offense over to Sean McVay.
The Rams lead the league in games with 30+ points (13) since Sean McVay took over in 2017.

They had this guy calling plays five years agopic.twitter.com/BFw0JSjqtL

— Ian Hartitz (@Ihartitz) October 2, 2018
Revenge meter: 5/10
---
Lions RG T.J. Lang vs. Packers
Lang is currently in the concussion protocol and is far from guaranteed to suit up on Sunday. His decision to take more money to return to his hometown team shouldn't have ticked off anyone involved with the Packers at any level, but Green Bay's decision to not match offers could still resonate with Lang.
Revenge meter: 5.5/10
---
Chargers RT Joe Barksdale vs. Raiders
Barksdale has started 43 games for the Chargers since 2015 and has protected Philip Rivers enough to produce three above-average scoring offenses. Still, the 2011 third-round pick had quite the path to Los Angeles, as the Raiders released Barksdale after only two injury-riddled seasons in Oakland.
The Chargers haven't had their right tackle since Week 1, but it'd be surprising if Barksdale (knee) didn't do everything in his power to suit up on Sunday.
Revenge meter: 6/10
Bengals Offensive Coordinator Bill Lazor vs. Dolphins
Lazor was promoted to offensive coordinator after the Bengals scored only nine points in their first eight quarters of football last season. The unit has mostly played well since, averaging 22.6 points per game while racking up six games with 30-plus points.
The NFL coaching carousel can be a rough ride. Still, who among us could blame Lazor for still having some ill feelings toward the team that fired him before Week 13 of the 2015 season?
Revenge meter: 5/10
---
Revenge Game Tracker
There are plenty of other revenge games out there. Thanks to the fine folks at Pro Football Reference (as well as the creators of Microsoft Excel), we've managed to track down each and every revenge game in Week 5.
How would you rate this article?