NFL Revenge Games in Week 6: Will Marshawn Lynch Go Beast Mode Against Seahawks?
There are nine more revenge games to look forward to in Week 6, featuring Marshawn Lynch vs. the Seahawks and Josh Norman vs. the Panthers.
Plus: Allen Hurns will face the team that decided to not re-sign him while Sebastian Janikowski will have a chance to prove he's still got it.
There's nothing that gets the NFL juices flowing quite like a good old-fashioned revenge game. Most people can probably relate to that hopeful feeling of eventually sticking it to your former employer.
Week 5 produced several savage #RevengeGame moments:
Giants offensive coordinator Mike Shula didn't beat his former employer in Carolina, but the offense's 31 points at least ended New York's league-worst streak of 36 consecutive games without scoring 30 points.
Adrian Peterson's return to New Orleans …. didn't go so well. The Saints held AP to 42 scoreless yards on six total touches, but at least Peterson got to provide one of the evening's biggest highlights:
Let's take a look at the top revenge games for players and coaches in Week 6.
---
Redskins CB Josh Norman vs. Panthers
Norman was undeniably one of the Panthers' most important players during their 2015 Super Bowl run, as the former first-team All-Pro racked up a career-high four interceptions (including two pick-sixes) while regularly winning one-on-one battles with the likes of Julio Jones, Dez Bryant and Odell Beckham Jr.
Norman would later say he felt "sideswiped" after the Panthers rescinded his franchise tag before the start of the 2016 season. It's safe to say that he didn't always get along with all of his teammates, even when times were good:
Sunday will mark Norman's second game against his former team. The Redskins haven't used Norman to shadow the opposition's No. 1 receiver over the past two seasons, so expect a wide variety of contact-filled reunions with various ex-teammates throughout the afternoon.
Revenge meter: 9/10
Raiders RB Marshawn Lynch vs. Seahawks
Beast Mode didn't seem to end things on bad terms with the Seahawks, but Lynch also hasn't shied away from joining America in mocking the team's decision to throw from the 1-yard line in the Super Bowl XLIX loss. Derek Carr's interception last week from the same position led to the following statement from Lynch:
"I done seen it happen to me on the game's biggest stage … Now it's happened in a regular season game. It's alright, though."
There hasn't been much rhyme or reason to Jon Gruden's second stint with the Raiders, but he has (usually) fed Lynch near the end zone. Overall, Lynch is one of only five backs with at least 15 carries inside the 20-yard line this season. He'll look to find the Promised Land for the fourth time this season against his former employer.
Revenge meter: 7/10
---
Seahawks K Sebastian Janikowski vs. Raiders
Janikowski spent 17 years in Oakland and regularly attempted to defy what we thought was possible from field-goal kickers.
The Raiders' decision to move on from their franchise's all-time leading scorer was mostly due to a back injury that sidelined the 40-year-old for the entire 2017 season. Still, the former first-round pick must feel some level of desire to prove to his former life-long employer that he's not washed up just yet.
Revenge meter: 7/10
---
Rams Defensive Coordinator Wade Phillips and CB Aqib Talib vs. Broncos
The absence of Talib (ankle, IR) hurts the chances for on-field fireworks in this dual #RevengeGame, but don't be shocked if Phillips finds a way to remind his former boss just how great life is with the Rams.
It's not like Phillips has shied away from playful bragging in the past:
You asked what's Cookin'with the Rams-they say we are getting too many star players. So Suh us!

— Wade Phillips (@sonofbum) April 6, 2018
The Rams are 7-point favorites as of writing (see live odds here). Wade probably wouldn't mind keeping the Broncos under that point total entirely.
Revenge meter: 6.5/10
---
Broncos QB Case Keenum vs. Rams
Keenum's partnership with Jeff Fisher and the Rams was mostly horrific from a winning standpoint. It also produced the single-worst interception of all-time: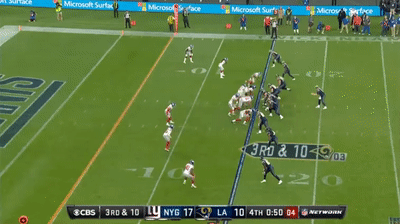 The Vikings' failure to reach the Super Bowl last season after they went 13-3 during the regular season proved that Keenum wasn't the only problem during his time with the Rams. Still, a good performance on Sunday afternoon would go a long way toward silencing the #haters who still exist on both the Broncos and Rams sidelines.
Revenge meter: 6.5/10
---
Jaguars S Barry Church vs. Cowboys
The ex-Cowboys safety stirred up plenty of "controversy" upon joining the Jaguars before the 2017 season, saying:
"I feel like we (Jaguars) have a lot more talent than we had over here (Cowboys)."
The Cowboys finished the 2016 season 13-3 while the Jaguars went just 3-13, so some found Church's statement to be anything but objective truth at the time. Regardless, Vegas seems to think the Cowboys are using Church's words as bulletin-board material: The Jaguars-Cowboys' 40.5-point over/under is the lowest mark in Week 6.
Revenge meter: 5/10
Chargers WR Travis Benjamin vs. Browns
Benjamin has missed most of this season with a foot injury and isn't guaranteed to suit up on Sunday.
Regardless of whether he is ultimately able to play, there could still be some level of bad flood that exists after the Browns failed to retain their No. 1 receiver in 2015. More likely: Benjamin is fully OK with his decision to spend his last three seasons in San Diego/Los Angeles.
Revenge meter: 5/10
---
Cowboys WR Allen Hurns vs. Jaguars
The Jaguars have a talented enough receiving corps that they didn't feel the need to retain Hurns, who averaged 5.25 touchdowns per season from 2014-17. The 26-year-old hasn't exactly proved his former employer wrong so far in 2018, as he's caught only 8-of-17 targets for 84 yards and one touchdown in five games.
Revenge meter: 5/10
Buccaneers CB Brent Grimes vs. Falcons
Perhaps Grimes doesn't have revenge on his mind against his former employer of seven years that originally took a chance on him as an undrafted free agent back in 2006.
Or, Grimes is still in the league as an undersized corner at 35 years old because he takes everything personally and uses it as fuel on the field.
I sincerely hope it's the latter.
Revenge meter: 5/10
---
Revenge Game Tracker
There are plenty of other revenge games out there. Thanks to the fine folks at Pro Football Reference (as well as the creators of Microsoft Excel), we've managed to track down each and every revenge game in Week 6.
How would you rate this article?