History Sets Fantasy Football Expectations for First-Round QBs in 2019
Credit:
USA Today Sports. Pictured: Kyler Murray, Daniel Jones
Ian Hartitz studies how first-round quarterbacks have fared as rookies to reveal what to expect from Kyler Murray, Daniel Jones and Dwayne Haskins in 2019.
Hint: Only one of the three will be viable in fantasy football in Year 1.
There has been at least one quarterback selected in the first round of every  draft since 1997. This tradition continued on Thursday at the 2019 NFL Draft with Kyler Murray (No. 1 to the Cardinals), Daniel Jones (No. 6 to the Giants) and Dwayne Haskins (No. 15 to the Redskins) going on Day 1.
Recent drafts have produced NFL-ready signal-callers — such as Baker Mayfield and Deshaun Watson — who have managed to produce at a high level shortly after finding their way onto the field. Of course, we've also seen Paxton Lynch and Johnny Manziel add their name to the long list of historical first-round busts.
I looked at each first-round quarterback dating back to 2000 and analyzed their rookie year production to get an idea about what we should expect from our latest class of (hopeful) franchise quarterbacks. Let's dig into the three key takeaways, then apply those lessons to our trio of 2019 first-rounders.
QBs Aren't Drafted in the First Round to Sit on the Bench
Patrick Mahomes and Aaron Rodgers have perhaps glorified the idea of letting a rookie quarterback effectively redshirt for at least one season before taking over as the starter. Still, this hasn't been the most common result, as first-round quarterbacks have started an average of 9.2 games as a rookie since 2000.
Thirty of the 53 quarterbacks drafted in the first round over that span racked up double-digit starts as rookies, with 13 and 16 starts serving as the most frequent qualifiers.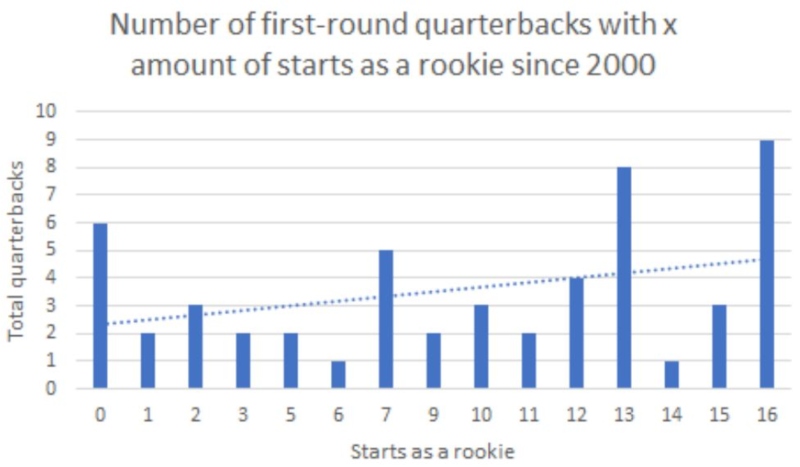 This tendency to immediately get young quarterbacks on the field has been particularly strong in recent years, as 10-of-16 (63%) of first-round signal-callers have started at least 10 games as a rookie over the past five seasons.
Sure, it makes sense to let a young quarterback learn behind a proven veteran for a season or two, but how many teams that are in the market for a first-round quarterback are already blessed with a savvy signal-caller in the first place? Any team that's selecting a quarterback in the first round is already admitting they're looking toward the future at the position.
History tells us that teams haven't been very patient with letting that future develop for any sort of meaningful period, so don't expect that to change anytime soon with the Cardinals, Giants or Redskins.
Keys To Strong Rookie Fantasy Seasons
Only 7.5% of first-round quarterbacks have finished their rookie season as a top-10 fantasy quarterback. It's probably not a coincidence that each of these signal-callers also finished among the top-five players at their position in terms of rush attempts.
4-of-53 first-round QBs since 2000 finished their rookie season as a top-10 fantasy QB:

2012 RG3 (QB5)
2012 Andrew Luck (QB10)
2011 Cam Newton (QB3)
2006 Vince Young (QB9)

(2017 Deshaun Watson (QB1) and 2006 Jay Cutler (QB10) also qualify if we go by fantasy points per game)

— Ian Hartitz (@Ihartitz) April 24, 2019
The common theme with rookie quarterbacks who are above-average fantasy performers appears to be both the willingness to run and throw downfield.
The following table details the 12 quarterbacks who ranked among their position's top-20 players in fantasy points per game as a rookie along with their rank in rush attempts and average target depth.
Pro Football Focus doesn't supply target depth numbers before 2009, but it's safe to assume that Matt Ryan and Jay Cutler were also among the league's top-ranked gunslingers considering they ranked sixth and 11th, respectively, in yards per attempt as rookies among quarterbacks with at least five starts.
Lamar Jackson and Josh Allen helped swing the fantasy playoffs in 2018 thanks to their elite ability as runners, but they're mostly just the latest examples of dual-threat quarterbacks serving as some of fantasy's highest-scoring performers.
Winning Hasn't Come Easy for First-Round Rookie QBs
Only seven quarterbacks drafted inside of Round 1 went on to win even eight games as a rookie since 2000.
2004 Ben Roethlisberger: 13 starts, 13 wins
2012 Andrew Luck: 16 starts, 11 wins
2008 Matt Ryan: 16 starts, 11 wins
2008 Joe Flacco: 16 starts, 11 wins
2012 Robert Griffin: 15 starts, nine wins
2006 Vince Young: 13 starts, eight wins
2009 Mark Sanchez: 15 starts, eight wins
However, this theme hasn't been as prevalent when it comes to team performance against the spread. The following statistics are comprised of the 23 rookie first-round quarterbacks who have started at least 12 games for their team since 2003, which is the furthest back our fantastic tools at Bet Labs go.
Total record ATS: 195-163-10 (53% winning percentage)
Teams with a winning record ATS: 15-of-23 (65%)
Teams with six or fewer wins ATS: 4-of-23 (17%)
Note that the overall record dips to 65-74-5 ATS over the past five seasons, so perhaps oddsmakers have already nixed this profitable trend from past seasons.
Rushing Ability of 2019 First-Round QBs
Murray is easily the leader of this year's class, as he converted 140 rushes into 1,001 yards (7.2 yards per carry) and racked up 12 touchdowns on the ground during his Heisman winning campaign in 2018.
These numbers are even more impressive after considering that sacks count against rushing yards in college football.
Neither Jones nor Haskins are Josh Allen- or Lamar Jackson-type threats on the ground.
Jones somewhat resembles a dual-threat talent, as he totaled 302 carries for 1,004 yards and 14 combined touchdowns on the ground during the 2016 and 2017 seasons. Still, Jones is a throw-first signal-caller who shouldn't be confused with a true threat like Murray, and the Giants clearly appear to be more than happy to let Eli Manning's corpse start under center for at least another season.
Haskins flashed mild ability as a rusher throughout his collegiate career, but he was regularly more willing to take chances with his arm than his legs.
Deep Ball Ability of 2019 First-Round QBs
There's a difference between consistently throwing deep and consistently throwing deep effectively, but there's a clear divide between this year's first-round quarterbacks when it comes to who has been most willing to test defenses downfield.
Murray: 11.66 yards average target depth (seventh out of 53 draft-eligible quarterbacks)
Jones: 8.69 (40th)
Haskins: 8.61 (43rd)
There's a bit of shuffling after we look at how many yards each quarterback averaged per deep pass attempt (20-plus yards):
Murray: 19.1 Y/A (firth out of 53 draft-eligible quarterbacks)
Haskins: 14.6 (20th)
Jones: 9.4 (44th)
Murray is the no-doubt leader in both frequency and ability to stretch defenses downfield.
Haskins didn't make a habit of throwing downfield in an Ohio State offense that featured plenty of screen and pop passes, but he did post respectable efficiency and ultimate finished with more touchdowns (17) than Murray (16) on throws 20-plus yards downfield.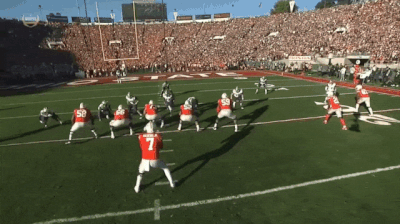 Jones was pretty much a complete train wreck when throwing downfield compared to the rest of the draft's first-round quarterbacks. It turns out his lack of efficiency isn't just limited to deep passes, as Jones is easily the least-efficient first-round quarterback drafted since 2014.
College Y/A among 1st round QBs since 2014

Mayfield 9.8
Winston 9.4
Mariota 9.3
Manziel 9.1
Bridgewater 8.6
Darnold 8.5
Bortles 8.5
Watson 8.4
Wentz 8.4
Jackson 8.3
Trubisky 8.3
Mahomes 8.3
Rosen 8
Goff 7.8
Allen 7.8
Lynch 7.4
…
Murray 10.4 👀
Haskins 9.1
Lock 7.9
Jones 6.4

— Ian Hartitz (@Ihartitz) April 22, 2019
Conclusion
Murray is easily the most fantasy-viable quarterback among this year's first-round selections. He provides a fantasy-friendly mix of both the willingness and ability to consistently beat defenses with his feet and on deep passes.
FantasyLabs' editor-in-chief Matthew Freedman eloquently stated that "Josh Allen looks like Andrew Luck in comparison to Daniel Jones" during our pre-draft conversation on The Action Network NFL Podcast. So for the love of god, don't invest fantasy resources in this man.
Haskins' lack of mobility is a killer for his potential as a fantasy star. His arm talent and ability to manipulate defenses pre- and post-snap could eventually help him emerge as this draft's best quarterback, but I wouldn't bet on him becoming an elite fantasy performer as early as 2019.
How would you rate this article?