What to Expect from the Top Fantasy Football TEs in 2019
Credit:
Brad Rempel-USA TODAY Sports. Pictured: George Kittle
Our fantasy football experts break down the outlooks for the top tight ends heading into 2019.
Which fantasy football tight ends should you target outside the Big 3? Will Eric Ebron have the same touchdown upside as 2018? Can Jared Cook form a Jimmy Graham-like connection with Drew Brees in New Orleans?
Our analysts forecast what to expect from the top 25 fantasy football tight ends as ranked by our experts Sean Koerner, Chris Raybon and Matthew Freedman for PPR formats (as of July 12). Our experts' rankings and projections are constantly changing, so get the latest with our Fantasy Football Draft Kit, complete with customizable cheat sheets for your leagues.
Kelce is the tight end most likely to lead his offense in targets this season.
There is some concern as Kelce will (probably) no longer benefit from defenses treating Tyreek Hill as the Chiefs' No. 1 option. Still, I'm targeting him whenever possible in fantasy drafts of all shapes and sizes considering his unique status as a talented No. 1 option on a projected high-scoring offense led by Patrick Mahomes, who has elevated Kelce's already amazing play. — Ian Hartitz
---
Get our experts' latest rankings and projections for tight ends with our Fantasy Football Draft Kit.
---
Zach Ertz, Philadelphia Eagles
Ertz has a good chance of leading the Eagles offense in targets.
But just like Kelce, there is some cause for concern as Ertz could theoretically give up snaps to rising second-year talent Dallas Goedert. Still, like Kelce, I'm targeting Ertz whenever possible in fantasy drafts of all shapes and sizes considering their unique statuses as talented No. 1 options on projected high-scoring offenses with very good-to-great quarterbacks. — Ian Hartitz
Kittle has a good chance of leading the 49ers offense in targets.
There is some concern, though, as Kittle will have to get re-acclimated with Jimmy Garoppolo under center, as well as several new weapons at running back and wide receiver. Still, I'm targeting him for the same reason as Kelce and Ertz. — Ian Hartitz
Losing DeSean Jackson and Adam Humphries wasn't ideal for the Buccaneers, but more targets for this potential Year 3 breakout isn't a bad thing.
It didn't take long for Howard to start dominating at the NFL level, standing out as one of the league's best tight ends before suffering a season-ending sprained foot and ankle as a rookie in 2017. And he proved last season to be plenty capable of supplying top-10 numbers as a complementary pass-game option. — Ian Hartitz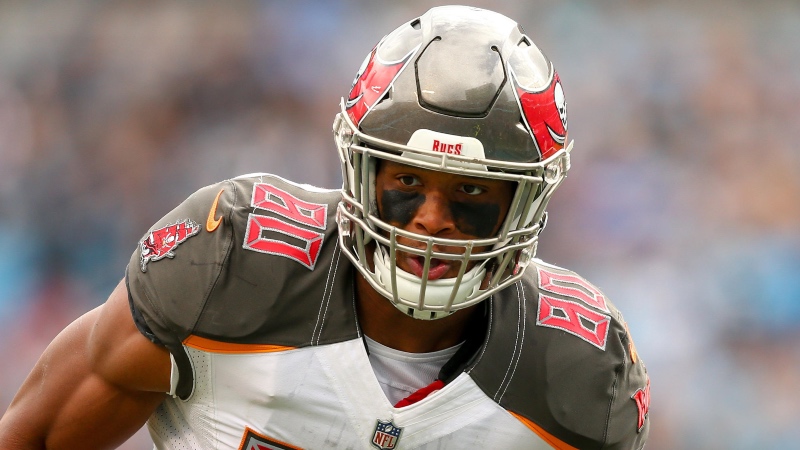 Only seven tight ends have averaged at least two yards per route run among 100 tight ends with at least 100 routes over the past two seasons: George Kittle (2.22), Travis Kelce (2.2), Rob Gronkowski (2.1), O.J. Howard (2.06), Henry (2.05), Zach Ertz (2.02) and Mark Andrews (2.01).
Henry boasts enhanced scoring upside if Antonio Gates remains retired, but Keenan Allen, Mike Williams and Melvin Gordon also figure to be plenty involved in the Chargers' passing game. — Ian Hartitz
Engram will be catching passes from Eli Manning and potentially Daniel Jones in what figures to be one of the lowest-scoring offenses.
Still, Engram worked as the PPR TE5 as a rookie in 2017 when Odell Beckham Jr. played in just four games, then as the TE2 over the final four games of 2018 with OBJ. Engram is built and moves like a pure wide receiver, and he was one of only four receivers to average more than two yards after the catch above expectation per reception at 2.9 last season (per Next-Gen Stats).
Targeting receivers in terrible passing games never feels good, but Engram has a chance to lead the Giants in targets. — Ian Hartitz
Yes, Ebron racked up 13 touchdowns and finished last season as the overall PPR TE4. But he significantly benefited from fellow tight end Jack Doyle missing 10 games, and high-priced free agent addition Devin Funchess figures to heavily carve into Ebron's red-zone target share.
Perhaps Ebron will still overcome the competition and have another great season, but you'll have to decide if you're willing to find out for a price potentially inflated by his 2018 production. — Ian Hartitz
Hooper converted 88 targets into a season-long 71-660-4 line in 2018. This included three games with at least nine receptions.
We could feasibly see the Falcons rely on Hooper more as an underneath option with Tevin Coleman now in San Francisco. Either way, Hooper carries a solid weekly floor considering there are few tight ends who are on the field as often as him: He was one of only eight to play more than 75% of their offense's snaps last season. — Ian Hartitz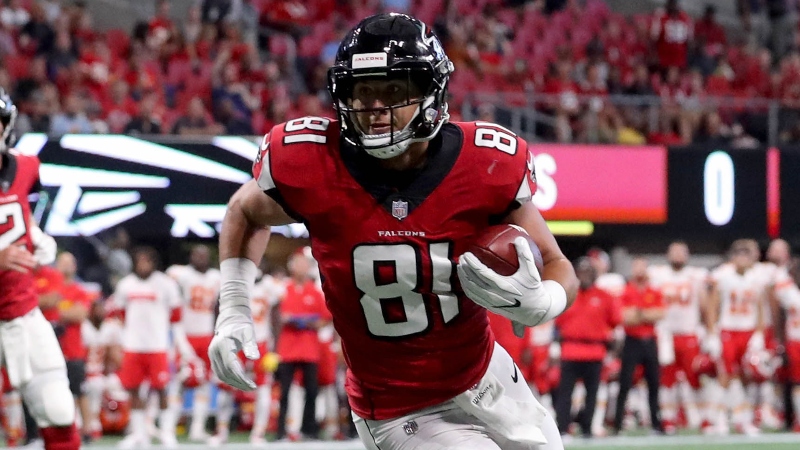 The former first-round tight end has a ridiculous amount of athleticism (82nd-percentile SPARQ-x score) for a 6-foot-4, 246-pound man.
He ranked among the league's top 10 tight ends in catches (56), yards (639) and touchdowns (four) last season at 22 years old. He was the TE10 from Weeks 9-17 with Freddie Kitchens running the offense and is a player to target in what could be one of the NFL's most-explosive offenses. — Ian Hartitz
While we try to figure out which wide receivers will pick up some of the targets Antonio Brown is leaving behind in Pittsburgh, we can't ignore just how many of those could end up going McDonald's way. He no longer has Jesse James to compete with at tight end, either.
I've labeled him as the potential 2019 version of 2018 Eric Ebron, as in McDonald is this season's TE most likely to breakout in a big way. — Sean Koerner
Cook is the latest athletic tight end who will attempt to replicate Jimmy Graham's fantasy goodness in New Orleans. And hopefully his time with Drew Brees will go a bit better than Coby Fleener's.
Brees' top fantasy football tight end has been a bit of a mixed bag over the years.
Drew Brees' Tight End Fantasy Ranks (PPR)
2009: Jeremy Shockey TE17
2010: Shockey TE25
2011: Jimmy Graham TE2
2012: Graham TE1
2013: Graham TE1
2014: Graham TE2
2015: Ben Watson TE7
2016: Coby Fleener TE15
2017: Fleener TE34
2018: Watson TE21
Cook is probably capable of providing a lower-tier TE1 finish, but it'll have to come on significantly less volume. He was one of 10 players with double-digit targets inside the 10-yard line last season, and his 68 catches were tied with Jalen Richard for the Raiders' team lead. — Ian Hartitz
Graham's decline last season wasn't a total surprise.
He had just 520 receiving yards in 2017 and was kept afloat by his 10 touchdowns. He scored just twice in 2018 while stringing together 10 single-digit fantasy games. And his 1.16 yards per route ranked just 29th among tight ends.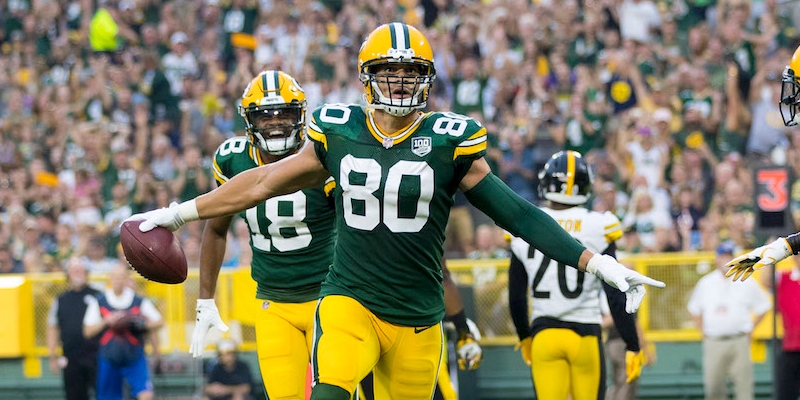 Unless his touchdowns progress this season, it wouldn't be surprising if the 32-year-old tight end has another down season. — Justin Bailey
The Bears figure to start Burton, who played 80%, 82%, 80%, 77%, 78% and 69% of the offense's snaps even after 2017 second-round pick Adam Shaheen returned from injury.
Burton finished as the overall PPR TE8 last season, but is far from a featured receiver in Chicago's crowded offense. He's also returning from hernia surgery. — Ian Hartitz
While Rudolph is the No.1 tight end on the Vikings, he's far from a No. 1 receiving option with Stefon Diggs and Adam Thielen accumulating 51% of the target share in Minnesota last season.
Rudloph has very little upside in this offense: He had just 13% of the Air Yards in 2018, along with a 6.7-yard average depth of target. The Vikings also added tight end Irv Smith Jr. in the second round of this year's draft. — Justin Bailey
Andrews is among a few young tight ends who could break out this season. It typically takes TEs a few years to hit their stride, so it's important to not discard any prospects that get their career off to a slow start. — Sean Koerner
Andrews became just the 14th rookie tight end to average at least 8.0 yards per target since 2000 (minimum 30 targets). Still, he's again expected to split snaps with 2018 first-round pick Hayden Hurst as well as last season's de facto starter Nick Boyle. — Ian Hartitz
Herndon caught 39-of-56 targets as a rookie for 502 yards and four touchdowns, regularly demonstrating both impressive contested-catch ability as well as elite-level consistency. He's one of 14 tight ends to average eight-plus yards per target as a rookie since 2000 (minimum 30 targets).
He figures to be regular contributors in the passing game, but the size of his role has yet to be determined. That's up to the Jets' new head coach, play caller and interim general manager. — Ian Hartitz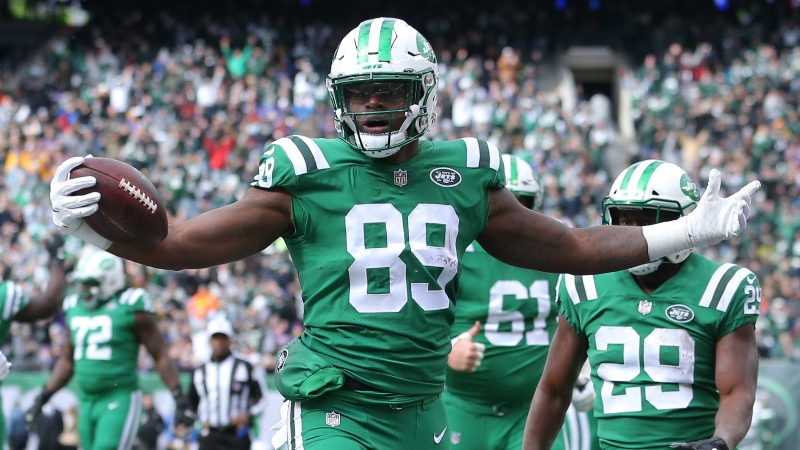 Walker led the Titans in targets in 2015 with 133, finished second in 2016 with 102 then again emerged as his team's top pass-game weapon in 2017 with 111.
The history of 35-year-old tight ends returning from a fractured and dislocated ankle isn't long, but there could be a world in which Marcus Mariota somehow targets Walker more often than anyone else in the Titans' crowded run-first offense again in 2019. — Ian Hartitz
Reed actually managed to stay healthy (for him) in 2018 to the tune of 13 games played. His average of 10.3 yards per reception wasn't far removed from what we saw during his prime years in 2015 (10.9) and 2016 (10.4).
He once again faces hardly any competition for targets and could benefit from having a more aggressive quarterback like Dwayne Haskins under center. — Ian Hartitz
Goedert has the potential to contribute in the NFL's most pass-happy two-tight end offense.
He has a chance for a handful of solid weeks, making him a good target in best ball. But he also has massive upside with top-five potential is Zach Ertz were to miss any time. — Ian Hartitz
Witten's decision to un-retire means he'll (probably) return to a limited role and split snaps with incumbent contributors Blake Jarwin and Dalton Schultz.
Of course, the Cowboys could decide to have Witten return to the near-every-down role he had for a large portion of his career from 2003-2017.
It's not like Witten, now 37, ever made a habit of winning with speed. He gained more than 60 receiving yards in only 4-of-33 games with Dak Prescott while scoring nine touchdowns in 2016 and 2017 combined. He's nothing more than an inconsistent flyer as a standalone fantasy option, but his early-season usage will be important to monitor when projecting Ezekiel Elliott's workload as a receiver. — Ian Hartitz
Doyle was limited to only six games in 2018 while battling injuries for most of the season. But even if he returns to full health, he'll still need to contend with Eric Ebron (17% target share last season) and newly-signed Devin Funchess for targets.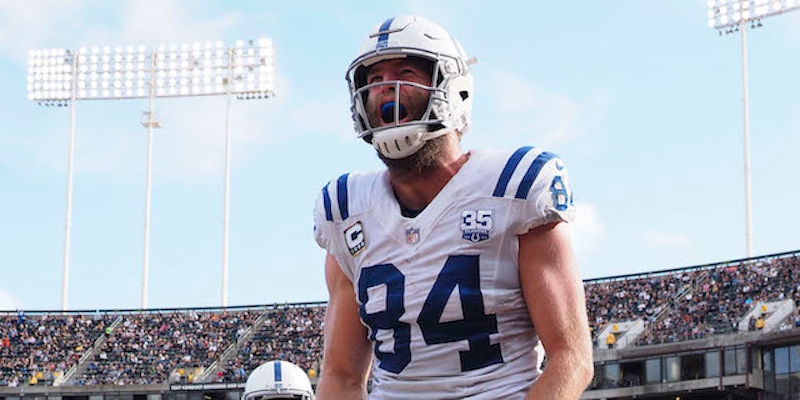 That said, Doyle could be worth a late-round flier as one of Andrew Luck's favorite targets. — Justin Bailey
Gesicki is what a group of scientists would come up with in a lab if they wanted to create a freakishly-athletic tight end.
He played only 37% of his snaps in the slot or out wide in 2018, so a more receiving-friendly role combined with an overall increase in snap share could lead to some boom-or-bust fantasy goodness.
Offensive coordinator Chad O'Shea spent the better part of the past decade working with Rob Gronkowski and the Patriots' passing game. It remains to be seen whether Ryan Fitzpatrick and/or Josh Rosen can engineer a consistently effective passing attack on a team that appears to be tanking, but Gesicki has the type of ability to stand out quickly in a brand-new Miami offense. — Ian Hartitz
The Panthers have Olsen back for another year, but it would be borderline criminal if the team continues to push his snap rate past the 70% mark after Ian Thomas' solid rookie season.
We also haven't seen what Olsen's fantasy production will look like in an offense with a running back commanding triple-digit targets. — Ian Hartitz
Within three seasons, Hockenson could be the best tight end in the NFL.
It usually takes TEs at least a season to acclimate. Still, entering the league from the same institution that produced George Kittle, C.J. Fiedorowicz, Tony Moeaki, Scott Chandler and Dallas Clark, the young tight end will be a solid professional right away. I expect Hockenson to immediately start for the Lions, but that playing time might not translate into many targets in his first season.
As a rookie, Hockenson will likely be a matchup-dependent producer. — Matthew Freedman
Fant has a real chance to have a more productive NFL career than his former Iowa teammate and fellow first-rounder T.J. Hockenson, especially early in his career. Because unlike Hockenson, Fant will probably not be used heavily as a blocker.
It only helps that Fant was drafted by the Broncos. With Emmanuel Sanders recovering from a season-ending Achilles injury and Courtland Sutton and DaeSean Hamilton entering just their second seasons, the Broncos don't have an established wide receiver to hog targets.
It's very possible that even as a rookie, Fant could be one of the top receiving options for Denver. — Matthew Freedman
How would you rate this article?