Koerner's Week 1 Fantasy Football Tiers for Every Position
Credit:
USA TODAY Sports. Pictured: Alvin Kamara, DeAndre Hopkins, Matthew Stafford
Sean Koerner -- the No. 1 in-season fantasy football ranker in 2015, 2016 and 2017 -- takes a detailed look at his Week 1 tiers for every position: quarterback, running back, wide receiver, tight end, defense and kicker.
Use the strategies outlined below to build the most optimal starting lineup for opening weekend.
The wait is over. Let's get down to business.
Below you'll find my tiers for Week 1. These are based on standard scoring and cover every position.
If you're looking for my rankings for PPR or Half-Point PPR, check out this post.
And, yes, my tiers will be part of our Action Network subscription this season. Be sure to check out the awesome special we're running for an annual sub up until the start of the season:
---
Quarterbacks
Tier 1
Aaron Rodgers (vs. CHI)
The Bears' defense picked up an absolute stud from the Raiders last week in Khalil Mack. He will likely see limited snaps and could make Rodgers feel a little less comfortable in the pocket. Regardless, Rodgers is matchup-proof at home and the top QB option this week.
Tier 2
Tom Brady (vs. HOU)
Cam Newton (vs. DAL)
Drew Brees (vs. TB)
Brady and Brees are as safe as it gets. Fire them up in all formats.
Normally I'd downgrade a QB who's playing behind an offensive line like the Panthers', but in Newton's case, it could force him to scramble a bit more and actually boost his fantasy value.
Tier 3

Matthew Stafford (vs. NYJ)
Deshaun Watson (@ NE)
Andrew Luck (vs. CIN)
Kirk Cousins (vs. SF)
Russell Wilson (@ DEN)
Luck is going one of the tougher sit/start decisions this week. It's been more than a year since he played a regular-season game due to recovering from a serious shoulder injury.
The Colts have the sixth-highest Vegas team total this week in what could be a potential shootout.
Indy enters Week 1 with an unsettled RB situation and a shaky defense, which could force the Colts to keep their foot on the gas. I have Luck squarely in play as a solid QB1.
Tier 4
Philip Rivers (vs. KC)
Ben Roethlisberger (@ CLE)
Jared Goff (@ OAK)
Andy Dalton (@ IND)
Goff has a great matchup on the road against a Raiders defense that just traded away its top defensive player in Khalil Mack.
Rivers makes it in this week as a high-floor QB1 in a good home matchup against the Chiefs.
Dalton is maybe the biggest surprise borderline-QB1 of the week. With improved O-line play, a second-year leap by John Ross, the return of a trusty red zone threat in Tyler Eifert and a cupcake matchup at Indy, look for Dalton to have a solid week.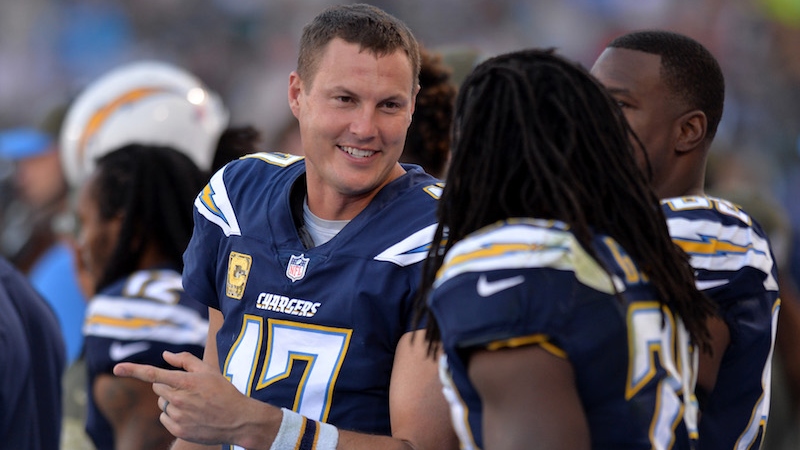 Jake Roth-USA TODAY Sports. Pictured: Philip Rivers, Melvin Gordon
Tier 5
Marcus Mariota (@ MIA)
Alex Smith (@ ARI)
Tyrod Taylor (vs. PIT)
This is the tier to target for those who drafted Jimmy Garoppolo, Patrick Mahomes or Matt Ryan and are looking for a spot start. That trio has tough matchups in Week 1.
Tier 6
Patrick Mahomes (@ LAC)
Blake Bortles (@ NYG)
Week 1 will be a good test for Mahomes, who faces a tough Chargers defense. His aggressiveness could help him overcome a brutal matchup, but he's also a high turnover risk this week.
Owners banking on him to be their every-week starter may want to have Mahomes prove it on their bench this week and start a safer option.
Tier 7
Nick Foles (vs. ATL)
Case Keenum (vs. SEA)
Matt Ryan (@ PHI)
The Seahawks' defense will be a shell of its former self in 2018, so we won't avoid it like we have in the past. Keenum is definitely in play as a potential start in two-QB leagues.
Don't expect Foles to duplicate his Super Bowl performance in yet another spot start for the injured Carson Wentz. He can be left on the waiver wire.
Tier 8
Ryan Fitzpatrick (@ NO)
Mitch Trubisky (@ GB)
Jimmy Garoppolo (@ MIN)
Dak Prescott (@ CAR)
Ryan Tannehill (vs. TEN)
Derek Carr (vs. LA)
Joe Flacco (vs. BUF)
Sam Bradford (vs. WAS)
Potential low-end QB2s to choose from in two-QB or Superflex leagues.
Garoppolo has a brutal matchup at Minnesota, but as we saw in Week 16 last year against an elite Jaguars defense, he may be good enough to overcome even the toughest matchups.
But we're still working with too small of a sample size for us to not use a little caution in Week 1 and keep him on our bench.
We can fire him up with full confidence in a Week 2 home game against the Lions.
Tier 9
Sam Darnold (@ DET)
Eli Manning (vs. JAX)
"The Nathan Peterman Tier"
Nathan Peterman (@ BAL)
---
More Fantasy Football Rankings
PPR: Flex | QB | RB | WR | TE | D/ST | K
Standard: Flex | QB | RB | WR | TE | D/ST | K
Half-Point PPR: Flex | QB | RB | WR | TE | D/ST | K
---
Running Backs
Tier 1
Todd Gurley (@ OAK)
Congrats to those of you who wisely chose Gurley with your No. 1 pick. His Week 1 matchup against the Raiders, coupled with Le'Veon Bell's continued holdout, makes him the clear top RB option this week.
Tier 2
David Johnson (vs. WAS)
Alvin Kamara (vs. TB)
Ezekiel Elliott (@ CAR)
The Saints decided to gut their RB depth chart even more by cutting Boston Scott. It'll now be Alvin Kamara and the recently acquired Mike Gillislee in the backfield for the Saints this week.
It's becoming increasingly clear that Kamara could open the year with all the touches he can handle.
Tier 3
Leonard Fournette (@ NYG)
Melvin Gordon (vs. KC)
Both are elite RB1 options this week.
Tier 4
*Le'Veon Bell (@ CLE)
Christian McCaffrey (vs. DAL)
Kareem Hunt (@ LAC)
Saquon Barkley (vs. JAX)
The Bell situation has now become a full-on crisis. Even if he reports before Sunday, he's not a lock to play.
I'm currently ranking him as if he's playing, though those chances appear to be dropping by the hour.
Luckily we will have zero doubt come Sunday: He will either be active, or James Conner will be the starting RB.
See the very last Tier to find where I would rank Conner if Bell got the starting nod.
Be sure to consult our running back rankings — PPR, Standard and Half-Point PPR — up until kickoff to get my latest thoughts on Bell and Conner.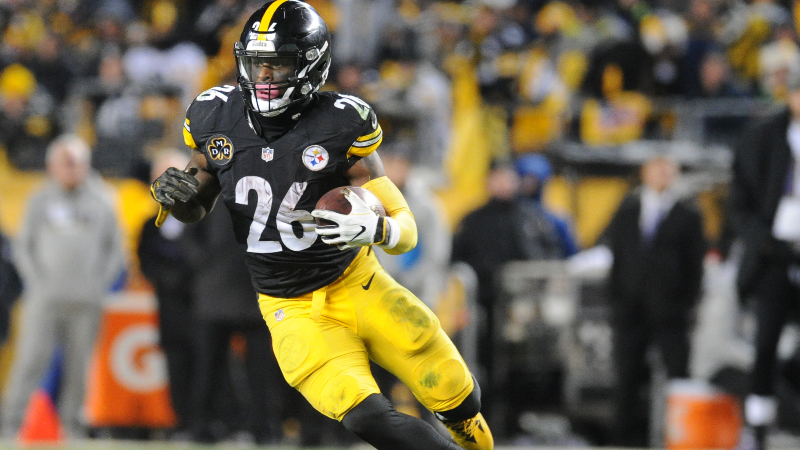 Credit: Philip G. Pavely-USA TODAY Sports. Pictured: Le'Veon Bell
Tier 5
Alex Collins (vs. BUF)
Dalvin Cook (vs. SF)
Joe Mixon (@ IND)
LeSean McCoy (@ BAL)
Devonta Freeman (@ PHI)
Jordan Howard (@ GB)
Kenyan Drake (vs. TEN)
Lamar Miller (@ NE)
Ah yes, we have the RBs who have managed to emerge from the "Frozen Pond" Tier that I mentioned on our RB2 pod from earlier this summer.
At the time, I was referring to the fact that the Tier itself would be very volatile. It was not a knock on specific players.
The guys listed above managed to walk across that frozen ice without falling in (yet). You can safely fire up these guys as solid RB2s for Week 1.
Tier 6
Jamaal Williams (vs. CHI)
Marshawn Lynch (vs. LA)
Derrick Henry (@ MIA)
Royce Freeman (vs. SEA)
Carlos Hyde (vs. PIT)
Rex Burkhead (vs. HOU)
Peyton Barber (@ NO)
Jay Ajayi (vs. ATL)
The Packers cleared the way for Williams to be their workhorse back for the first two weeks while Aaron Jones is suspended. Ty Montgomery is likely the change-of-pace/third-down back.
Freeman and Barber won their team's respective RB battles to become starters, so we can expect enough touches from them to be solid starts out of the gate.
Burkhead is someone whose rank could change a bit before Sunday, so be sure to check our frequently updated rankings pages — PPR, Standard and Half-Point PPR. (This tiers piece does NOT get updated.)
The Patriots have four active backs who could cannibalize each other. Keep an eye on the Sunday morning inactives.
Burkhead is the most likely to get the most touches out of the gate.
Tier 7
Bilal Powell (@ DET)
Adrian Peterson (@ ARI)
Chris Carson (@ DEN)
This is really the front-end RBBC Tier. All three of them are likely to see enough touches to make a fantasy impact, but they come with risk.
Any sort of "hot hand" situation with their backfield could result in a bust. Tread carefully.
Tier 8
Isaiah Crowell (@ DET)
Tevin Coleman (@ PHI)
James White (vs. HOU)
Aside from White in a PPR format, these aren't ideal RBs to be relying on to start in Week 1.
Tier 9
Dion Lewis (@ MIA)
Devontae Booker (vs. SEA)
Alfred Morris (@ MIN)
Matt Breida (@ MIN)
Duke Johnson (vs. PIT)
Giovani Bernard (@ IND)
Jordan Wilkins (vs. CIN)
Latavius Murray (vs. SF)
Chris Thompson (@ ARI)
Tarik Cohen (@ GB)
Ty Montgomery (vs. CHI)
The RB battle between Morris/Breida is worth monitoring up until kickoff. As of now, I would give the slight edge to Morris in standard and Breida in any form of PPR.
Both should offer fantasy value going forward with Jerick McKinnon on IR, but a Week 1 matchup against a stout Vikings defense makes them tough to trust this week.
Marlon Mack is looking more likely to sit out Week 1 to rest his troubling hamstring injury. In that event, Wilkins would likely jump up to Tier 7 and possibly up to Tier 6.
Tier 10
Marlon Mack (vs. CIN)
Theo Riddick (vs. NYJ)
Austin Ekeler (vs. KC)
Corey Clement (vs. ATL)
Kerryon Johnson (vs. NYJ)
LeGarrette Blount (vs. NYJ)
Sony Michel (vs. HOU)
James Conner (@ CLE)
The main attraction in Tier 10 is Conner. If you read my season-long Tiers piece, hopefully you did not waste a draft pick/roster slot on a kicker or defense and instead snagged a lotto ticket like Conner.
He's looking very likely to start Week 1 for Bell, but these tiers are as if Bell will play since nothing is official.
If Conner gets the nod for Week 1, he would shoot up near the top of Tier 6.
---
Wide Receivers
"The Antonio Brown Tier"
Antonio Brown (@ CLE)
The Tier name speaks for itself.
Tier 2
DeAndre Hopkins (@ NE)
Julio Jones (@ PHI)
A.J. Green (@ IND)
Michael Thomas (vs. TB)
Keenan Allen (vs. KC)
Just to elaborate on Antonio Brown's dominance: This entire Tier is full of potential Hall of Famers, and they can only battle it out for the No. 2 slot in my rankings most weeks. All five are going to be elite must-starts regardless of matchup most weeks.
Tier 3
Odell Beckham (vs. JAX)
Davante Adams (vs. CHI)
Beckham opens up 2018 with the toughest matchup in football. Likely to get shadowed by Jalen Ramsey for most of the game, he is still good enough to put up WR1 numbers.
I would imagine the Giants will try their best to move him around and get him matched up on D.J. Hayden, who could be the weak point in the Jags' defense this season.
Tier 4
T.Y. Hilton (vs. CIN)
Stefon Diggs (vs. SF)
Tier 5
Mike Evans (@ NO)
Chris Hogan (vs. HOU)
Tyreek Hill (@ LAC)
Larry Fitzgerald (vs. WAS)
Adam Thielen (vs. SF)
Marvin Jones (vs. NYJ)
Brandin Cooks (@ OAK)
Golden Tate (vs. NYJ)
Amari Cooper (vs. LA)
JuJu Smith-Schuster (@ CLE)
This entire Tier is a must-start.
The lowest-floor player of the group is Cooper. I expect the breakout season we've been waiting for to finally come this season.
Cooper faces a tough test Week 1; he will likely be matched up with Aqib Talib for most of the game.
But unless your WRs are absolutely stacked, you have to play him, with tempered expectations.

Credit: Brett Davis-USA TODAY Sports. Pictured: Mike Evans
Tier 6
Allen Robinson (@ GB)
Demaryius Thomas (vs. SEA)
Doug Baldwin (@ DEN)
Robby Anderson (@ DET)
Michael Crabtree (vs. BUF)
Kenny Stills (vs. TEN)
Emmanuel Sanders (vs. SEA)
Corey Davis (@ MIA)
Jarvis Landry (vs. PIT)
Marquise Goodwin (@ MIN)
Cooper Kupp (@ OAK)
Nelson Agholor (vs. ATL)
Devin Funchess (vs. DAL)
Will Fuller (@ NE)
Robert Woods (@ OAK)
Jamison Crowder (@ ARI)
If any of these wideouts are your WR3/Flex, you are in good shape.
Baldwin is riskier than normal considering he sat out the entire preseason with a knee injury. He appears set to play through it, admitting he may only be 80-85% in Week 1 and may not be fully healthy at all this year.
It's important to remind yourself that the game of football is savage. Many of these players haven't been 100% since maybe once upon a time back in high school.
Expect Baldwin to gut it out and produce the stats we would normally expect from him. I only urge slight caution in Week 1 since he may not be as in sync with Wilson to start the season.
I wouldn't fault you for sitting Goodwin this week against the Vikings, as he will likely face a ton of Xavier Rhodes. He will be a must-start most weeks going forward.
Tier 7
Jordy Nelson (vs. LA)
Pierre Garcon (@ MIN)
Keelan Cole (@ NYG)
Tyler Lockett (@ DEN)
Sammy Watkins (@ LAC)
Kelvin Benjamin (@ BAL)
Kenny Golladay (vs. NYJ)
Cole will likely be the biggest beneficiary of Marqise Lee's season ending injury. He was the No. 5 WR in all of fantasy in the final five games last season, so we know he can put up big numbers.
I would lean toward starting a safer play over him until we see for sure how the Jaguars intend on handling their WR rotation.
Game theory strategy sidenote: If you are deciding between, say, Jordy Nelson and Kenny Golladay since both play Monday, wait until you know how many points you need to get to win. If you are down one to five points, I would start Nelson, who would be the safer bet to put up points. If you are down 10+ and need a huge game, go with Golladay, as he has a much higher ceiling.
Tier 8
Randall Cobb (vs. CHI)
Mike Wallace (vs. ATL)
Danny Amendola (vs. TEN)
Mohamed Sanu (@ PHI)
Quincy Enunwa (@ DET)
Rishard Matthews (@ MIA)
Allen Hurns (@ CAR)
Tyrell Williams (vs. KC)
John Brown (vs. BUF)
Sterling Shepard (vs. JAX)
John Ross (@ IND)
This Tier will become more relevant as we start seeing bye weeks, injuries and how teams are distributing snaps. Heading into Week 1, I wouldn't want to be relying on any of these guys.
Brown and Ross certainly warrant a start for those wanting to roll the dice for a huge game. Wallace is also in consideration as a spot-start, as he's likely to have a much larger role with both Jeffery and Hollins sitting this week.
---
Tight Ends
"The Gronk Tier"
Rob Gronkowski (vs. HOU)
Gronk gets the top Tier all to himself to start the season. With Julian Edelman suspended the first four weeks, the Pats' WR depth chart is extremely thin.
Brady is going to have to lean on Gronk early and often against the Texans.
Tier 2
Travis Kelce (@ LAC)
Zach Ertz (vs. ATL)
There will be times this year when Kelce will share Tier 1 with Gronk. This is not one of those times. Kelce has a tough matchup against the Chargers.
Tier 3
Jimmy Graham (vs. CHI)
Delanie Walker (@ MIA)
Kyle Rudolph (vs. SF)
Greg Olsen (vs. DAL)
Evan Engram (vs. JAX)
Jordan Reed (@ ARI)
The AARP Tier, as we called it on our season-long TE preview pod. Many of these TEs will rely on touchdowns to return fantasy value.
The best bets to score from this Tier are Graham and Rudolph, while the best for yards are Walker and Olsen.
The latter duo can help provide value even in the weeks they don't score.
Tier 4
Tyler Eifert (@ IND)
Trey Burton (@ GB)
Jack Doyle (vs. CIN)
I imagine these TEs being on a high percentage of teams that start off 1-0 this year.
Most people who waited to draft TE in this range are likely stacked at the other skill positions. All three pose great value in Week 1.
We'll get the rare treat of seeing Eifert be relatively close to 100% heading into a matchup. If you don't fire him up this week, then there is absolutely no reason to be holding him on your roster.
The only slight concern with Burton heading into 2018 was that Adam Shaheen could play a larger role than people realize. Now that Shaheen has been placed on IR with a season-ending injury, that concern is gone.

Aaron Doster-USA TODAY Sports. Pictured: Andrew Luck, Jack Doyle
Tier 5
Eric Ebron (vs. CIN)
David Njoku (vs. PIT)
Charles Clay (@ BAL)
Jared Cook (vs. LA)
Austin Seferian-Jenkins (@ NYG)
Ben Watson (vs. TB)
The streamer TE Tier has some good options this week.
One of my favorite streams, if available, is Watson. Despite turning 38 this season, he has shown no signs of slowing down. There's also the chance he blows up the first couple of weeks and becomes an every-week TE1.
He may even join the AARP Tier!
Seferian-Jenkins is a sneaky play, as he could absorb some of the targets Marqise Lee leaves behind. Double check his status before Sunday, though. He's dealing with an injury that could force him to sit this week.
Tier 6
George Kittle (@ MIN)
Austin Hooper (@ PHI)
Mike Gesicki (vs. TEN)
O.J. Howard (@ NO)
Ricky Seals-Jones (vs. WAS)
Cameron Brate (@ NO)
You can find some other potential steaming options for deeper leagues in this Tier.
Ryan Fitzpatrick seemed to have better chemistry with Howard last season, while Jameis Winston favored Brate. Neither is a great option this week, but Howard could be worth a dart-throw if you're desperate.
---
Kicker
Tier 1
Wil Lutz (vs. TB)
Stephen Gostkowski (vs. HOU)
Justin Tucker (vs. BUF)
Tier 2
Greg Zuerlein (@ OAK)
Mason Crosby (vs. CHI)
Matt Prater (vs. NYJ)
Caleb Sturgis (vs. KC)
Adam Vinatieri (vs. CIN)
Daniel Carlson (vs. SF)
Tier 3
Chris Boswell (@ CLE)
Ryan Succop (@ MIA)
Jake Elliott (vs. ATL)
Josh Lambo (@ NYG)
Graham Gano (vs. DAL)
Tier 4
Harrison Butker (@ LAC)
Randy Bullock (@ IND)
Phil Dawson (vs. WAS)
Dustin Hopkins (@ ARI)
Mike Nugent (vs. LA)
Matt Bryant (@ PHI)
Brandon McManus (vs. SEA)
Ka'imi Fairbairn (@ NE)
Jason Sanders (vs. TEN)
Tier 5
Robbie Gould (@ MIN)
Brett Maher (@ CAR)
Sebastian Janikowski (@ DEN)
Chandler Catanzaro (@ NO)
Tier 6
Jason Myers (@ DET)
Cody Parkey (@ GB)
Zane Gonzalez (vs. PIT)
Aldrick Rosas (vs. JAX)
Steven Hauschka (@ BAL)
Defense
Tier 1
Baltimore Ravens (vs. BUF)
Tier 2
Minnesota Vikings (vs. SF)
New Orleans Saints (vs. TB)
New England Patriots (vs. HOU)
Detroit Lions (vs. NYJ)
Jacksonville Jaguars (@ NYG)
Tier 3
Green Bay Packers (vs. CHI)
Denver Broncos (vs. SEA)
Tennessee Titans (@ MIA)
Pittsburgh Steelers (@ CLE)
Carolina Panthers (vs. DAL)
Los Angeles Chargers (vs. KC)
Dallas Cowboys (@ CAR)
Tier 4
Washington Redskins (@ ARI)
Los Angeles Rams (@ OAK)
Miami Dolphins (vs. TEN)
Cincinnati Bengals (@ IND)
Philadelphia Eagles (vs. ATL)
Seattle Seahawks (@ DEN)
Tier 5
New York Giants (vs. JAX)
Arizona Cardinals (vs. WAS)
Indianapolis Colts (vs. CIN)
Buffalo Bills (@ BAL)
Cleveland Browns (vs. PIT)
Atlanta Falcons (@ PHI)
Tier 6
San Francisco 49ers (@ MIN)
Kansas City Chiefs (@ LAC)
New York Jets (@ DET)
Chicago Bears (@ GB)
Tier 7
Oakland Raiders (vs. LA)
Houston Texans (@ NE)
Tier 8
Tampa Bay Buccaneers (@ NO)
How would you rate this article?