Koerner's Week 2 Fantasy Football Tiers for Every Position
Credit:
USA TODAY Sports. Pictured: Antonio Brown and Melvin Gordon
Sean Koerner -- the No. 1 in-season fantasy football ranker in 2015, 2016 and 2017 -- takes a detailed look at his Week 2 tiers for every position: quarterback, running back, wide receiver, tight end, defense and kicker.
Use the strategies outlined below to build the most optimal starting lineup for your fantasy football team.
Below you'll find my tiers for Week 2 fantasy football. These are based on standard scoring and cover every position.
As a reminder, these tiers are not updated after publication. If you want my most up-to-date rankings for PPR, Standard and Half-Point PPR leagues, check out this post.
And, yes, my tiers will be part of our Action Network subscription this season. Be sure to check out the awesome special we're currently running below for an annual sub.
---
Quarterback
Tier 1
Drew Brees (vs. CLE)
Ben Roethlisberger (vs. KC)
This is one of the more fascinating weeks to project QB in recent memory. With Tom Brady and Aaron Rodgers potential "sits" this week, Brees and Big Ben find themselves as my top two QBs. They're both in absolute smash spots against weaker defenses.
Tier 2
Deshaun Watson (@ TEN)
Cam Newton (@ ATL)
Patrick Mahomes (@ PIT)
Jimmy Garoppolo (vs. DET)
Look for Watson to bounce back in a big way this week. The Patriots did a (reasonably) good job of shutting down DeAndre Hopkins. The potential return of Will Fuller can only help draw some of that attention away from him, and the Titans just got burned by Ryan Tannehill/Kenny Stills in Week 1.
Newton is facing a now-decimated Falcons defense, which lost two studs in safety Keanu Neal and linebacker Deion Jones — the former for the season. (The team is hoping Jones will return at some point in 2018.) Look for the Panthers to attack Atlanta with Newton's legs, boosting his ceiling this week.
Mahomes and Garoppolo faced brutal defenses in Week 1 and now get some relief in Week 2 with potential shootout spots. Both are elite QB1s this week. Mahomes is well on his way to hit what we thought was his ceiling in his first full season.
He very well could be matchup-proof with his dual-threat ability and cannon of an arm. If you waited to draft him as your QB1, congrats — buckle up and enjoy the ride.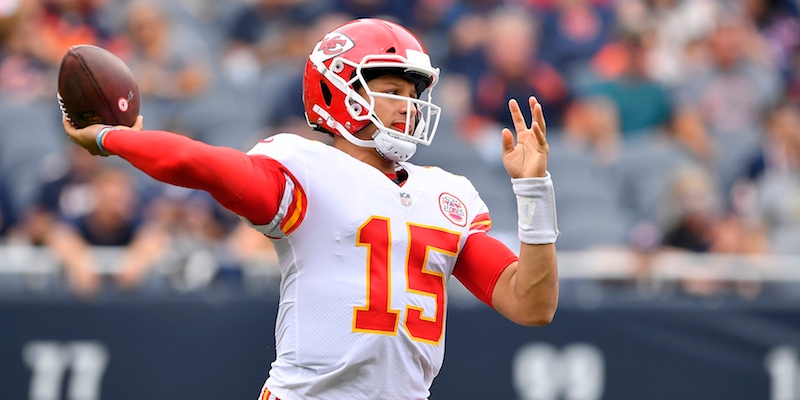 Expectations are high for Patrick Mahomes in his first season as the starter. Credit: Quinn Harris-USA TODAY Sports
Tier 3
Alex Smith (vs. IND)
Russell Wilson (@ CHI)
Kirk Cousins (@ GB)
Aaron Rodgers (vs. MIN)
Philip Rivers (@ BUF)
Tyrod Taylor (@ NO)
Jared Goff (vs. ARI)
Tom Brady (@ JAX)
This is arguably the most critical tier of any position this week, as it will have a lot of people pulling their hair out Sunday morning deciding whom to start.
Smith, Cousins and Rivers are the safer plays. Wilson could struggle without Doug Baldwin as he faces a stacked Bears defensive line against his below-average offensive line. (Running for his life could actually boost his ceiling if he breaks off a few big runs, but his floor is about as low as it gets for him.)
There is a chance the Packers hold Rodgers out this week in hopes of getting his injured knee closer to 100% by Week 3. If he ends up playing, you have to seriously consider benching Rodgers, as he will likely not have many rush yards and the risk of an in-game setback are higher than you'd like.
Not to mention, he has one of the toughest matchups in all of football against the Vikings.
Quarterback is the easiest position to roll with a backup in these events, as we are simply trying to avoid a "bust" from the highest-scoring position in fantasy.
Brady is also a potential "sit" candidate as he faces the elite Jaguars defense.
Additionally, there is a good chance Hurricane Florence has an impact on this game. If the weather is ugly, it will make this decision easy.
We do not need to make these decisions on a Thursday because when it comes to knee injuries and weather, A LOT can change by Sunday.
Be sure to check my updated rankings come Sunday morning to see if either should be replaced by your backup.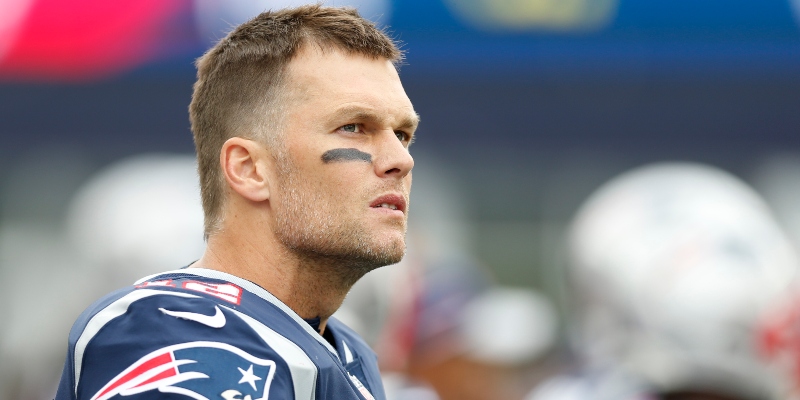 Tom Brady may actually be better off on your bench this week. Credit: Greg M. Cooper-USA TODAY Sports
Tier 4
Matthew Stafford (@ SF)
Matt Ryan (vs. CAR)
Mitchell Trubisky (vs. SEA)
Case Keenum (vs. OAK)
Dak Prescott (vs. NYG)
Andrew Luck (@ WAS)
Owners banking on Stafford and Ryan as their QB1 are panicking after a dreadful start to the 2018 season. Look for both to bounce back this week, but I'm only viewing them as high-end QB2s for Week 2.
Luck managed to rack up more than 300 yards by dinking and dunking it against the Bengals. I'm worried defenses will soon adapt to his potential inability to force the ball downfield with his surgically repaired shoulder.
It's also worth noting that he only rushed once for seven yards. Part of Luck's fantasy greatness was his ability to rack up 20 to 30 rushing yards a game. Too soon to panic about, but it's something worth monitoring.
Tier 5
Blake Bortles (vs. NE)
Ryan Fitzpatrick (vs. PHI)
Nick Foles (@ TB)
Marcus Mariota (vs. HOU)
I fear too many novice fantasy players will be investing in Fitzpatrick in Week 2 after a career game. He does have a ton of weapons and we may have underrated how good the Buccaneers' passing game will be this year, but he is sure to come down to earth this week against a very good Eagles defense.
Fitz should only be considered in 2QB leagues.
If Leonard Fournette is ruled out, Bortles is likely to jump up into Tier 4. We saw the Jaguars lean on him more whenever Fournette missed time last season.
Tier 6
Andy Dalton (vs. BAL)
Ryan Tannehill (@ NYJ)
Sam Darnold (vs. MIA)
Dalton was in the QB1 discussion Week 1 against the Colts but is now only a low-end QB2 in a much tougher matchup against the Ravens on Thursday Night Football.
Darnold had a roller-coaster debut. His first NFL pass attempt was a pick-six, but then he bounced back in a huge way, picking apart the Lions' secondary. If it weren't for a couple of defensive touchdowns early in the third quarter, he could have had an even bigger game.
The Jets were able to put the game on ice by running out the clock from that point. Darnold is nothing more than a speculative add in 2QB leagues and should remain on benches until we see him perform well in a couple more games.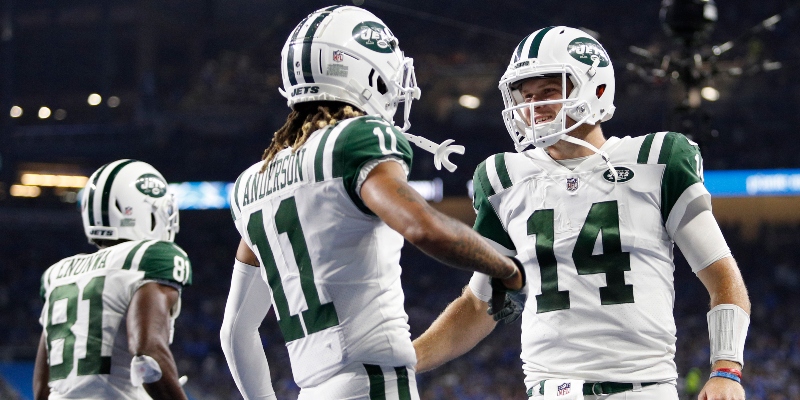 New York Jets wide receiver Robby Anderson (11) celebrates with quarterback Sam Darnold (14). Credit: Raj Mehta-USA TODAY Sports.
Tier 7
Joe Flacco (@ CIN)
Derek Carr (@ DEN)
Eli Manning (@ DAL)
As I predicted heading into the season, Flacco looks like he's headed for a career year, as he is motivated to hang onto his job after the Ravens selected Lamar Jackson in the first round.
We saw this happen last year with Smith after the Chiefs drafted Mahomes. One slight concern to Flacco's outlook is that the Ravens plan on using Jackson in certain packages.
A quarterback getting less than 100% of his team's snaps is not ideal, and it could become a major issue if Baltimore uses Jackson in red-zone or goal-line packages to create mismatches.
Tier 8
Sam Bradford (@ LAR)
Josh Allen (vs. LAC)
Allen provides the Bills with a much-needed upgrade over Nathan Peterman. Long term, this will help wide receiver Kelvin Benjamin's outlook, but the entire Bills passing game is a "sit" this week in Allen's starting debut against one of the top secondaries in the NFL.
---
More Fantasy Football Rankings
PPR: Flex | QB | RB | WR | TE | D/ST | K
Standard: Flex | QB | RB | WR | TE | D/ST | K
Half-Point PPR: Flex | QB | RB | WR | TE | D/ST | K
---
Running Back
Tier 1
Todd Gurley (vs. ARI)
Alvin Kamara (vs. CLE)
No two running backs offer as safe of a week-to-week floor as Gurley and Kamara.
When their team is leading, they will get touches to eat some clock and preserve the lead. If their team is trailing, they will be heavily involved in the passing game.
One thing to be wary of: This is a week where their ceiling may be capped a bit due to potential blowouts. They very well would be the reason for said blowouts, putting up plenty of stats in the process. But I can see both of them getting no touches in the fourth quarter as backups kill the clock.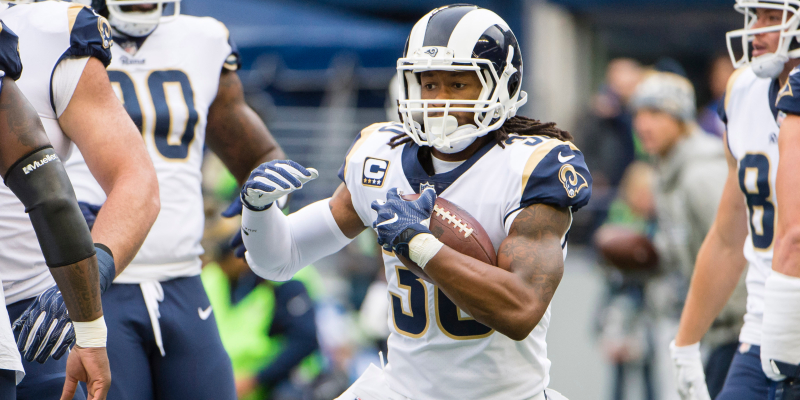 Los Angeles Rams running back Todd Gurley rarely leaves the field — a fantasy dream for owners. Credit: Troy Wayrynen-USA TODAY Sports.
Tier 2
Ezekiel Elliott (vs. NYG)
Melvin Gordon (@ BUF)
The Cowboys' passing game may be even worse than we anticipated this season, so Dallas will lean on Zeke even more. This is a week where the Cowboys should be leading most of the game, which means we could see Elliott rack up close to 30 touches.
Tier 3
James Conner (vs. KC)
David Johnson (@ LAR)
If you read my season-long Tiers pieces, you know I was banging the table to skip drafting a kicker or defense in place of stashing a couple of high-upside running backs such as Chris Ivory (in the event the LeSean McCoy legal situation turned south) or Conner (if Le'Veon Bell's holdout spilled into the regular season).
I was not banking on either actually cashing in, but they were worth the risk for practically free. Boy, did you hit the jackpot if you drafted Conner in the last couple of rounds this year.
The Steelers seem perfectly content giving Conner the full Bell role and workload, which is exactly how a last-round draft pick becomes a high-end RB1 after just one week.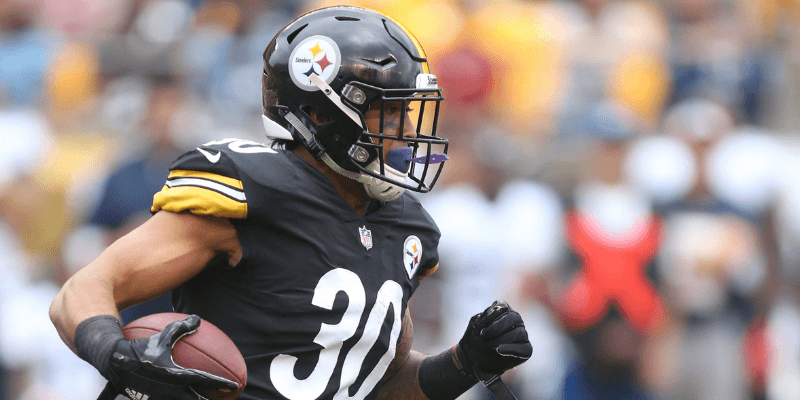 Pittsburgh Steelers running back James Conner is making some savvy drafters look awfully smart right now. Charles LeClaire-USA TODAY Sports
That is a league-winning pick if I've ever seen one. Conner is no stranger to massive workloads. In his 2014 season at the University of Pittsburgh, he rushed 30 or more times in four games.
He also put up at least 25 receiving yards in six games during his senior season in 2016. There is no doubt he can handle this role long-term, but you have to consider selling high.
It's reasonable to expect Bell to hold out until Week 10 or so — or possibly the entire season. He can also return any week before then, making it very difficult to assess either's trade value right now.
The player people should be floating in trades right now is Bell. Having a first-round draft pick possibly sit out half the season or more could be a reason to consider selling him while you can.
When it comes to Conner (whom I have on 50% of my teams), I think we ride it out. He was our last pick, after all. Every week he starts for Bell is giving us an incredible ROI% on our strategy, and if/when Bell returns, it will have already made our teams playoff-bound.
Tier 4
Saquon Barkley (@ DAL)
Joe Mixon (vs. BAL)
Week 1 showed us Barkley's upside as he looked electric on a 68-yard scoring run.
Now, a lot of people are saying, "If he didn't get that touchdown, he would have stunk." While that may be true, that's a bit of a misleading thought process because his big-play potential is factored into what makes him so valuable.
My main concern was his lack of efficiency in the passing game. I would like to see him getting three or four receptions per week to help boost his floor for when he doesn't break a huge run and/or find the end zone.
Tier 5
Christian McCaffrey (@ ATL)
Kareem Hunt (@ PIT)
Jordan Howard (vs. SEA)
Dalvin Cook (@ GB)
McCaffrey should bounce back for a big Week 2 with the aforementioned Jones out at linebacker for Atlanta. That will make it much easier for CMC to exploit the middle of the field. The loss of tight end Greg Olsen will only help elevate McCaffrey's receiving potential going forward, as well.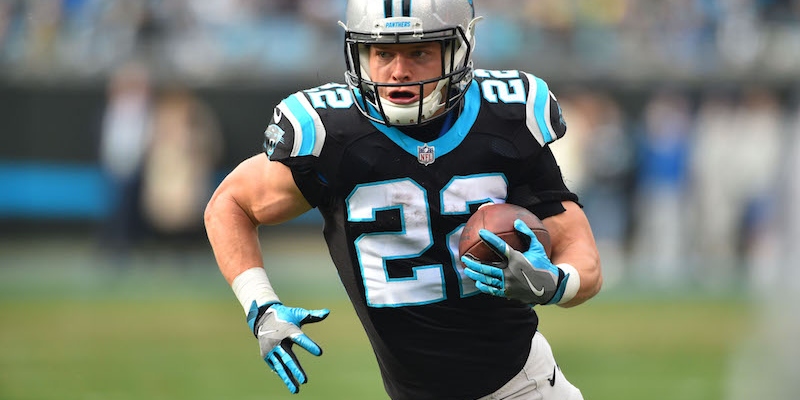 Christian McCaffrey is a low-end RB1 option. Credit: Bob Donnan-USA TODAY Sports
Tier 6
Leonard Fournette (vs. NE)
Alex Collins (@ CIN)
Jay Ajayi (@ TB)
Adrian Peterson (vs. IND)
Lamar Miller (@ TEN)
I am currently projecting Fournette to play through his hamstring injury this week, though at less than 100%.
We should know more by Sunday, but if the Jaguars allow him to play, you have to assume they are confident he's less of an in-game setback risk than normal since teams are much more cautious with star players earlier in the season.
But … have a backup plan ready to go just in case.
Peterson has emerged as a strong RB2 play this week in a home matchup vs. the Colts, which could create a game script where we see AP push for close to 30 touches, like we saw in Week 1.
Tier 7
LeSean McCoy (vs. LAC)
Devonta Freeman (vs. CAR)
Jamaal Williams (vs. MIN)
Kenyan Drake (@ NYJ)
The "buy-low" tier. Every running back in this tier left their owners frustrated in Week 1. I would float a trade offer for any one of them to catch someone overreacting to a one-week sample size. I think they all bounce back as soon as this week.
Tier 8
Rex Burkhead (@ JAX)
Dion Lewis (vs. HOU)
Carlos Hyde (@ NO)
Peyton Barber (vs. PHI)
I was very surprised to see Lewis be the workhorse back while Derrick Henry was more of a backup. I'm thinking this was due to the Titans trailing for most of the game.
Either way, it is not a good look for Henry, as the Titans should be trailing in a fair share of their games this season. Lewis' arrow is pointing up and is a low-end RB2/FLEX until further notice.
Tier 9
Royce Freeman (vs. OAK)
Marshawn Lynch (@ DEN)
Tevin Coleman (vs. CAR)
Isaiah Crowell (vs. MIA)
Bilal Powell (vs. MIA)
Derrick Henry (vs. HOU)
Chris Thompson (vs. IND)
Phillip Lindsay looked electric in preseason and was able to make the Broncos as their third running back on the depth chart — or so we thought. He continued to impress in Week 1 and pushed Freeman enough to make this a full-blown RBBC.
The Broncos' backfield is going to be even tougher to predict if they get Devontae Booker more involved going forward and employ more of a "hot-hand" approach. Either way, I'm not overreacting to Week 1 too much and leaving Freeman as a flex option who is talented enough to be productive in a timeshare.
The Jets' backfield is going to be game-script dependent each week. Last week in a blowout, we saw Crowell dominate for 10/102/2 with no receptions.
In games where the Jets need to play catch-up, Powell will be the preferred play. This week the Jets are a 3-point favorite (see live odds here), so I'm leaning toward Crowell in this spot.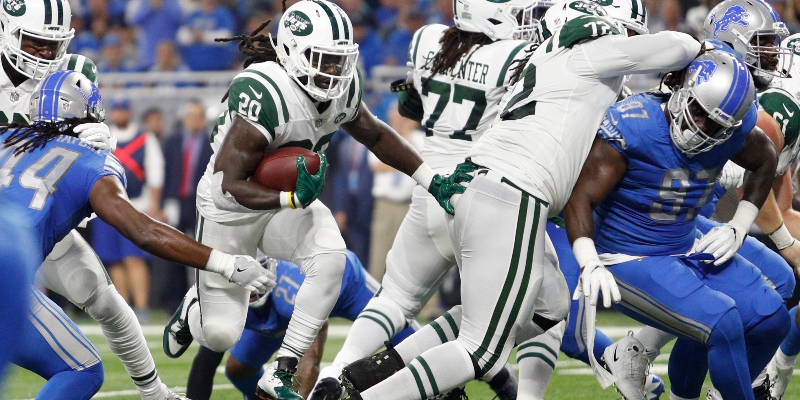 New York Jets running back Isaiah Crowell (20) took advantage of a big lead to run wild on the Lions in Week 1. Credit: Raj Mehta-USA TODAY Sports
Tier 10
Matt Breida (vs. DET)
Chris Carson (@ CHI)
Alfred Morris (vs. DET)
The 49ers' running back battle is one to closely monitor, as I think one of them can emerge as an every-week RB2. After a brutal Week 1 matchup against the Vikings, we didn't learn too much in terms of what to expect going forward.
Morris had a costly fumble on the goal line, and it remains to be seen if Kyle Shanahan is going to put him in his doghouse or forgive him this time. Either way, Breida has the most to gain here, as he has the receiving role locked up and should still see 10+ carries a game.
I would try to buy low on him while I can since he has a chance to be the 49ers' workhorse back by the end of the season.
Tier 11
Phillip Lindsay (vs. OAK)
Kerryon Johnson (@ SF)
Marlon Mack (@ WAS)
James White (@ JAX)
T.J. Yeldon (vs. NE)
Tarik Cohen (vs. SEA)
Latavius Murray (@ GB)
Javorius Allen (@ CIN)
Lindsay was a speculative add this week for people buying in on his upside after a surprising Week 1 performance. I am keeping him on my bench until we see if he's guaranteed enough touches to trust him going forward.
The most important back to monitor in this tier is Yeldon, who will be in play if the Jaguars sit Fournette this week. In the event Fournette sits, I have Yeldon moving all the way up to Tier 6.
---
Wide Receiver
The Antonio Brown Tier
Antonio Brown (vs. KC)
The name says it all.
Tier 2
Julio Jones (vs. CAR)
DeAndre Hopkins (@ TEN)
Michael Thomas (vs. CLE)
Tyreek Hill (@ PIT)
Odell Beckham (@ DAL)
I was always reluctant to rank Hill in the top 10. Not anymore.
It was different when he had Smith throwing to him, because you never really could be sure just how much he'd target him.
The connection between Mahomes and Hill is going to be special. In what should be a shootout with the Steelers, I'm viewing TyFreak as a top-five WR this week.
Tier 3
Keenan Allen (@ BUF)
A.J. Green (vs. BAL)
The "steady as she goes" tier. Both Allen and Green are a bit underrated as they aren't as flashy as those in the tier above, but they get it done on a weekly basis.
The matchup against the Ravens isn't an ideal one for Green, but with Jimmy Smith suspended, he should see a lot of Brandon Carr. My money will be on Green to win that matchup.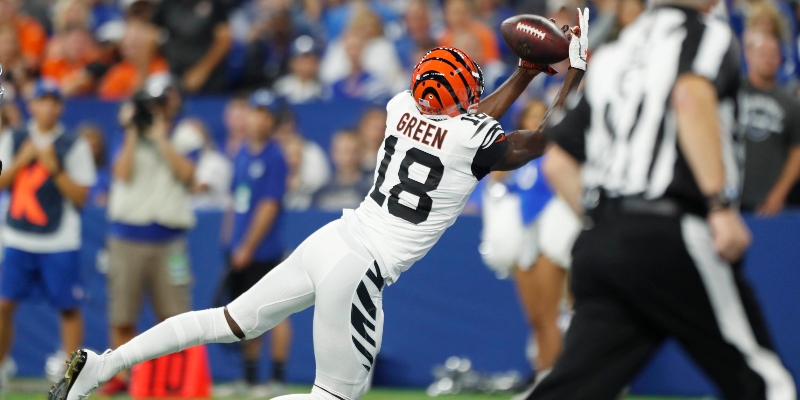 Cincinnati Bengals wide receiver A.J. Green (18) is always a reliable pick. Credit: Brian Spurlock-USA TODAY Sports
Tier 4
Mike Evans (vs. PHI)
Stefon Diggs (@ GB)
Adam Thielen (@ GB)
JuJu Smith-Schuster (vs. KC)
Emmanuel Sanders (vs. OAK)
Davante Adams (vs. MIN)
Demaryius Thomas (vs. OAK)
We have two receiver duos in the WR1 range this week: Brown/Smith-Schuster and Diggs/Thielen. The final rank of the latter pairing will depend on the health of Aaron Rodgers. If ARod is unable to go, I could see moving each Vikings WR down three to five slots, as the team won't need to throw as much to preserve a win.
Just goes to show what a massive impact Rodgers has on an individual matchup. (This article discusses his worth to the point spread, if you're curious.) Adams could potentially move all the way down to the WR3 range in the event he has DeShone Kizer throwing to him against an elite Vikings defense. Yuck.
Tier 5
T.Y. Hilton (@ WAS)
Brandin Cooks (vs. ARI)
Larry Fitzgerald (@ LAR)
Nelson Agholor (@ TB)
Jarvis Landry (@ NO)
Golden Tate (@ SF)
Corey Davis (vs. HOU)
Marvin Jones (@ SF)
Allen Robinson (vs. SEA)
Hilton gets his usual downgrade from playing outdoors this week; however, there may be some long-term concern with Andrew Luck throwing underneath more this year with his surgically repaired shoulder.
Hilton escaped with a 5/46/1 line in Week 1, but for a player who typically doesn't score touchdowns at a high rate, we do not want to see him turn into a touchdown-dependent player for fantasy.
Agholor, Landry and Davis may not have lit up the box score in Week 1, but their stock is way up as it's clear they are all going to see a massive amount of targets each week. That makes them all high-floor WR2s this week.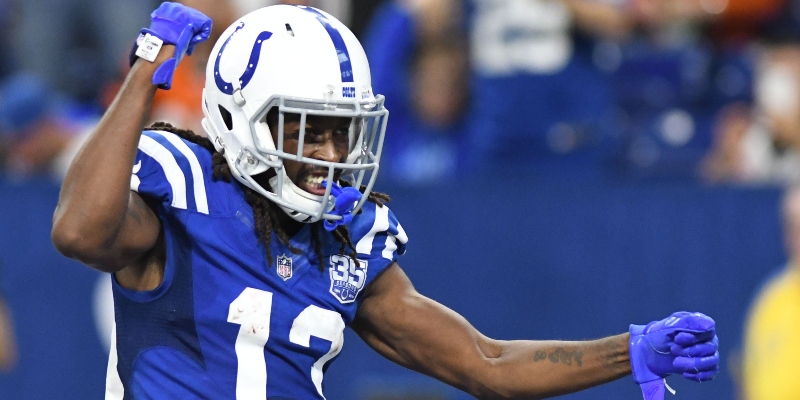 Indianapolis Colts receiver T.Y. Hilton is hoping Andrew Luck can get the ball downfield more than he showed in Week 1. Credit: Thomas J. Russo-USA TODAY Sports
Tier 6
Cooper Kupp (vs. ARI)
Robert Woods (vs. ARI)
Kenny Stills (@ NYJ)
Robby Anderson (vs. MIA)
Michael Crabtree (@ CIN)
Amari Cooper (@ DEN)
Tyler Lockett (@ CHI)
Marquise Goodwin (vs. DET)
Chris Hogan (@ JAX)
Devin Funchess (@ ATL)
Jamison Crowder (vs. IND)
Kenny Golladay (@ SF)
Quincy Enunwa (vs. MIA)
Ted Ginn (vs. CLE)
Josh Gordon (@ NO)
I'm surely going to get hell for Gordon not only being absent from Tier 1, but being ranked all the way at the bottom of the massive Tier 6. While it was encouraging to see him play 80% of the snaps Week 1, he was extremely close to putting up a zero — bailing out the owners who gambled on him with a 17-yard scoring catch late in the game.
He has a tough test this week against Marshon Lattimore and is likely still shaking off the rust to start the season. Week 3 vs. the Jets is when I promise Gordon will be higher up my ranks.
Hogan was one of the biggest Week 1 busts, as he only caught one pass for 11 yards. Things don't get easier for him this week as he faces off against the Jaguars — and potentially some inclement weather as well.
I'm avoiding him this week, though he could be a great "buy-low" candidate in Week 3 as his owners panic after a slow start and Julian Edelman nears a return from his four-game suspension.
Tier 7
Chris Godwin (vs. PHI)
Pierre Garcon (vs. DET)
Randall Cobb (vs. MIN)
Mohamed Sanu (vs. CAR)
Keelan Cole (vs. NE)
Sammy Watkins (@ PIT)
Brandon Marshall (@ CHI)
Sterling Shepard (@ DAL)
Kelvin Benjamin (vs. LAC)
Geronimo Allison (vs. MIN)
Godwin could be in line for a big week, as it looks like DeSean Jackson is set to miss Week 2 with a concussion. Unfortunately it's going to be a tough test against a strong Eagles secondary.
With Doug Baldwin set to miss Week 2 and possibly beyond, I like Marshall's touchdown upside. We have to remember that the Seahawks also lost Jimmy Graham this offseason, so there is a ton of touchdown equity up for grabs that is safe to assume will go Marshall's way.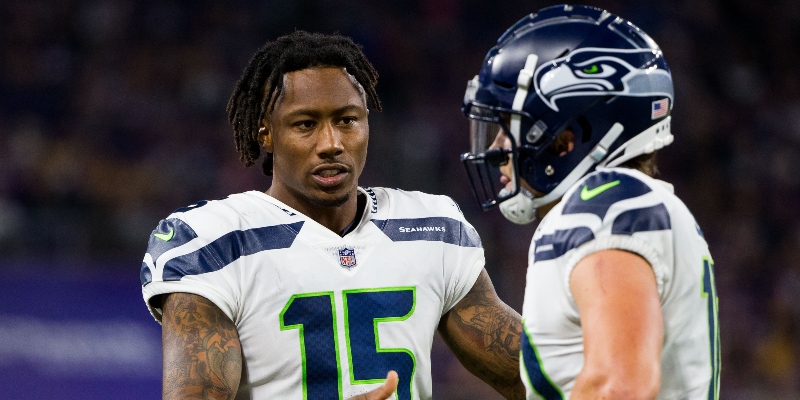 Seattle Seahawks wide receiver Brandon Marshall (15) could be getting extra looks this week. Credit: Brad Rempel-USA TODAY Sports.
Tier 8
Jordy Nelson (@ DEN)
John Brown (@ CIN)
Danny Amendola (@ NYJ)
Mike Williams (@ BUF)
Phillip Dorsett (@ JAX)
Paul Richardson (vs. IND)
Cole Beasley (vs. NYG)
Dante Pettis (vs. DET)
Courtland Sutton (vs. OAK)
Dede Westbrook (vs. NE)
Allen Hurns (vs. NYG)
This is a tier I would not want to be choosing from when there are no teams on a bye week. One of the rising WRs for me, though, is Pettis. It was only a matter of time until he carved out a significant role in the 49ers' passing game — and it could be coming sooner than I thought.
He likely saw 75% of the snaps due to Goodwin missing most of the game with an injury. But I think that also allowed him to audition for a starting role. If Goodwin ends up missing Week 2, I will possibly have Pettis at the top of this tier or even up in Tier 7.
Tight End
The Gronk Tier
Rob Gronkowski (@ JAX)
Tier 2
Travis Kelce (@ PIT)
Zach Ertz (@ TB)
Kelce's stock took a huge hit Week 1 with an abysmal one-catch game. What was most concerning was what appeared to be a monogamous relationship forming between Mahomes and Hill.
We have no reason to doubt that Kelce will eventually get his — as soon as this week, even — but I think his Week 1 struggles are enough to put the idea of him sharing Tier 1 with Gronk some weeks on hold for now.
Kelce and Ertz can have their own unique relationship as Tier 2 mates indefinitely.
Tier 3
Jordan Reed (vs. IND)
George Kittle (vs. DET)
Trey Burton (vs. SEA)
Evan Engram (@ DAL)
Jimmy Graham (vs. MIN)
Jared Cook (@ DEN)
One thing I would like to point out about the TE position is how much wider the gap is between the top three and the field now that Greg Olsen and Delanie Walker are injured (Walker for the season; Olsen for an indefinite amount of time).
Reed can help "the field" have a chance as long as he is healthy. He is in a great spot this week against the Colts.
Kittle is also in a prime spot after putting up a 5/90/0 line Week 1. It's worth noting that he dropped what could have been an 80-yard touchdown. He's going to have a big year.
Tier 4
Kyle Rudolph (@ GB)
Jack Doyle (@ WAS)
Tyler Eifert (vs. BAL)
Rudolph is going to be extremely touchdown-dependent this year as long as Thielen and Diggs stay healthy. Unfortunately, if you have him, you will have to force him in each week and eat the lack of production in the weeks he fails to score.
Tier 5
David Njoku (@ NO)
Ben Watson (vs. CLE)
Eric Ebron (@ WAS)
Austin Seferian-Jenkins (vs. NE)
Jesse James (vs. KC)
O.J. Howard (vs. PHI)
Former Olsen and Walker owners have been forced into playing TE waiver-wire roulette each week going forward. If any of these tight ends are available, they make for great spot starts this week.
One thing you don't want to do is pick a TE in this range and stick with them for multiple weeks. There are so many in this range who can produce in the right spots.
You will want to treat them like one-week rentals and play the matchups by taking the top available using my rankings.
Tier 6
Ricky Seals-Jones (@ LAR)
Jonnu Smith (vs. HOU)
Austin Hooper (vs. CAR)
Charles Clay (vs. LAC)
Ian Thomas (@ ATL)
Antonio Gates (@ BUF)
Will Dissly (@ CHI)
The remaining "streamer" tier. I like Jonnu Smith's potential, as he is set to replace Walker as the Titans' starter. It may take some time for him to get rolling, but he has the potential to be a fringe TE1 once bye weeks roll around.
The same can be said about Thomas, who replaces Olsen. His massive 6-foot-4, 260-pound frame should not fool you into looking at him as a blocking tight end. He showed in preseason he has some receiving skills while looking like a runaway freight train in the open field.
Kicker
Tier 1
Greg Zuerlein (vs. ARI)
Wil Lutz (vs. CLE)
Tier 2
Chris Boswell (vs. KC)
Justin Tucker (@ CIN)
Robbie Gould (vs. DET)
Matt Bryant (vs. CAR)
Dustin Hopkins (vs. IND)
Tier 3
Stephen Gostkowski (@ JAX)
Caleb Sturgis (@ BUF)
Brandon McManus (vs. OAK)
Jake Elliott (@ TB)
Harrison Butker (@ PIT)
Tier 4
Daniel Carlson (@ GB)
Cody Parkey (vs. SEA)
Ka'imi Fairbairn (@ TEN)
Brett Maher (vs. NYG)
Jason Myers (vs. MIA)
Matt Prater (@ SF)
Randy Bullock (vs. BAL)
Mason Crosby (vs. MIN)
Josh Lambo (vs. NE)
Ryan Succop (vs. HOU)
Adam Vinatieri (@ WAS)
Tier 5
Graham Gano (@ ATL)
Chandler Catanzaro (vs. PHI)
Zane Gonzalez (@ NO)
Jason Sanders (@ NYJ)
Sebastian Janikowski (@ CHI)
Mike Nugent (@ DEN)
Steven Hauschka (vs. LAC)
Aldrick Rosas (@ DAL)
Tier 6
Phil Dawson (@ LAR)
---
Defense
Tier 1
Los Angeles Chargers (@ BUF)
Tier 2
Los Angeles Rams (vs. ARI)
Tier 3
Chicago Bears (vs. SEA)
Washington Redskins (vs. IND)
Tennessee Titans (vs. HOU)
Philadelphia Eagles (@ TB)
Houston Texans (@ TEN)
Tier 4
Atlanta Falcons (vs. CAR)
New Orleans Saints (vs. CLE)
Denver Broncos (vs. OAK)
Dallas Cowboys (vs. NYG)
New York Jets (vs. MIA)
Baltimore Ravens (@ CIN)
San Francisco 49ers (vs. DET)
New England Patriots (@ JAX)
Miami Dolphins (@ NYJ)
Pittsburgh Steelers (vs. KC)
Tier 5
Cincinnati Bengals (vs. BAL)
Seattle Seahawks (@ CHI)
Minnesota Vikings (@ GB)
Green Bay Packers (vs. MIN)
Jacksonville Jaguars (vs. NE)
Tampa Bay Buccaneers (vs. PHI)
Tier 6
New York Giants (@ DAL)
Detroit Lions (@ SF)
Oakland Raiders (@ DEN)
Buffalo Bills (vs. LAC)
Carolina Panthers (@ ATL)
Tier 7
Kansas City Chiefs (@ PIT)
Indianapolis Colts (@ WAS)
Arizona Cardinals (@ LAR)
Tier 8
Cleveland Browns (@ NO)