Fantasy Football Tight Ends to Target (Or Avoid) in 2019
Credit:
USA Today Sports. Pictured: Zach Ertz, Travis Kelce, George Kittle
Everyone is familiar with the Big 3 tight ends, but who else offers fantasy football value in 2019?
Ian Hartitz analyzes the tight end situation for all 32 NFL teams to identify targets and fades.
We're in the thick of the NFL offseason and it's officially time to start fantasy football prep. I'll be answering the biggest questions heading into the 2019 season; this is part of that series.
---
The tight end position has been on the rise in terms of usage in real life and fantasy football over recent years. Losing Rob Gronkowski — also known as the most valuable tight end ever — doesn't help the position's overall potential for 2019, but there are still more than a few talents who are fully expected to work among their passing game's top-two options.
Let's break down who the top dogs at tight end are entering the 2019 season and figure out who has the most fantasy football value.
---
Tight Ends Who Could Actually Lead Their Team in Targets
There are only eight tight ends (by my count) who have a realistic chance to lead their offense in targets this season. This assumes health — Austin Hooper could obviously lead the Falcons in targets … if Julio Jones, Calvin Ridley and Mohamed Sanu miss the entire season.
Tier 1: Zach Ertz, Travis Kelce and George Kittle
Our Big 3 are obvious: Ertz (116 receptions), Kelce (103) and Kittle (88) were easily the league's top-three tight ends in real life and fantasy football last season. They joined Jared Cook (68) and Jordan Reed (54) as the only tight ends to lead their offense in receptions.
But there are reasons to be concerned about our Big 3 tight ends:
Kelce will (probably) no longer benefit from defenses treating Tyreek Hill as the Chiefs' No. 1 option.
Ertz could theoretically give up snaps to rising second-year talent Dallas Goedert.
Kittle will have to get re-acclimated with Jimmy Garoppolo under center, as well as several new weapons at running back and wide receiver.
With all that said, I'm targeting these three whenever possible in fantasy drafts of all shapes and sizes considering their unique statuses as talented No. 1 options on projected high-scoring offenses with very good-to-great quarterbacks.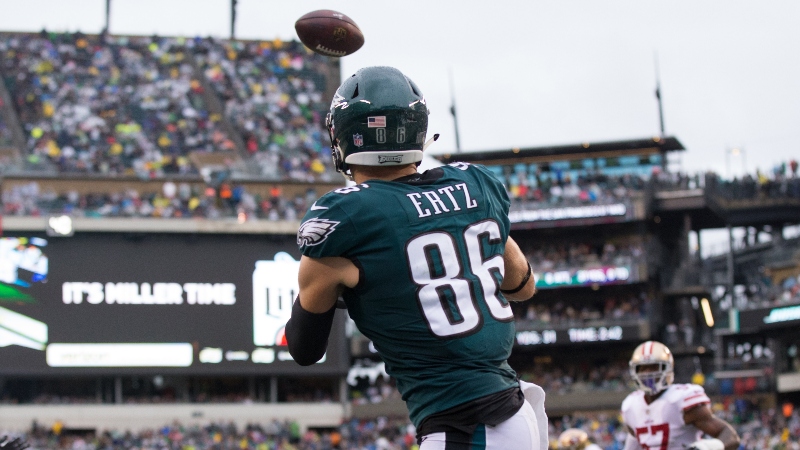 Tier 2: Evan Engram, Jordan Reed and Delanie Walker
There are a few more concerns for our next three tight ends that could lead their team in targets:
Engram will be catching passes from Eli Manning and potentially — *throws up in mouth* — Daniel Jones in what figures to be one of the league's lowest-scoring offenses. Still, Engram worked as the PPR TE5 as a rookie in 2017 when Odell Beckham Jr. played in just four games, then as the TE2 over the final four games of 2018 with OBJ sidelined.
Jordan Reed actually managed to stay healthy (for him) in 2018 to the tune of 13 games played. His average of 10.3 yards per reception wasn't far removed from what we saw during his prime years in 2015 (10.9) and 2016 (10.4). He once again faces hardly any competition for targets and could benefit from having a more aggressive quarterback like Dwayne Haskins under center.
Delanie Walker led the Titans in targets in 2015 (133), finished second in 2016 (102) and again emerged as his team's top pass-game weapon in 2017 (111). The history of 35-year-old tight ends returning from a fractured and dislocated ankle isn't long, but there might be a world where Marcus Mariota somehow targets Walker more often than anyone else in the Titans' crowded run-first offense again in 2019.
Tier 3: Mike Gesicki and Noah Fant
Our final two are absurdly athletic tight ends who could really provide some value with a featured role.
Gesicki is what a group of scientists would come up with in a lab if they wanted to create a freakishly-athletic tight end. He posted a 4.54-second 40-yard dash (10th among all tight ends over the past 10 years), 41.5-inch vertical (third), 10-foot-9 broad jump (sixth), 6.76-second 3-cone drill (third) and a 4.1-second 20-yard shuttle (third).
He played only 37% of his snaps in the slot or out wide in 2018, so a more receiving-friendly role combined with an overall increase in snap share could lead to some boom-or-bust fantasy goodness in 2019.
Dolphins offensive coordinator Chad O'Shea spent the better part of the past decade working with Rob Gronkowski and the Patriots' passing game. It remains to be seen whether Ryan Fitzpatrick and/or Josh Rosen can engineer a consistently effective passing attack on a team that appears to be tanking, but Gesicki has the type of ability to stand out quickly in a brand-new Miami offense.
Like Gesicki, Fant's biggest obstacle in 2019 could simply be a general lack of efficiency fueled by what figures to be a below-average offense. Joe Flacco hasn't functioned as even a top-30 quarterback for the better part of the past half decade.
Mr. Elite's reputation as some kind of tight end whisperer is also mostly unfounded.
Regardless, Fant finds himself in a similar situation as 2017 Evan Engram in that the Broncos have an aging quarterback with an injured No. 1 receiver and few proven options elsewhere. Fant has the size (6-foot-4 and 249 pounds) and athleticism (94th-percentile SPARQ-x score) to demand plenty of targets sooner than later in an offense without an identity.
---
More Intriguing Fantasy Tight Ends
The following five tight ends have proved they're #good at football and appear poised to work as at least a top-three receiver in their respective offenses.
Austin Hooper
Hooper converted 88 targets into a season-long 71-660-4 line in 2018. This included three games with at least nine receptions.
We could feasibly see the Falcons rely on Hooper more as an underneath option with Tevin Coleman now in San Francisco. Either way, Hooper carries a solid weekly floor considering there are few tight ends who are on the field as often as him.
David Njoku
The former first-round tight end has a ridiculous amount of athleticism (82nd-percentile SPARQ-x score) for a 6-foot-4, 246-pounds man.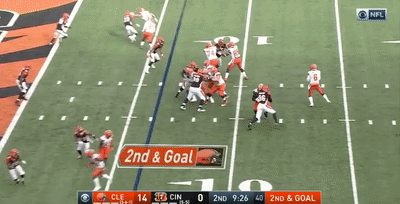 He ranked among the league's top 10 tight ends in catches (56), yards (639) and touchdowns (four) last season at 22 years old. He was the TE10 from Weeks 9-17 with Freddie Kitchens running the offense and is a player we should target in what could be one of the NFL's most-explosive offenses.
Hunter Henry
Only seven tight ends have averaged at least two yards per route run among 100 tight ends with at least 100 routes over the past two seasons: Kittle (2.22), Kelce (2.2), Gronk (2.1), O.J. Howard (2.06), Hunter Henry (2.05), Ertz (2.02) and Mark Andrews (2.01).
Henry boasts enhanced scoring upside if Antonio Gates remains retired, but Keenan Allen, Mike Williams and Melvin Gordon also figure to be plenty involved in the Chargers' passing game.
Vance McDonald
Perhaps the dark days during the Ladarius Green "era" made it tough for fantasy football investors to ever fully trust a Steelers tight end again.
Well, get over it — Jesse James is in Detroit and there are plenty of targets to be filled from the departure of Antonio Brown.
Vance "a make her dance" McDonald has flashed big-play ability that's rare to see at the tight end position.
O.J. Howard
Only Kelce (2.34) and Kittle (2.83) averaged more yards per route run than Howard (2.26) in 2018.
He largely functioned as one of the league's best tight ends before suffering a season-ending sprained foot and ankle:
Targets: 48 (12th among all tight ends in Weeks 1-11)
Receptions: 34 (T-10th)
Yards: 565 (fifth)
Yards per target: 11.8 (second)
Touchdowns: 5 (tied for third)
PPR: 120.5 (sixth)
There's little doubt that Howard is one of the league's most talented tight ends.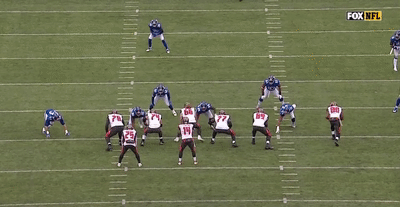 Don't expect this reality to remain a secret for very long.
---
Starting Tight Ends with Question Marks
Let's wrap things up with some quick notes on the following nine situations.
The Buffalo Bills are expected to start former-Bengals tight end Tyler Kroft after handing him a three-year contract worth $18.75 million, but Jason Croom and Lee Smith could steal snaps in Buffalo's low-floor offense.
The Carolina Panthers have Greg Olsen back for another year, but it would be borderline criminal if the team continues to push his snap rate past the 70% mark after Ian Thomas' solid rookie season. We also haven't seen what Olsen's fantasy production will look like in an offense with a running back commanding triple-digit targets.
The Chicago Bears figure to start Trey Burton, who played 80%, 82%, 80%, 77%, 78% and 69% of the offense's snaps even after 2017 second-round pick Adam Shaheen returned from injury. Burton finished as the overall PPR TE8 last season, but is far from a featured receiver in Chicago's crowded offense and returning from hernia surgery.
The Detroit Lions drafted T.J. Hockenson with the No. 8 overall pick in the 2019 draft and are expected to start him from Day 1. We'll see if Matthew Stafford can turn Hockenson into a better weapon than he managed with Eric Ebron, but Marvin Jones and Kenny Golladay should continue to work as the top-two options in this run-first offense for at least 2019.
The Green Bay Packers are again moving forward with the corpse of Jimmy Graham as their starting tight end.
The Minnesota Vikings have alienated Kyle Rudolph during the offseason while simultaneously drafting his replacement in Irv Smith Jr.
The New Orleans Saints have always offered plenty of fantasy football upside for an athletically-gifted tight end, but pretty much nobody other than Graham and Watson have ever managed to provide much value.
The New York Jets have a potential rising stud in second-year Chris Herndon, but it's anyone's guess as to who will emerge as Sam Darnold's No. 1 pass-target. There's plenty of added uncertainty here from Adam Gase's slow-paced offense as well as the additions of underneath targets Le'Veon Bell and Jamison Crowder.
The Oakland Raiders are saying all the right things about athletically-gifted tight end Darren Waller, but also added Luke Willson and Erik Swoope this offseason. It'd be shocking if Derek Carr doesn't make new weapons Antonio Brown and Tyrell Williams his top-two targets, although the development of Waller will be something to monitor as the offseason progresses.
---
Tight End Situations to Avoid
The following teams are expected to utilize a committee approach at the position, which likely won't result in any type of consistent season-long goodness in fantasy football.
Arizona Cardinals: I love Ricky Seals-Jones as much as the next fantasy football analyst, but the offseason additions of Charles Clay and Maxx Williams are worrisome (to say the least).
Baltimore Ravens: Mark Andrews became just the 14th rookie tight end to average at least 8.0 yards per target since 2000 (minimum 30 targets), but he's again expected to split snaps with 2018 first-round pick Hayden Hurst as well as last season's de facto starter Nick Boyle.
Cincinnati Bengals: The annual "will Tyler Eifert stay healthy?" game might not even matter in 2019, as the team's decision to sign C.J. Uzomah to a three-year deal worth $18 million indicates he likely won't be delegated to the bench for very long. Eifert and Uzomah played 133 and 159 snaps, respectively, over Weeks 1-4 before Eifert suffered a season-ending fractured ankle.
Dallas Cowboys: Jason Witten's decision to un-retire means he'll (probably) return to a limited role and split snaps with incumbent contributors Blake Jarwin and Dalton Schultz.
Houston Texans: Last season's starter Ryan Griffin was released during the offseason, paving the way for a likely committee featuring Darren Fells, Kahale Warring and/or Jordan Thomas. No tight end has scored five touchdowns in a season and/or gained more than 600 yards with Bill O'Brien calling plays for the Texans since 2014.
Indianapolis Colts: Yes, Eric Ebron racked up 13 touchdowns and finished last season as the overall PPR TE4. But Ebron significantly benefited from fellow tight end Jack Doyle missing 10 games, and high-priced free agent addition Devin Funchess figures to heavily carve into Ebron's red-zone target share. Perhaps Ebron will still overcome the competition and have another great season, but I'm not willing to find out at his current average draft position (TE4).
Jacksonville Jaguars: We don't know who will emerge as Nick Foles' No. 1 target, but I'm willing to bet it won't be Geoff Swaim, Josh Oliver, James O'Shaughnessy or Ben Koyack.
Los Angeles Rams: Athletically-gifted tight end Gerald Everett has earned comparisons to Jordan Reed over the years, but ultimately played on just 35% of the offense's snaps last season. Tyler Higbee (72%) is once again expected to serve as the offense's starting (block-first) tight end.
New England Patriots: Tom Brady will likely throw more than a few touchdowns to his group of tight ends, which includes new faces like Matt LaCosse, Ben Watson and Austin Seferian-Jenkins. But it's anyone's guess who emerges as the top receiver. A late-season return from Gronk also wouldn't be that surprising.
Seattle Seahawks: The Seahawks utilized a rotation between Nick Vannett and Ed Dickson after Dickson returned from injury in Week 8. Their respective returns, combined with the renewed presence of 2018 fourth-round pick Will Dissly, makes this a situation to avoid in Seattle's run-first offense.
A lot of teams have a "starting" tight end, but hardly any actually feature a single player at a position that has a large role in the passing game.
How would you rate this article?