Guide to Fantasy Football WRs: Identifying True No. 1s After Trade Deadline
The NFL trade deadline featured two transactions featuring proven No. 1 wide receivers.
Here's how the Golden Tate and Demaryius Thomas trades impact the landscape for fantasy football WRs.
Plus a full breakdown of the league's true No. 1 WRs, top receivers in crowded offenses and others stuck in committees.
The 2018 NFL trade deadline wasn't as dramatic as some might have hoped, but we did see two key transactions featuring proven No. 1 wide receivers: The Detroit Lions dealt Golden Tate to the Philadelphia Eagles, and the Denver Broncos traded Demaryius Thomas to the Houston Texans.
Not every No. 1 wide receiver is created equally.
The heightened presence of running backs, tight ends as well as role-specific receivers has muddled which teams truly funnel their passing game to a single wide receiver. And while an eight-week sample size shouldn't be taken as gospel, it's what we've got to work with people.
Let's start with a look at wide receivers who have earned at least 30% of their team's target share after 32 quarters of football. The following charts are sorted by each player's respective target share in their offense, which is noted in parenthesis.
True No. 1 WRs (25% or More Target Share)
Jarvis Landry (30.6%) and Julio Jones (30%) are the league's only receivers with at least 30% of their team's target share.
Jones is one of seven receivers with at least 15 deep-ball targets, but he's seen only three red-zone targets all season. He's averaging a career-low 0.4 red-zone targets per game through eight weeks.
DeAndre Hopkins (29.8%) joins Landry as the league's only top-10 receivers in both red-zone and deep-ball targets.
Adam Thielen (28%), Antonio Brown (27%), A.J. Green (26%) and Robert Woods (26%) are the group's only players on offenses that feature another wide receiver with a target share of at least 20%.
Odell Beckham Jr. (29%) and Davante Adams (27%) join AB, Jones, Thielen and Landry as the group's only receivers averaging double-digit targets per game.
Corey Davis (28%) joins Keenan Allen (25%), Golden Tate (25% with the Lions) and Woods as the group's only receivers without double-digit red-zone targets or double-digit deep-ball targets.
Tate won't command as large of a target share with the Eagles. His presence could also delegate current slot receiver Nelson Agholor to Carson Wentz's No. 4 target, while Alshon Jeffery and Zach Ertz shouldn't be affected.
Michael Thomas (26%) has caught 58-of-64 (90.6%) targets this season. Since 1992 (when pro-football-reference started tracking targets), no wide receiver has reached even 82% in a single season (min. 50 targets).
No. 1 WRs in a Crowded Offense (20% to 24% of Snaps)
The group's only players who aren't technically their own offense's No. 1 wide receiver are Stefon Diggs (24.9%), JuJu Smith-Schuster (23%), Tyler Boyd (22%) and Brandin Cooks (20%).
Smith-Schuster stands out as the only wide receiver with double-digit red-zone and deep-ball targets in the group.
Tyreek Hill (23%) is the group's only player who has been featured behind his offense's tight end, as Travis Kelce has out-targeted Hill 70 to 65 this season. Still, TyFreak ranks second in the league in deep-ball targets.
Mike Evans (23%) leads the Buccaneers with 37 targets with Ryan Fitzpatrick under center this season. None of Evans' teammates has even 25 targets from the artist formerly known as FitzMagic.
Emmanuel Sanders (22%) had already emerged as the Broncos' clear-cut No. 1 receiver even before the Thomas trade. Sanders leads Denver in air yard market share and is the new featured red-zone target.
Larry Fitzgerald (21%) and Cole Beasley (21%) join Cooks as the group's only receivers averaging fewer than seven targets per game.
Beasley has a position-low two deep-ball targets among the 23 wide receivers with at least 20% of their offense's target share.
Devin Funchess (21%) has bucked his anti-Greg Olsen splits in recent weeks and has even out-targeted Christian McCaffrey, 50 to 49.
Committee WRs (15% to 19% of Snaps)
The group's only receivers averaging at least 7.5 targets per game are Nelson Agholor (19.8%) and Michael Crabtree (19.5%). Agholor doesn't figure to approach that number with Tate now in Philly.
Tyler Lockett (19%) is the only wide receiver with a qualified target share who is averaging fewer than five targets per game.
The only committee receivers with double-digit red-zone targets are Sterling Shepard (19%), Marvin Jones (18%), Sammy Watkins (17%) and Cooper Kupp (17%).
Jones and Kenny Golladay (17%) are positioned to climb into the previous group of receivers — No. 1 WRs in a crowded offenses — with Tate no longer involved. Both already offered massive week-to-week upside, but they should now have a decent weekly floor as well.
John "Smokey" Brown (17%) leads the league with 24 deep-ball targets.
Taylor Gabriel (18%) has managed to out-target Allen-Robinson (18%) 44 to 43 overall, as well as 11 to 10 on deep balls. A-Rob leads 7 to 5 in red-zone looks.
The Jaguars are the NFL's only team with three committee receivers. Donte Moncrief (18%) easily leads the offense in deep-ball targets, but Keelan Cole (15%) and Dede Westbrook (15%) have been nearly as involved in the red zone.
There's been less separation between Kelvin Benjamin (18%) and Zay Jones (17%) in recent weeks, and Jones has surprisingly out-targeted K-Benji 6 to 3 during the Bills' rare trips into the red zone this season.
Primary slot receivers with minuscule red-zone roles include Danny Amendola (18%) and Willie Snead (17%) along with Jermaine Kearse (16%), who figures to take a back seat once Quincy Enunwa (17%) returns from his ankle injury.
Antonio Callaway (16%), Will Fuller (17%, RIP) and Demaryius Thomas (19%) join Gabriel, Jones, A-Rob, Moncrief and Smokey as the group's only receivers with double-digit deep-ball targets.
Thomas should continue to see plenty of deep balls with the Texans as Fuller's replacement, but DT doesn't offer the same overall speed threat that Fuller does. Deshaun Watson has averaged 9.03 yards per attempt with Fuller compared to 6.2 without.
Chris Godwin (15%) is the clear No. 3 wide receiver in the Bucs' offense with Fitzpatrick under center.
Christian Kirk (19%) has narrowly out-targeted Fitzgerald 8 to 7 on deep balls, while Fitz has easily out-targeted the rookie 8 to 2 in the red zone.
Pierre Garcon (16%) has fewer deep-ball looks than Marquise Goodwin (9%) despite seeing 17 additional targets this season.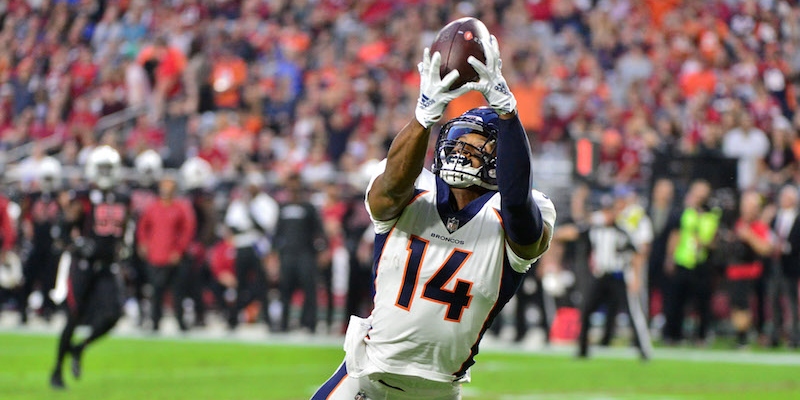 WRs with a Target Share Under 15%
Other receivers averaging at least 7.5 targets per game include: Alshon Jeffery (14%), Randall Cobb (11%), Julian Edelman (12%), T.Y. Hilton (14%) and Keke Coutee (12%). Each has already missed significant time this season.
Coutee doesn't figure to suffer too much from the addition of DT, as he's spent 72% of his snaps in the slot this season. Thomas lined up inside on only 33% of his snaps with the Broncos.
Mike Williams (13%) joins Edelman, Jeffery and Hilton as the group's only receivers with more than five red-zone targets.
DeSean Jackson (15%) has out-targeted Adam Humphries (14%) 22 to 14 with Fitzpatrick under center.
Geronimo Allison (10%) and Cobb were each out-snapped by Marquez Valdes-Scantling (9%) during the Packers' Week 8 loss to the Rams.
Field-stretchers with fewer than 15% of their team's target share but who have double-digit deep ball targets include: D-Jax, Robby Anderson (14%), Courtland Sutton (13%), Kenny Stills (12%) and Tyrell Williams (12%).
Sutton should see even more downfield opportunities with DT onto to Houston, but the red-zone usage could be especially key. Overall, Thomas out-targeted Sutton 8 to 4 inside the 20-yard line.
Amari Cooper (12%) joins a Cowboys offense with zero wide receivers presently averaging more than four targets per game.
Calvin Ridley (13%) and Mohamed Sanu (13%) have each received 35 targets this season, although Ridley has been more involved both in the red zone and on deep balls.
Tre'Quan Smith (7%) has more deep-ball targets (5) than Michael Thomas (4) despite receiving 47 fewer total targets.
Josh Gordon (10%) leads the Patriots in air yard market share since joining the team in Week 4.
Josh Doctson (13%) and Paul Richardson (13%) each have 29 targets this season.