What to Expect from the Top Fantasy Football WRs in 2019
Credit:
Dan Powers/USA TODAY NETWORK-Wisconsin via USA TODAY NETWORK. Pictured: Davante Adams
Our fantasy football experts break down the outlooks for the top wide receivers heading into 2019.
Who's the top fantasy football wide receiver in 2019? Will Odell Beckham Jr. thrive in Cleveland? What about Antonio Brown in Oakland?
Our analysts forecast what to expect from the top 50 fantasy football wide receivers as ranked by our experts Sean Koerner, Chris Raybon and Matthew Freedman for PPR formats (as of July 11). Our experts' rankings and projections are constantly changing, so get the latest with our Fantasy Football Draft Kit, complete with customizable cheat sheets for your leagues.
You hardly see any debate as to who the top QB/RB/TE is heading into 2019. That's not the case for WR.
Some days I wake up leaning Hopkins, other days I lean Davante Adams. The fact is, you really can't go wrong with either. Both are truly elite WRs who have proven to be QB-proof.
It's easy to forget, but Hopkins still put up elite WR1 numbers with Tom Savage and T.J. Yates throwing him the ball in 2017 — a feat that made Hopkins an instant fantasy football legend in my book. — Sean Koerner
Again, you can't really wrong with Hopkins or Adams, although it's worth noting that Aaron Rodgers played hurt last season, throwing only 25 touchdown passes, and Adams still managed to tie Hopkins in fantasy points.
You have to imagine that Rodgers' TD passes will only go up, meaning the rise in tide will lift all boats, giving Adams even more touchdown potential. — Sean Koerner
No single receiver will be able to replace what Antonio Brown brought to the Steelers offense. And while we do have three games of evidence that Smith-Schuster is plenty capable of producing at a high level without AB, his days of consistently seeing single coverage are likely over: Brown (168 targets) and Smith-Schuster (166) were already two of only five receivers with more than 160 targets last season, so there's a scenario in which JuJu could be less efficient on a very similar workload.
Still, this worst-case scenario would likely still yield more than enough targets for Smith-Schuster to work as a WR1 in fantasy football. — Ian Hartitz
Jones' current streak of five consecutive seasons with at least 1,400 yards is unmatched in the history of the NFL, and his status as the yearly favorite to lead the league in receiving yards gives him arguably fantasy football's highest floor at wide receiver.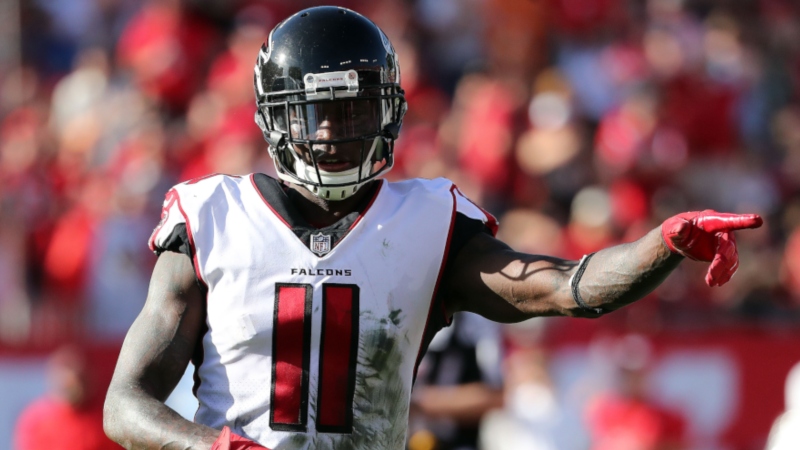 The Falcons managed to feed him eight touchdowns after his streak of seven scoreless games to start 2018. Carrying that hot streak into 2019 could help produce yet another top-five fantasy finish for one of the best receivers to ever play the position. — Ian Hartitz
The Browns have their first true No. 1 outside receiver since prime Josh Gordon.
Beckham has played in just 59-of-80 (74%) potential games since entering the league in 2014, but he's still established himself as one of the best to play the position through his first five seasons: OBJ's average of 92.8 receiving yards per game trails only Julio Jones (96.7) among all wide receivers in NFL history. Some even believe that OBJ is the NFL's best active receiver, and he's ranked among the league's top-five fantasy options whenever he's been healthy enough to suit up.
If Baker Mayfield is as good as everyone thinks he is, just imagine what one of the most talented receivers in league history will look like as his No. 1 receiver. — Ian Hartitz
Thomas has racked up the most receptions (321) over the first three seasons of a career in NFL history. He and Drew Brees have a solid claim as the league's most efficient duo — their 77% career catch rate is the highest among any tandem since Pro Football Reference began tracking targets in 1992.
Thomas' chances at putting up huge numbers again in 2019 are looking good considering he once again appears primed to receive one of the league's largest workloads at wide receiver. — Ian Hartitz
Brown is a bit of a question mark heading into 2019.
Unlike other top wide receivers who have been able to thrive even when their starting quarterback is out, Brown has not. In 2015, he had to go a four-game stretch without Ben Roethlisberger under center and was the WR45 over that stretch. I've always felt Brown has benefited from the mind meld he has with Big Ben, so going to a new team and a new QB could hurt his production a bit.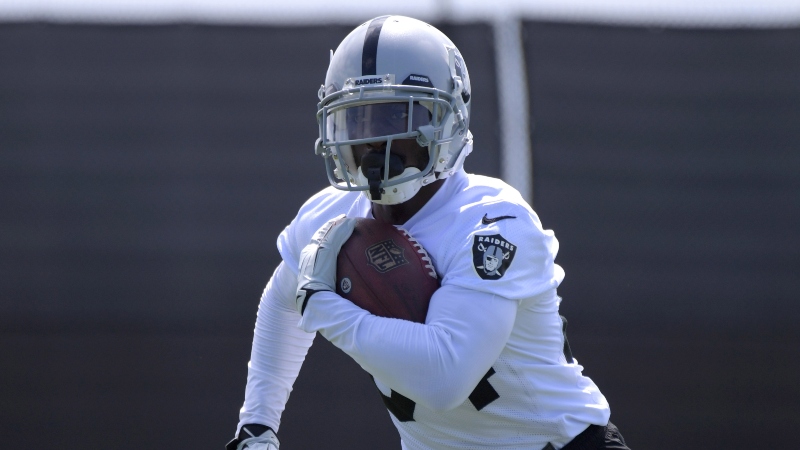 I still think Brown will see enough volume to mask the lack of chemistry between he and Derek Carr their first season together. But I'm also a bit concerned Brown's personality has the potential to create some problems with that. — Sean Koerner
Allen is a high-floor option with plenty of room for a ceiling since he saw 29% of the Chargers' market share of targets and 33% of their Air Yards yards last season.
His 2.50 yards per route run was the seventh-best mark in the league, which narrowly trailed DeAndre Hopkins, who is going at the tail-end of the first round as of writing. Allen also benefits from seeing plenty of time in the slot, which helps create mismatches on the offensive side of the ball.
Chances are you won't be upset with a third-round investment in Allen when he arguably could be more deserving of a higher pick. — Justin Bailey
Mike Evans, Tampa Bay Buccaneers
Evans joins A.J. Green and Randy Moss as the only players in NFL history to start their career with five consecutive seasons with at least 1,000 receiving yards.
He's fully expected to continue to work as the offense's lead target in head coach Bruce Arians' new-look Buccaneers offense. Arians' presence could wind up being good news for Evans and Chris Godwin, as he's made a habit of getting his top-two pass catchers triple-digit targets:
2013: Larry Fitzgerald (135) and Michael Floyd (113)
2014: Fitzgerald (103) and John Brown (102)
2015: Fitzgerald (145) and Brown (101)
2016: Fitzgerald (150) and David Johnson (120)
2017: Fitzgerald (161) and Jaron Brown (69)
Only Antonio Brown (59), DeAndre Hopkins (45) and Odell Beckham Jr. (44) have scored more receiving touchdowns than Evans (40) since 2014. He's locked in as a matchup-proof WR1. — Ian Hartitz
Hilton's production has been strongly tied to the presence of his franchise quarterback under center. He's still been an above-average receiver without Andrew Luck, but has consistently been a top-10 talent on a per-route basis anytime Luck has been healthy enough to suit up.
Luck has certainly made it a priority to feed Hilton throughout his career, and we shouldn't expect that fantasy-friendly workload to drastically change in 2019 — especially since Luck's second season under head coach Frank Reich could certainly produce a more efficient offense. — Ian Hartitz
Thielen's eight consecutive games with 100 yards to start the 2018 season set a new NFL record. Only Julio Jones (21) and Antonio Brown (17) have had more games over the century mark than Thielen (16) since 2016.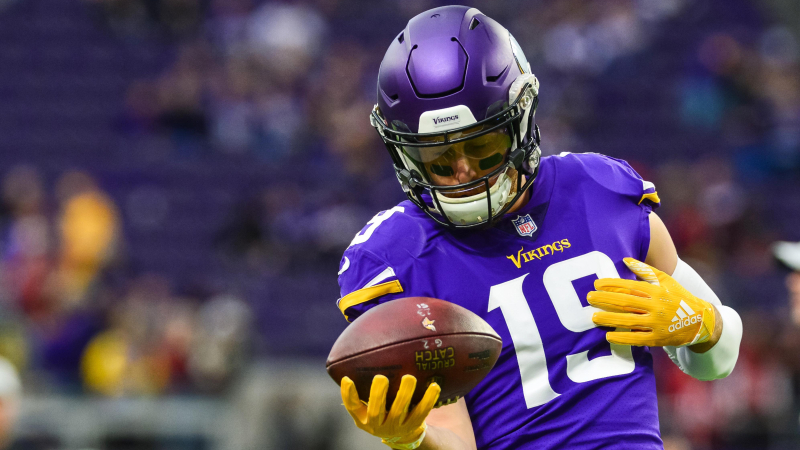 The most impressive part about his production has been his efficiency. Thielen (70.1% catch rate) joins Michael Thomas (77%), Cole Beasley (70.9%), Adam Humphries (70.4%) and Tyler Lockett (70.3%) as the only wide receivers to catch at least 70% of their targets since 2012 (min. 100 targets).
All of this production has ultimately helped Thielen finish as the PPR WR30, WR9 and WR7 from 2016 to 2018. — Ian Hartitz
Provided Green is healthy enough after his season-ending toe injury, he's an excellent value in the third round of drafts. Ideally, he would see more than the 23% target share he saw last year, but that still came out to 8.6 targets per game — both marks ranked inside the top-20 among receivers.
Where Green separated himself against Tyler Boyd was his 37% of the market share of Air Yards, which was 10% higher than Boyd's. Green still has the big-play ability to make him worthy of an investment. — Justin Bailey
There's little doubt that Cooper's time with the Cowboys produced the best professional football performance of the 24-year-old's career.
Cooper's 8.5 targets per game in his 11 outings with Dallas were the most during a season of his career. He averaged 7.5 targets per game during his three and a half seasons in Oakland.
Cooper averaged a career-high 9.5 yards per target with Dak Prescott under center. Cooper's rate with Derek Carr was 8.3 yards per target.
Cooper racked up 150-plus yards in two games, which matched his total amount of breakout performances with the Raiders.
He's poised to again work as a valuable fantasy asset as long as defenses are forced to focus on Ezekiel Elliott. — Ian Hartitz
Edelman didn't step onto the field until Week 5 of 2018, but from then until the end of the season, he ranked eighth in total fantasy points, 10th in fantasy points per game, eighth in targets and 10th with his 9.0 targets per game among wide receivers.
With Rob Gronkowski out of town and Edelman's recent two-year $18 million extension, there's even more reason to be bullish on him for 2019. — Justin Bailey
Cooks is in an offense that can support multiple receivers. The Rams rarely use their tight end, and Jared Goff led the league in pass attempts from 3-WR sets.
Cooks saw consistent usage last season, soaking up 32% of their Air Yards and 22% of their target share, but he was slightly less consistent than Robert Woods or a healthy Cooper Kupp. This isn't surprising since Cooks' 12.7-yard average depth of target led all of them.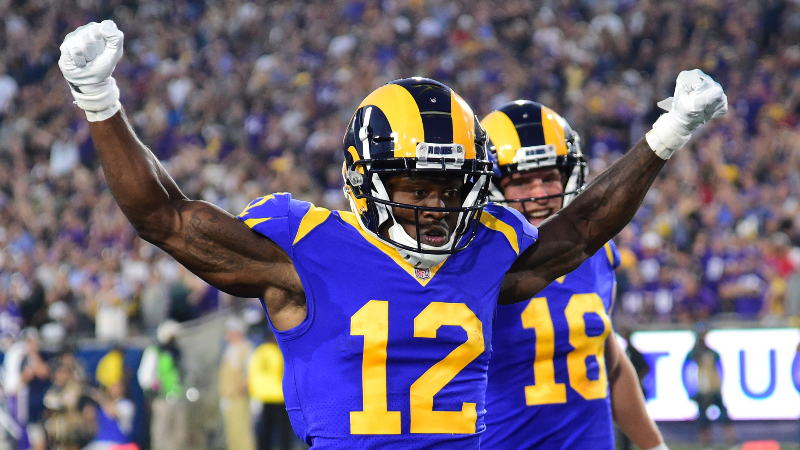 I think Cooks is being properly valued narrowly ahead of his teammates in current average draft position because he arguably has more upside on a weekly basis than Woods or Kupp. — Justin Bailey
Diggs established himself as more than a flash-in-the-pan talent during his first three seasons in the league, but he didn't truly break out until teaming up with Kirk Cousins in 2018.
Diggs also was able to play in a career-high 15 games last season — the biggest "problem" for him early in his career was simply staying on the field. Still, we have four seasons of evidence that says it's fairly difficult for him to stay completely healthy for 16 games. — Ian Hartitz
The Seahawks called the fewest pass plays in the NFL last season, but a lack of volume didn't stop Lockett from forming arguably the league's most efficient quarterback-receiver combination with Russell Wilson.
Lockett's average of 13.8 yards per target was the highest mark in the league (minimum 25 targets), he averaged a league-high 3.1 fantasy points per target, and he caught 14-of-18 (78%) deep-ball targets.
And it wouldn't be a surprise if the absence of Doug Baldwin, who averaged 115 targets from 2015-17, leads to an enhanced target share for Lockett in 2019. — Ian Hartitz
Ridley (10) joined Mike Evans (12) and Odell Beckham Jr. (12) as the only rookies to record double-digit receiving touchdowns over the past five seasons. His pristine route-running made him a threat against all three levels of defense the second he stepped on the field.
The Falcons were one of only seven teams that played at least four games with 60-plus combined points last season. Now they're scheduled to play 13 (!) games indoors in 2019, meaning more high-scoring shootouts are likely on the way.
Ridley will be their No. 2 receiver for however long Julio Jones calls Atlanta home, but both are talented enough to work as No. 1 fantasy football options. The ceiling is the roof for Ridley if something were to happen to either Jones or Mohamed Sanu. — Ian Hartitz
Woods is a solid pick in the fourth round on a team that is built to handle 3-WR sets.
Jared Goff and the Rams had the most pass attempts from 3-WR in 2018, and Woods led the team with 23% of their market share of targets, while his 30% of the market share of Air Yards narrowly trailed Brandin Cooks. Even once Cooper Kupp (knee) returns to the lineup, Woods' volume shouldn't be affected too much since he averaged 8.12 targets per game with Cooper in the lineup and 8.25 without.
Woods should make for safe WR2 in the early stages of your drafts. — Justin Bailey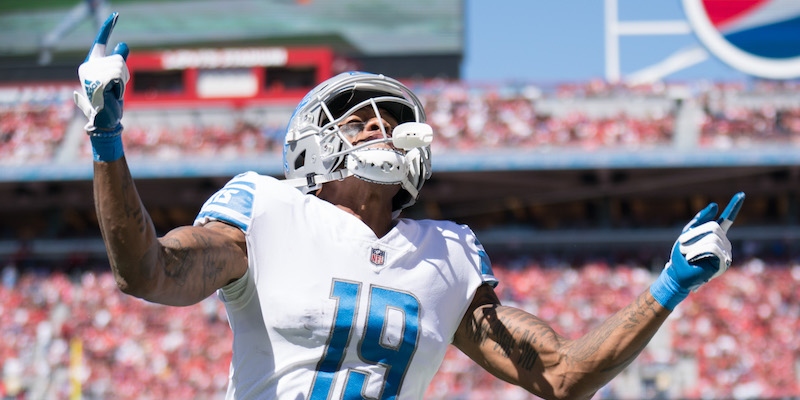 People might shy away from Golladay's low touchdown total of five from 2018, but he should see some positive touchdown regression as he had (by my estimates) four to five taken away via penalties, reviews, drops, falling down right at the goal line, etc.
With a little bit of luck last season, Golladay's price tag could have been much higher heading into 2019. — Sean Koerner
Losing DeSean Jackson and Adam Humphries wasn't ideal for the Buccaneers, but it also means more targets for this potential Year 3 breakout. It would be shocking if Godwin continues to spend much time on the bench.
Helping matters for his potential fantasy-friendly role is his ability to operate from the slot. Offseason coach speak should be taken with a grain of salt, but Bruce Arians did indicate that Godwin will see a lot of action from the slot and could be a 100-catch guy. — Ian Hartitz
Kupp tore his ACL in Week 10 last season, but he's reportedly progressing well.
He was one of Jared Goff's favorite red-zone targets, soaking up 12 targets and scoring three touchdowns in just eight games. Kupp had just one fewer red-zone touchdown than Brandin Cooks and Robert Woods in nearly half the amount of games, and still tied Woods in red-zone targets (12) and had only five fewer than Cooks.
Kupp's 8.1 average depth of target means he should see high-percentage throws. It also doesn't hurt that he has touchdown upside built into him. His 7.0 targets per game narrow trailed Woods (8.2) and Cooks (7.3), which is encouraging.
There's some risk investing in Kupp, but he's worth a look if he's progressing well. — Justin Bailey
Having a quarterback like Cam Newton who has (deservingly) demanded 7.6 rush attempts per game throughout his career will always be a "burden" that backs and receivers on teams with less mobile signal callers don't have to worry about.
But enter 2018 first-round pick Moore.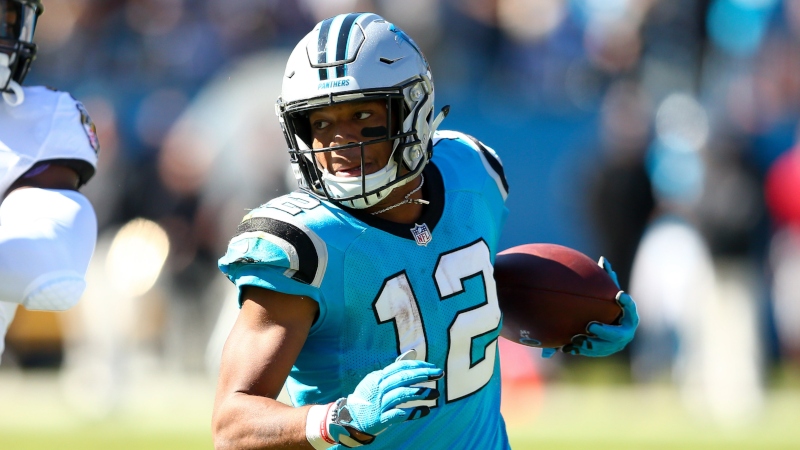 The team has moved on from de facto No. 1 receivers Kelvin Benjamin and Devin Funchess in consecutive seasons, paving the way for he and 2017 second-round pick Curtis Samuel to add a new speedy dimension to the offense. — Ian Hartitz
Kansas City remains a prime destination for fantasy football goodness, and Sammy Watkins has a chance to be the prime beneficiary from Tyreek Hill's potential release.
The sixth-year receiver hasn't played 16 games in a season since his rookie year and hasn't offered much fantasy upside since 2015, but it's tough to ignore Watkins' potential status as Patrick Mahomes' No. 1 wide receiver. It'd be shocking if Watkins doesn't start the season as the No. 2 pass game option after Travis Kelce. — Ian Hartitz
Landry averaged only 1.64 yards per route run last season, which isn't surprising considering his role in the Browns' offense running 70% of his routes from the slot (per Pro Football Focus).
Landry has always been a volume-driven receiver because he typically doesn't score touchdowns or see downfield targets. With the addition of Odell Beckham Jr., who should command most of the targets, it's difficult to view Landry as anything more than a low-end WR2 on a team with plenty of options including, Duke Johnson, David Njoku and even Antonio Callaway, who garnered 14% of Cleveland's target share in 2018. — Justin Bailey
---
>> Sign up for The Action Network's daily newsletter to get the smartest conversation delivered into your inbox each morning.
---
When Kirk went down in Week 13, he ranked second among all rookie wide receivers in targets (68) and catches (43), as well as third in receiving yards (590).
Wide receivers tend to break out in Year 2, and Kirk's target share seems destined to increase in a Kliff Kingsbury offense that will scheme the second-year receiver easy completions. Plus, given Kirk's superior athletic ability compared to Larry Fitzgerald at this stage of their respective careers, there's a good chance Kirk leads the team in targets and catches this season. — Ian Hartitz
Williams joins Antonio Gates as the only players to have caught double-digit touchdowns from Philip Rivers in a single season. Williams flashed his ability as an alpha No. 1 target on multiple occasions in 2018, posting 4-81-2, 7-76-2 and 5-68-0 lines in his only games with more than six targets.
The Chargers will replace Tyrell Williams' field-stretching threat with incumbent backup Travis Benjamin, but Mike is now at least the offense's undisputed No. 1 outside receiver. He has the type of elite contested-catch ability to keep racking up touchdowns despite the return of red-zone threat Hunter Henry.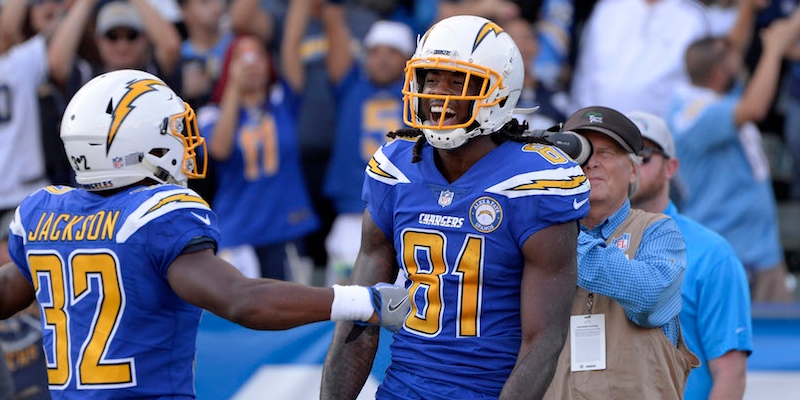 Williams carries enhanced value if anything were to happen to Henry, Keenan Allen or Melvin Gordon, all three of whom have troubled injury pasts. — Ian Hartitz
The Cardinals' long-time No. 1 receiver will undoubtedly have fantasy value in new head coach Kliff Kingsbury's Air Raid offense, though Fitzgerald is coming off a career-worst season in yards (734) and yards per target (6.55).
Fitz hasn't been winning with speed for years, so it wouldn't be surprising if he's able to experience a small fantasy renaissance as the de facto top pass-game option in what figures to be one of the league's most pass-heavy offenses. — Ian Hartitz
The Jaguars' starting slot receiver posted team-high marks in targets (101), receptions (66), yards (717) and touchdowns (5) in 2018. Westbrook has a chance to be Nick Foles' new-look Nelson Agholor — an explosive underneath option with the potential to create big plays via yards after the catch.
Westbrook also chipped in 98 rushing yards and a punt return touchdown last season, demonstrating an elite level of ability with the ball in his hands. — Ian Hartitz
The main concern with Jeffery is that he's not the leading pass-catcher on his team. He soaked up 19% of the Eagles' target share last season while Zach Ertz saw No. 1 receiver volume with 26%.
Jeffrey does have No. 1-receiver upside, you just don't always know when those weeks are coming with Philly's propensity to spread the ball around. Still, he led the team with 29% of its Air Yards last year and an 11.1-yard average depth of target.
His 14.3 fantasy points per game trailed only Ertz among pass-catchers, and if he can stay healthy for all 16 games, Jeffrey should make for a solid WR2. — Justin Bailey
We haven't seen Robinson function as an elite No. 1 receiver since 2015, but the good news is that he was at least on the right track last season, flashing glimpses of his ceiling in a couple breakout games.
A-Rob ranked among the league's bottom-five receivers in average separation per target (Next-Gen Stats) in 2016 and 2018, so we have to be wary about targeting him in matchups against top-tier cornerbacks who can match-up with him physically.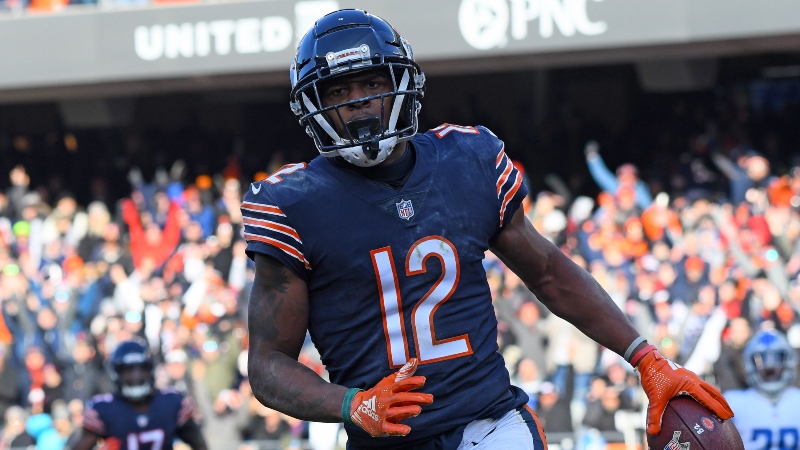 But he still looks like the best bet for fantasy football success in the Bears' crowded passing offense. — Ian Hartitz
Tate is a fine floor option in late rounds of your drafts, assuming they're PPR formats.
Odell Beckham Jr.'s absence will create a massive void for targets, which should bode well for Tate. With an average depth of target (aDOT) of just 6.75 yards last season, Tate will make for the perfect check-down option for Eli Manning, whose 7.8-yard aDOT wasn't much higher than Tate's. — Justin Bailey
Fuller has helped take the Texans from good to great over the past two seasons. His game-breaking speed is one of the most valuable commodities in football and he's helped to elevate the performance of virtually all of his teammates.
He's a great football player in both real life and in fantasy football, but injuries have caused him to miss 17 games since entering the league in 2016. Still, the good news for potential Fuller fantasy investors is that he's been one of the NFL's best receivers when healthy. — Ian Hartitz
The Lions' decision to trade Golden Tate during the 2018 season reflects their direction toward forming a run-first offense that isn't afraid to take shots downfield. This is good news for Jones and Kenny Golladay.
Golladay is better positioned to work as the offense's true No. 1 target, but the vast difference in current average draft position between Babytron (WR19) and Jones (WR42) doesn't properly reflect that they've been interchangeable fantasy producers over the past two seasons.
Kenny Golladay (26 games): 167 targets; 98 receptions; 1,540 yards; 8 touchdowns
Marvin Jones (25 games): 169 targets; 96 receptions; 1,609 yards; 14 touchdowns
It helps that the biggest change under new offensive coordinator Darrell Bevell could be an added emphasis on the deep ball. — Ian Hartitz
Tyreek Hill, Kansas City Chiefs
Hill is clearly an upside play given the uncertainty around him, and it's easier to take a mid-round flier on a situation like this in re-draft. He'll easily be a league-winning selection if he's somehow able to avoid any punishment by the NFL, but that seems unlikely. — Sean Koerner
It seems likely that Jamison Crowder starts the season as the Jets' primary inside receiver, which leaves Anderson and Quincy Enunwa in the remaining two starting spots in 3-WR sets.
Anderson appears to be the favorite to see more targets after he took a leap forward in Weeks 14-17 of last season, after Sam Darnold returned from injury:
Robby Anderson in Weeks 14-17 after Sam Darnold returned from injury:

at Bills: 4 receptions-76 yards-1 TD (7 targets)
vs. Texans: 7-96-1 (11)
vs. Packers: 9-140-1 (13)
at Patriots: 3-24-0 (8)
Overall: PPR WR6

… but now Le'Veon Bell, Jamison Crowder and Adam Gase are in town.

— Ian Hartitz (@Ihartitz) May 13, 2019
But complicating matters for all three receivers is that fact that the Jets boast several more competent pass-game weapons at other positions. — Ian Hartitz
Davis led the Titans with 34% of their Air Yards and 26% of their target share last season, but he put together a disappointing 65-891-4 line on incredible volume.
Heading into 2019, he's in a worse spot than he was last season with Delanie Walker (ankle) expected back, along with the addition of Adam Humphries and A.J. Brown. Davis could struggle to reach his previous totals in a low-volume passing offense that now has more mouths to feed. — Justin Bailey
The absence of Odell Beckham Jr. will thrust Shepard into the No. 1 role for the Giants.
OBJ's absence will free up roughly 28% of the Giants' target share from last season, which is encouraging for Shephard's outlook as he was second on the team last year in market share of Air Yards (24%) and target share (18%).
The Giants did add Golden Tate to the roster, but Shepard is a good bet to lead the Giants in targets and currently has a cheap draft cost. — Justin Bailey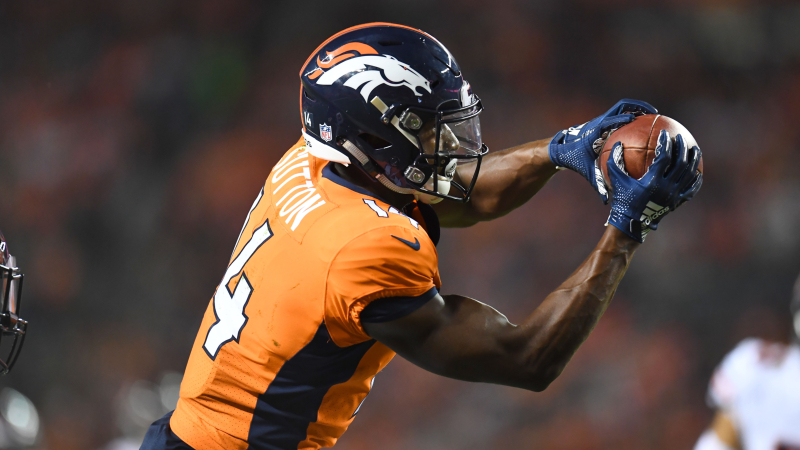 Sutton was one of only three rookie receivers with double-digit catches of 20-plus yards last season. He's Denver's most talented receiver in terms of his 6-foot-3, 218 pound size and 84th-percentile SPARQ-x athleticism, but consistent production was tough to find with Case Keenum.
The problem for Sutton's Year 2 projection is Joe Flacco's inability to throw the deep ball. Perhaps the thin Colorado air will again propel Flacco to great heights like we saw in the 2012 Divisional Round, but the more likely scenario is he'll continue to work among the league's worst deep-ball quarterbacks.
Sutton's best-case scenario is this season's version of John Brown, who was the WR22 in PPR from Weeks 1-9 before Flacco was replaced by Lamar Jackson in 2018. His worst-case would be a No. 4 role behind DaeSean Hamilton and/or Emmanuel Sanders, Noah Fant and (potentially) Philip Lindsay. — Ian Hartitz
Boyd is an interesting case heading into 2019.
He broke out last season, but some of that was due to A.J. Green missing five games with a toe injury. In Green's absence, Boyd averaged 8.22 targets and 6.11 receptions per game, compared to 6.8 and 4.2 with Green in the lineup.
If Green returns to his old self this season, Boyd could struggle to return value. But if Green's toe remains an issue, then Boyd could be set up for a solid campaign heading into the final year of his contract. — Justin Bailey
Pettis could be in store for a Year 2 breakout after starting to emerge following San Francisco's 2018 bye.
From Week 12 through the end of the season, he averaged an outstanding 2.26 yards per route run while finishing second on the team in Air Yards (28%) and target share (18%), trailing only George Kittle over that span. — Justin Bailey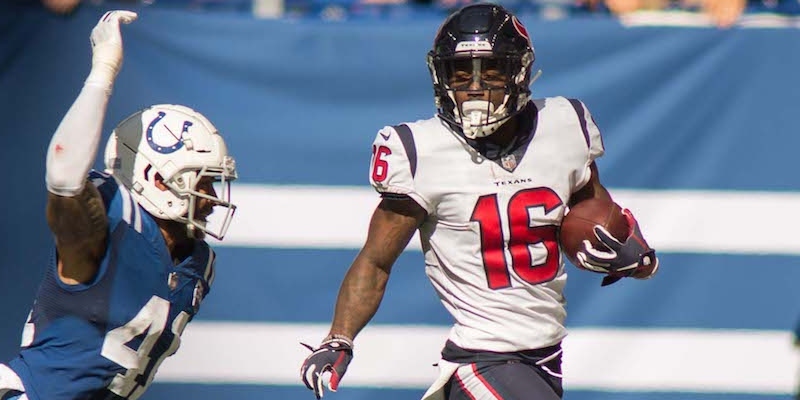 Even with DeAndre Hopkins and Will Fuller in the fold, the Texans' offense should still be able to support three receivers — especially with Deshaun Watson at the helm.
After Coutee averaged 7.9 targets, 5.6 catches, 56.7 yards and 0.29 touchdowns over seven regular-season and playoff games, the biggest concern with him shouldn't be usage, but durability. Provided he can stay on the field, though, he has some anti-fragility to him in the sense that he would be third on the priority list for opposing defenses if Hopkins and Fuller stay healthy. Coutee would likely to be a target hog if either went down. — Chris Raybon
Having a quarterback like Cam Newton who has (deservingly) demanded 7.6 rush attempts per game throughout his career will always be a "burden" that backs and receivers on teams with less mobile signal callers don't have to worry about.
But enter Samuel.
The team has moved on from de facto No. 1 receivers Kelvin Benjamin and Devin Funchess in consecutive seasons, paving the way for he and D.J. Moore to add a new speedy dimension to the offense. — Ian Hartitz
Stills had the most targets (64), receptions (37), yards (553) and touchdowns (6) in 2018 among returning Dolphins wide receivers. His field-stretching ability probably means he'll find a fairly significant role in the offense, but whether his snaps will lead to a high target share remains to be seen.
The common theme with Stills and Miami's other talented offensive skill position players is that we really have no idea how their snap and touch shares will break out yet. That's usually the case anytime an offense is breaking in both a new quarterback and play-caller. — Ian Hartitz
Funchess hasn't enjoyed the most consistent career. He seemed to be on the verge of breaking out after posting a 63 receptions-840 yards-8 touchdown line in 2017, but finished 2018 with a rather pedestrian season-long 44-594-4 line.
With that said, at 6-foot-4 and 232 pounds, he essentially provides Andrew Luck with a more athletic tight end to target in the red zone.
It would be surprising if Funchess doesn't start in 2-WR sets alongside T.Y. Hilton. — Ian Hartitz
Sanu is the clear No. 3 option in Atlanta behind Calvin Ridley and Julio Jones, but he's not a bad floor option as a bye-week fill-in in re-draft leagues.
Matt Ryan and the Falcons had the ninth-most dropbacks and pass attempts from 3-WR sets last season, and Sanu should mostly see high-percentage throws as he had an 8.4-yard average depth of target in 2019, along with running 75% of his routes from the slot.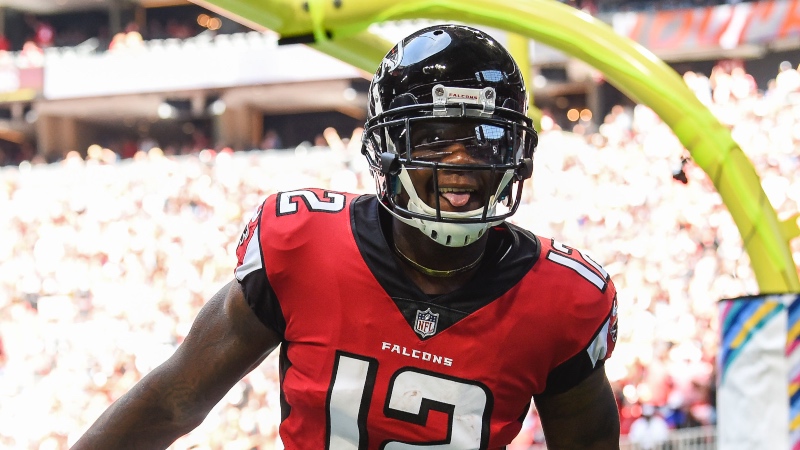 If anything were to happen to Ridley or Jones, Sanu would be next in line to benefit. — Justin Bailey
The Jets' Crowder signing is interesting considering their suddenly deep corps of capable pass catchers. But his type of deal — three years for $28.5 million with $17 million guaranteed — indicates that the former fourth-round pick will have a significant role in the offense.
The former Redskins slot receiver was banged up with an ankle injury for a large portion of 2018. His best season came in 2016, when he set career-high marks in receptions (67), yards (847) and touchdowns (seven) under then-Redskins offensive coordinator Sean McVay. He finished that season as the PPR WR26.
It seems likely that Crowder starts the season as the Jets' primary inside receiver. — Ian Hartitz
Jackson isn't quite as dangerous as he was five years ago, but he still ranks among the NFL's best field-stretchers: His average of 16.8 yards per reception is the highest mark since 2015 (minimum 100 catches), and he led the league with 18.9 yards per catch in 2018 with a mix of Ryan Fitzpatrick and Jameis Winston slinging the rock.
The DeSean Jackson effect is again expected to work in 2019 based on Carson Wentz's history of thriving with competent speed on the field. — Ian Hartitz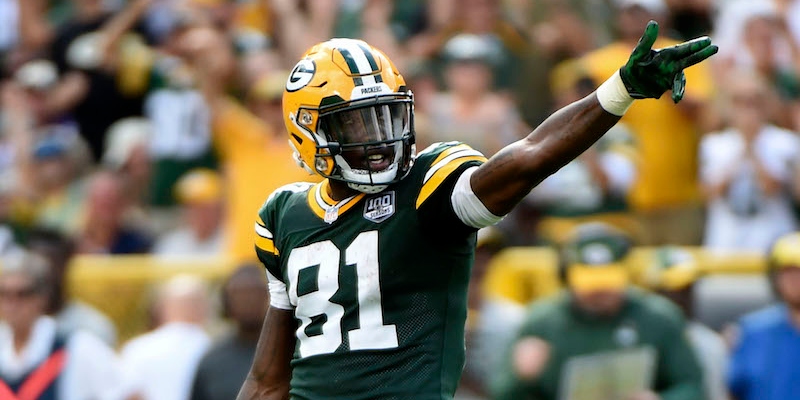 Geronimo Allison, Green Bay Packers
Allison or Marquez Valdes-Scantling could emerge as Aaron Rodgers' No. 2 wideout behind Davante Adams, which could make either a steal late in drafts. — Sean Koerner
The Broncos' receiving corps is full of unproven assets. It wouldn't be a shock if Philip Lindsay or Noah Fant winds up working among Joe Flacco's top-three pass-game targets. Still, Hamilton is a talented slot receiver with sneaky upside if Emmanuel Sanders (Achilles) opens the season on the PUP list.
Hamilton played four games as the primary slot receiver last season:
Week 14 at 49ers: 7 receptions-47 yards-1 touchdown (9 targets)
Week 15 vs. Browns: 7-46-0 (12)
Week 16 at Raiders: 6-40-1 (9)
Week 17 vs. Chargers: 5-49-0 (8)
He doesn't have overwhelming size (6-foot-1) or athleticism (63-percentile SPARQ-x), but he could stumble upon the most fantasy-relevant factor: Volume. There are doubts about how much that volume will be worth in what figures to be a below-average passing offense, but he has upside at his low market cost considering his real chance of leading Denver in receiving. — Ian Hartitz
How would you rate this article?