2019 Fantasy PPR Mock Draft: Expert Strategies for 12-Team League
Credit:
USA Today Sports. Pictured: Travis Kelce, Alvin Kamara, JuJu Smith-Schuster
Our experts got together with analysts across the industry for an expert fantasy mock draft.
See the results from their 12-team PPR mock below, as well as insights on their 2019 strategies.
Fantasy football draft season is here. Are you ready?
Our in-house experts teamed up with experts from across the industry to help you get ready with a 12-team PPR mock draft.
We'll run through the results below, but first, let's meet our experts (by draft order):
Since this was a 16-round draft involving 12 different experts (and their schedules), we opted for a slow draft. That means, like many real-life drafts, there were some auto-picks. (Those are denoted with asterisks below.)
It also means that with the landscape of the NFL constantly shifting, some picks had been made before relevant news — i.e. holdouts, suspensions, trades, injuries, etc. — had broken. That's why each of the experts will recap their respective drafts and offer some insights into their strategies after we run through the results.
Now let's dig in, starting with the first round.
Editor's note: This story was first published before Andrew Luck announced his retirement. See how our in-house experts have adjusted their rankings for the Colts here.
12-Team Expert Fantasy Football Mock Draft
Round 1
1.01: Ezekiel Elliott, RB, Cowboys (Zachariason)
1.02: Saquon Barkley, RB, Giants (Hribar)
1.03: Alvin Kamara, RB, Saints (Barfield)
1.04: Christian McCaffrey, RB, Panthers (Bales)
1.05: David Johnson, RB, Cardinals (Mattek)
1.06: Melvin Gordon, RB, Chargers (Jennings)*
1.07: Davante Adams, WR, Packers (Loza)
1.08: DeAndre Hopkins, WR, Texans (Koerner)
1.09: Le'Veon Bell, RB, Jets (Raybon)
1.10: Travis Kelce, TE, Chiefs (Hartitz)
1.11: James Conner, RB, Steelers (Ciely)
1.12: JuJu Smith-Schuster, WR, Steelers (Freedman)
Round 2
2.01: Odell Beckham, WR, Browns (Freedman)
2.02: Michael Thomas, WR, Saints (Ciely)
2.03: Julio Jones, WR, Falcons (Hartitz)
2.04: Mike Evans, WR, Buccaneers (Raybon)
2.05: Antonio Brown, WR, Raiders (Koerner)
2.06: Nick Chubb, RB, Browns (Loza)
2.07: Delvin Cook, RB, Vikings (Jennings)
2.08: Damien Williams, RB, Chiefs (Mattek)
2.09: Joe Mixon, RB, Bengals (Bales)
2.10: T.Y. Hilton, WR, Colts (Barfield)
2.11: Keenan Allen, WR, Chargers (Hribar)
2.12: Stefon Diggs, WR, Vikings (Zachariason)
---
>> Get the latest fantasy football rankings from Sean Koerner, Chris Raybon and Matthew Freedman with our Draft Kit.
---
Round 3
3.01: A.J. Green, WR, Bengals (Zachariason)
3.02: Julian Edelman, WR, Patriots (Hribar)
3.03: Todd Gurley, RB, Rams (Barfield)
3.04: Leonard Fournette, RB, Jaguars (Bales)
3.05: Patrick Mahomes, QB, Chiefs (Mattek)*
3.06: George Kittle, TE, 49ers (Jennings)*
3.07: Marlon Mack, RB, Colts (Loza)
3.08: Zach Ertz, TE, Eagles (Koerner)
3.09: Josh Jacobs. RB, Raiders (Raybon)
3.10: Tyreek Hill, WR, Chiefs (Hartitz)
3.11: Kerryon Johnson, RB, Lions (Ciely)
3.12: Adam Thielen, WR, Vikings (Freedman)
Round 4
4.01: Amari Cooper, WR, Cowboys (Freedman)
4.02: Brandin Cooks, WR, Rams (Ciely)
4.03: Aaron Jones, WR, Packers (Hartitz)
4.04: Devonta Freeman, RB, Falcons (Raybon)
4.05: Derrick Henry, RB, Titans (Koerner)
4.06: Tyler Lockett, WR, Seahawks (Loza)
4.07: Deshaun Watson, QB, Texans (Jennings)
4.08: Robert Woods, WR, Rams (Mattek)
4.09: Kenny Golladay, WR, Lions (Bales)
4.10: Chris Godwin, WR, Buccaneers (Barfield)
4.11: Kenyan Drake, RB, Dolphins (Hribar)
4.12: D.J. Moore, WR, Panthers (Zachariason)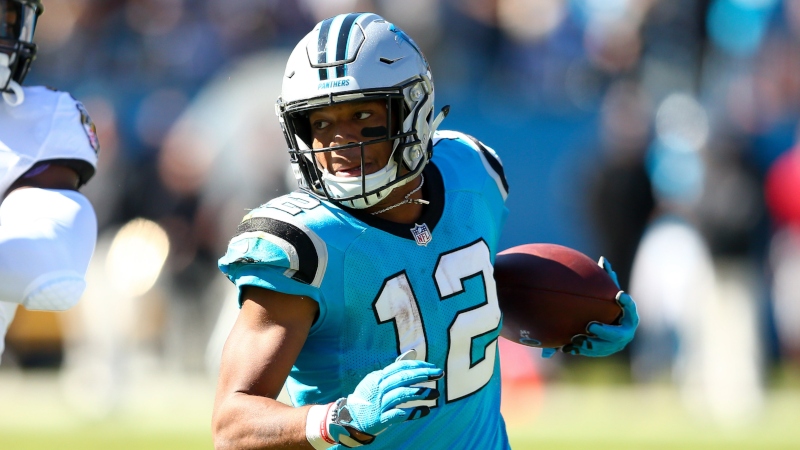 Round 5
5.01: David Montgomery, RB, Bears (Zachariason)
5.02: Sammy Watkins, WR, Chiefs (Hribar)
5.03: Mark Ingram, RB, Ravens (Barfield)
5.04: Calvin Ridley, WR, Falcons (Bales)
5.05: Mike Williams, WR, Chargers (Mattek)
5.06: O.J. Howard, TE, Buccaneers (Jennings)
5.07: Tyler Boyd, WR, Bengals (Loza)
5.08: Phillip Lindsay, RB, Broncos (Koerner)
5.09: James White, RB, Patriots (Raybon)*
5.10: Chris Carson, RB, Seahawks (Hartitz)
5.11: Cooper Kupp, WR, Rams (Ciely)
5.12: Lamar Miller, RB, Texans (Freedman)
Round 6
6.01: Miles Sanders, RB, Eagles (Freedman)
6.02: Tevin Coleman, RB, 49ers (Ciely)
6.03: Rashaad Penny, RB, Seahawks (Hartitz)
6.04: Hunter Henry, TE, Chargers (Raybon)*
6.05: Sony Michel, RB, Patriots (Koerner)
6.06: Russell Wilson, QB, Seahawks (Loza)*
6.07: Robby Anderson, WR, Jets (Jennings)
6.08: Christian Kirk, WR, Cardinals (Mattek)
6.09: Jarvis Landry, WR, Browns (Bales)
6.10: Evan Engram, TE, Giants (Barfield)
6.11: Allen Robinson, WR, Bears (Hribar)
6.12: Dante Pettis, WR, 49ers (Zachariason)
Round 7
7.01: Darrell Henderson, RB, Rams (Zachariason)
7.02: Jared Cook, TE, Saints (Hribar)
7.03: Alshon Jeffery, WR, Eagles (Barfield)
7.04: Corey Davis, WR, Titans (Bales)
7.05: Will Fuller, WR, Texans (Mattek)
7.06: Courtland Sutton, WR, Broncos (Jennings)
7.07: Tarik Cohen, RB, Bears (Loza)
7.08: Marvin Jones, WR, Lions (Koerner)
7.09: Keke Coutee, WR, Texans (Raybon)
7.10: Baker Mayfield, QB, Browns (Hartitz)
7.11: Sterling Shepard, WR, Giants (Ciely)
7.12: Latavius Murray, RB, Saints (Freedman)
Round 8
8.01: Curtis Samuel, WR, Panthers (Freedman)
8.02: Andrew Luck, QB, Colts (Ciely)
8.03: N'Keal Harry, WR, Patriots (Hartitz)
8.04: Austin Ekeler, RB, Chargers (Raybon)
8.05: Dede Westbrook, WR, Jaguars (Koerner)
8.06: Royce Freeman, RB, Broncos (Loza)
8.07: Derrius Guice, RB, Redskins (Jennings)
8.08: Jordan Howard, RB, Eagles (Mattek)*
8.09: Eric Ebron, TE, Colts (Bales)
8.10: Aaron Rodgers, QB, Packers (Barfield)
8.11: Ronald Jones, RB, Buccaneers (Hribar)
8.12: Larry Fitzgerald, WR, Cardinals (Zachariason)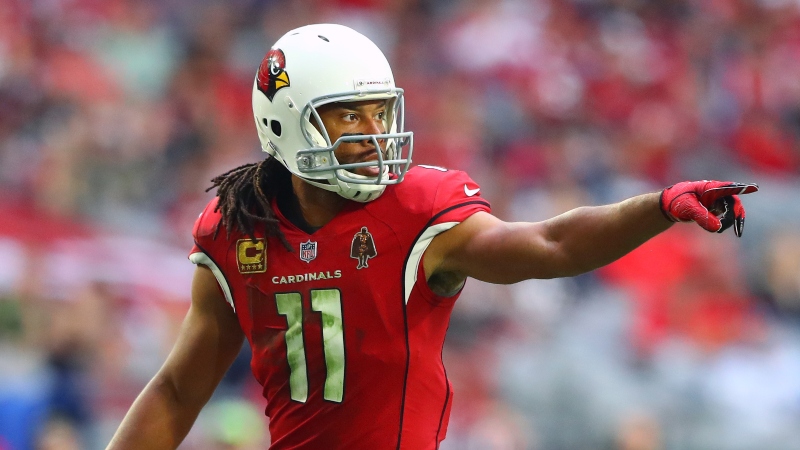 Round 9
9.01: Vance McDonald, TE, Steelers (Zachariason)
9.02: Marquez Valdes-Scantling, WR, Packers (Hribar)
9.03: Geronimo Allison, WR, Packers (Barfield)
9.04: David Njoku, TE, Browns (Bales)
9.05: Austin Hooper, TE, Falcons (Mattek)
9.06: LeSean McCoy, RB, Bills (Jennings)*
9.07: Golden Tate, WR, Giants (Loza)*
9.08: James Washington, WR, Steelers (Koerner)
9.09: Kyler Murray, QB, Cardinals (Raybon)
9.10: Kareem Hunt, RB, Browns (Hartitz)
9.11: Delanie Walker, TE, Titans (Ciely)
9.12: Matt Ryan, QB, Falcons (Freedman)*
Round 10
10.01: Josh Gordon, WR, Patriots (Freedman)
10.02: DeSean Jackson, WR, Eagles (Ciely)
10.03: Adrian Peterson, RB, Redskins (Hartitz)
10.04: Mohamed Sanu, WR, Falcons (Raybon)*
10.05: Peyton Barber, RB, Buccaneers (Koerner)
10.06: Emmanuel Sanders, WR, Broncos (Loza)
10.07: John Brown, WR, Bills (Jennings)*
10.08: Damien Harris, RB, Patriots (Mattek)
10.09: Cam Newton, RB, Panthers (Bales)*
10.10: D'Onta Foreman, RB, Colts (Barfield)
10.11: Justice Hill, RB, Ravens (Hribar)
10.12: Ito Smith, RB, Falcons (Zachariason)
Round 11
11.01: Devin Funchess, WR, Colts (Zachariason)
11.02: Carson Wentz, QB, Eagles (Hribar)
11.03: DaeSean Hamilton, WR, Broncos (Barfield)
11.04: Nyheim Hines, RB, Colts (Bales)
11.05: Jaylen Samuels, RB, Steelers (Mattek)
11.06: Marqise Lee, WR, Jaguars (Jennings)*
11.07: Greg Olsen, TE, Panthers (Loza)
11.08L Jameis Winston, QB, Buccaneers (Koerner)*
11.09: Anthony Miller, WR, Bears (Raybon)
11.10: Michael Gallup, WR, Cowboys (Hartitz)
11.11: Duke Johnson, RB, Texans (Ciely)
11.12: Mark Andrews, TE, Ravens (Freedman)
Round 12
12.01: Alexander Mattison, RB, Vikings (Freedman)
12.02: Ryquell Armstead, RB, Jaguars (Ciely)
12.03: Jamaal Williams, RB, Packers (Hartitz)
12.04: Antonio Callaway, WR, Browns (Raybon)
12.05: Donte Moncrief, WR, Steelers (Koerner)
12.06: Darren Waller, TE, Raiders (Loza)
12.07: Kyle Rudolph, TE, Vikings (Jennings)*
12.08: Tre'Quan Smith, WR, Saints (Mattek)
12.09: Jerick McKinnon, RB, 49ers (Bales)
12.10: Matt Breida, RB, 49ers (Barfield)
12.11: D.K. Metcalf, WR, Seahawks (Hribar)
12.12: Devin Singletary, RB, Bills (Zachariason)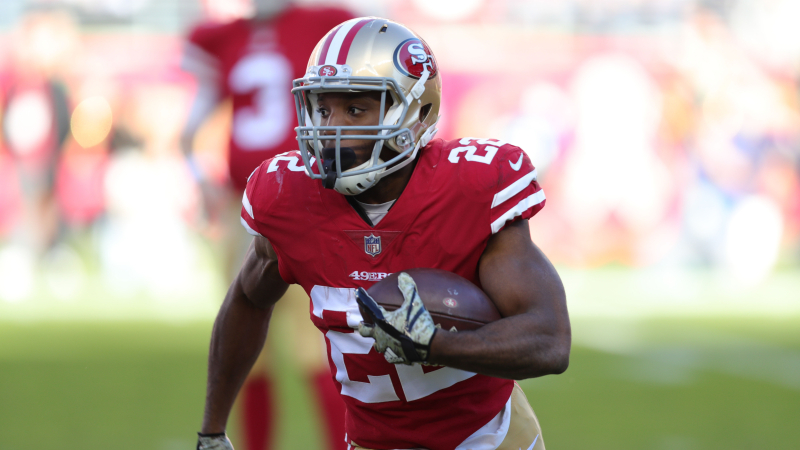 Round 13
13.01: Dion Lewis, RB, Titans (Zachariason)
13.02: Trey Quinn, WR, Redskins (Hribar)
13.03: Trey Burton, TE, Bears (Barfield)*
13.04: Parris Campbell, WR, Colts (Bales)
13.05: Kenny Stills, WR, Dolphins (Mattek)
13.06: Carlos Hyde, RB, Chiefs (Jennings)
13.07: Giovani Bernard, RB, Bengals (Loza)
13.08: Justin Jackson, RB, Chargers (Koerner)
13.09: Tyrell Williams, WR, Raiders (Raybon)
13.10: Dak Prescott, QB, Cowboys (Hartitz)
13.11: Kalen Ballage, RB, Dolphins (Ciely)
13.12: Andy Isabella, WR, Cardinals (Freedman)
Round 14
14.01: C.J. Anderson, RB, Lions (Freedman)
14.02: Deebo Samuel, WR, 49ers (Ciely)
14.03: Marquise Goodwin, WR, 49ers (Hartitz)
14.04: Mecole Hardman, WR, Chiefs (Raybon)
14.05: Chase Edmonds, RB, Cardinals (Koerner)
14.06: Chris Thompson, RB, Redskins (Loza)
14.07: Tyler Eifert, TE, Bengals (Jennings)*
14.08: Mike Davis, RB, Bears (Mattek)
14.09: A.J. Brown, WR, Titans (Bales)
14.10: Jamison Crowder, WR, Jets (Barfield)
14.11: Darwin Thompson, RB, Chiefs (Hribar)
14.12: Malcolm Brown, RB, Rams (Zachariason)
Round 15
15.01: Equanimeous St. Brown, WR, Packers (Zachariason)
15.02: DeVante Parker, WR, Dolphins (Hribar)
15.03: Marquise Brown, WR, Ravens (Barfield)
15.04: Tony Pollard, RB, Cowboys (Bales)
15.05: John Ross, WR, Bengals (Mattek)
15.06: Jimmy Graham, TE, Packers (Jennings)*
15.07: Keelan Cole, WR, Jaguars (Loza)
15.08: Dallas Goedert, TE, Eagles (Koerner)
15.09: Jared Goff, QB, Rams (Raybon)
15.10: Jason Witten, TE, Cowboys (Hartitz)*
15.11: Jack Doyle, TE, Colts (Ciely)*
15.12: Chris Herndon, WR, Jets (Freedman)
Round 16
16.01: Lamar Jackson, QB, Ravens (Freedman)
16.02: Albert Wilson, WR, Dolphins (Ciely)
16.03: Ted Ginn Jr., WR, Saints (Hartitz)
16.04: Zay Jones, WR, Bills (Raybon)
16.05: Breshad Perriman, WR, Buccaneers (Koerner)
16.06: Maurice Harris, WR, Patriots (Loza)
16.07: Drew Brees, QB, Saints (Jennings)*
16.08: Randall Cobb, WR, Cowboys (Mattek)
16.09: T.J. Hockenson, TE, Lions (Bales)
16.10: Quincy Enunwa, WR, Jets (Barfield)
16.11: Miles Boykin, WR, Ravens (Hribar)
16.12: Mitchell Trubisky, QB, Bears (Zachariason)
---
Experts' Mock Draft Teams + Strategy
Now let's take a look at each of the experts' teams and get their take on their draft strategies.
Note: Experts listed by first-round draft order. And a reminder that auto-picks are denoted with an asterisk.
JJ Zachariason
At the time of the draft, my 1.01 pick was Elliott, which is why I took him there. That's changed since then — given the holdout, I'd likely take Barkley instead.
Nevertheless, the team structure that I put together from the one spot would've remained the same. Green wouldn't have been my third-round pick considering his injury, but going with a wide receiver-heavy approach after locking in an elite RB1 is my go-to in a PPR format with plenty of spots to play a wide receiver (three wide receiver, two flex).
Had I gone, say, with Barkley and Julian Edelman (instead of Zeke and Green), then my team would be looking stronger today.
Snagging Fitzgerald at WR43 felt like a great value for one of the top receivers in Kliff Kingsbury's pass-first, fast-paced offense, and going with a late-round quarterback approach allowed my team to be deep at both running back and wide receiver. Especially the latter.
Rich Hribar
Picking second, I knew I would get either Barkley or Christian McCaffrey, so then I wanted to add high-volume pass catchers around whichever RB I landed.
Obviously poor timing on the Kenyan Drake pick pre-training camp as that will likely be eight to 10 spots higher than where he'll actually go in drafts at the end of August. That pick would've been better served as a wide receiver as part of a modified WR-heavy build around my alpha back.
Cook, Valdes-Scantling and Hill have been some of my favorite seventh-round-plus options all summer, so grabbing those players at affordable costs is something I am very happy with.
Graham Barfield
I ended up taking Gurley in a mock for the first time this offseason — which was unexpected. I have Gurley at RB13 in my ranks, so I usually never get him, but I'm definitely willing to pull the trigger on him when he falls to the third-round. Even 60% of Gurley's past production probably pays off that pick.
After going RB/WR in seven of my first eight  picks, Rodgers was just a great value that I couldn't pass up in the late-eighth. I jumped at the opportunity to stack him with Allison on the next pick, who is one of my most-drafted wideouts this year.
My receivers aren't the best in the league, but getting Breida late was the cherry on top of a great RB group.
Jonathan Bales
My strategy, as always, was to not have a rigid plan, be flexible in my approach and try to exploit the other drafters.
With such a talented field, I knew running backs probably wouldn't get over-drafted. I thought it might make some sense to go heavy at the position early, especially with a top-four pick. Having CMC fall to me at No. 4 overall and then Mixon in the second round is basically a dream scenario.
After that, I tried to stockpile high-upside receivers, get depth at tight end and punt the quarterback position. (I actually auto-drafted Newton, or I would have waited even longer there.)
Davis Mattek
As with all my fantasy drafts in 2019, I employed a hybrid Zero RB approach where I started with Johnson and Williams but pounded WR with Fuller, Kirk, Williams and Woods. Having Mahomes at QB and Hooper at tight end gives me a more balanced lineup than I usually have.
Generally, one of the four starting positions will be worse than the other, but I feel as if this team is pretty well rounded with upside in the form of Smith, Ross, Cobb, Samuels and Harris.
Peter Jennings
Most of my selections were auto-drafted. I am embarrassed I still haven't figured out the MyFantasyLeague software after two years.
Some transition into my general strategy this season…
In larger 10- and 12-man drafts I have found that the lack of depth at running back makes it necessary to draft them early. I also believe that securing a premium tight end may very well be the biggest edge this season. The drop-off in expected points and upside from the premium tight ends is the largest disparity in any positional group.
With these strategies of targeting the top tier of tight ends as well as running backs early, it is important to load up on seven to eight high-upside wide receivers later in the draft.
Liz Loza
Drafting from the seven spot, I knew I'd miss out on the first tier of RBs. As such, my strategy was to roster Adams (boom) and then hit running back in the subsequent two rounds before the position became a wasteland (think Round 5-ish). After selecting Chubb (my guy) and Mack, I was thrilled to add Freeman (and his quickening drumbeat) to my stable of RBs.
The consequence of this, of course, was needing to search for value at the WR position.
If Sanders is truly healthy and the Pats roll with Harris, then I've got something. If not, well… those RBs were worth it. Though were I to do it over again, I'd pass on Wilson in the sixth, scoop Christian Kirk instead, and then eschew Tate (this was pre-suspension news, but still) in favor of Matt Ryan in the 10th.
Live and learn!
Sean Koerner
Before the draft started, I made a customizable cheat sheet using my projections in our Draft Kit. This mock is for a full PPR league that carries 1QB/2RB/3WR/1TE/2RBWRTE, so this means WR are even more of a premium asset in this league with two Flex.
The eighth overall pick set me up nicely to attack the first part of the draft going WR/WR and was able to go Hopkins/AB. I really did not want to go AB there but was left with no choice. One thing to note is that news of Tyreek Hill not being suspended broke toward the beginning of Round 3, so I would have taken Hill in Round 2 instead if it had broke before my pick.
I then scooped up Ertz as the last top-three TE available toward the end of Round 3. This forced my hand to attack RB the next three Rounds.
Overall, I was very happy at how the first six rounds went. When the Melvin Gordon holdout drama really began to escalate toward the end of the draft was, I made the decision to snag Jackson. Most of the RBs in this range need the starting back on their team to miss time in order for them to jump into the RB2/3 discussion, so I thought, why not add the RB who seems most likely at this point to see that exact scenario play out?
I think whoever is able to step up for the Steelers to fill-in the void left by Brown and become the WR2 in the offense will have a big year, so I hedged my bets and took both Washington and Moncrief. It seems easier to spend a couple late-round picks to almost ensure you will get an every-week WR3 with potential WR2 upside, so I did it. Don't have to go for a homerun with every pick when hitting back-to-back doubles achieves the same thing.
Chris Raybon
My favorite picks were Ekeler in Round 8, the Jacobs-Freeman combo in Rounds 3-4, and Goff in Round 15.
Looking back, I would have done Rounds 5 and 6 differently. White was an auto-draft, and I thought tight ends would go off the board quicker than they did. I would have rather taken any two of Allen Robinson, Will Fuller, Cooper Kupp or Christian Kirk in Rounds 5-6 and then a TE in Round 7. (Jared Cook, Vance McDonald, Eric Ebron and David Njoku were all still on the board.)
The good thing about RBs is you can never have too many — they're valuable trade chips. If this wasn't a mock, I'd be looking to deal one or two of my RBs for upgrades at WR.
Ian Hartitz
The regular season is simply a formality at this point: Team Hartitz is poised for absolute domination after a draft that will in all likelihood be remembered as one of the most prominent displays of poise and determination of the 21st century.
Just think about the general guidelines that we've all been living by:
Secure a top-three tight end: I've heard Kelce is pretty good.
Stock up early with stud wide receivers: Jones and Hill in Rounds 2 and 3 is unfair.
Find running backs on good offenses with three-down ability: I'm confident my combinations of Jones/Williams and Carson/Penny will offer week-to-week upside.
Wait on quarterback: Usually I haven't selected a signal caller until the double-digit rounds, but did you see Mayfield shotgun that beer? That's my quarterback.
We'll see what Harry, Hunt, Gallup, Prescott and Goodwin can offer. Regardless, I'm confident that this squad will compete at a high level with each and everyone of our rivals. It's a great day to be great.
Jake Ciely
I'm a member of two "teams" if you want to label them as such: Bellcow RB and VBD (Value Based Drafting). I aim to always have a fantasy bellcow RB from the first two rounds, but more importantly, grab the best values.
I actually like this draft a lot (except timing out on Doyle), as Conner is in the conversation for RB5, Coleman is a terrific upside pick as a RB3, and Shepard is my WR4, possibly even lower depending on DJax. Luck was a steal in the eighth (as long as the injury is minor), as in industry leagues, quarterbacks last too long. Ballage might be my favorite pick way down in Round 13.
I love the value Raybon got on Jacobs at 3.09 (I have him as RB12). Harry felt a tad early, but it's not awful. Montgomery, Kirk and John Brown were more great values.
Matthew Freedman
Since I started at the turn and had no chance of drafting a top-five running back by average draft position, I decided to draft two high-floor wide receivers with No. 1 overall upside in Smith-Schuster and Beckham.
After adding another two top-tier upside wide receivers at the Round 3/4 turn in Thielen and Cooper, I focused on running back with the next three picks.
Then I focused on upside. Samuel and Gordon are explosive playmakers who could finish top-12 at wide receiver if their circumstances break right. And Ryan has been a top-three fantasy quarterback in two of the past three seasons.
I filled out the roster with a combination of upside and high-floor players.
At tight end, Andrews and Herndon could be in line for massive second-season breakouts. Mattison and Anderson are big-bodied grinders who could get goal-line touches and see a significant surge in touches if the smaller and injury-suspect players ahead of them become unavailable. Isabella is the most explosive receiver in the rookie class, and he could be an every-down player for the Cardinals in Kliff Kingsbury's fast-paced pass-heavy offense. And Jackson could be a potential league-winning quarterback thanks to his Konami Code rushing dominance.
How would you rate this article?