Raybon: The Only 7 Fantasy Tips You Need to Crush Your Draft
Credit:
Brett Davis-USA TODAY Sports. Pictured: Matt Ryan, Julio Jones
Chris Raybon reveals his top seven tips to a successful fantasy football draft.
Most articles of this sort contain 10 tips. Sometimes this is because the author legit has 10 tips to bestow upon us, but many times, it's because 10 is a round number, or because SEO experts say 10 is better than other numbers, or because there were 10 commandments, etc.
Nothing against round numbers, SEO experts or Moses, but I think you only need seven tips, so here they are.
---
1. Use Rankings in Conjunction with Average Draft Position
I think I speak for every fantasy football expert on the plant when I say, "Just because I have a player ranked there doesn't mean you should actually take him there!"
For instance, I'm high on Darwin Thompson. I have him ranked 100th overall in standard formats, but his ADP is 133rd overall. Taking him around 100th overall doesn't really maximize the value of your draft because he would probably be there two to three rounds later. (You can build custom cheat sheets using my latest rankings with our Draft Kit, by the way.)
Here are my rules of thumb for when to reach for a player ranked higher than ADP and when not to:
For players ranked less than one round above ADP: Draft the player in the round where ranked. He won't be making it back to you.
For players ranked more than one round above ADP that you're drafting to start for your fantasy team: Average the player's ranking with his ADP and don't take him before that. I also use this rule of thumb for all starters and my first bench spots at RB and WR.
For players ranked more than one round above ADP that you're drafting as a bench player for your team: If the player is the highest-rated player on your board, disregard ADP and take him ASAP.  You only have so many bench slots, and ADP carries more variance as the draft wears on, meaning players are more likely to get sniped multiple rounds before their ADP.
2. Draft As If You Need One More Starting RB and WR Than You Actually Do
On average, running backs miss two to three games and wide receivers miss roughly two. Couple that with bye weeks and the occasional prohibitive matchup, and you'll essentially need an extra player's worth of start-able games at those positions.
3. Be Willing to Take More Risks as the Draft Progresses
At the beginning of the draft, you want high-floor players because every player has a high ceiling. As the draft wears on, player value starts to even out and becomes more of a crapshoot, so you're aiming to attain one of the few players per round who ends up being a difference maker, so ceiling is more important.
That generally means stocking your bench with RBs more than any other position, as all it takes is one injury for one to go from afterthought to featured in his team's offense.
At WR, target players who have a chance to be their team's leading WR — think slot types like Jamison Crowder or Adam Humphries in PPR and perimeter threats like Dante Pettis and Miles Boykin in standard — or non-primary options on high-powered offenses — think Will Fuller and Sammy Watkins in the middle rounds, and  Mecole Hardman and Rashard Higgins late.
4. Plan from the Bottom Up
Over and over I see people stressing and planning their picks in the first few rounds. There's not much of an edge to be had in differentiating between early-round studs; not even auto-pick could really screw things up.
The places to make your hay in fantasy are the middle and late rounds. So if you insist on pre-planning your strategy, walk through your draft starting from the last round and working your way up.
In the last round, which position has the top values? In traditional leagues, you'll usually find the answer is all the positions that require only one starter per week (QB/K/DST), as well as a bunch of dart-throw WRs who you would be fine with at the end of your bench.
So then you plan your draft knowing that you can (and should) wait as long as possible to draft QB, K, DST and your last WR. Then you look at the next round or two before that. There, you'll probably see RB thinning out, as well as no TEs you'd feel comfortable starting. So now you know to plan on having all of your RBs by the end of those rounds, and your starting TE before those rounds begin.
Keep repeating this process until you work your way up to Rounds 1-2, and the optimal strategy will come into focus a lot clearer than it would've if you took the conventional top-down approach.
This not only maximizes the benefit you get from pre-planning your approach, but also maximizes your ability to be prepared to capitalize on whichever value opportunities end up being presented at any point in the draft.
5. Wait on QB*
So many are good at providing exceptions to the rule of waiting on a QB, even though it's the predominant fantasy football strategy for a reason.
"But QBs fly off the board early in my league." Waiting in this scenario gives you more of an edge because there's upwards of 20 viable QB1 options.
"But QBs score more points in my league because they get six points per TD." That means every QB will score more points, not just the ones your league mates are reaching on. Nothing has changed; waiting still gives you an edge.
"But my league requires two starting QBs." You still want to wait … for your QB1. The sweet spot is the QB12-20 tier, so you can still gain an edge by waiting til everyone has drafted a starting QB before becoming aggressive and grabbing two in the 12-20 tier and a third before the starters run out.
"But Patrick Mahomes is really good." OK fine, I can't argue wit you there.
While I think Mahomes might regress form a mathematical standpoint, I'm starting to feel strongly that advising drafters to fade him — which I myself have been guilty of — is suboptimal. It conflates the general premise that all QBs score similarly with the specifics of Mahomes' situation, which is that seasons like 2018 are more likely to be the norm than an outlier.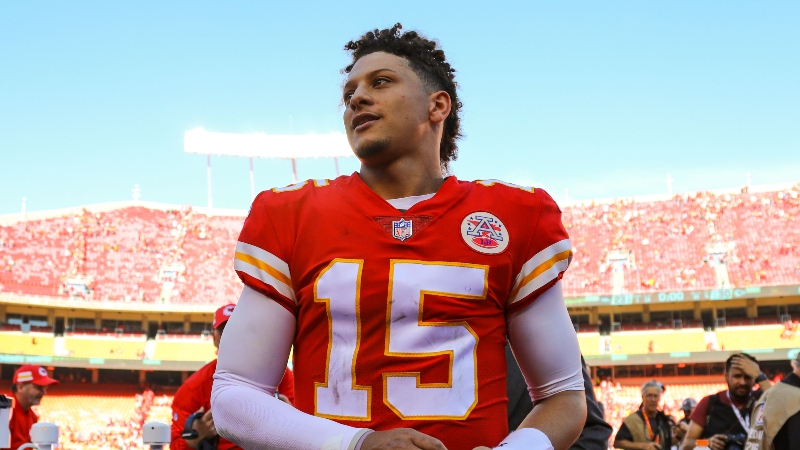 The difference between Mahomes and the QB2 last season (Matt Ryan) was 3.94 points per game — the same as the difference between Ryan and the QB10 (Jared Goff).
If you think drafting Mahomes at the Round 2-3 turn is the play, then play on, player.
6. Don't Draft a Kicker/DST If You Don't Have to
My colleague Sean Koerner has been banging the drum on this for a while now: Just because you have to start a kicker and/or DST doesn't mean you have to draft one.
Most drafts occur days or weeks before the start of the regular season, which provides ample time for valuable players to get injured in preseason or practice. And at the same time, K and DST are largely replaceable, so you shouldn't be planning to hold onto them for the full season, anyway (more on that in the final tip).
So instead of wasting roster spots on them, use those slots to hold a couple of lottery tickets at RB. Worse comes to worse, you drop the extra RBs right before lock in Week 1. But best case is either those RBs see an increase in value prior to Week 1, or you're able to use them as throw-ins for a quantity-for-quality trade that upgrades your team. Or both.
7. Draft a Kicker and Defense with Week 1 in Mind
Because the spread of scoring from best to worst at these position is low and weekly productivity is largely matchup-dependent, the amount of viable options available on a weekly basis are too plentiful to prioritize full-season value.
Instead, aim to get an edge right off the bat with kickers and DSTs with good Week 1 matchups (and good Weeks 2 and 3 matchups as well, all things being equal in Week 1). From there, add and drop based on matchup each week.
How would you rate this article?