Koerner's Fantasy Value Ratings: Most Overrated, Underrated Players by Position
Credit:
USA Today Sports. Pictured: Latavius Murray, Josh Gordon, Eric Ebron
Welcome to the inaugural edition of Sean Koerner's Fantasy Value Ratings.
He identifies the most overrated and underrated players at each position below.
The heart of the rating? Discrepancies between his projections and how players are being drafted.
As we approach peak fantasy football draft season, I wanted to compare players' average draft positions (ADPs) to my rankings to identify which players are currently being overvalued or undervalued by the market.
But my Fantasy Value Ratings aren't just a raw comparison of my rankings and ADP data. Like I explained in my positional tiers, I don't take rankings at face value because there can often be a bigger difference in projected points between two players as there is for the next 20. So I leaned on my projected fantasy points as a base for the rating.
More specifically, I assigned my projected points for my rankings to the corresponding ADPs. I then calculated the rating by taking the difference between the projected points I assigned to each ADP and my projected points for the player actually being drafted at that position.
A quick example: Let's say my projected fantasy points for the RB6 in my rankings is 250, but the RB6 in ADP is actually the RB8 in my rankings, who I've projected for 240 points. That means the RB6 in ADP would have a Value Rating of -10 and is being overvalued by the market.
But luckily, you don't need to do any of the actual math here.
I've highlighted the most overrated and underrated players according to my Value Ratings below. Let's run through each position and examine why the market is either too high or low on certain players and which are worth exploiting.
(And if you are interested in the math, you can see the full table of my ratings and how I calculated them at the end.)
Note: My projections and FantasyPros' ADP data based on half PPR scoring and as of August 23. Get my latest rankings and projections with our Draft Kit.
---
Go to: QB | RB | WR | TE
---
QUARTERBACKS
The quarterback position has never been as loaded as it is heading into 2019.
A lot of it has to do with the fact that we have future Hall of Famers playing at a high level well into their 30s (and even their early 40s). Additionally, there are more dual-threat QBs than ever before. So even QBs who might not offer a ton of passing stats are able to make up for it in fantasy with their rushing production.
Because of this, it's even easier to wait to draft a QB in the double-digit rounds and be perfectly fine.
It's critical to not get hung up on a QB's specific rank if they're within the QB6 to QB20 range. I only have approximately 20 projected points separating that all 15 of those QBs. Because of this, each draft will have certain QBs fall a bit further than others. This is why I go into a draft without a specific QB in mind, but instead treat Rounds 10-12 as the sweet spot to target the position.
Now let's get into the overvalued/undervalued QBs. Value Ratings listed alongside players.
Overvalued QBs
Drew Brees -9
Tom Brady -8
Ben Roethlisberger -6
Philip Rivers -7
Jimmy Garoppolo -16
Sam Darnold -18
It's clear that most people are attracted to these QBs based on their name and real-life value, but they're typically pocket passers with really high floors. There isn't as much incentive to reach for any of these QBs.
The position is so stacked this season that the waiver wire should be the most loaded we've ever seen. Depending on how many teams in your league draft a backup QB, you could see QBs like Garoppolo, Darnold, Kirk Cousins, Derek Carr and Matthew Stafford available most of the season and can simply stream whoever has the best matchup in a given week. You'd likely generate numbers similar to Brady's by doing that, so why use any draft capital inside Round 11 to achieve the same result of drafting zero QBs?
Having said that, these QBs would be more valuable in 2QB and Superflex formats, where starting two QBs makes these high-floor pocket passer types much more valuable. You can use our Draft Kit to generate cheat sheets featuring my QB rankings for these formats.
Undervalued QBs
Jameis Winston +4
Lamar Jackson +3
Dak Prescott +8
Mitch Trubisky +7
Josh Allen +25
These QBs have some rushing upside and I always find the market overlooks that. I usually wait until Rounds 10-15 to target QB, and typically one of these five fall to me.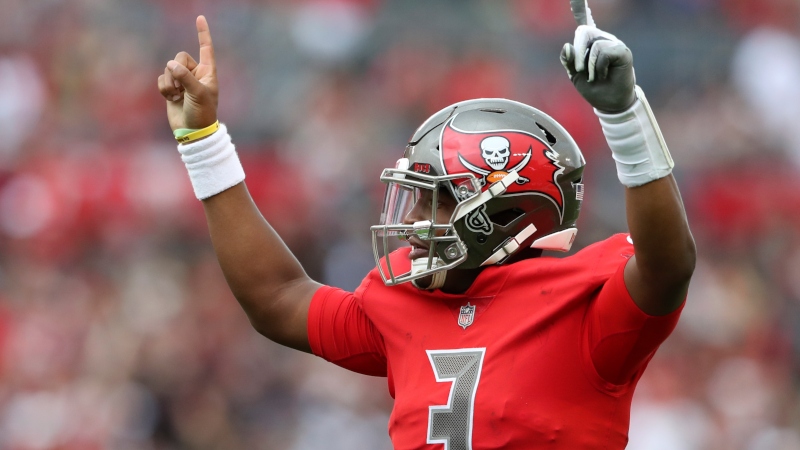 Think of Winston as the No. 1 target in Round 10, and then each QB after him represents the next round — if they're available there (and I do not have a QB), I take them. I usually get a bit aggressive if Prescott is the best available and take him in the 11th. He's probably the last QB with the high-ceiling, high-floor combo I'm looking for.
Trubisky and Allen have high ceilings but low floors. I typically don't like having low-floor players, so I try my best to not settle for them. Having said that, they go so late that there isn't as much risk drafting them. If they both fail to show consistency again this season, we have the loaded waiver wire and option to stream weekly as a backup plan.
---
RUNNING BACKS
Overvalued RBs
Todd Gurley -9
Melvin Gordon -31
Mark Ingram -12
Tarik Cohen -20
Rashaad Penny -11
Kareem Hunt -32
Kalen Ballage -19
Carlos Hyde -40
Devin Singletary -23
Gurley and Gordon are overvalued here because I tend to find that people are willing to take on more risk by drafting them than I prefer to in the earlier rounds. For a more detailed look into how I'm handling Gordon, check out our roundtable debate on the situation.
Ingram should be the workhorse back in Baltimore, but exciting rookie Justice Hill could be more involved in passing downs and could easily turn this into more of a committee. My biggest knock on Ingram in my projections is his expected rushing touchdowns. Lamar Jackson would have been fifth or sixth in the league in rush attempts inside the 10 last season if he started the entire season, so I'm a bit worried Ingram's overall numbers could suffer from playing alongside a high-volume running QB like Lamar.
Yes, Ingram's efficiency could benefit tremendously from defenses having to worry about Jackson, but we get fantasy points for raw stats, not efficiency.
Cohen will have a reduced role with David Montgomery and Mike Davis forming a three-way RBBC. Unlike Jordan Howard, both RBs are good pass-catchers out of the backfield, which will eat into Cohen's snaps/targets more than people realize.
Ballage is going to be in a RBBC with Kenyan Drake as the second-down runner Sony Michel-type role for the Dolphins. The problem is the Dolphins will be trailing most games, and that sets up much better for the pass-catching James White-type role Drake will be in. Ballage should see an early-season spike in value if Drake's injury forces him to miss games early on, but you should have better depth at RB than to be starting Ballage Week 1.
I don't like investing in RBs on really bad teams.
Meanwhile, Hyde is not the backup to own in Kansas City — that would be Darwin Thompson. I think people are starting to realize that now, so I expect Hyde's ADP to fall closer to where I have him ranked as the season gets closer.
Undervalued RBs
Chris Carson +29
Sony Michel +15
Austin Ekeler +23
Latavius Murray +12
Derrius Guice +9
Peyton Barber +32
Dion Lewis +27
Chris Thompson +40
Carson's ADP will start to catch up to him now that people are starting to realize he'll again be the workhorse back in Seattle. Russell Wilson attempted only three rush attempts inside the 10-yard line last season, which meant that Carson was among the league leaders with 28.
Carson will get all of the valuable carries inside the 10-yard line and is a steal if he's still on the board after 20 RBs have already been taken.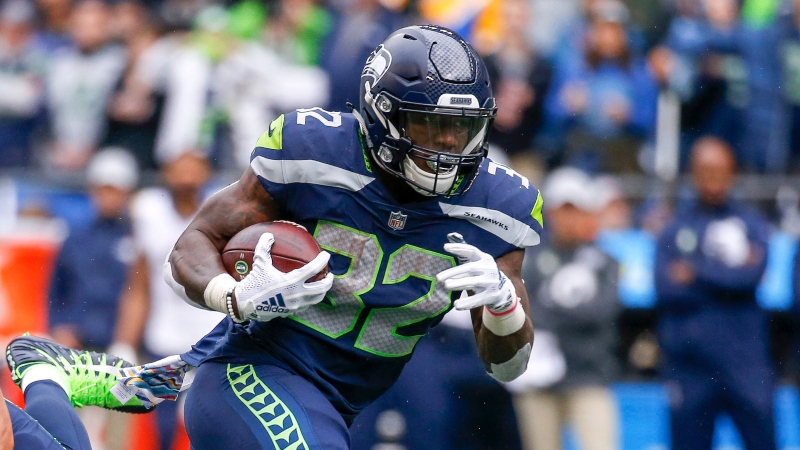 Michel will likely miss some games to keep his balky knees fresh. However, when he is in the lineup and has the right matchup, he'll put up solid RB2 numbers.
Murray is one of my favorite mid-round RBs as he should take over much of the Mark Ingram-role and provide RB3/flex value most weeks. Murray would also become a low-end RB1 if Alvin Kamara were to miss any time.
Barber is a Lamar Miller-type pick this season. Barber is probably not going to put up top-10 numbers, but is a steal at his current ADP. He's the cheapest opening day starting RB heading into 2019 and it sounds like Ronald Jones won't be overtaking him any time soon.
Lewis is sort of a forgotten player after Derrick Henry's incredible run during the fantasy playoffs last season, but Lewis could see enough touches to have some flex value in the right spots and would become an RB2 if Henry were to ever miss time. You could do worse in his ADP range.
Thompson is the ultimate low-ceiling, high-floor player in PPR this late. I wanted to highlight him because he's being taken at a point in the draft when you should be going for a high ceiling. It's better to think of players like him as he's ranked 50th and is likely to end up finishing right around 50th when the season in complete. Is that going to win your league? Probably not — that's why you need to gamble a bit more in this range.
Thompson is someone you take for bench depth in a deeper PPR league where getting a guaranteed handful of points each week can be more valuable.
WIDE RECEIVERS
Overvalued WRs
A.J. Green -28
Dante Pettis -11
Keke Coutee -19
Golden Tate -18
Geronimo Allison -14
Adam Humphries -17
Marquise Brown -8
A.J. Brown -8
Green's ADP is still likely catching up to his injury risk. I'm pegging him as being out closer to three to five games while most people might be expecting only one to three.
Pettis was in the news recently for potentially not being a starter. It was likely just a motivational tactic by coach Kyle Shanahan, but it's worth noting that the 49ers' pass-catching situation is very crowded, so I've soured a bit on Pettis. The potential upside is still there, though.
When the Texans traded for Duke Johnson, I felt like it was a hit to Coutee's stock. Bill O'Brien typically doesn't pass to his RBs, which is why I feel Coutee saw such high volume in the short passing game last season. But O'Brien was behind the Johnson trade, which has me worried that some of the targets Coutee saw in 2018 will be going Duke's way this season.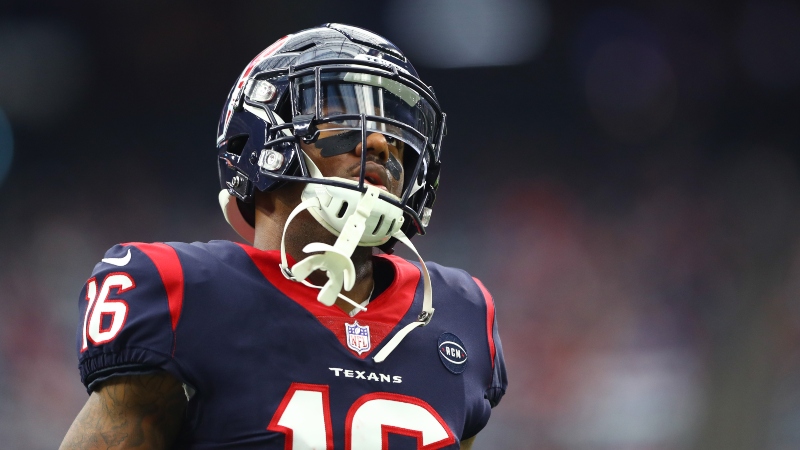 To add insult to injury (literally), Coutee suffered an ankle injury and is questionable for Week 1. He's too young to say he's made of glass, but so far in his career, he's dealt with a ton of injuries.
Marquise Brown and A.J. Brown are probably being over-drafted due to the upside you get in taking rookies. However, they're in two of the least potent passing offenses and it'll be tough for them to churn out fantasy value most weeks, even if they end up being just as talented as we think they are.
Undervalued WRs
D.J. Moore +7
Marvin Jones +7
Dede Westbrook +7
Josh Gordon +10
Desean Jackson +7
Michael Gallup +9
Jamison Crowder +24
Earlier in the offseason I said Moore was too high and Samuel was too low, but the market has been adjusting ever since, and it's over adjusted on Moore.
Jones, meanwhile, is quietly being drafted a bit later than he should.
Westbrook saw a boost in my projections once we found out Marquise Lee likely won't be ready for Week 1 (and possibly beyond). That's going to solidify Westbrook as the Jags' top WR. Getting a veteran QB in Nick Foles will help along with new offensive coordinator John DeFilippo, who I don't necessarily think is a great play caller, but who essentially got fired by the Vikings for wanting to throw too much. The needle for Westbrook is pointing up.
Gordon's ADP is likely just catching up to the news of his reinstatement.
D-Jax and Gallup make great upside plays later in the draft. Crowder makes for a great high-floor play later in the draft. I would target him if you take someone like A.J. Green and need a receiver to start right away. Crowder likely won't win your league, but he could help as a nice stop gap if you take a flier on an injured or suspended WR.
---
TIGHT ENDS
Overvalued TEs
Jared Cook -7
Eric Ebron -5
Both TEs benefited a ton from their team's pass-catchers being hurt or traded away last season, but they'll be in more crowded situations in 2019.
Cook is getting some buzz thanks to the upgrade in offenses going from the Raiders to the Saints, but I would much rather have him be the top target on a bad team than the third or fourth option on a good team.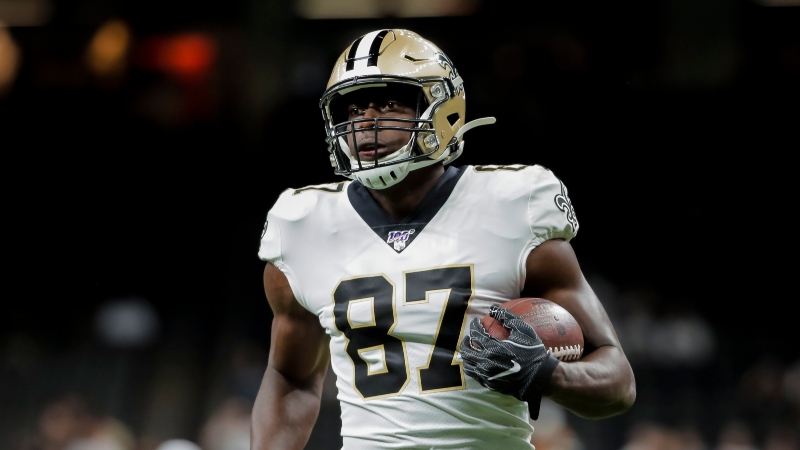 People underestimate the high-ceiling, low-floor nature of the Saints' offense in general (now that their defense is solid). Cook has always been a high-ceiling, low-floor TE, so it's going to be even more amplified this season.
Undervalued TEs
Vance McDonald +7
Austin Hooper +8
Jimmy Graham +7
Dallas Goedert +18
Jack Doyle +29
McDonald and Hooper are my favorite TEs to target in Rounds 8-10. Both have the upside to close the gap from low-end TE1 to the Big 3 TEs.
Goedert is the ultimate TE stash who would become a league winner if Zach Ertz ever went down. I've never recommended drafting a second TE to stash, but if your league has a deep enough bench and you can get away with it, I would do just that.
---
Koerner's Fantasy Value Ratings
Note: These are sorted from underrated to overrated. Players with a positive rating are being undervalued by the market, players with a "0" are being valued correctly, and players with a negative rating are being overvalued.
How would you rate this article?