Who Should Be the First Pick in 2019 Fantasy Football Drafts?
Credit:
USA Today Sports. Pictured: Christian McCaffrey, Saquon Barkley, Ezekiel Elliott
Our fantasy football experts debate who should be the first pick in 2019 drafts between Saquon Barkley, Ezekiel Elliott and Christian McCaffrey.
Editor's note: Ezekiel Elliott is still holding out. For our experts' latest rankings, check out our Draft Kit.
---
The debate over who should be the top pick in 2019 fantasy football drafts is split.
Saquon Barkley? Ezekiel Elliott? Christian McCaffrey? Should Alvin Kamara be in the mix, too? What about David Johnson?
Five of our experts — Sean Koerner, Peter Jennings, Jonathan Bales, Matthew Freedman and Ian Hartitz — make the case for who they each think is most deserving of the honor.
---
Jennings: Saquon Barkley
I believe there are five Tier 1 fantasy RBs this season. I would break down that tier as follows:
1a) Barkley/McCaffrey
1b) Kamara/Johnson/Elliott
I have additional concerns about Elliott with his reported potential for holding out. But I agree with most of the fantasy community and have Barkley as my top overall player.
Here's why I think he should be picked first:
He's a generational talent;
The Giants invested heavy draft capital in him;
He has minimal competition;
He's projected for the most opportunity of any RB;
He has a versatile skill set;
He plays with a checkdown quarterback.
If you're drafting in three- or four-team leagues, I would highly consider taking Travis Kelce first. I believe the biggest gap between any two players at one position is Kelce vs. George Kittle or Zach Ertz. I also have a sizable gap between those top three TEs and the other players.
---
Bales: Ezekiel Elliott
If you think you have an advantage in your fantasy football drafts — which is an assumption you need to make in order to employ the proper draft strategy — you'll consistently win your leagues in the middle and late rounds, meaning early on, you should just do what you can to not screw it up.
I can hit you with all the numbers in the world, but the fact is that any candidate to be selected No. 1 overall — and I think there are four — is going to be projected to have a sick year.
We can't rely solely on projections to determine that pick, because it's a fragile system that requires too high of a standard to be followed blindly; you must make so many assumptions about the accuracy of your inputs. If I can make slight changes to Barkley's target projection or Kamara's red-zone touchdown rate and it changes who I'm supposed to believe should be the top overall pick, that's fragile.
The reason I like Zeke over CMC, Kamara and Barkley is because the Cowboys run the ball at a very high rate when they should run the ball, but they also run the ball at a very high rate when they shouldn't run the ball, such as on first down. It isn't just workload that matters, but also the quality of the touches. And with Zeke's outlook for lots of meaningful touches in high-upside scenarios for fantasy production, I think he's the safest choice at No. 1 overall.
---
Hartitz: Christian McCaffrey
The correct answer is McCaffrey, but each of the top-five — yes, I'm including Johnson — running backs are set up to be workhorses who should rack up fantasy points as long as injuries don't get in the way.
CMC proved to be one of the league's most effective playmakers in 2018:
He averaged a sterling 6.0 yards per touch last season, the seventh-highest mark among all running backs.
Only Barkley (71), James Conner (60) and Adrian Peterson (56) racked up more broken tackles than McCaffrey (53) last season (per Pro Football Focus).
'Run CMC' averaged 5.01 yards per carry, the ninth-highest mark among 47 backs with at least 100 carries.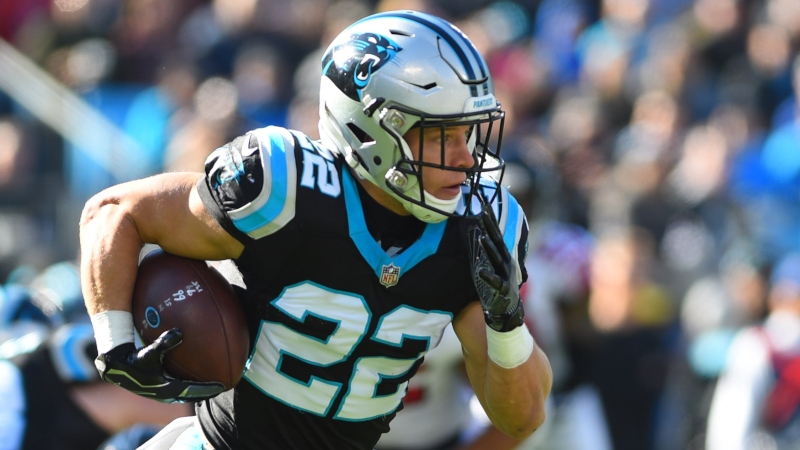 He joins Michael Thomas, Jarvis Landry and Odell Beckham Jr. as the only players in NFL history with at least 170 catches over their first two seasons.
CMC set the NFL record for most fantasy points from a running back in a single season strictly from receiving production.
McCaffrey (77%) joins Chris Carson (77%), Todd Gurley (78%), Barkley (81%) and Kareem Hunt (88%) as the only backs with a Consistency Rating higher than 75% in 2018 (minimum eight games, per our FantasyLabs NFL Trends Tool).
McCaffrey is an extremely talented playmaker, and his workload is unmatched. He played on an absurd 91% of the Panthers' offensive snaps last season. Elliott (83%), Barkley (83%) and Johnson (80%) were the only other running backs who even managed to clear 80%.
The opportunity to have the No. 1 rusher and receiver in an above-average offense is simply too much to pass up with the 1.01 selection. Barkley might be more talented than McCaffrey, but do you really want to ride or die with anyone involved with Eli Manning? That's what I thought.
---
Koerner: Saquon Barkley
You can make a case for any of the top four running backs — Barkley, Elliott, McCaffrey or Kamara — but I'm going with the chalk.
Barkley is a generational talent who erupted for 2,028 scrimmage yards and 15 touchdowns as a rookie. He's also only 22 years old, which means he hasn't peaked yet. One of the most incredible traits he showed last season wasn't only his ability to score any time he touched the ball, it was his consistency: Barkley put up either 100-plus total yards and/or a touchdown in 15-of-16 games.
In general, people spend too much time pondering who they'll take in the first round because A) your draft position typically gives you a range of about two to three players to consider in any given slot, B) you really can't go wrong unless you reach for someone who would have made it back to you in Round 2, and C) your first-round pick is likely only going to kill you if they miss an extended period of time due to injury. Most of those factors are outside of your control, so it really comes down to just not making a stupid pick in the opening round.
Instead, spend most of your time planning on how to approach the mid- to late- rounds, when there's a much wider range of strategies. That's when you'll gain the edge that requires skill in re-draft leagues.
---
>> Get Sean Koerner's and our experts' latest rankings with our Fantasy Football Draft Kit.
---
Freedman: Ezekiel Elliott
I have Elliott and Barkley essentially tied for the most projected fantasy points at the position, but I'm leaning toward Zeke with the No. 1 overall pick.
Given Barkley's age, physical profile, draft position and 2018 usage and production, it's fair to assume that he could be even better in his second season. But he seems unlikely to score a league-leading five touchdowns of 50-plus yards this season, and the Giants offense is likely to provide him with fewer scoring opportunities due to the regrettable absence of Beckham, aging presence of Manning and dumbfounding addition of rookie quarterback Daniel Jones.
Zeke, meanwhile, is a total known.
He always comes with off-the-field risks, but he's led the league each season of his career in rushing yards per game, and he developed significantly as a pass-catching threat in 2018. As a result, he had an NFL-high 381 touches from scrimmage despite playing in only 15 games, and it's reasonable to expect him to enjoy similar usage once again.
Given how steady Zeke has been across a variety of circumstances, he seems like the safer pick at No. 1 overall.
How would you rate this article?