Making a Call on Matthew Stafford's Over/Under 13.5 Interceptions Season Prop
Credit:
Credit: Raj Mehta-USA TODAY Sports. Pictured: Detroit Lions quarterback Matthew Stafford (9) passes the ball during the first quarter against the New York Giants at Ford Field.
Matthew Stafford's over/under for interceptions this season has been set at 13.5.
The Detroit Lions consistently rank at the top of the NFL in pass attempts -- including 10th last season.
Improved defenses in the NFC North should prove to be a tough test for the Lions' passing game.
Before the NFL campaign commences Thursday evening, there's still plenty of action to be had for all 32 clubs leading up to the first kickoff.
By now, you've probably already locked in on all your favorite win-total bets, or maybe you're set with a couple of futures propositions on teams you feel can go all the way.
But one area of preseason wagering that you may have left untapped has to do with the players themselves — specifically props on player's stats for the upcoming year.
From wagering on a running back's touchdown total to a quarterback's passing yards, there are a wide array of options to bet on. Upon reviewing several dozen player props, there is one I have settled in on that may be worth your attention.
Matthew Stafford Over 13.5 Interceptions (-115)
If you're new to betting player props, there's one thing you must grasp before anything else: If you have an over, and the player attached to the bet sustains an injury that knocks said player out for the season, well, you're S.O.L.
It's a harsh business and, predictably, the books are unforgiving.
So, when making such a wager, you always want to ensure that you'll at least get a fair bet, meaning you'd like for it to not involve an injury-prone individual.
---
>> Sign up for The Action Network's daily newsletter to get the smartest NFL conversation delivered into your inbox each morning.
---
Luckily, we shouldn't have to worry about that here — emphasis on shouldn't — as Stafford has proven to be one of the most durable quarterbacks in the NFL since entering the league in 2009.
In fact, following the only significant injury of his career — a shoulder injury that required surgery in 2011 — Stafford has not missed a single game. That's a streak of 112 straight games, or seven straight seasons, without missing one start!
So, what makes this bet stand out?
Well, let's start with Detroit's identity as a football team. The Lions been much more of a pass-first team, and that trend figures to ring true once again this season for a variety of reasons.
Their running game in the past handful of years has been dreadful.
Whether it's because of injuries or ineffectiveness, the Lions haven't been able to muster much of a rushing attack, consistently ranking in the bottom five of the NFL in team rushing yards.
That's been the case in each of the past four seasons, and in two of those years they were literally dead-last, including last season. Their last 1,000-yard rusher in a season was Reggie Bush, who reached the plateau in 2013 by a mere six yards.
This year, they're rolling with committee involving veteran offseason-acquisition LeGarrette Blount, rookie Kerryon Johnson and dual-threat Theo Riddick. In other words, it's a similar setup to their running-back situations from the recent past.
That means Detroit will once again chuck, chuck and chuck some more. Over the past four seasons, when their ground game typically finished toward the bottom, they managed to rank 11th or higher in pass attempts.
With a fairly dynamic receiving trio of Marvin Jones, Golden Tate and breakout candidate Kenny Golladay, you can expect the Lions to go to the air often once again.
Stafford has not recorded 14 or more interceptions since 2013 (19), but has reached double-digits in every full season of his career — including 10 in each of the past two seasons — so think of that as his floor.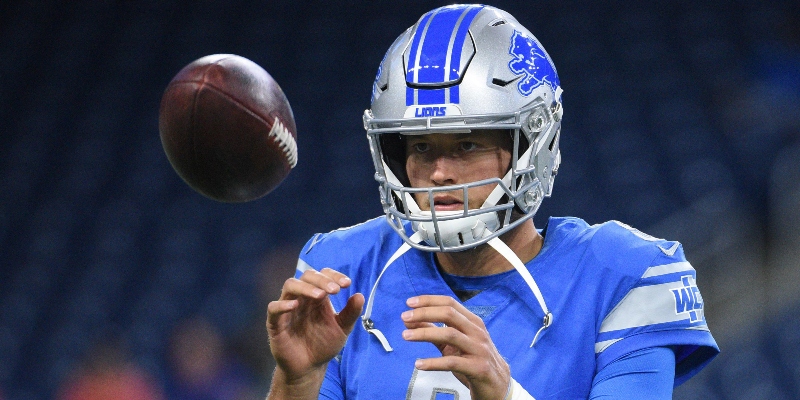 The difference between this year and any other, however, is that this version of the NFC North could potentially be the toughest Stafford will ever face.
With nearly half his games coming against division foes — two-thirds of whom are legitimate NFC heavyweights — this is something to strongly consider.
Of course, there is the Vikings' defense to contend with, a group that was the second-stingiest against the pass in football a year ago (192.4 yards per game). Green Bay sports an opportunistic defensive bunch, having finished in the top 10 in interceptions as a team in three of the last four seasons.
Chicago also looks like it's going to be in the mix for the first time in a while, due in part to an improved defense that ranked seventh in total passing yards allowed last season.
So, whenever you're checking out a Lions game or catching some of it on NFL RedZone, brace for a heavy dose of gunslinging from Stafford, because there could be more of it than ever if he's constantly playing from behind.
That's the ideal way we'll see him ultimately throw at least 14 picks.
Play: Stafford Over 13.5 Interceptions
How would you rate this article?