Greedy Williams NFL Combine Prop Bet: Over/Under 4.36-Second 40 for Draft's Best Corner?
Credit:
Matthew Emmons-USA TODAY Sports. Pictured: CB Greedy Williams
All eyes will be on Indianapolis this week as prospects try to help their draft stock at the 2019 NFL Combine.
We've got picks on various performance props, including CB Greedy Williams' 40-yard dash time.
The 2019 NFL Combine is here and sportsbooks have released performance props. Our staff will be making official picks for prop bets on a number of different prospects, including LSU cornerback Greedy Williams.
Here's the workout schedule for the various position groups:
Friday: Running backs, offensive linemen, kickers, special teams
Saturday: Quarterbacks, wide receivers, tight ends
Sunday: Defensive linemen, linebackers
Monday: Defensive backs
Now let's dig into the Williams props that are on the market as of writing, as well as our analysis based on research and official combine data going back to 2006.
Williams is widely considered a top-10 pick and will look to cement that status at this year's combine. We're lucky enough to join his journey by gambling on his 40-yard dash. FantasyLabs editor-in-chief Matthew Freedman had this to say about Williams in his 2019 round one mock draft:
Greedy has the name, swag and skillz to develop into a shutdown corner. Hailing from CBU, Williams is a typical LSU press-coverage player. Last year, he held quarterbacks to a 58.1 passer rating on targets in his coverage.
Greedy Williams 40-Yard Dash Time
Over 4.36 Seconds: -146
Under 4.36 Seconds: +123
Just to be crystal clear: 4.36 seconds is fast. I'm talking post-cougar training Ricky Bobby fast.
The 6-foot-3, 184-pound Williams runs like a mountain lion, but the history of anybody running a 40-yard dash this quickly simply isn't on his side. Only 15 players have run a 40-yard dash in 4.35 seconds or faster at the last three combines. Eight of those 15 happened to be cornerbacks, but Williams' height adds another variable that's less positive.
Pro Football Reference reports only six total players standing 6-foot-3 or taller who have run a 40-yard dash faster than 4.36 seconds. Five of the six weighed at least 215 pounds, while the only other qualified player was Williams' former teammate D.J. Chark (199 pounds).
Basically, the only guys with Williams' size to run as fast as his prop suggests doubled as super-saiyan athletes. Listed at 184 pounds by LSU, Williams won't be confused with Taylor Mays, Julio Jones or Calvin Johnson.
We have two unofficial sources surrounding Williams' 40-yard dash:
The type of play speed Williams has demonstrated certainly indicates his college time is the likelier outcome…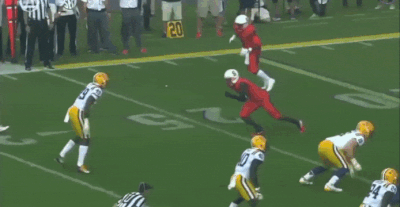 …but a sub-4.36-second 40-yard dash just seems to be asking a lot from a cornerback as lanky as Williams.
Williams is a magnificent athlete and sure looks like one of the league's next great cornerbacks. I'm just not that confident he's special fast, and history indicates that's what he'll need to be in order to clear his lofty prop.
THE PICK: Over 4.36 Seconds
More 2019 NFL Combine Props
How would you rate this article?