Find Fantasy Football, Betting Value When QBs Run Wild in Texans-Titans Week 2 Matchup
Credit:
Greg M. Cooper-USA TODAY Sports. Pictured: Deshaun Watson
No matter if Marcus Mariota starts, quarterbacks will run wild when the Texans and Titans meet in Week 2.
Here's how to leverage that in fantasy football and when betting the over/under once the total is posted.
I'll be leveraging my experience as a fantasy analyst with a statistics background and a high school football coach to identify aspects of one matchup every week that you can take advantage of while setting your fantasy football lineups and/or placing bets on the upcoming slate.
This week, we're focusing on the AFC South showdown in Nashville.
A Battle of Running Quarterbacks
When the Houston Texans and Tennessee Titans meet on Sunday, it could pit two mobile quarterbacks against one another: Deshaun Watson and Marcus Mariota.
Watson has appeared in only eight NFL games, but the Year 2 QB is averaging 5.5 rushing attempts in those appearances (and 6 attempts in his seven starts). He's also averaging 7 yards on 44 career attempts.
Mariota has been a little more conservative than Watson — averaging 3.7 rushing attempts per game as he starts Year 4 — but that could be the result of playing for the notoriously conservative Mike Mularkey for two and a half seasons. Mariota carried the ball 337 times in three seasons at Oregon, averaging 6.6 yards per attempt and totaling 29 rushing touchdowns.
Mariota is no doubt a serious running threat any time he steps on the field.
Unfortunately, he left the season-opener with an elbow injury, and his status for this week's AFC South matchup is currently unknown. (Coach Mike Vrabel told media that Mariota was still being evaluated on Monday.)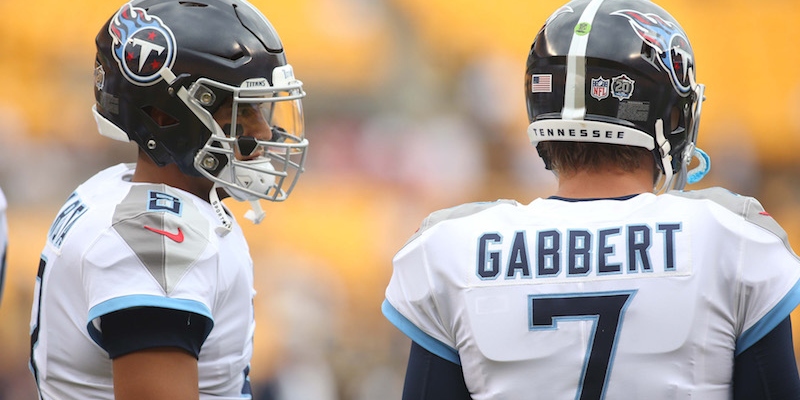 But Mariota's backup, Blaine Gabbert, is also a bit of a runner.
Gabbert has averaged 4.7 rushing attempts per game in 20 appearances since 2015. That number jumps to 5.2 if we limit that to the 18 games he has started. Gabbert is a sneaky-good athlete who ran a 4.62-second 40-yard dash with a 6.84-second three-cone at the 2011 NFL Combine.
No matter who is under center for Tennessee, either QB will be a threat on the ground.
Expect Tons of Man Coverage
The Texans and Titans were both inside of the top five in man coverage usage in 2017, according to Pro Football Focus.
While the Titans have a new coaching staff led by Vrabel, it is important to note that Vrabel was the defensive coordinator for the Texans in 2017. So not much should change in terms of Tennessee's coverage.
The Texans shouldn't be making any major changes to their defensive scheme, either. "New" defensive coordinator Romeo Crennel served as the team's assistant head coach in 2017, following three seasons as the DC.
Why Man Coverage Means QBs Will Run Wild
When teams play zone coverage, they are typically dropping seven players into coverage while rushing four. This allows the defense to cover a ton of ground, but it doesn't typically generate a great pass rush.
Playing a lot of man coverage allows teams to trade help over the top of the defense for additional rushers at the quarterback. Teams are permitted to have only five eligible players to receive a pass, leaving up to six pass-rushers for teams deploying man coverage schemes.
The most common form of man coverage is Cover 1, which mans up across the board, and leaves a single high safety to roam and make plays. It is the perfect blend of Cover 0 — which allows for an outstanding pass rush, but leaves you exposed to big plays — and Cover 2 Man (or 2 Man Under, for you Madden aficionados), which keeps two high safeties and rushes only four.
While man coverage has its strengths, it also has a couple of major weaknesses.
The one weakness that should be exploited most frequently in this week's Texans-Titans matchup is that quarterbacks run better against man coverage, as highlighted by Next Gen Stats researcher Keegan Abdoo.
When defenders are playing in zone coverage, it allows them — linebackers especially — to keep their eyes toward the line of scrimmage. When quarterbacks take off and run, they can rally and make the tackle.
But in man, defenders have to turn and run while in coverage. Linebackers covering a tight end or running back are much more easily displaced from the box and cannot keep their eyes on the quarterback. That gives quarterbacks easier run lanes on scrambles.
Plus, any additional pass-rushers result in fewer players down the field to tackle the quarterback.
---
>> Sign up for The Action Network's daily newsletter to get the smartest NFL conversation delivered into your inbox each morning.
---
Exploit Recency Bias in DFS and Betting the Over/Under
Coming off down weeks, both Watson and Mariota are likely to be under-owned in DFS contests on Sunday.
Mariota totaled 62 rushing yards and three touchdowns in two meetings with Houston in 2017, while Watson had 24 yards rushing and a touchdown against Tennessee last season.
According to the FantasyLabs Trends Tool, quarterbacks who average 30 rushing yards per game have an average point total of 19.8 on DraftKings and an average plus/minus of +1.62.
No line has been posted for this matchup yet with Mariota's status unknown, but it is possible that the total ends up low with both teams playing poorly in Week 1. This a game to potentially target the over.