The New Sunday Ritual: Inside a New Jersey Sportsbook for NFL Mania
Credit:
Inside the Fanduel Sportsbook. Courtesy of Matthew Foley
NFL fans of all kinds flocked to FanDuel's Sportsbook at the Meadowlands, which is located in the same complex as MetLife Stadium, home of the Jets and Giants.
The energy in the sportsbook is at full tilt during Sunday's Week 2 NFL matchups, with those attending the Jets game betting and leaving before returning for more action.
EAST RUTHERFORD, N.J. — The return of football means a lot of things to a lot of people. For me, after fleeting hope for my Chicago Bears, inevitable gambling losses and my favorite color (flannel), football signifies the triumphant return of Jersey Guy.
From throwbacks and shirseys to rookie quarterbacks and Eastbay personalizations, a man's NFL Sunday best often tells his story before he does.
And as I enter the FanDuel Sportsbook at the Meadowlands for a full Week 2 slate, the onslaught of jerseys reminds me that while we're technically in Jets country, all sports maniacs are welcome at the book.
Look around and you'll see Gang Green Darnolds, Martins and Chrebets; a Deshaun Watson shirsey; Randy Moss — Vikings, Raiders and Patriots; one predictably personalized Dallas Cowboy and even a Florida Marlins Andre Dawson.
As I anchor at the bar inside the complex's palatial main betting lounge — an impressive space that feels like Las Vegas squeezed into New York square footage — bettors all around me are busy locking in their picks.
That's where I meet Aggressive T-Shirt Guy, aka Brian.
When he turns around, the message on his chest says it all: "This Team Makes Me Drink."
Brian reviews his handful of slips before he heads to MetLife for Sam Darnold's much-anticipated home debut.
"Sammy's the real deal," he swears, noting that Miami quarterback Ryan Tannehill is decidedly not. "I'm ready to kick some ass."
Three hours later, with six minutes left and the Jets down 20-9, Brian returns, head down, and beelines for the bar.
Jameson was the order, enough to wash away lost hope and maybe win some money on the late slate.
---
FOR OBSESSED SPORTS fans, degenerates, significant others and curious casual fans, the Sportsbook at the Meadowlands provides a glimpse at what might become commonplace on NFL Sunday as legalized betting spreads around the country.
With so many bettors invested on site, the energy is at full tilt all day.
The food options are solid, three full bars are stocked, and while the atmosphere isn't particularly healthy, it's as fun an NFL Sunday as I've had in years.
Three lounges of varying comfort create a "choose your own adventure" aspect, catering to patrons of varying interests and means.
The steady early crowd and heavy stream of Jets fans after the 1 p.m. game at MetLife make clear that this will work on NFL sites, but I left convinced that we'll soon see sportsbooks in heavily trafficked urban areas. Either that, or Buffalo Wild Wings better start taking bets.
The main sports lounge, where you'll find a bar, dining area, VIP seating and eight 40-foot flat screens, is on ground level. As is the side lounge, equipped with another bar (plus a few couches and tables).
This modest space is the one seen first upon arrival, and it's where I meet Carlos Ruiz and Danny Williams — two baby-faced 21-year olds from nearby Clifton, N.J.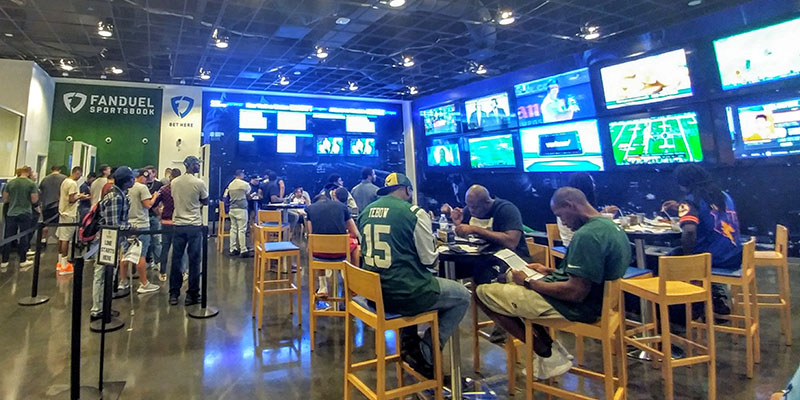 They've never been to Vegas, but "have been betting since high school," says Ruiz, in his Watson shirsey.
With all seats occupied, they lean on the bar, before being chased off for not drinking. Ruiz and Williams are of age, barely, but haven't yet met the "Sunday-drinking-for-no-reason" doldrums.
For them, this trip is purely explorative.
"It was either come check this out, or sit at home in the basement," says Williams, who lives with his mother and hates offshore books' service fees. "We usually watch at a friend's house every Sunday. … This seemed like the move."
"The Eagles are killing me!" groans Williams, hot after Ryan Fitzpatrick finds O.J. Howard to make it 13-7 Tampa Bay with 4:39 left in the second quarter.
Sadly, I'm on the Eagles -3, too. As are all four of the friends I talk picks with on Sunday mornings … and most of this sportsbook.
Donkeys, the lot of us.
"Gotta take the Eagles at half," a Jets Tim Tebow jersey behind me proclaims. "That's easy money."
Here, Vegas or from mom's couch at home, one thing is clear: It's not.
Nearby, a Chad Pennington Jets jersey sends his friend, whose Bud Lights wear a Barstool Sports koozie, to place a second-half parlay.
He's convinced that Antonio Brown could "easily catch three touchdowns" in the second half, so a Pittsburgh comeback needs to be included. Koozie Man is less convinced.
"Just make it a four- or five-teamer," he shouts to Koozie Man. "Our future is in your hands!"
In search of fresh mojo, my future is upstairs.
---
OVERLOOKING THE MASSIVE screens of the main lounge on one side, and the Meadowlands horse track to the rear, the U-shaped upstairs lounge is easily my favorite part of the venue.
With plenty of couches to go with a skybox-style viewing experience, dozens of smaller televisions and a $12 lunch buffet, there's ample space to settle in or pace around while sweating a ticket.
As the day progresses, groups begin intermingling while scrambling for a better view of whatever game happens to be in crunch time.
The potential Jets comeback is of obvious interest, but Browns-Saints soon steals the show. With Cleveland leading 6-3 at half, both teams seemed to be popular second-half bets.
When Tyrod Taylor finds Antonio Callaway in the end zone on a 47-yard teardrop to tie the game at 18-18 with 1:16 left in regulation, one Cleveland backer throws his fries and cell phone in excitement.
He doesn't seem to care that his screen cracked. "The Browns are back!" he proclaims. "These boys can't lose."
But … Cleveland kicker Zane Gonzalez misses the would-be go-ahead PAT kick. Then with three seconds remaining, Gonzalez misses the potential game-tying field goal.
The Browns indeed can — and do — lose, as the unforgiving lounge calls for Gonzalez's job.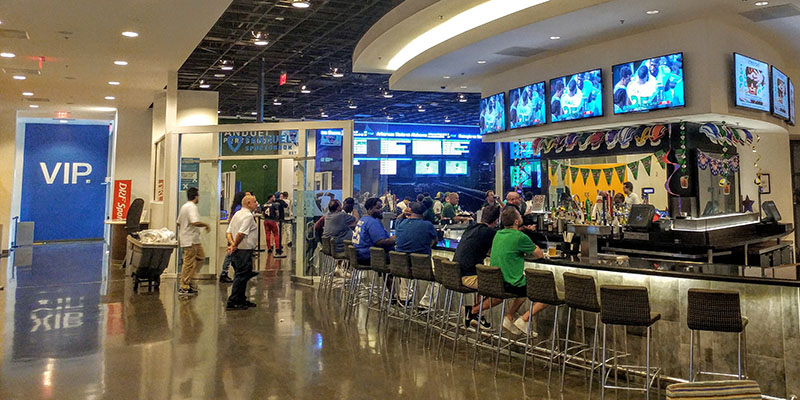 In search of an endorphin boost, dozens of somber Jets fans trickle in after the Dolphins' 20-12 road win.
The general consensus is that San Francisco (-6 hosting Detroit) is the lock of the late afternoon slate.
To my right at the bar, two couples — the aforementioned personalized Dallas Cowboys jersey in one of them — each bet $50 on Garoppolo & Co.
They arrive around 3 p.m. and are eager to join the action. "I'm just trying to win some money to roll onto the Cowboys tonight," says John McGinty, the New York City-based Cowboys diehard.
Like most people I meet, this is his crew's first trip to the FanDuel Sportsbook. The long walk from NJ Transit, on the other side of MetLife Stadium, wasn't appreciated. But they'll be back.
"It's a pain in the ass to get here, but next time I'll drive," says McGinty.
---
AS IS USUALLY the case, halftime elevates the intensity upstairs. Lines of bettors scramble to take Denver and New England in the second half after coming down from the Browns loss, Vikings-Packers tie and Buccaneers upset.
Soon, Detroit provides another punch to the gut. Around 6 p.m. I check in on Aggressive T-Shirt Brian before wrapping up. He's taking off, too. "No way I'm staying for Giants-Cowboys."
I bet my hometown Bears (-4 at Seattle on Monday Night Football) to bookend the day. Am I sold on Mitchell Trubisky? Hell no. But Khalil Mack is a Bear, Seattle's line stinks and, as I've learned, the best thing to have at the Meadowlands is hope — and a winning ticket.
After the Bears' seven-point win on Monday night, I have a little of both.
Which can only mean one thing: I'll be back.
How would you rate this article?