How Accurate Are Jalen Ramsey's Quarterback Ratings?
Credit:
Credit: Reinhold Matay-USA TODAY Sports. Pictured: Jalen Ramsey.
Jalen Ramsey recently made his opinions on the NFL's quarterbacks known in an interview with GQ.
Using our database, we looked at how each QB did against the spread and in the playoffs to see if Ramsey's remarks were warranted or not.
Among the QB's he dissed were Josh Allen, Joe Flacco, Matt Ryan, Ben Roethlisberger and Eli Manning.
Deshaun Watson, Carson Wentz, Drew Brees, Kirk Cousins and Tyrod Taylor were some he thought were good.
In a recent interview with GQ magazine, Jacksonville Jaguars cornerback Jalen Ramsey decided to speak his truth about nearly every quarterback in the NFL. As if under the spell of Sodium Pentothal, Ramsey did not shy away from blasting a number of players, including decorated veterans and future Hall of Famers.
With that in mind, we here at The Action Network wondered if his opinions held any truth. Using Bet Labs, we looked at against the spread (ATS) records as a whole — as a favorite and in the playoffs — to see if these quarterbacks deserved Ramsey's criticism or merit. A handful of guys he was essentially indifferent about were left off the list.
Josh Allen: "He's trash."
15-10 ATS | 0-3 ATS vs. Power 5 | 2-0 ATS in Bowl Games
Please don't show this to the PMT guys. Allen was able to handle the easy foes in Wyoming, but failed to cover by an average of 13.5 points in his three games against Power 5 teams. Don't let Allen's big paws near Ramsey after these remarks.
Joe Flacco: "He sucks."
73-73-8 ATS | 50-49-5 ATS as favorite | 11-4 playoff ATS
Well, then. Speaking of PFTCommenter, I guess that puts the age-old question to bed.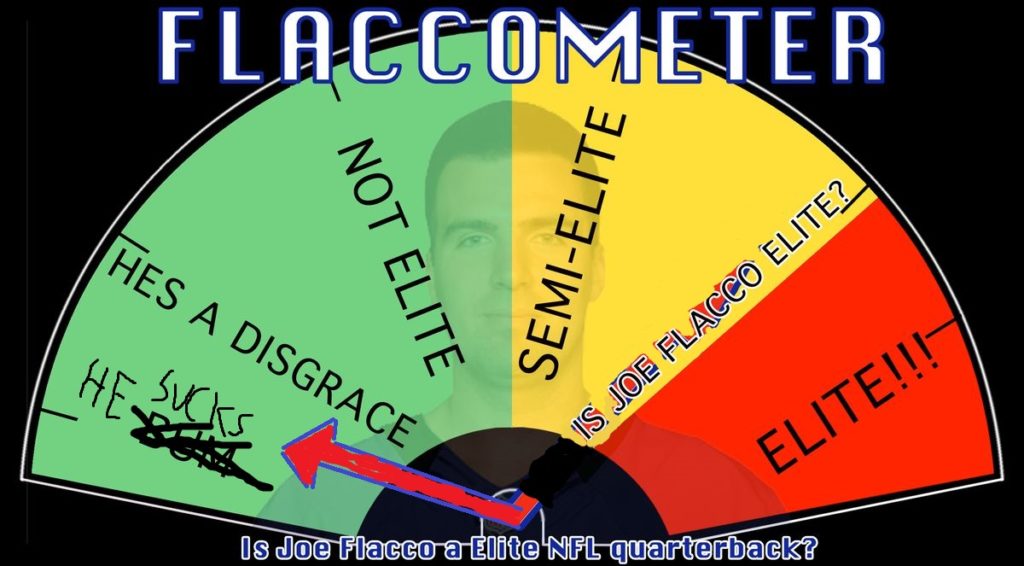 Matt Ryan: "Overrated."
83-72-3 ATS | 48-47-3 ATS as favorite | 3-7 playoff ATS
I suppose you could make the argument. Ramsey went on to say that Ryan's success can be attributed to Kyle Shanahan and that Ryan somehow was bad last season even with Julio Jones on his team. He's not wrong…
Ben Roethlisberger: "Decent at best."
101-95-2 ATS | 77-77-2 ATS as favorite | 11-8-2 playoff ATS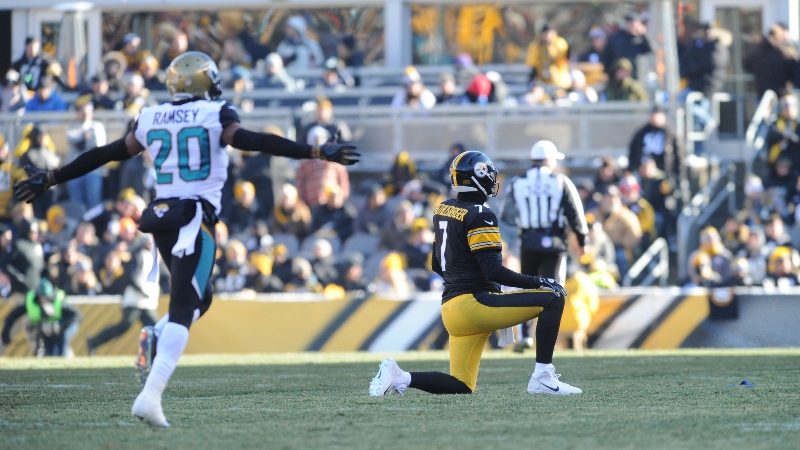 Credit: Philip G. Pavely-USA TODAY Sports. Pictured: Jalen Ramsey (20) and Ben Roethlisberger.
Hmm. Let me continue on to the next guy and then talk about both.
---
>> Sign up for The Action Network's daily newsletter to get the smartest conversation delivered into your inbox each morning.
---
Eli Manning: "I won't say Eli's good."
107-100-6 ATS | 61-54-2 ATS as favorite | 9-3 playoff ATS
All right. So here you have two older quarterbacks, both with two Super Bowl rings. Ramsey essentially attributes their success to their top wide receivers — Antonio Brown and Odell Beckham Jr.
It's as if everything that happened before Ramsey entered the league in 2016 was erased from history. There's four combined rings between the two and zero rings on the fingers of Brown and Beckham. You be the judge.
Andrew Luck: "I don't really think he's that good."
41-27-2 ATS | 23-16-1 ATS as favorite | 3-3 playoff ATS
I must say that Luck hasn't lived up to the hype some were giving him back when he entered the league. Many felt he was the next Aaron Rodgers or a similar quarterback of that ilk, but Luck will be turning 29 within a month with just 10 combined wins over the past three calendar years. Nevertheless, he's done a fine job in the eyes of gamblers.
Marcus Mariota: "Great quarterback for their team."
17-23-2 ATS | 8-11-2 ATS as favorite | 1-1 playoff ATS
This is a bit of a backhanded compliment in my eyes. "For their team," makes it sound as if he'd suck on another team. Then again, he'd probably just come out and say that if it were the case.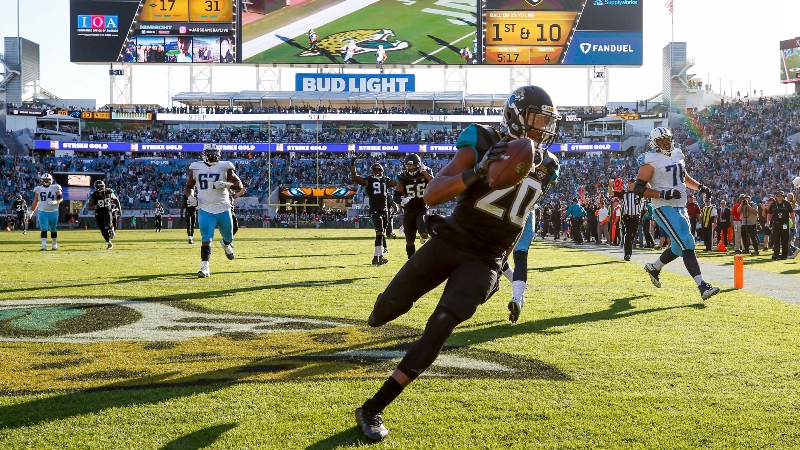 Credit: Logan Bowles-USA TODAY Sports. Pictured: Jalen Ramsey (20) returns an interception against the Tennessee Titans.
Tyrod Taylor: "Better QB than he gets credit for… does not make mistakes."
22-18-3 ATS | 10-8-1 ATS as favorite | 1-0 playoff ATS
I was honestly ready to rip this take to bits, but I looked up his individual stats and he throws way fewer picks than I thought. He also covered when it counted for a pretty crappy Bills team. Jalen hit the nail on the head, here, as he is indeed a better quarterback than I give him credit for.
Drew Brees: "Really good."
125-100-6 ATS | 78-65-2 ATS as favorite | 6-7 playoff ATS
I agree, Jalen. I agree. However, I was definitely a bit surprised to see that he's played just 13 playoff games and has six postseason covers in his career — much fewer than I was expecting.
Philip Rivers: "Pretty good."
96-91-5 ATS | 56-61-2 ATS as favorite | 6-3 playoff ATS
I'm surprised Ramsey didn't call Rivers overrated. The veteran slinger certainly puts up the stats on a yearly basis but has just one appearance in the AFC Championship Game and that was more than a decade ago.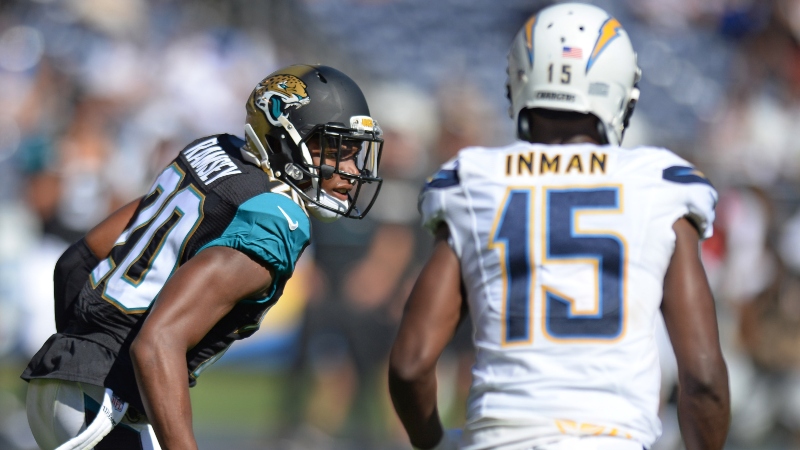 Credit: Jake Roth-USA TODAY Sports. Pictured: Jalen Ramsey (20) defends San Diego Chargers wide receiver Dontrelle Inman (15).
It may have to do with the Chargers' 38-14 win over Jacksonville in Ramsey's rookie season.
Kirk Cousins: "He's a winner."
30-27 ATS | 8-12 ATS as favorite | 0-1 playoff ATS
Hmm. Eli Manning isn't good despite beating the Patriots twice in the Super Bowl (without Odell Beckham,) but Cousins, winner of zero NFL playoff games, is a winner. That's a marshmallow-lit-on-fire-flames take from your boy Jalen on this one.
Dak Prescott: "He's good. He's alright. He's okay."
18-13-1 ATS | 13-9-1 ATS as favorite | 0-1 playoff ATS
Ramsey believes that Zeke runs the show down in Dallas, and it's hard not to agree to some extent. Dak definitely has talent and potential, and I think we'll know a lot more after this season considering last year's whole Zeke suspension fiasco, but he could really go either way.
Blake Bortles: "Do what he gotta do."
29-30-2 ATS | 10-10 ATS as favorite | 2-1 playoff ATS
It would have really been something if he came right out and trashed his own quarterback, but he somehow held back. The Jags almost beat the Patriots and made it to the Super Bowl, so Bortles should get some credit, but Ramsey and the defense were a huge reason why they played so well in 2017.
If Ramsey likes Tyrod Taylor for not making mistakes, wouldn't he have to bring up Bortles' inclination for interceptions?
Carson Wentz: Future MVP
18-11 ATS | 12-5 ATS as favorite
Not too crazy of a take here, because Wentz was probably on his way to winning the MVP award before getting hurt last year. But, now that the Eagles won the Super Bowl, you have to wonder…
Is Wentz a system quarterback? No way to know, for now.
Deshaun Watson: Future MVP
5-1 ATS | 1-0 ATS as favorite
We were given only a fleeting glimpse at Watson before the injury gods stole him away from us. What we did see, though, was promising AF (as the kids say.) He believes Wentz and Watson are the two guys for the next five to 10 years, and I bet a lot of folks would agree.
How would you rate this article?