Is Jalen Ramsey the NFL's No. 1 Cornerback?
Credit:
Tommy Gilligan-USA TODAY Sports. Pictured: Jalen Ramsey
Jalen Ramsey has emerged as one of the NFL's brashest and best cornerbacks since entering the league in 2016.
Where does he rank among the best? Ian Hartitz answers that, plus whether you should avoid fantasy football matchups against him in 2019.
There aren't many cornerbacks in today's NFL who have both the size and the athleticism to hang with literally any offensive player, but that's exactly what the Jaguars have in Jalen Ramsey.
The No. 5 overall pick of the 2016 draft has more than lived up to those lofty expectations, as he's now anyone's idea of a top five cornerback in the entire league.
Let's look at what makes Ramsey so great and what to expect from wide receivers facing the Jaguars in fantasy football this season.
Jalen Ramsey Is a Handful for Any WR
Ramsey has elite size (6-foot-1, 209-pounds, 95th percentile arm length) and straight-line speed (4.41-second 40-yard dash) that is complemented by gaudy explosive ability. Overall, he posted the sixth-longest broad jump and fourth-highest vertical among all cornerbacks at the NFL combine since 2006.
Somehow, Ramsey stands out as a physical freak in a league full of them. He's basically what scientists would come up with in a lab if they were tasked with creating the best possible cornerback.
The fact that Ramsey also also oozes swagger and plays with physicality is simply the icing on the cake.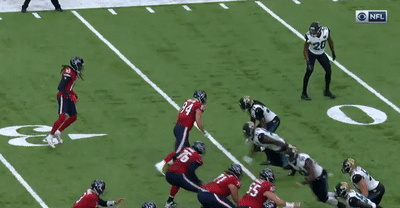 Essentially the only knock on Ramsey coming out of college was a perceived lack of ball skills.
The Jaguars' lockdown corner has answered that question in no time at all, as he's tied for 12th among all players with nine interceptions since entering the league in 2016. Ramsey's 44 pass deflections are fourth and trail only Darius Slay (56), Robert Alford (50) and Casey Hayward (50).
The Jaguars have fully realized Ramsey's ability and asked him to travel with a specific receiver on 15 occasions over the past two seasons. He's essentially shut down every wide receiver except three of the league's very best talents at the position: Antonio Brown, Odell Beckham Jr. and DeAndre Hopkins.
Jermaine Kearse: 4 catches, 17 yards, 0 touchdowns (7 targets)
A.J. Green: 1-6-0 (2)
Larry Fitzgerald: 3-12-0 (8)
Tyreek Hill: 4-61-0 (7)
Kelvin Benjamin: 1-32-0 (2)
Alshon Jeffery: 4-35-0 (5)
T.Y. Hilton: 2-27-0 (8), 3-51-1 (6), 3-77-0 (7), 8-77-0 (13)
Antonio Brown: 5-117-1 (13)
Odell Beckham Jr.: 11-111-0 (15)
DeAndre Hopkins: 4-80-1 (13), 12-147-0 (16), 3-50-1 (8)
Ramsey is a difficult man to shake in man-to-man coverage.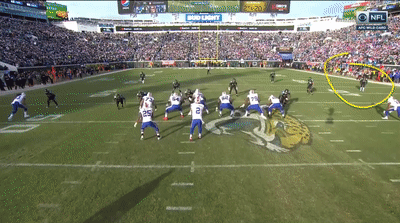 He also deserves credit for matching his man on inside routes more than your average shadow corner. Overall, Ramsey's most slot-heavy games have come in key matchups against the Patriots (Rob Gronkowski and Julian Edelman), Chiefs (Hill), Cardinals (Fitzgerald) and Colts (Hilton).
There's little doubt that a shadow date with Ramsey is far from ideal for the fantasy prospects of any wide receiver. Still, just how well does he stack up against the league's other high-volume shadow corners?
Not Many NFL Cornerbacks Shadow Full Time
Note: Much of this section originally appeared in our breakdown of Tre'Davious White and the Bills' underrated defense.
Only Stephon Gilmore, James Bradberry, Darius Slay and Xavier Rhodes shadowed on double-digit occasions in 2018 (per Pro Football Focus). Ramsey himself traveled with a single receiver on the majority of his snaps on nine separate occasions.
Overall, 51 cornerbacks were asked to shadow at least once in 2018. Thirteen cornerbacks did so at least five times. We'll use the high-frequency shadow corners as our focus group. The below figures denote the production allowed per game by each cornerback during their respective shadow dates during the 2018 season.
Some notes from this group:
White ranked 11th in fewest targets, 10th in receptions allowed, 12th in yards allowed, tied for first in touchdowns allowed and 10th in fantasy points allowed. He was by all accounts an average to below-average shadow cornerback in 2018 who did a good job consistently keeping his man out of the end zone.
The most targeted shadow cornerbacks last season were Stephon Gilmore, James Bradberry, Ramsey, Xavier Rhodes and Marshon Lattimore.
Rhodes was the best of the most-targeted group, allowing just 40.7 receiving yards and 0.2 touchdowns per game to his man.
Jason McCourty, Casey Hayward Jr. and Denzel Ward allowed fewer than six fantasy points per game to their opposing receiver, emerging as the league's most effective high-frequency shadow cornerbacks.
You probably remember McCourty making arguably the single-best play of the Super Bowl.
Lattimore wasn't used as a shadow cornerback as often after the Saints acquired Eli Apple halfway through the season.
Neither Hayward, James Bradberry nor Patrick Peterson were asked to fully shadow their respective receivers, as the Chargers, Panthers and Cardinals finished 2018 ranked as the respective No. 2, No. 7 and No. 3 defenses in zone-coverage frequency.
Rhodes (6.4 yards allowed per target), Gilmore (6.4) and Joe Haden (6.6) were the best high-frequency shadow corners on a per target basis.
Only McCourty (31% snaps in the slot), Gilmore (18%) and Slay (14%) spent a double-digit percentage of their snaps on the inside in 2018.
Remember: Each of these cornerbacks have been asked to shoulder this shadow responsibility because they've demonstrated the ability to play the position at a high level. An average or even mediocre shadow corner still deserves credit for consistently taking on difficult assignments that a lesser player likely wouldn't even have had the chance to attempt.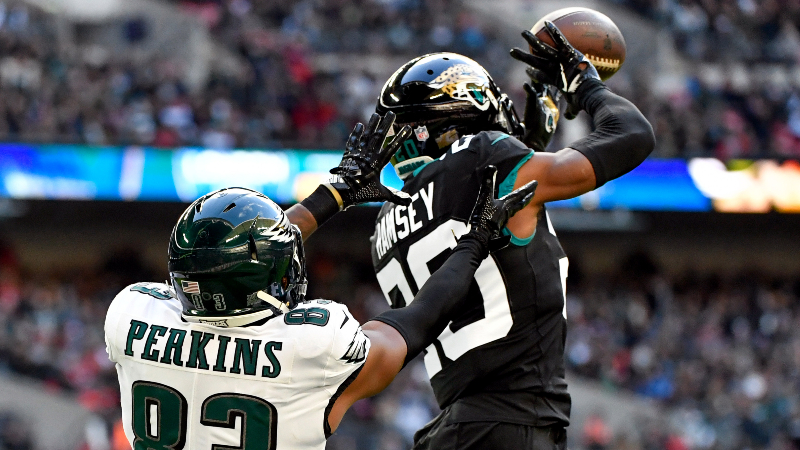 The Jaguars Should Have a Strong Secondary (Again)
Jacksonville's 5-11 finish in 2018 was hardly what fans had in mind following the franchise's AFC championship run in 2017. One of the few good takeaways from the season is that the defense largely still worked as one of the league's elite units, particularly in the secondary.
Points allowed per game: No. 4
Overall in Football Outsiders' defensive DVOA: No. 6
Rush defense DVOA: No. 6
Pass defense DVOA: No. 7
vs. No. 1 WR DVOA: No. 4
Overall, the Jaguars joined the Bills, Vikings and Colts as the only defenses that allowed fewer than 30 total DraftKings points per game to the wide receivers position in 2018.
There's a lot to like about the entire Jaguars defense entering 2019:
The defensive line doesn't boast as much talent in years past, but a starting quartet of Calais Campbell, Yannick Ngakoue, Marcell Dareus and Taven Bryan still ain't nothing to mess with.
The linebacker corpse has plenty of natural talent thanks to Myles Jack, but the recent loss of the similarly-athletic Telvin Smith could be critical to the defense's ability to stop the run.
Ramsey isn't alone in the secondary, as A.J. Bouye also should be in any conversation surrounding the league's top-10 corners. The safety position isn't in a great spot, but they've at least addressed it with back-to-back third round picks in Ronnie Harrison and Quincy Williams.
I wouldn't be on the Jaguars defense or team returning to their 2017 heights, but it would be shocking if No. 1 wide receivers don't continue to struggle against Ramsey and Co.
There's a world where Nick Foles enables a sneaky talented group of Jaguars wide receivers to new heights while Leonard Fournette gets his career back on track behind the offense's finally-healthy offensive line. This pipe dream would help a still talented Jaguars defense get back to working as one of the league's more opportunistic units.
Either way, it's probably not a good idea to test Ramsey with wide receivers in fantasy football or real life.
How would you rate this article?